Triumph! (sequel to the previous, and the same password.)
Saturday. 5.31.08 4:02 pm
Thursday. 5.29.08 4:34 pm
Is marriage dead? I came across this question in an article I was reading today. The article argued that it wasn't dead, it was just changed. In other words, marriage isn't a sort of thing that lasts anymore. In further research, there seemed to be a lot of people who thought that shacking up together was just a better deal than tying the knot, particularly for men. Getting tied up in marriage can lose a man his ass, these days with trends in divorce law, they say. Why take the risk. Besides, the old adage is still true: "why buy the cow when you can get the milk for free". Many people said that it beat the way that things used to be: people got abused a lot, they say, and people got stuck in marriages they weren't happy in. Maybe marriage is dead, others argue, but who really cares? Why hold on to the fantastical fancy of 'true love' and 'till death do us part', everyone knows that half of marriages fail anyway?
I am not in this camp. While, I agree that marriage seems to be coming apart around me, I have the foolish inclination to just... believe all that nonsense about true love and happily ever after. I want it. I want to be hand in hand with the one I love on my golden anniversary, I want to have someone strong and loving by my side through the good times and the bad. I'll accept having to shout with him, if only I can have the privilege of forgiving him. I'll accept his illnesses his injuries and his death so long as I can share his life and his health. I have decided all that... and I haven't even met this person. I don't know his name or where he came from or anything about him, but I know... I know that if I love him, I want him to be with me in these things and I know that when I find him, he will want the same things. So, fool that I may be, heresy against nature, I am going to try and commit a miracle: I am going to find and stay in love.
I am not entirely alone either. Apparently, committed married people report better financial stability, better health and better sex than other people. I hope things turn around and turn around before marriage is just a word, tainted by controversial politics. So, I end here... with hoping.
Comment! (2) | Recommend!
In the name of good dogs! - passworded for random boringness
Wednesday. 5.28.08 4:29 pm
Tuesday. 5.27.08 12:18 pm
This weekend, I memorize one and a half psalms (1 and 2, I am starting from the beginning), continued to edit chapters 4-6 of my book, volunteered at the shelter, talked to Zanzi on the phone, helped move my eldest sister and paint her new house, went to a dog show, watched Skulls (by Zanzibar's recommendation [supercool and supersexy, Zanz]) and heard from an old friend. However, I shan't bore you with the details unless you want them, so instead...
...here are some pictures of my studio: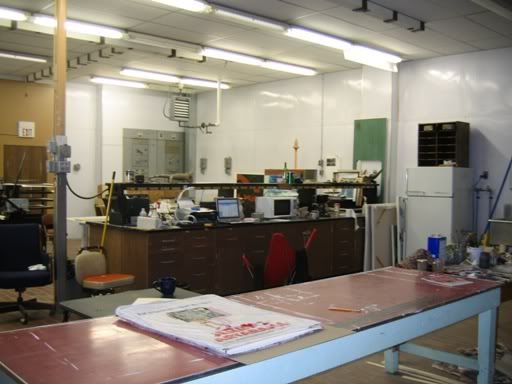 Where I toil away.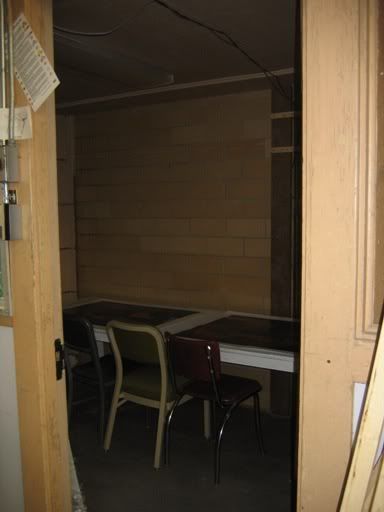 A little dark room by the door.
The meat lockers.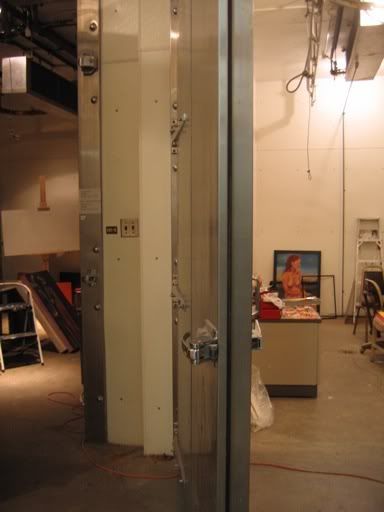 The studios inside the meat lockers.
The still lifes with their real life twin.
I hope you all had a great memorial day weekend.
Comment! (1) | Recommend!
Friday. 5.23.08 6:40 pm
Apparently my rainy day was a tornado. Who would have thought? After finishing yesterdayís entry, I heard through the grape vine that that was what the hullabaloo was all about. Other than my nerves (which are pretty much hopeless anyway) the storm was more or less unnoted by myself, who spent most of the day in my studio basement and the rest of it in my house which must have got some blowing rain into the roof because it leaked and I had to put a pot under it for most of the night.
The progression went as follows. Rain. Hail. Rain. Hail. More hail. More Rain, quiet and then snow. SNOW!
This morning, my house was like a sauna. I have no idea why. I found a heater, though, so thatís a good thing. The sun came out, too and melted most of the snow away before noon. I decided (seeing as it was Friday, I had a lot of cleaning up to do and I had just lived through the frightful experience of a near tornado attack) to take the day off. I stayed in bed reading David Copperfield until 12:00 at which point I was getting hungry, so I decided to break the fast and actually DO something. I cleaned all of my laundry, my dishes, my floor, my sink, my shower my windows and even dusted! Then, I cleaned me and threw some fresh clothes on to go shopping. I went and got food supplies including the fixing for a really delightful little dish that I think I will make a couple more times before the week it out, which is chicken BBQ pizza on pita bread!
It was not until I got home that I realized we had actually been hit by a tornado at all. My experiences had been far from notable and it wasnít as thought I saw the thing. Apparently, it took out part of the Wal-Mart and part of a middle school, too. I am not really sure if I should be frightened or not. I donít like being frightened, so I donít think I should be, but I feel like if I was a little frightened than it might mean something to all those poor folks who lost homes and cars and schools to the tornadoes. But I suppose I was fit to be tied last night and the calm that I have now is only the result of careful study and reflection combined with the fact that the weather is quite tame and manageable today.
I suppose that is all I have to say: Iím alive.
Comment! (2) | Recommend!
Thursday. 5.22.08 5:23 pm
Today I woke up and it was raining. The day progressed as usual until I was sitting in my studio and I hear a sound that sounded like hail coming down. After that, I started to hear a dripping. I went over to investigate and the ceiling was leaking in one of the meat lockers! I took the paper sitting until the leak and moved in back into the studio, in an effort to keep it dry and then grabbed a couple of cups to pick up the dripping (I didn't have anything bigger). I mopped it all up and it looks like it's going to be okay. I might find some duct tape tommorow to fix it a little better.
Here are some drawings that I did:
A Still life in colored pencil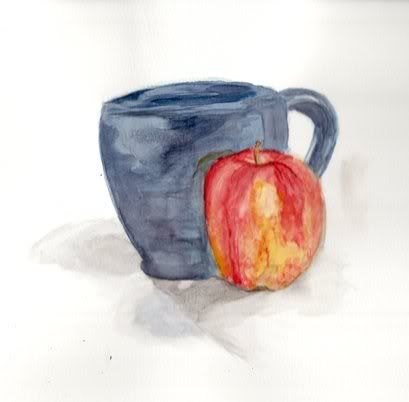 Same still life in watercolor
The corner of my studio in colored pencil
Comment! (1) | Recommend!