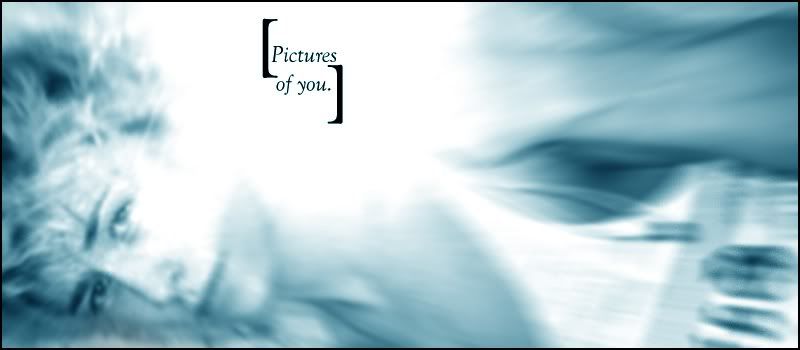 Spring Semester 2010:

* Teaching: Fundamentals of Microbiology - MW 12:00-2:40p
Medical Microbiology - TR 2:00-3:15p
Colloquium in Cell and Molecular Biology - R 3:30-4:30p
Thesis Research - Identification of T Cell Subsets and Immune Response in Colon Cancer Using Immunofluorescence - FOREVER AND EVER

Or rather, entries from the old journal, as it were...

-

An open letter to the College.

(August 27, 2006)

-

Untitled.

(July 16, 2006)

-

Haunted (Part One)

(May 29, 2006)

-

Are we growing up, or just going down?

(May 3, 2006)

-

I had a dream...

(March 19, 2006)

-

...

(March 14, 2006)

-

Enjoy it while it lasts.

(September 12, 2005)

-

Scene: 3:27 AM.

(September 3, 2005)

-

Untitled.

(July 26, 2005)

Psst... if you're looking for the academic writings I used to have here, head to my Reading Room.

Since June 2006...

- A Heartbreaking Work of Staggering Genius by Dave Eggers
- High Fidelity by Nick Hornby
- Travesties by Tom Stoppard
- The Way of the Shaman by Michael Harner
- The Tao of Pooh by Benjamin Hoff
- Nervous Conditions by Tsitsi Dangarembga
- The History Boys by Alan Bennett
- The Dark Child by Camara Laye
- Movie-Made America by Robert Sklar
- Diary by Chuck Palahniuk
- Rant: An Oral Biography of Buster Casey by Chuck Palahniuk
- Galapagos by Kurt Vonnegut
- The Dead Emcee Scrolls by Saul Williams [61.3%]
- Atonement by Ian McEwan
- Junk Science: An Overdue Indictment of Government, Industry, and Faith Groups that Twist Science for Their Own Gain by Dan Agin, Ph.D. [64.4%]
- So Yesterday by Scott Westerfield
- Lucky Wander Boy by D.B. Weiss
- The Things They Carried by Tim O'Brien
- Doctor Who: The Key to Time: A Year-by-Year Record by Peter Haining
- Why Buffy Matters: The Art of Buffy the Vampire Slayer by Rhonda Wilcox
- When You Are Engulfed in Flames by David Sedaris
- The Road by Cormac McCarthy
- 1984 by George Orwell [18.8%]
- Nick and Norah's Infinite Playlist by Rachel Cohn and David Levithan
- Intuition by Allegra Goodman
- V for Vendetta by Alan Moore and David Lloyd (Yes, I realize it's a graphic novel but it still fucking counts!)

Sunday, July 4, 2010 @ 8:16 pm

Happy birthday, boys. :)

Got 'em glasses made from bottles from

our favorite San Diego brewery

:

Check out the other eco-friendly glass goodies at

BottleHood

!

Comment! (1) | Recommend!

Friday, July 2, 2010 @ 6:00 pm

Friday, June 25, 2010 @ 3:46 am

Thursday, June 24, 2010

Dramatic dialogue in my head:

"Somewhat sexually-ambiguous though ultimately straight white boys who are about an inch or two taller than I am with a penchant for smoking weed and drinking (good) beer--my only weakness. How did you know?"

Comment! (1) | Recommend!

Wednesday, June 23, 2010 @ 12:47 pm

And all at once I am reminded why I love these people, and why it hurt so much to say goodbye.

Comment! (0) | Recommend!

Sunday, June 20, 2010 @ 4:52 pm

In short, things have been really,

really

shitty the last couple of months--financially, academically, and interpersonally. But through it all were my closest friends and my HLP, which makes me the luckiest person the world (even when I'm not).

I love you.

Comment! (1) | Recommend!

Thursday, April 29, 2010

The way to break up one of your best friends and his lying whore-of-a-girlfriend is to have her drunkenly (and embarrassingly and awkwardly) try to rope you into a threesome that neither you or your friend wants anything to do with.

Comment! (3) | Recommend!

Saturday, March 6, 2010 @ 10:28 am

Comment! (2) | Recommend!