Wednesday. 5.7.08 1:47 am
For all you Twilight fans, did anyone happen to catch the movie trailer?
What do ya'll think?
Comment! (3) | Recommend!
Tuesday. 5.6.08 12:14 am
and I don't want to be. I was in Seattle for the weekend...and then I went back to work this morning and wished I never would have came home :(
When I download my photos, I'll have to put up a picture of my brother and the Geico Caveman...I think they were separated at birth.
Okay...bed time
Comment! (3) | Recommend!
Friday. 4.25.08 11:28 pm
I picked up Greg today from daycare and they had some art projects that Greg did :) I know they helped him with this, but this is still SOOOOO COOOL!!!! I'm taking it to work and hanging it up.
Um....I really don't have anything to say tonight other than I have to work mandatory overtime this weekend...and I'm exhausted. Greg was up at 3am last night screaming (not crying) and no one really slept at all last night. It was loads of fun...yeah...not...
Comment! (5) | Recommend!
Wednesday. 4.23.08 11:05 pm
I bought these a few months back for Greg and I love them.
I went out and bought the above set tonight (I felt bad...we were leaving Applebee's and he fell and hit his head HARD on the concrete).He was okay...after he cried for about 5 minutes straight and I felt like shit. I guess those are the downsides to being a mom.
Anyway, the set has 3 markers (that only write on the paper), 3 soft sticks...which are like crayons...and then 2 paint pen thingies (that paint like paint brushes). I;m not going to give him the paint thingies because he's too little for those, but the soft sticks and the markers he can have. He can write on the carpet if he wants to and it doesn't show up...he can write on the wall, the couch, the chair, his clothes...and it doesn't show up. They're fantastic! I'm so glad they invented these
Um...in other news. Been working like a slave...I work most weekends, work days when I can overtime...I think I spend more time there than I do at home. I might as well pitch a tent and visit the place that I'm paying to live at. Have you ever heard that phrase "I work to live, not live to work." I wish that were true...I do work to live...but it just seems like I'm living to work more than I'm working to live. It's so pitiful.
Speaking of living...I'm moving in August. I'm done with these apartments that I live in. They suck and I'm moving on. The ones that we're looking into have 2 bedrooms and a loft. Obviously, the bedrooms would be for Greg and one for me and Brian...and then the loft is going to be for the computers. Since the loft us upstairs (and it has vaulted ceilings, I guess) and it's open to the living room...it'll appear to be a lot more open and Greg can't exactly get up the stairs very well to get to the computers (a plus). He sees us on the computers now and he goes over to them and starts playing with the mouse (like he sees us) and banging on the keyboard (like he assumes we're doing). It's cute...but at the same time, no one enjoys closing 12 windows of Firefox because Greg pressed the enter key 12 times while that shortcut was highlighted. NO FUN AT ALL...
Anyway...this is enough for now.
Comment! (8) | Recommend!
Tuesday. 4.22.08 8:35 pm
I apologize for my absence...I'm a horrible person.
I've been so busy working, taking care of a running baby, and trying to find myself downtime, I just am too exhausted to blog about my day.
I'm surprising my mom for mother's day...a week early. She's complaining about Greg not knowing her and will forget her, so I bought a plane ticket to Seattle...BUT...I didn't tell her. My brother's going to pick me up from the airport on Thursday night and then when my mom gets home from work Friday morning (she works the graveyard shit...and for those who don't know what that is, rather than work all day...she works all night), Greg and I will be there to surprise her. I'm leaving Sunday evening at about 8, so she'll have plenty of time to spend with Greg.
I let me dad in on the secret and I'm sure he's excited to see Greg and me also, but the shock value is more with my mom. I can already see her crying her eyes out about it. It will be a wonderful surprise.
Um...I don't really have anything else to say...for now...
Here's a picture of Greg and his new puppy (at Grandma/Grandpa's house)...her name's Meghan. She bit Brian's mom the other day (on accident) and her cut got infected and she's under quarantine now...fun stuff...she's just a puppy. She didn't know what she was doing. Hell, half the time she runs around with her mouth open...so if her mouth happens to snag your arm, then you're gonna get cut!
I was going to post a picture of Greg playing peek-a-boo, but I guess Photobucket felt that I violated the terms of service with that video...and they removed. I have reviewed the terms of service more than once and I cannot for the life of me figure out why it was removed. He was playing peek-a-boo on the deck...how is that offensive, racist, damaging to another person??? I don't get it...but whatever. They can do whatever they want, apparently, and my video got deleted.
**edit**
I re-uploaded a copy of the video and it still says that it's deleted, but if you hit the play button...it plays (go figure)...SO...there's the banned video. Tell me if you think it violates TOS...lol
And the long weekend begins
Saturday. 3.15.08 9:20 am
Sorry I didn't really comment on anyone's entries. Thank you all for the nice comments.
As stated previously, been very busy. I'll be working 2 ten hour days this weekend (volunteered for overtime). I thought Brian wouldn't have a job for a month, but it turned out, the guy messed up on the day that he told him and he really stated on Tuesday. He got a job at the Denver Art Institute as a Technician 1. He'll basically be doing networking and fixing the computers when they go down. This is what he went to school for and I think he'll thrive there. It's an 8-5 job for a few weeks and then a 1 to 9 job for a few weeks...so Greg will have to go to a daycare on Thursday and Friday. We need to get on that fast!
Um...I forgot to talk about my emergency dentist appointment. One of my teeth was practically broken and I was afraid that I was gonna bite on something and completely break it off, so I went and had them fix it before I go to my appointment about what really needs to be done. She said the original plan for that tooth was to have a crown on it...so they had to do a build up on that tooth (basically a big filling...HUGE filling) so they would have something to put the crown on later. Half that tooth is done...but it's been so painful. It's throbbing like I have a toothache all the time. I basically have been carrying around the Ibuprofen because I've been taking it religiously. My mouth hurts CONSTANTLY.
Anyway...I gotta go. I promised everyone coming in that I'd do a McDonald's run on the way to work.
Catch ya later...
Comment! (5) | Recommend!
Thursday. 3.13.08 11:38 pm
but I had time to take Greg to the park today...and I finally have him on video walking around like the little munchkin that he is.
You may want to turn down the volume though because the wind is blowing...and then there's me talking like a baby in the end going "where are you going?" SO...if you want to hear how much of a baby I sound like, listen to the video...lol
Here's the Greg on the slide...he likes the slide!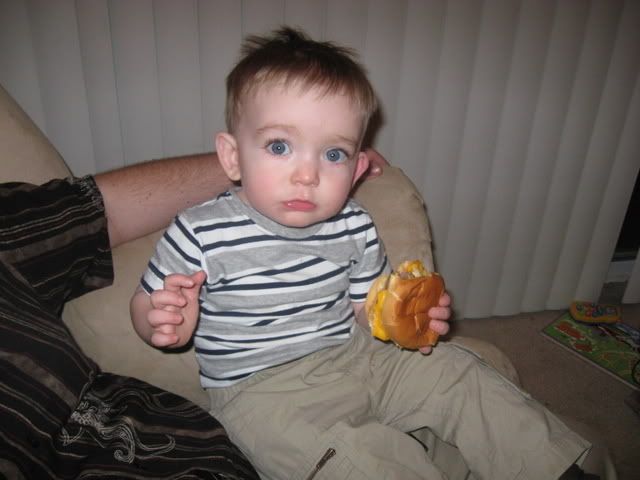 And here's him afterwards eating a cheeseburger (it's one of those GoodTimes Bambino Burgers). They're just the perfect size for him.
and....I leave you with the drunken cowboy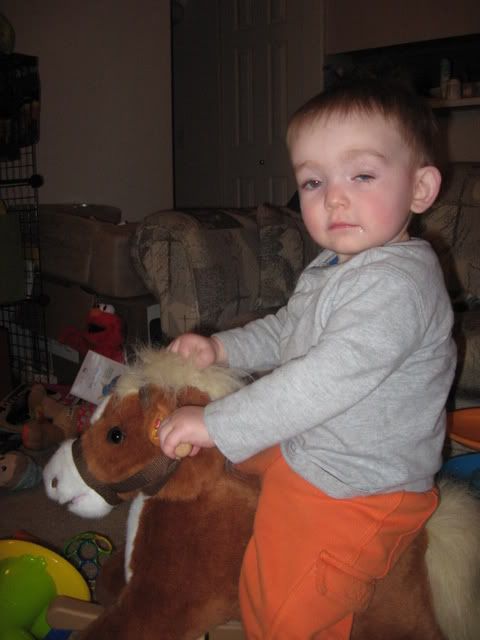 Comment! (6) | Recommend!
The joys of going to the dentist...
Friday. 3.7.08 12:01 am
I went to the dentist yesterday and I guess that's a big step for me since the last time I went to the dentist was right before I moved to Colorado (about 4.5 years ago).
The appointment went as well as I expected it to go. They found 19 cavities (I know, scream in horror...but I have soft teeth and many fillings that were leaking...which is nothing I could really control that contributed to that huge number). I did not qualify for the small cleaning (I am assuming because of the enormous amounts of cavities, so I get to come back on April 2nd to do 1/2 of my deep cleaning (i.e. scaling/root planing)...FUN STUFF...
On the 26th of this month, I get to go back and figure out what to do about my 19 cavities and how much that's going to cost to fix. I'm sort of scared at the amount and somewhat of the work that would need to be completed, but confident that we can make it work. I don't ever want to go to the dentist and have that many cavities EVER AGAIN. And I'm sure the cost will deter me from ever thinking about putting off my bi-yearly dental visits.
But yeah...um, I'm working overtime this weekend and then I'm going to do absolutely nothing this weekend. Sounds like a blast, doesn't it. I'm sure I'll be cleaning my house...which I put off as well. I think I am starting to see a trend here...maybe if I hired a maid to professionally clean my apartment...I mean, I've already hired someone to professionally clean my mouth, so why not my house???
Comment! (4) | Recommend! (1)