Friday. 3.30.07 9:42 pm
Today is friday and my daughter stayed home from school to spend time with me and help me. It meant a lot to me because after the surgery I will not be able to walk around or move. They said I will need assistance during the first 24 hours after surgery. That is a pretty long time.
The marvelous part about post surgery is keeping the sutures dry! How will I shower when my lower back is the part that gets wet ALL the time. The technician said, "oh there is this band aid thing that the doctor can put on to help keep them dry but you just cant go into the pool or anything... but I don't think he is going to use that procedure on you."
Me
- "What!? Why not?"
Him
- "Because they may not have the materials at that facility that he needs."
Me
- WAHHHH!!
I also got to laugh and sit through "BLADES OF STEEL". It was entertaining. I laughed. I had fun. It was good to be laughing with my daughter. It was such a marvelous day.....
Comment! (7) | Recommend! | Categories: changbang [t]
Monday. 4.2.07 3:30 am
I am not really a movie buff but I have seen a lot of movies lately. I think it is because I am stressing about the surgery that I find movies to be a pleasant distraction. I saw Reign over me. It was kind of a sad movie. I dont even know if it was true or not. My best friend went to college (cal arts) with one of the main actors. He was the guy that played Dr. Johnson.
It had some funny parts because Adam Sandler was in it but it was kind of a slow movie too. I guess I really felt for the guy.
We ate at PF Changs. I like their seared lamb there. Lamb is really gamey but they do a good job at cooking it and making it taste "just like beef." It was good.
What a MARVELOUS meal.
Comment! (2) | Recommend! | Categories: movie [t], adam sandler [t], ranor [t], changbang [t], ikimashookie [t]
I dont want a mother of convenience
Monday. 4.2.07 11:59 am
A mother is so many things. I mean Hallmark made a living out of describing what a
mother is, was, and can be. I don't ever remember reading a card that said your
mother was a mother of convenience. My mother is only around to help when it is
convenient for her. When you ask her for help she is always too busy. She wants to
see the kids when she wants to see them and not when we want to come by and
visit.
She told me that if I don't like the kind of mother she has been than I can become a different mother to my own kids.
I try. I really do and I am so stubborn and spiteful towards my mother. I have not
talked to her in four years and now that she found out about my back she keeps
calling me. I will not answer her calls because she had 4 years to contact me. Now
she feels that maybe I may die or something so she wants to make peace or talk to
me. I just can't do it! I can't allow her to be my mother of her own convenience.
Comment! (6) | Recommend! | Categories: my mother [t], changbang [t]
Sunday. 4.8.07 2:54 pm
Happy Easter Nutang!!
This is my first Easter with all of you.. hee hee. seems kind of special.

This morning I went to church with my kids but had to bail out early because I still

cannot sit for long periods.

I was looking forward to going to an Egg Hunt. I love to see all the little kids in

their Easter clothes and running through the grass trying to find eggs. Then they

run back to their mommies with their baskets to show them the eggs they found.

For me that was the best part of Easter. Holidays are for kids... little kids. If you

dont have one then you can enjoy other peoples kids. If you want to of course. I

mean if you are Ranor that may not be so fun. ha ha.


One thing I sitll dont get... Whats with the bunny??? Bunnies dont lay eggs, nor do

they carry baskets. Why do we eat chocolate bunnies anyway??



Comment! (5) | Recommend! | Categories: Easter [t], nutang [t], dilated [t], changbang [t], ikimashokie [t], kirei [t], ranor [t]
I need your support.....(please)
Tuesday. 5.8.07 8:54 am
Hey guys... you all know that I have been so unhappy at my current job right? Well, I am hoping I will be working at a new place soon. I have my interview today and I am so nervous.
Can I please ask all of my friends here at Nutang to think positive thoughts about me getting this job today? I really need a job change and I really, really, want this job.
Thank you (in advance) for your positive thoughts and support.
Comment! (30) | Recommend! | Categories: murad [t], lanza [t], davexlabs [t], ranor [t], dilated [t], elessar [t], kirei [t], changbang [t], ikimashokie [t], jmc [t], nutang community [t]
Tuesday. 5.22.07 1:02 pm
I visited Koban's site and found this little pet on chocopets!!!
Visit my chocopet here!
Comment! (2) | Recommend! | Categories: koban [t], changbang [t], chocopets [t]
Friday. 6.1.07 8:01 pm
I have been a member of
PPP
for only two weeks and I just totally LOVE it. I found out about it from
Kirei
on Nutang. I saw the potential to make a little extra income so I definitely wanted in!
My daughter is turning 17 on Tuesday and I was in need of some extra cash. I really wanted to make her birthday special so my bf and I bought her a brand new 7.2MP Panasonic Luminix camera with a 1GB SD memory card. That money I already had but I need money for the movies or something a little extra.
Since I joined
PPP
I have made a total of $28.00. That is perfect! That is exactly what I needed to add a little more fun to her special day! Thank you
PayPerPost
!!!
blog reviews
Comment! (8) | Recommend! | Categories: payperpost [t], panasonic [t], luminix [t], 1GB [t], birthday [t], changbang [t]
Tuesday. 6.12.07 10:01 am
There are things about the road and driving that are just so annoying. You know what I am talking about.. people that drive slow, people that signal but never turn, those that rush past you only to meet you at the red light. Annoying right?
Well the one thing that I find to be the MOST annoying is window sticker on the back of peoples car that tell you how many people are in their family. You mostly see them on the back of family vans that say, Mom, Dad, Judy, Jake, Janice and then the dogs name or the cat. ANNOYING!!! Who the frack cares?? Arent they the least bit concerned that maybe someone will go to the school and say, "hey judy, I am a friend of your mom and she told me to pick you up today?" Hello??
Anyhow, I found the solution to all this annoyance!! A picture speaks a thousand words!!!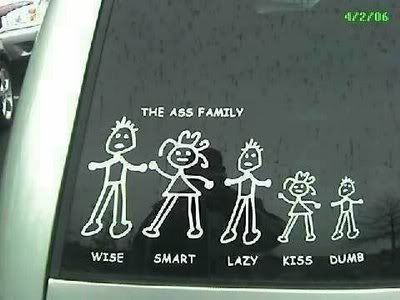 Comment! (9) | Recommend! (1) | Categories: lostsoul13 [t], invisible [t], silverdot [t], changbang [t], ikimashookie [t], elessar [t], dilated [t], ranor [t]