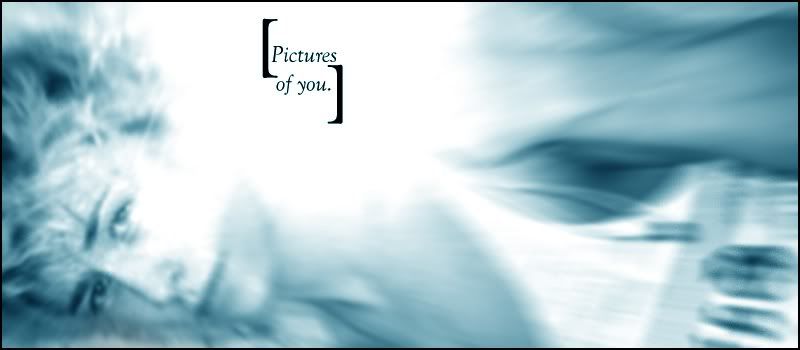 Spring Semester 2010:

* Teaching: Fundamentals of Microbiology - MW 12:00-2:40p
Medical Microbiology - TR 2:00-3:15p
Colloquium in Cell and Molecular Biology - R 3:30-4:30p
Thesis Research - Identification of T Cell Subsets and Immune Response in Colon Cancer Using Immunofluorescence - FOREVER AND EVER

Or rather, entries from the old journal, as it were...

-

An open letter to the College.

(August 27, 2006)

-

Untitled.

(July 16, 2006)

-

Haunted (Part One)

(May 29, 2006)

-

Are we growing up, or just going down?

(May 3, 2006)

-

I had a dream...

(March 19, 2006)

-

...

(March 14, 2006)

-

Enjoy it while it lasts.

(September 12, 2005)

-

Scene: 3:27 AM.

(September 3, 2005)

-

Untitled.

(July 26, 2005)

Psst... if you're looking for the academic writings I used to have here, head to my Reading Room.

Since June 2006...

- A Heartbreaking Work of Staggering Genius by Dave Eggers
- High Fidelity by Nick Hornby
- Travesties by Tom Stoppard
- The Way of the Shaman by Michael Harner
- The Tao of Pooh by Benjamin Hoff
- Nervous Conditions by Tsitsi Dangarembga
- The History Boys by Alan Bennett
- The Dark Child by Camara Laye
- Movie-Made America by Robert Sklar
- Diary by Chuck Palahniuk
- Rant: An Oral Biography of Buster Casey by Chuck Palahniuk
- Galapagos by Kurt Vonnegut
- The Dead Emcee Scrolls by Saul Williams [61.3%]
- Atonement by Ian McEwan
- Junk Science: An Overdue Indictment of Government, Industry, and Faith Groups that Twist Science for Their Own Gain by Dan Agin, Ph.D. [64.4%]
- So Yesterday by Scott Westerfield
- Lucky Wander Boy by D.B. Weiss
- The Things They Carried by Tim O'Brien
- Doctor Who: The Key to Time: A Year-by-Year Record by Peter Haining
- Why Buffy Matters: The Art of Buffy the Vampire Slayer by Rhonda Wilcox
- When You Are Engulfed in Flames by David Sedaris
- The Road by Cormac McCarthy
- 1984 by George Orwell [18.8%]
- Nick and Norah's Infinite Playlist by Rachel Cohn and David Levithan
- Intuition by Allegra Goodman
- V for Vendetta by Alan Moore and David Lloyd (Yes, I realize it's a graphic novel but it still fucking counts!)

Cough syrup. Water chaser. [EDIT]

Monday, March 31, 2008 @ 9:17 am

Alright, so maybe that was a tad bit overdramatic...

Day 1: Itchy throat, possibly due to post-nasal drip? Would be likely if not for dry nasal passages.

Day 2: Beginning to cough. Itchy throat continues, mainly at night. No respiratory distress noted. Slight nausea.

Day 3: Cough worsens. Itchy throat develops into slightly sore throat, but only while sleeping. No difficulty breathing normally, but becomes slightly winded with what normally is light physical activity (e.g. climbing up two flights of stairs).

Day 4 (today): Cough worsens, is less dry, more productive. Slight wheeze with deep breath. Sore throat at night. Beginning to have stuffy/runny nose. Sneezing. Beginning to have that slightly detached feeling, as though walking in a dream.

So I've ruled out the flu (thank God) on the basis that there has been no bout of fever/chills and the onset of symptoms was progressive. Allergies are out, too, due to the gradual onset of symptoms and lack of change when removed to a different environment. It's some sort of cold I'm guessing, but an insidious one, not because it is particularly severe, but because for about 3 days there, I was thinking, "Oh, this isn't so bad. It's going to blow over quickly!" But it hasn't. It's only gotten worse.

I've got my trusty guaifenesin/dextromorphan cough syrup for simultaneously suppressing the cough while making it more productive to dislodge that phlegm. I've got my saline solution to rehydrate my nasal passages at night. I've got my orange juice and water to keep myself hydrated while I fight this off. I've got my ibuprofen on hand just in case there's some fever lurking beyond the horizon. And, perhaps most importantly, I've got a good mind to cut out of work if things start to go downhill fast. I simply will not be one of

those

people who keep working even though they're clearly intensely suffering. That's just nuts.

And that's also the reason why I'm like this in the first place.

EDIT:

And I'm home.

Two more people at work today sounded like hell. I hope they have the good sense to either go home or lock themselves in their offices as much as possible to limit exposing others to the virus.

Comment! (9) | Recommend!

Sunday, March 30, 2008 @ 2:04 am

Honestly, why make your last stupid train pull out of downtown Berkeley at 12:29 am? What, don't people in the fucking Bay Area have nightlives that go past 1:00 in the fucking morning?!

MORONS.

(Basically, I missed my fucking train and had to take a VERY EXPENSIVE cab ride to the other train station where I parked my car. Fucking puritans. Why have last call at 2:00 am [way too early in its own right, by the way] and not have trains servicing people afterwards? Stupid, stupid, STUPID.)

EDIT:

By the way, I'm starting to get sick. Great fucking day.

Comment! (5) | Recommend!

Ain't nothin' gonna break my stride.

Friday, March 28, 2008 @ 8:09 am

Monday, March 24, 2008 @ 8:58 pm

Ugh.

Head pounding.

Feeling nauseated.

Lots to study for, but all I want to do is rest.

I think I need a nap, but I'm afraid I'll sleep too much and not get enough last-minute studying in.

And I'm not one of those people who necessarily does better when they've had a good night's sleep.

So many decisions to make, and not enough brainpower or sheer force of will to do it.

I really hate these goddamn migraines.

Worst. Timing. EVER.

Comment! (4) | Recommend!

Further confusion, and subsequent frustration.

Monday, March 24, 2008 @ 5:45 pm

I received a letter today from CSU East Bay. I opened it, waiting to be completely relieved that all of my concerns would be finally laid to rest, but it turns out I was completely off the mark. The letter basically told me that my application was still incomplete.

Fucking,

HUH?

So I called the Office of Admissions but they closed at 5:30. I then proceeded to write them an e-mail that said the following:

- Their admissions status website informed me that my application was "Pending Grad/Dept Review," which implies that the file is waiting to be reviewed by the admissions office and the Department of Biological Sciences. This would not be the case for an incomplete application.

- The same website says nothing about which documents are needed to complete the application, nor did the letter I received today say so. As far as I know, I sent all applicable transcripts and application documents. It would be helpful to know what I am supposedly missing.

- I already received a financial aid letter which implies my admission to the program. If they hadn't reviewed my application, why would they have taken the effort to figure out my financial aid stuff, much less send me an official letter? And even before that: if my application were incomplete in any way, why would they bother to review the application in the first place?

I am even more confused now by what this all means. And the kicker is that I should be more concerned about my physics final tomorrow at noon-thirty, but I'm worried about this stuff which I thought was all over and done with at this point. Fucking argh.

Comment! (1) | Recommend!

Sunday, March 23, 2008 @ 7:39 am

I received a large envelope from CSU East Bay yesterday, so naturally my heart started racing with excitement. I remember from applying to undergraduate programs that a large envelope is good and a small one is bad. So with the large envelope, I automatically assumed the best.

I opened the envelope only to find, much to my confusion, an offer letter of financial aid.

Wha--?

So either they send out official financial aid offer letters to every applicant regardless of whether or not they already have been admitted to a degree program, or I have been accepted into the program. Which is strange because I've received no word of that happening.

So if the latter is true, then, first of all, YAY!, and secondly, why would they send the aid letter

before

the admissions letter. Doesn't that seem a little backwards?

Right now, I'm still trying to convince myself that I am going to graduate school

somewhere

. If the admissions letter doesn't arrive in the next few days, that whole process will be thrown into jeopardy...

Comment! (5) | Recommend!

Friday, March 21, 2008 @ 6:01 pm

One day, everything will come up roses, simply because I will it so with all my might.

Comment! (4) | Recommend!

Wednesday, March 19, 2008 @ 7:03 am

Having sex dreams is one thing, but having sex dreams in which you fuck a stranger (who I've never seen in my life) in a bathroom at a San Francisco restaurant/bar and get accused of prostitution the next morning is another thing altogether. Oh, right, and then there was the line dancing...

Anyway, in physics exam-related news: Ouch. Fucking ouch.

Luckily, we get to drop our lowest test score, and this one is most definitely it.

Comment! (8) | Recommend!