Wednesday. 6.25.08 12:37 pm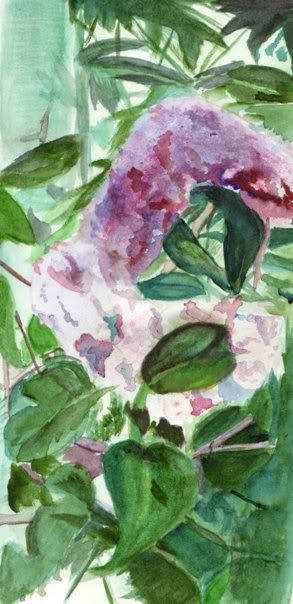 Some lilacs I painted.
Comment! (2) | Recommend!
Monday. 6.23.08 10:25 pm
Well, Sunday I went to my first bar after 21 and joined a new gaming group. I had an entry which went into more detail, but after it accidentally erased itself, I decided that it was really not worth the trouble boring you all to death in an effort to recreate it.
In short, I went into the store. I played Warmachine for a little bit... which is a cool game, but I must say that I am a little biased towards anything that I've played once and since they let me win my first game, I was greater endeared to it. I think that I might have sucumb to my spendthrift nature that very day, in fact, had the minatures been a little cheaper to buy.
After that, one of my friends announced that it was happy hour and that beer ought to be had and so he, the shop owner and me (admittedly contrary to my nature) got up and went to the bar. I think we ordered two pitchers and I had two and a half beers out of the lot for which I got a fair amount of flack and was not allowed to pay any share. I also got some very unusual macaroni and cheese, which I liked a great deal and did pay for.
We built fourth edition characters, mine is a halfling and servant to one of the other characters. I have half a mind to create her in the model of Uriah Heep mixed in a little with the dwarf beautician which would make me "Simply vile", which would be simply delightful from a roleplaying perspective. As the evening drew to a close, my drinking companion and I exchanged numbers and I headed back off to pick up my car in the 'all day free lot' where I left it. The whole evening was altogether enjoyable.
Comment! (4) | Recommend!
Sunday. 6.22.08 2:54 pm
I went to the relay for life the other day. I walked for an hour with someone from my church, got two free t-shirts and free food! It was an interesting little thing, I saw Emily who I hadn't seen in years, we said hello and seemed to get on fairly well... actually I've been seeing a lot of people I don't ordinarily see, but that's another story. It was a good thing except that I got three misquito bites. This Sunday, I felt a lot more like a lot of people seemed to know me. People I haven't even met before seem to know my name now. My name has been shortened, but I suppose I've always wanted a nickname so I can't complain.
Comment! (5) | Recommend!
Thursday. 6.19.08 10:01 am
I locked myself out of my house today. I've already figured out how I will get back in the next time... but I have to get in before I can set that up. It was just one of those things... you know, when you are sitting outside your door, you try to slam it, it doesn't close, something riles up in your gut, you slam it again and then... oh shoot, I forgot my keys! Unfortunately, I woke up at such an ungodly hour of the morning that it really is hopeless to get back inside by any means except force and... well force it a little bit more difficult than you might imagine. It seems that my house is far more of a fortification that I thought. Oh woe that my friend was not correct in insulting my lock saying that it open when she "barely put in the key". Were it the right key, I am certain that would always be the case, but lacking such a key, I must admit that my house is locked... impassably so. So I'm going to get some work done until there comes a time that I can get some help and, at that point, I will take my extra key and put in a place that I can get, should I ever get locked out again. Oh blast it all.
update:
I'm not locked out anymore! Yeah! The whole ordeal was sort of like reading the Hobbit twice... because that's how many times I had to go "there and back again". I saw a man who watered the sidewalk, three yorkshire terrier that I mistook for jumbo rats, and an awful lot of people coming and going to who knows where. I gave someone a friendly, 'i see you' sort of nod and they said good morning back! I was very startled and said good morning back to them. All of this added up to around a 32 block trip... which shows how much of a wimp I am. But I have taken steps to make this not happen again.... >.> ... <.<
*flop*
Comment! (2) | Recommend!
Tuesday. 6.17.08 6:58 pm
I got brand new paint! YEAAAAAAAAAAAAAAAAAHHHHHHHHH!!!!
This is before painting: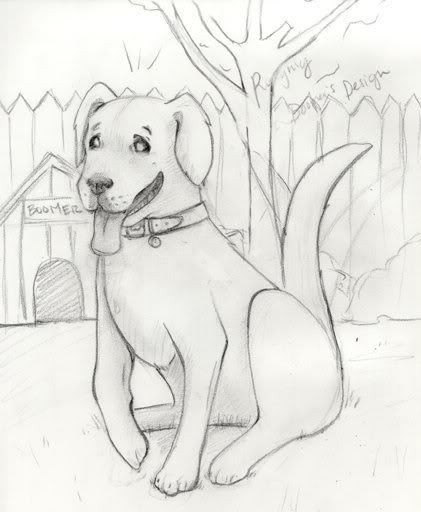 This is after painting
Not... very cartoony anymore :(.
Then this is me messing with my colors this morning
Comment! (4) | Recommend!
Thursday. 6.12.08 12:19 pm
My friend made Pot Pie last night. It was sort of a mock pot pie, which was pretty clever. It had all the pot pie insides with the peas and the chicken and everything, but instead of making a full fledge crust, she took biskets and sprinkled it on the top. Amazing!
Also... a hot evangelist visited my door yesterday. Man, I am a SUCKER for blonde haired blue-eyed evangelists. He was selling inspirational magazines... but we were watching a movie and I had no money so I said that I really couldn't help him out. Idiot me! Whyyyyy?! I did get a free pamphlet, though.
Other than that, yesterday I... I got a 50$ parking ticket ('rip off artists!') and my toilet leaked all over my floor. I guess that's notable. Note to you: BUY A PLUNGER! Also, if your have to jiggle the handle to make sure the water stops running, buy yourself a new flapper, they cost 5 bucks at the store and can save you hundreds in stress and water bills, even if you aren't the one paying the water bills.
Comment! (3) | Recommend!