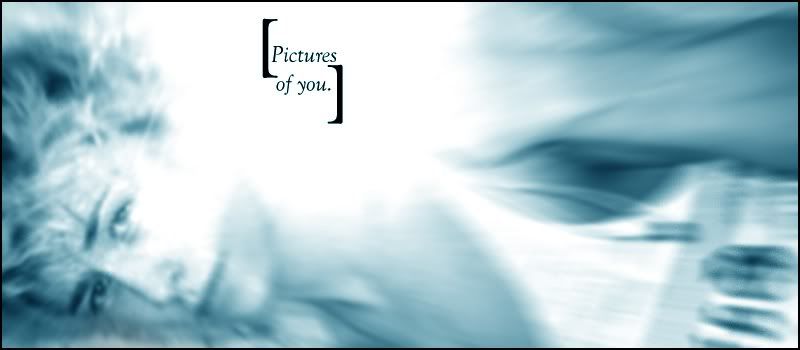 Spring Semester 2010:

* Teaching: Fundamentals of Microbiology - MW 12:00-2:40p
Medical Microbiology - TR 2:00-3:15p
Colloquium in Cell and Molecular Biology - R 3:30-4:30p
Thesis Research - Identification of T Cell Subsets and Immune Response in Colon Cancer Using Immunofluorescence - FOREVER AND EVER

Or rather, entries from the old journal, as it were...

-

An open letter to the College.

(August 27, 2006)

-

Untitled.

(July 16, 2006)

-

Haunted (Part One)

(May 29, 2006)

-

Are we growing up, or just going down?

(May 3, 2006)

-

I had a dream...

(March 19, 2006)

-

...

(March 14, 2006)

-

Enjoy it while it lasts.

(September 12, 2005)

-

Scene: 3:27 AM.

(September 3, 2005)

-

Untitled.

(July 26, 2005)

Psst... if you're looking for the academic writings I used to have here, head to my Reading Room.

Since June 2006...

- A Heartbreaking Work of Staggering Genius by Dave Eggers
- High Fidelity by Nick Hornby
- Travesties by Tom Stoppard
- The Way of the Shaman by Michael Harner
- The Tao of Pooh by Benjamin Hoff
- Nervous Conditions by Tsitsi Dangarembga
- The History Boys by Alan Bennett
- The Dark Child by Camara Laye
- Movie-Made America by Robert Sklar
- Diary by Chuck Palahniuk
- Rant: An Oral Biography of Buster Casey by Chuck Palahniuk
- Galapagos by Kurt Vonnegut
- The Dead Emcee Scrolls by Saul Williams [61.3%]
- Atonement by Ian McEwan
- Junk Science: An Overdue Indictment of Government, Industry, and Faith Groups that Twist Science for Their Own Gain by Dan Agin, Ph.D. [64.4%]
- So Yesterday by Scott Westerfield
- Lucky Wander Boy by D.B. Weiss
- The Things They Carried by Tim O'Brien
- Doctor Who: The Key to Time: A Year-by-Year Record by Peter Haining
- Why Buffy Matters: The Art of Buffy the Vampire Slayer by Rhonda Wilcox
- When You Are Engulfed in Flames by David Sedaris
- The Road by Cormac McCarthy
- 1984 by George Orwell [18.8%]
- Nick and Norah's Infinite Playlist by Rachel Cohn and David Levithan
- Intuition by Allegra Goodman
- V for Vendetta by Alan Moore and David Lloyd (Yes, I realize it's a graphic novel but it still fucking counts!)

I am NOT having children. [EDIT]

Friday, April 18, 2008 @ 8:31 pm

Today, I picked up one of my cats and pet him while he was lying down on my chest, as per usual. I went to smooth over Snugglebum's tail when all of a sudden he let out a pathetic meow...of pain.

I checked it out and his tail was a little crooked.

I'm not going to lie: I panicked, and then I started to tear up.

Tomorrow, I'm calling the vet (a free phone consultation) about whether or not to bring Snugglebum in.

If I freak out this much--i.e. if I have THIS much of an emotional investment in a fucking CAT--then there is NO way I will be able to function with a child.

Plus, children are more expensive than cats and MUCH needier. I can't live like that.

Lesson for me: just say no to kids.

P.S. I checked around online (because that's what I do when I freak out) and now it doesn't seem like such a big deal. He probably got bitten by his brother or something. But still--I'm calling just in case.


This picture was taken a few months ago. Snugglebum's the one on top; on the bottom is Bickle.

Comment! (4) | Recommend!

The relief didn't last long.

Tuesday, April 15, 2008 @ 9:37 pm

The crest of the wave of happiness has long crashed upon the shores of uncertainty. While I am fairly confident I will end up going to SDSU for graduate school (I would be stupid to turn down a spot at the #1 small research university in the US with a nationally-ranked cell/molecular biology graduate program), I now have to deal with the actual logistics of the move. Where would I live? When do I need to move in by? How much would I need to take out in student loans to cover two, maybe three years of education? What would my yearly budget look like? How will I cover all these expenses if I'm working towards that degree full-time?

Thoughts like that make my head hurt.

But I have to keep telling myself that no matter how much it sucks to go through all of this crap, in the long run, it will be worth it. When my other friends are off making money and saving for retirement, and I'm still living in an underfurnished 400 square foot studio apartment two blocks away from campus, it won't seem that way. But I have to keep my mind set on the ultimate goal of completing a graduate education:

Intellectual satisfaction. Scientific advancement.

Whoring myself out to biopharma and making my money through employment in a sometimes ethically-questionable industry, and then possibly fleeing to the ivy-covered halls of Academia as soon as my loans are paid off and I have my one year of frivolous fun jetsetting around the world.

Comment! (5) | Recommend!

Monday, April 14, 2008 @ 6:11 pm

I GOT INTO THE M.S. CELL/MOLECULAR BIOLOGY AND MICROBIOLOGY PROGRAM AT SAN DIEGO STATE UNIVERSITY!

Suck it, self-doubt!

Comment! (10) | Recommend! (2)

Sunday, April 13, 2008 @ 10:01 pm

And by that, I mean the complete opposite.

Going into work on a Sunday night should be outright illegal.

Comment! (3) | Recommend!

Saturday, April 12, 2008 @ 10:40 pm

It's been a busy week. School started up again, and beyond that, I've been working like crazy trying to get better data for a presentation that my PI is making at AbSciCon (Astrobiology Science Conference) next week.

And so it will continue for a while longer.

Comment! (4) | Recommend!

To be (at work) or not to be (at work)?

Wednsday, April 2, 2008 @ 9:51 pm

That is the question.

I feel that I'm over the worst of whatever illness I have, but I'm still not operating at a level where I think it's fair for me to show up at work. It's not fair to my coworkers who might contract whatever I have. It's not fair to my boss who expects a certain level of performance when I'm at work (a level of performance I don't feel I'm up to). It's not fair to NASA who would have to pay me for half the work in twice the time due to lack of mental clarity and physical stamina. And it's not fair to me to try to meet all those expectations, handle all those dangerous chemicals, tinker with all those machines and implementations, etc., etc.

Or maybe I just whine to much.

Technically, though, since it IS spring break, I'm not obligated to work or anything anyway as part of the terms of my internship. I will be missing out on some extra cash, but it's not like I'll be up Shit Creek if I don't get that money. So I think at least one more day of resting up is in order. The new school term starts next week and I want to be at 100% for that for sure. Besides, there's a

Battlestar Galactica

marathon on SciFi tomorrow again. Why would I want to miss that?

Comment! (8) | Recommend!

Tuesday, April 1, 2008 @ 8:25 pm

Is it wrong to hope that the older, somewhat spacey gentleman who drove me from Berkeley to Fremont in his cab either lost the credit card slip or forgot to turn it in? I mean, I appreciated the ride greatly since it was my only way home, but I really could do without that charge on my debit card.

It hasn't shown up on my online statements yet. I'm just hoping that something happened to it and he couldn't turn it in to the cab company...

Comment! (3) | Recommend!

Tuesday, April 1, 2008 @ 8:00 am

For all the complaining I do when I'm super busy, when I finally get the chance to rest (due to sickness), I find that I am bored beyond belief. It might be a different story if I had classes right now, because then I'd have homework or reading to do, but no.

I think it says something about our society when we're supposed to be resting but we secretly yearn to get back to work just to have something to do. This society has destroyed me and I will never be able to fully appreciate a slower way of life.

Ugh, I need to go to the drugstore to pick up something for my nasal congestion. Hey! At least it's something to do!

Comment! (5) | Recommend!