Sunday. 7.20.08 7:18 pm
So.. I got a new roommate! I got her name in the mail a couple of days ago and I'm starting to email her... I am mostly scared. I want it to work out and so there's a lot on my mind. What is she like? Will she like what I'm like? What should I be like to be liked? What should I be particular about? What should I just let go? Much worries...
Comment! (4) | Recommend!
My car breaks down and I get a new computer
Friday. 7.18.08 1:48 am
I set out this morning with the idea that I was going to go and spend most of the day pulling up my new computer I new was waiting for me at the homestead (incidently, the one that I am writing from right now). But it seemed that the world and circumstance had a little bit more in store for me.
Driving down the highway at my usual speed, I suddenly realized that I was losing velocity. I slowed down and pulled off the side of the road. I turned off the car. I turned it back on... it wouldn't go. "Uh-oh" I thought. Strangely, I wasn't particularily worried. I popped the hood. I have to admit that it was more of an exercise than anything else, as I looked at it, I scanned briefly for any obvious rabbit damage (as rabbits had perviously had a habit of destroying my car) and then went back in my car.
I was playing around with my phone trying to decide what to do when suddenly I saw someone pulled off the side of the road ahead of me. "It would be cool if those people were coming to help me" I muttered to myself. To my surprise, they actually WERE there to help me. Two wholesome looking men got out of the car and started for my car. I got out and looked up at them.
"Hey, do you need some help?" they asked.
"I think I need a jump!" I said, because that's really all I knew how to do in this sort of situation.
They explained that the car they had was a rental and that they weren't sure if they could jump me, but they thought they might be able to take a look at the car. I popped the hood again and explained, rather ineptly, that my car, in short, had broken in a mysterious was and I had not idea what was going on. They hunkered down over it, looking for something that resembled a clue. They seemed just as perplexed as I was until they took a little bit of thread out of this part of my engine.
"Oh," said one guy.
"Uh-hunh."
"That would do it," the other replied, "This is a piece of your belt."
I asked them what that meant and they explained that the belt is the thing that makes your car run and that mine had, as it were, broken. Gr-reat. They offered to give me a lift, but I explained that I could probably reach someone. I thanked them for stopping and I they were on their way.
Meanwhile, I was still on the side of the road with nothing but a speeding cars, a stretch of highway and a rotting pronghorn corpse, picked for everything but its poor deflated skin that I passed as I walked up and down the hill. Well, a series of call followed, which I suppose I won't bore you with. My sister came and picked me up and my insurance got me a tow truck. We went together to a cool refreshing gas station and everything was well taken care of. Everyone was very nice. My car won't be fixed until Monday, but my dad came and got me, so in the end I got where I wanted to go (albeit in a rather unexpected way).
It's sort of strange, but I have to say that if I were to break down by the side of the road, that it was probably the best way that it could have possibly happened. Strange, isn't it?
Well, now I am at home playing with my brand new computer. I dubbed her Tulip and she does not write "pk! pk! pk!" in the middle of my entries. While I know I will miss Winsom when I finally fully disessemble him (that is my old labby) it is probably for the best. I can play music! I can type! I can actually carry my laptop away from its chord! It's going to be a lot to get used to. Vista, too. Apparently, it's trying to protect me from myself and not allow me to delete programs the old fashioned way (fi!), but it seems to be working okay.
Tommorow? Jinsy experiments with 'bamboo', the wacom tablet.
Comment! (3) | Recommend!
Wednesday. 7.16.08 1:06 pm
This is a practice for some drawing I'm doing at this thing coming up. This is Maggie, my dog, drawn from a photo in 40 minutes.... not exactly near the 15 minute goal I need. I think if I make it smaller I might be able to make it.
Comment! (1) | Recommend!
Miserable Breaking Mer-di-shmer-di!
Thursday. 7.10.08 4:56 pm
So... My computer's sound breaks. *Sob*
Luckily, I'm getting a new computer, but I am kind of soundless for the next couple of weeks until it arrives. "Whyyyyyy!!!!!!" Luckily my typing sometimes works... Ri-ight.
In other news:
"And if you invite one rabbit, you really have to invite them all" - Piccolo's Party
Comment! (3) | Recommend!
Wednesday. 7.9.08 12:43 pm
Well, I am back from a wonderfully independence week! W007! In celebration... I painted some dogs. I think they turned out pretty well!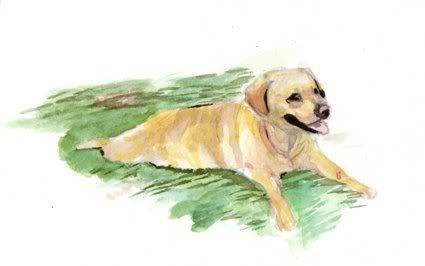 Comment! (6) | Recommend!
Thursday. 6.26.08 2:12 pm
Piccolo. This one I rather like and only spent about two hours on.

A squirrel. This one I spent four hours on and don't like much at all. Go figure.
Comment! (3) | Recommend!