start something meaningful.
Wednesday. 6.20.07 5:45 am
yesterday was a cold and gloomy night.
i sat in my room entertaining myself with the images of the past.
so i decided to start studying soon.
yup i've done something meaningful today.
i did some studying with the help of one my good friend;D
you know who you are, so thanks for wasting your bloody time on me yeah. hah
so far i've studied chemistry and maths.
was a horrible feeling man.
so many formula and stuff to remember
guess life isn't that easy.
but glad that i'm back on track.
so people out there, start to revise your work if you have not.
times running out, do study and don't wait till you'll regret.
take care peeps.
Comment! (8) | Recommend!
Saturday. 6.16.07 12:33 pm
uhm i'll shall blog today.
i'm always wondering what should i blog bout.
anw we had our chalet this week.
everything was fun then but something bad happened.
bunch of fucking hooligans came finding trouble with us.
the problem gets bad to worst.
don't wna carry on saying.
its totally so uncool.
didn't managed to take pictures with my peeps.
but its fun having to gather all ur good friends around.
so if you think you've neglected some of them.
make sure you gather them and do some catching up.
Whooooooooooo:)
the times we had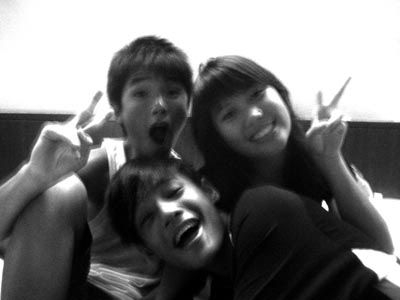 true friends are always there for you.
wna thank you guys for making my life a memorable one.
Comment! (9) | Recommend!
Friday. 6.8.07 11:41 am
i've tried, i've tried, i've tried,
i've tried, i've tried, i've tried,
i've tried, i've tried, i've tried,
but it just dosent seems to help....
i want my prevoius life back!
yes, yes i need it soo soo much...
i wna shop luh fuck!
Comment! (16) | Recommend!
Thursday. 6.7.07 12:26 pm
done some of my maths homework today but didn't manage to complete, kinda sucks.
there is still more homework to go and holidays is ending, kinda sucks.
didn't attend any single lesson in school, kind sucks.
went to play bowling at safra and its super cold, kinda sucks.
manage to strike couple of times but still lost to Adrian, kinda sucks.
Dickhead Liyun stuff her socks into my mouth, kinda sucks.
Brianless Liyun spilled coffee on my bag, kinda sucks.
the worst fucking thing is liyun's blog never mention about my cool way of
throwing the bowling ball in her blog and that
SUCKS MOST!
i'm done and yes i'm a poser my ass
:D
Comment! (5) | Recommend!
Tuesday. 6.5.07 4:17 am
I'm starting new.
Comment! (10) | Recommend!