Wednesday, January 2, 2013
I spent my new year working as a freelancer.
And I got a new hair cut. The hair dresser recognised me and the first thing he said to me was "you want it short."
Damn right.
He cut it pretty short and I was offed to a major shopping complex in the KL city to await my friend. When I was in a famous well-known shoe shop, I asked the sales attendant if she could recommend me some shoes.
And the first thing she recommended me was a MALE WORKING SHOE.
I looked at her surprisingly and said to her slowly "I'm a girl."
She looked confused initially and slapped her forehead for mistaken my identity.
I looked back at my dressing: loose black tee with falling jeans and huge sport shoe. No wonder she mistook my identity. She can't spot my boobs.
And I think my hair is too short like a guy.
Later, I went to meet another bunch of girlfriends and they all cooed how cool I look with this new hairstyle.
Right. The only thing that's missing on my hair is the highlight. I will highlight my hair this year!
Comment! (2) | Recommend!
Sunday, December 30, 2012
I was at a friend's gathering to support his initiative in organising a financial game outing, and I certainly didn't expect to bump into my friend and her boyfriend. We seem to be fated to bump into each other at places we never thought of.
Her boyfriend and my friend are friends. Ah! What a small small world.
Upon sitting down opposite me, I saw her taking out a microfleece pouch, which was just too cute to go unnoticed, but I never asked what is it.
Until ...
We finished the game.
We get on like house on fire easily. I guess we both are friendly and talkative girls. Ha!
Anyways, she took out the pouch again as we sat on the chair. And the curiosity beats the crap out of me, I groped the pouch. Yes, you read it right. I GROPED the pouch, and I was surprised that the item in the bag is soft and small.
And then she opened the pouch. It was containing this: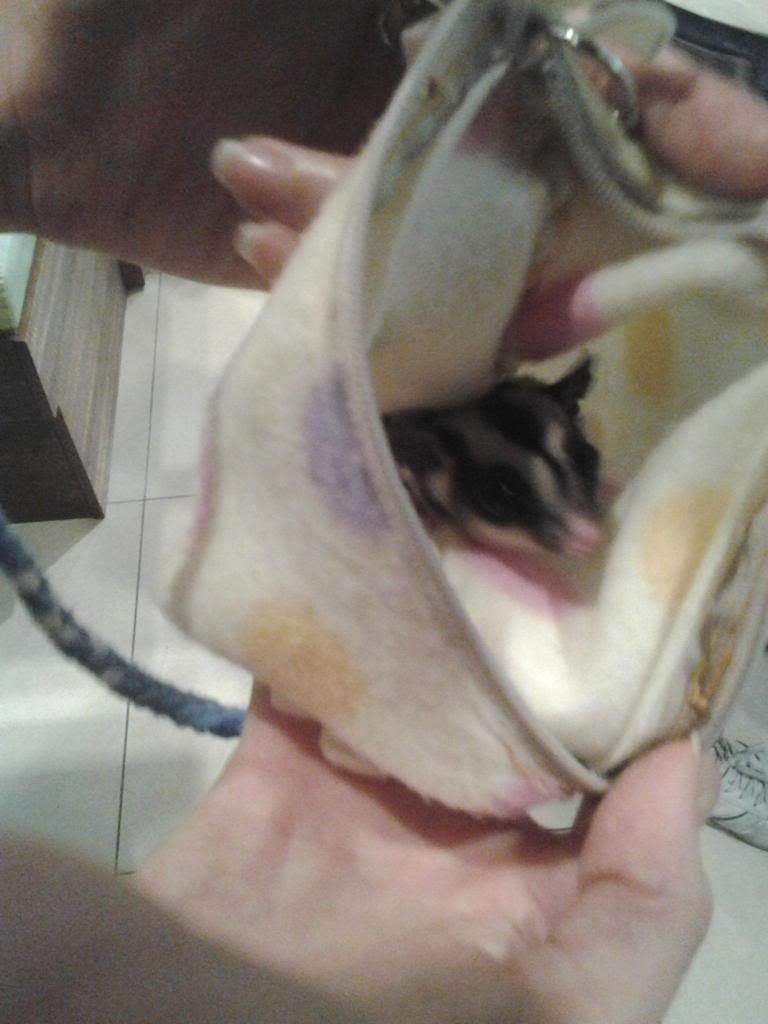 I went almost hysterically because I was groping with all my might. What happened if the sugar glider got crush?! I will certainly crush myself.
She said she will whack me if she saw me doing so. Ouch.
It was so cute!!! I kept petting it. I wanted to kiss it if possible, but of course, I know my limits.
When we said our goodbyes, I said goodbye to the sugar glider first instead of her. HAHA...
So I guess you now know the weakness to renaye. =)
Comment! (1) | Recommend!
Monday, December 24, 2012
Oh yes, we survived the Mayan's predicted Armageddon, but did it ever occur to you that we may or will die in our own hands? We are our own enemies. We are too smart for our own race that we bring destruction to ourselves, and yet say that we fought for it in the name of 'love'.
If so, is war, starvation, destruction of the environment an act of affection of humans?
Comment! (1) | Recommend!
Friday. 12.21.12 8:38 am
We survived!!! The humans survived!!!
Well, what if the expiry date wasn't just today but tomorrow, the day after tomorrow or next week?
"The end of the world" still lingers in our mind...
Comment! (0) | Recommend!
Wednesday. 12.19.12 7:19 pm
I was sitting with two oldies and the man is well known as a joker among the clique.
The female asked him "What should we do for the end of the world?"
He replied "We celebrate."
I roared a laughter.
Comment! (0) | Recommend!
Monday. 12.17.12 4:07 am
A friend came to Kuala Lumpur to celebrate her brother's birthday, and we hang out for the whole day.
Since this date marks one year of our friendship anniversary, out of the blue, I suggested to have noodle party in her hotel room.
This is only understood by the participants from the ship. It is simply a party where we all have instant noodle wherever we want on the ship. I usually had it alone in my room, while my friends had it on the deck.
It was fun and bond-building. And I did not get to eat instant noodles from Myanmar.
Ouch.
Comment! (0) | Recommend!