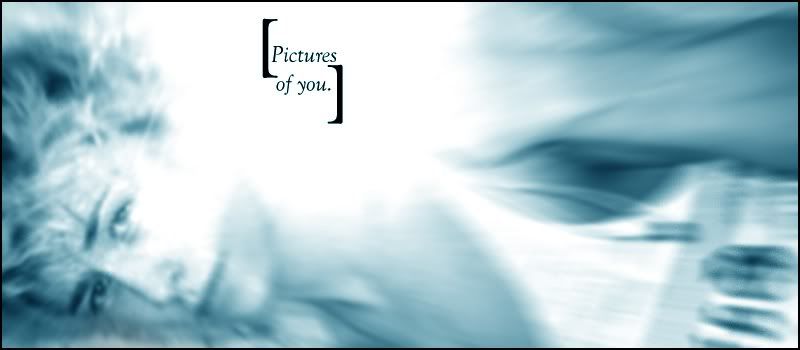 Spring Semester 2010:

* Teaching: Fundamentals of Microbiology - MW 12:00-2:40p
Medical Microbiology - TR 2:00-3:15p
Colloquium in Cell and Molecular Biology - R 3:30-4:30p
Thesis Research - Identification of T Cell Subsets and Immune Response in Colon Cancer Using Immunofluorescence - FOREVER AND EVER

Or rather, entries from the old journal, as it were...

-

An open letter to the College.

(August 27, 2006)

-

Untitled.

(July 16, 2006)

-

Haunted (Part One)

(May 29, 2006)

-

Are we growing up, or just going down?

(May 3, 2006)

-

I had a dream...

(March 19, 2006)

-

...

(March 14, 2006)

-

Enjoy it while it lasts.

(September 12, 2005)

-

Scene: 3:27 AM.

(September 3, 2005)

-

Untitled.

(July 26, 2005)

Psst... if you're looking for the academic writings I used to have here, head to my Reading Room.

Since June 2006...

- A Heartbreaking Work of Staggering Genius by Dave Eggers
- High Fidelity by Nick Hornby
- Travesties by Tom Stoppard
- The Way of the Shaman by Michael Harner
- The Tao of Pooh by Benjamin Hoff
- Nervous Conditions by Tsitsi Dangarembga
- The History Boys by Alan Bennett
- The Dark Child by Camara Laye
- Movie-Made America by Robert Sklar
- Diary by Chuck Palahniuk
- Rant: An Oral Biography of Buster Casey by Chuck Palahniuk
- Galapagos by Kurt Vonnegut
- The Dead Emcee Scrolls by Saul Williams [61.3%]
- Atonement by Ian McEwan
- Junk Science: An Overdue Indictment of Government, Industry, and Faith Groups that Twist Science for Their Own Gain by Dan Agin, Ph.D. [64.4%]
- So Yesterday by Scott Westerfield
- Lucky Wander Boy by D.B. Weiss
- The Things They Carried by Tim O'Brien
- Doctor Who: The Key to Time: A Year-by-Year Record by Peter Haining
- Why Buffy Matters: The Art of Buffy the Vampire Slayer by Rhonda Wilcox
- When You Are Engulfed in Flames by David Sedaris
- The Road by Cormac McCarthy
- 1984 by George Orwell [18.8%]
- Nick and Norah's Infinite Playlist by Rachel Cohn and David Levithan
- Intuition by Allegra Goodman
- V for Vendetta by Alan Moore and David Lloyd (Yes, I realize it's a graphic novel but it still fucking counts!)

Wednesday, May 21, 2008 @ 9:22 am

Wavefunctions can kiss my ass.

I thought p-chem was the last of it, and after that class I would've been fine never seeing another ψ ever again in my life.

But then again, I never thought I'd retake physics, so I guess I walked right into it.

I guess in the context of quantum chemistry I will never see ψ again EVER. And hey, that is fine by me. But as for its re-emergence in my life through physics... I guess I will just have to deal with it. Six more weeks until the final and then I can say goodbye to ψ forever! Mwahahaha!

Comment! (6) | Recommend!

I am not dealing with this well. [EDIT]

Friday, May 16, 2008 @ 9:24 pm

I don't know if it's because my fuse is shorter on days like this, or if it's because the damn hot weather makes it more likely that my fuse will be lit.

EDIT:

At this point, EVERYTHING is pissing me off. I'm sure there's some underlying issue at the core of my own personality that makes it so easy for me to reach the flashpoint, but regardless, I wish everything would just...fucking...WORK. And I mean that in terms of functionality and in terms of, like, working out in the end. Because today, NEITHER of those things is happening.

I should just go to sleep, but it's 90 FUCKING DEGREES in my room and now I'm sweating again. And I just took a goddamn shower, too.

Comment! (6) | Recommend!

Thursday, May 15, 2008 @ 1:43 pm

Wednesday, May 14, 2008 @ 8:49 pm

I have been cleaning that stupid bathtub/shower for the last 40 minutes. When I started, it was sundown, and when I quit, it was dark out.

I feel woozy from the cleaning solution fumes.

I feel sweaty from the vigorous scrubbing.

My mortal enemies are soap scum and mildew. And it looks like they've won this round.

When I began, I thought it was a 20 minute deal, tops. Looks like it's a multiple day-long project, and I just don't have the strength (or patience) to carry on today.

So maybe tomorrow, or this weekend, I'll have my shot...

And now, I'm off to take a shower. But not in the one I've been cleaning. I had thought that I could take a shower in it after it was cleaned to celebrate my victory over grime. My dream may have been deferred, but I will not let it shrivel like a raisin in the sun. But like a raisin, winning the War on Dirt shall be all the sweeter once that moment arrives!

Comment! (1) | Recommend!

Wednesday, May 14, 2008 @ 10:00 pm

It's only 10:00 and already it's hot as balls outside.

Today, it will reach into the mid-to-upper-90s. Tomorrow, it may reach past the century mark.

And on top of all that uncomfortable-ness...the allergen counts are very, very high.

FUCK LATE SPRING.

Bring back autumn and winter!

EDIT:

I was just thinking about the expression "hot as balls." If we're talking about temperature, the more apt expression should be "cold as balls," since the scrotum is designed to hang away from the body in order to create a more hospitable environment for rearing sperm. Though--and I'm sure I'm in the minority here--some balls are indeed hot. But not in that way.

Comment! (3) | Recommend!

Monday, May 12, 2008 @ 12:01 am

Now that

they

are gone, my sister and I have the bathroom to ourselves. I decided to clean/fix it up.

Among the things I did in the last couple of hours (in roughly chronological order): clean out the medicine cabinet, fix the shelves in the medicine cabinet, create a cute flower arrangement, hang artwork on the walls, install a hand towel rack, get rid of their old half-used personal hygiene products, fix the doorknob so that it locks correctly, clean out the cabinets and drawers, literally Lysol the shit out of everything, update the bathroom reading material (old copies of

National Geographic

,

Radar

, and

GQ

), and finally, coordinate, attractively fold, and neatly lay out towels.

There still remains a lot of stuff to do to that bathroom, but I have to go to sleep, so that will have to wait for next week. And guess what: I'm actually looking forward to it.

Comment! (3) | Recommend!

Sunday, May 11, 2008 @ 6:01 pm

Charging $30/hr to tutor easy microbiology is the greatest fucking concept EVER.

Clarification: it was her idea to give me $30/hr for tutoring, not mine.

Comment! (2) | Recommend!

Sunday, May 11, 2008 @ 12:52 am

I'm EXTREMELY tired.

AND. I can't fucking STAND IT when dancers break on count 1 instead of count 2 in the fucking cha-cha.

</consciousness>

Comment! (3) | Recommend!