Friday. 7.20.07 12:50 pm
went to some train station place today with my peeps.
liyun and i took pictures and edited it to make it better.
oh well its so obvious that liyun's picture are nicer!
her photoshop skills is of course more professional than mine as i don photoshop alot!
hah at least i've tried.
liyun i know you think that ur pictures is way better!
don't be humble alright ;D hah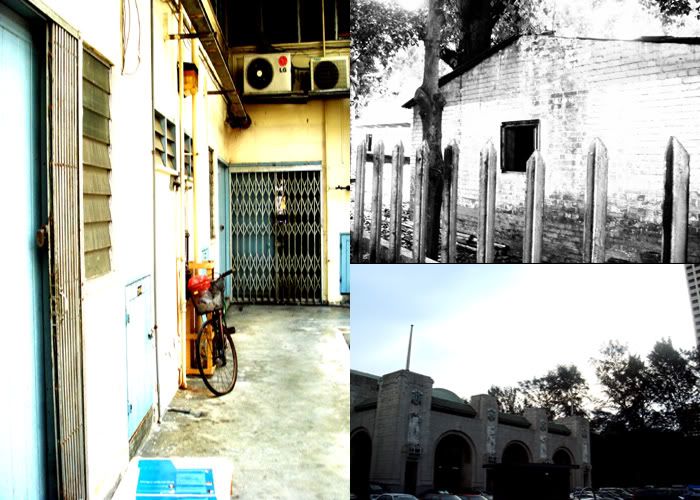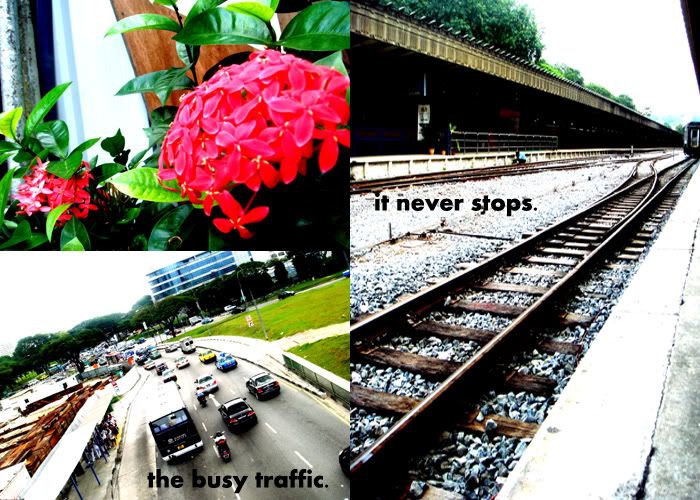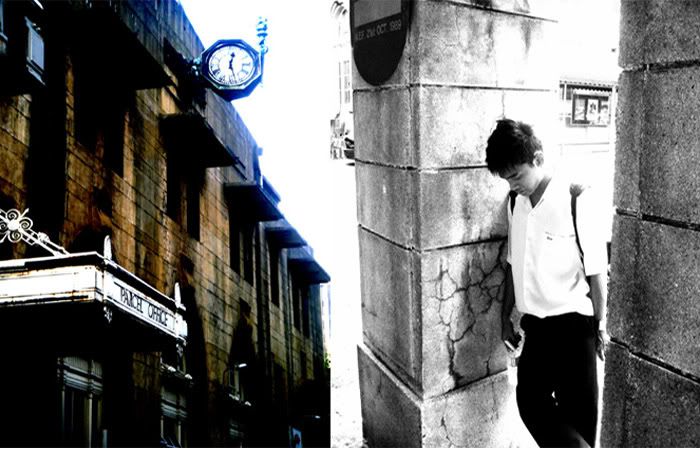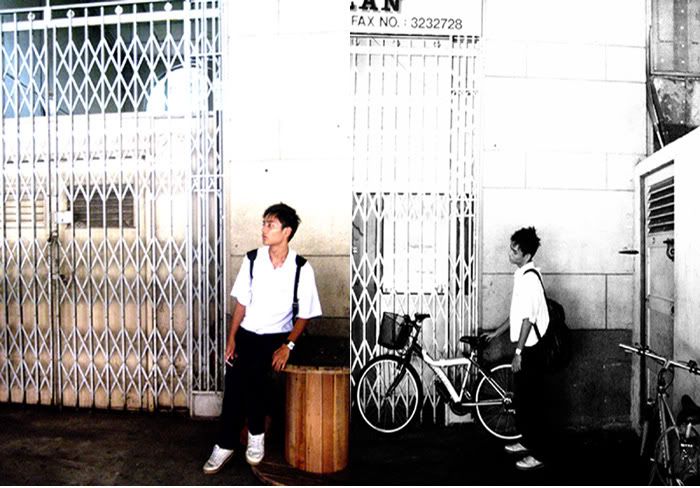 and let me introduce you to class 4E!
this picture is suppose to put in the year book,
but it has to be darwn out or do something with it as we're the graducation class.
its not completed yet ; liyun is still working on it ;D
post the final one soon.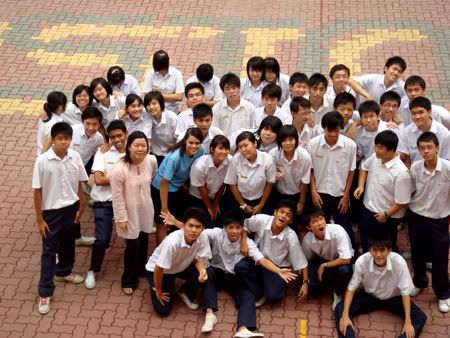 spot me LOL!
ahhh my short hair :(
Comment! (6) | Recommend!
Friday. 7.20.07 8:10 am
super duper happy today.
we got the champ for the dance quest.
we're suppose to dance with traditional dance step with hip hop.
it was so last min we took less than 4 days to pratice.
thanks for the support everyone!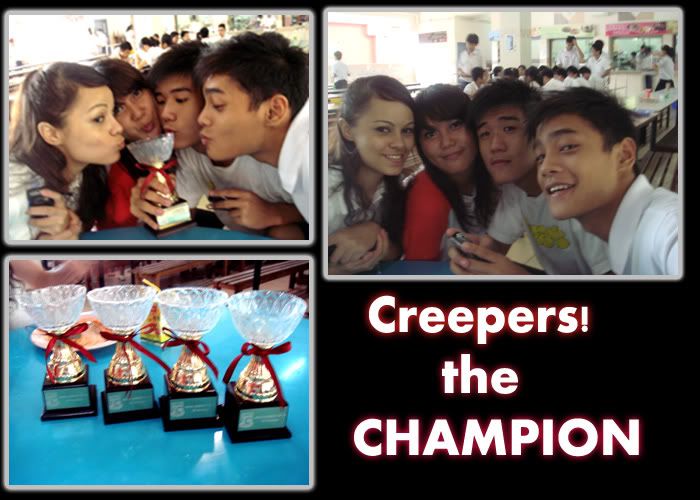 shall upload the dance video some other days.
take care people:D
Comment! (6) | Recommend!
Monday. 7.9.07 9:07 am
i'm stuck with school stuff again.
got this dance thingy to do in school, not one but two.
there's a three day interior design course coming soon.
preapering for my n levels.
bro going ns tmr.
yeehong's and cheehao's birthday tmr.
fucking drive me nuts!
my hair is short now, got caught by my faggot dm and its in front of the whole sch.
well i knew this day would come. hah kinda love my short hair i must say ;D
guess what my wallet was been found! phew.
this guy came all the way to my house and pass the wallet to my bro.
i was sleeping so peacefully till my bro wake me up and asked where the hell is my wallet.
i told him was in my bag, okay i lied. LOL
cause i'm damn sure he'll kill me for losing my wallet.
as you know my id is inside.
well, got it back though phew. must be lucky :)
bought white skinny jeans, couple of shirts and some stuff.
feeling so great now... whoooooooo
okay this post is getting way to long.
lets put it as my post for the last few weeks ;D
missing in action once again.
Comment! (2) | Recommend!
Monday. 7.2.07 2:38 am
found this over at steffi's blog.
find it quite true. LOL
wna know bout ur zodic ; drop by to steffi's blog over at my link:)
CAPRICORN MAN
A man in this Zodiac will has a pair of round big beautiful eyes, a nice
structure jaw line. He is a good listener and can understand everything
easily and clearly. He can guess what you will say before you even say it.
He often shakes his head or touch his hair. He is a big built, but he will
tend to have a small ear. He tends to have a darker shade of hair and eyes'
color. He will likely have a short and strong neck, broad shoulder,
muscular, strong hands and grips. He has a shorter fingers compare to the
man of the same size and same height in the other zodiac. His hands can work
well at the same time can protect and care for his woman.
His height will be proportional to his weight. He will walk firmly and
always take a big long step. As he walks he will look around in caution with
no disturbance from his problems at present or in the past. He likes to
watch things built with fascinate and wonder about how it is done, so you
could see him watching a construction site and not get bored.
He is a good dancer. He is a careful person in instinct, so even at dance
floor, he will already have to know what in front or behind him before he
will take any steps.
Green is his favorite color. You will mostly see him wear green, navy, blue,
or brown. In all 12 Zodiacs, he is the one who can get the most satisfaction
from possession of beautiful thing, and cherish it as if it is very valuable
to him even it is just a crystal ball made in France.
It is his luck that he hardly has to chase after woman. They always come
themselves without his invitation. He likes to treat his guest in his house
than visiting his guest at their house. He does not like to be a center of
attention, so if you need his help, you have to look up for him. He lives
his life in stability and simplicity. Every decision made are already "Sure"
and carefully thought out. He will not do what he has been asked to do if he
is not interested in doing it. He acts casually but in reality, he always
doing things seriously.
He loves peaceful and quiet environment so in his free time, he will stay at
home instead of going out and look for adventure. He loves nature and dreams
of a nice and quiet house with lots of trees, or he may dream of a house in
a beautiful countryside.
He will let you have freedoms and watching you in a distance. If you are
over doing something, he will let you know by his icy cold look. He is the
perfect lover in all the Zodiac for nothing he will not do for his love one.
He won't allow people to laugh at him or think he is a joker, so he will
spent for himself luxury for what it is worth.
He likes neat and well dressed woman, so do not be a slop if you are dating
this guy. If you do that he will loose his face. He is the romantic type who
would dance with you under the moon light.
Love will make him shines and you will see it in his face. He will not say
it out loud, you have to know it yourself.
Comment! (8) | Recommend!
Friday. 6.22.07 12:22 pm
yep school holidays is almost ending.
my friends decided to have an outing to sentosa tmr morning.
gather everyone to have some fun.
although my neck is still not perfectly fine.
i'm still going to watch them have fun ;D LOL sounds crazy.
but yah just wna enjoy the last few school holidays
anw handy just gave me his louis vuitton wallet ;D
thanks handy!
random pictures taken during last few days.

Comment! (12) | Recommend!
Friday. 6.22.07 3:49 am
woke up this afternoon and found out that my main door was stuck. how unlucky
while i was using the com, my grandma called me from the back.
i turned and guess what i fucking sprain my neck! urghhh....
my neck can hardly turn to the right now man its fucking painful!
any idea how to cure it soon?
i've got work later man! roar.
Comment! (8) | Recommend!