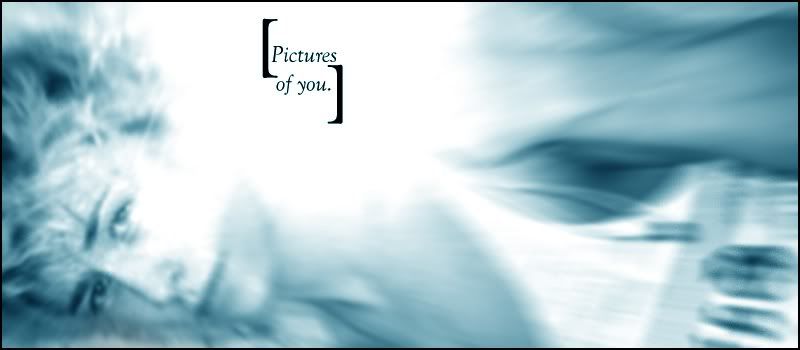 Spring Semester 2010:

* Teaching: Fundamentals of Microbiology - MW 12:00-2:40p
Medical Microbiology - TR 2:00-3:15p
Colloquium in Cell and Molecular Biology - R 3:30-4:30p
Thesis Research - Identification of T Cell Subsets and Immune Response in Colon Cancer Using Immunofluorescence - FOREVER AND EVER

Or rather, entries from the old journal, as it were...

-

An open letter to the College.

(August 27, 2006)

-

Untitled.

(July 16, 2006)

-

Haunted (Part One)

(May 29, 2006)

-

Are we growing up, or just going down?

(May 3, 2006)

-

I had a dream...

(March 19, 2006)

-

...

(March 14, 2006)

-

Enjoy it while it lasts.

(September 12, 2005)

-

Scene: 3:27 AM.

(September 3, 2005)

-

Untitled.

(July 26, 2005)

Psst... if you're looking for the academic writings I used to have here, head to my Reading Room.

Since June 2006...

- A Heartbreaking Work of Staggering Genius by Dave Eggers
- High Fidelity by Nick Hornby
- Travesties by Tom Stoppard
- The Way of the Shaman by Michael Harner
- The Tao of Pooh by Benjamin Hoff
- Nervous Conditions by Tsitsi Dangarembga
- The History Boys by Alan Bennett
- The Dark Child by Camara Laye
- Movie-Made America by Robert Sklar
- Diary by Chuck Palahniuk
- Rant: An Oral Biography of Buster Casey by Chuck Palahniuk
- Galapagos by Kurt Vonnegut
- The Dead Emcee Scrolls by Saul Williams [61.3%]
- Atonement by Ian McEwan
- Junk Science: An Overdue Indictment of Government, Industry, and Faith Groups that Twist Science for Their Own Gain by Dan Agin, Ph.D. [64.4%]
- So Yesterday by Scott Westerfield
- Lucky Wander Boy by D.B. Weiss
- The Things They Carried by Tim O'Brien
- Doctor Who: The Key to Time: A Year-by-Year Record by Peter Haining
- Why Buffy Matters: The Art of Buffy the Vampire Slayer by Rhonda Wilcox
- When You Are Engulfed in Flames by David Sedaris
- The Road by Cormac McCarthy
- 1984 by George Orwell [18.8%]
- Nick and Norah's Infinite Playlist by Rachel Cohn and David Levithan
- Intuition by Allegra Goodman
- V for Vendetta by Alan Moore and David Lloyd (Yes, I realize it's a graphic novel but it still fucking counts!)

Friday, May 30, 2008 @ 6:47 am

After reading some movie reviews...

Tuesday, May 27, 2008 @ 9:05 am

...I remembered why I hated reading them in the first place.

Who are these people to tell me why I should like or hate a movie? As if everyone's reaction to audiovisual stimuli will be the same...

Comment! (4) | Recommend!

I feel like I'm going to throw up.

Monday, May 26, 2008 @ 9:37 am

I think I may understand now...

Monday, May 26, 2008 @ 8:54 am

...why Skandar Keynes (the actor who plays Edmund in the

Narnia

movies) is so intriguing to me.

Basically, his appearance reminds me of Matthew... but in the movies he plays a character much more badass than Matthew ever will be, and in real life (or at least, stories about how he is in real life), he's so much cheekier than Matthew ever was.

Which leads me to the conclusion...

...that since all I think about is him and how comparatively dull, boring, and utterly SAFE he was compared to this boy actor...

...that I miss him dearly.

Still.

I guess today was one of

those

days.

[No comments necessary. I actually wish there were a way to turn off comments on things that actually don't matter to anyone other than myself.]

Comment! (0) | Recommend!

Today was not a complete disaster.

Sunday, May 25, 2008 @ 9:38 pm

On the contrary: it was pretty damn awesome. I guess the moral of the story is that I should stick with my convictions regarding schedules, because if people REALLY want to see each other, it will usually work out in the end.

I might post some pics later of the parade in the Mission. That is, if I remember to re-install the newest version of Photoshop.

Comment! (0) | Recommend!

Saturday, May 24, 2008 @ 10:57 pm

I don't know about you, but I could use some of that hydrogen right now.

Comment! (1) | Recommend!

I think I've got everything sorted.

Saturday, May 24, 2008 @ 9:12 pm

Basically, I disclosed to everyone what I planned to do tomorrow, and if C and company can't make it, then I can't be blamed for not trying.

I just don't understand why I have to be the one that bends to everyone else's schedules. So you know what? I said, "Fuck it! I'm going to try to see everyone on my own damn time and if it doesn't work out, then tough shit, I tried!"

I am just not thrilled at the prospect of spending 30-45 minutes on a bus where I might as well stick my thumb up my ass because there's nothing better to do. The way that I scheduled it out--I get to do everything I want to do and see everyone I want to see and I don't have to waste time on a bus which means more fun-time for me.

So yeah. Take that! I'm tired of being pushed around, schedule-wise, dammit.

And you know what else? This is not at all germane to what we're talking about, but when I go to San Diego, I am going to plan a housewarming and if no one can make it, then it's their fucking loss and it's not going to stop me from throwing myself a damn party.

SO THERE.

(Did that just make me sound a little nutso?)

Comment! (0) | Recommend!

Friday, May 23, 2008 @ 5:06 pm

I've got a friend, C, who I am very glad is in town for the weekend and whom I am very excited to see. Another friend, L, who lives in San Francisco, suggested that we all go out to Carnaval San Francisco which is this weekend in the Mission. I think this is a fabulous idea, and it sounds like this plan is set in stone (or at least, in very hard wood), so I make plans to BART directly to the Mission (very convenient) and meet everyone there. So for the last day or so, I've had this idea in my mind, and it sounds very, very appealing because transportation-wise, it works out beautifully.

So about 20 minutes ago, I start talking to C on Google Talk and we're both very excited to see each other on Sunday. Except now, apparently, I've got to MEET UP WITH THEM IN THE MARINA, which is a 45 minute bus ride away from ANY BART station or the Caltrain station, which means I waste my fucking time and my fucking money on the fucking BUS just because they want to eat breakfast at fucking IHOP first and then see

Narnia

and THEN go to the carnival (if AT ALL) and I just don't like having plans changed (or having my conceptions of the plans changed) a short time before.

Maybe it would be another story if I lived closer to San Francisco, and if I could afford the drive up and the parking, but fuck! I just want everything to be SIMPLE. SIMPLE like we planned it (or, how I

think

we planned it...), because I'm not at all excited to take public transit fucking far out of the way just to fucking MEET UP with people, no matter HOW much I want to see them. Seems like a waste of my time, and I HATE when my time gets wasted (unless it's a premeditated act on my part).

Comment! (4) | Recommend!