Sunday. 5.18.08 12:00 pm
went Carousel with Fad today, one of the very few halal hotel buffets in Singapore.
overall, 3 stars over 5. its the only place where i had the char soba better than the sashimi. LOL. the dessert is prob the only thing to rave abt. sadly, i'm not a dessert person. but fad was happy with almost all of her lil cakes and kuehs.
the place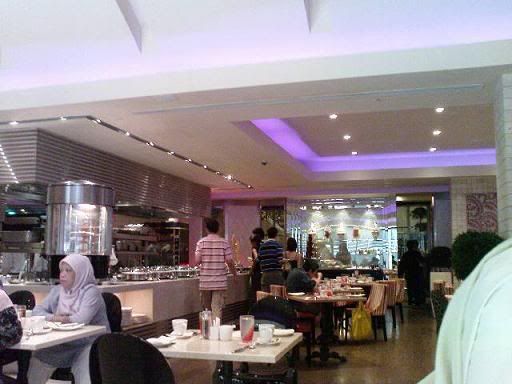 chicken char siu sou anyone?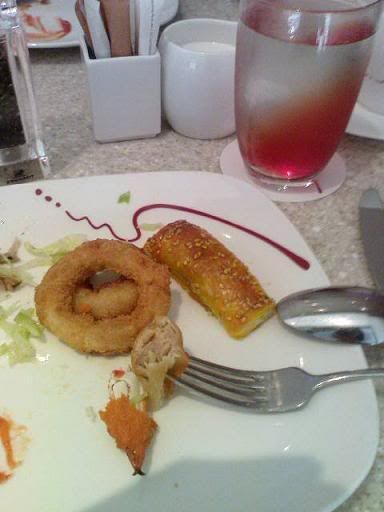 Fad's first dim sum experience!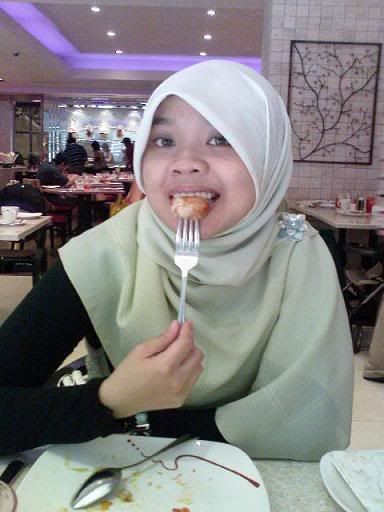 this happened today.
and after that i went shopping! i feel so deprived from shopping. I can't help just buying things that catch my fancy. i was supposed to buy birthday present for someone whose birthday was totally over, but i figured since we didn't managed to meet up, i can't be considered late. kekeke.
bot some dresses, they are meant to be worn for work, so that i don;t have so much to iron. but somehow, i realised when i got home they ain't exactly appropriate. LOL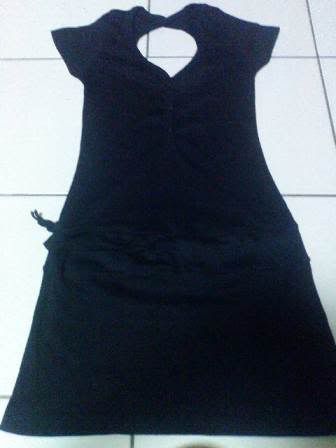 u can't really tell, but this is a ribbed dress, so its a bit sporty looking with the string to tie at the hip area ala sports pants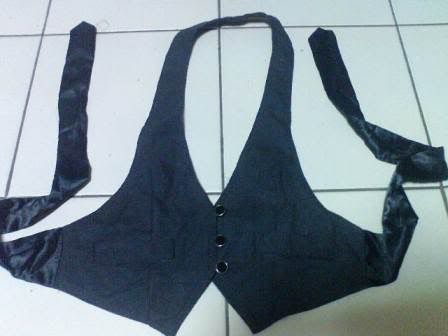 vest.. been wanting to get one with a sash back, my sis said the trend is over tho. i know that.. but i like vests mah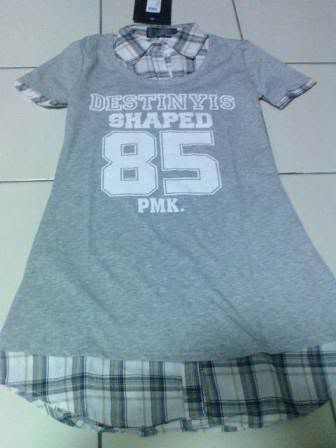 so cute right! and its the year 85! I have no choice, I had to get it
kappa shoes, on sale at only 24 bucks. saw similar shoes w/o brand going 26 even 29. isn't this so worth it?? and its pointed! i like!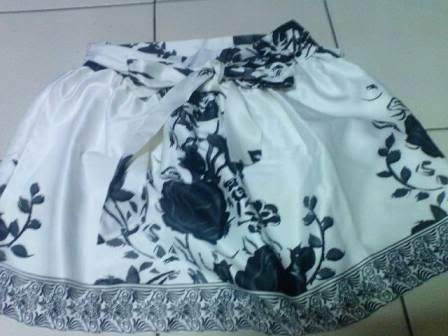 skirt fad helped me get from F21 USA, cost like at least 10 bucks less even after shipping vs inflated local prices. I will never buy from the local store again if i can help it
last but not least, shoe bag. its only S$5.90! taka sale. I don't need a fancy shoe bag anyway, i just need one that I can throw into the washing machine when it gets dirty and it lets the stinky air found in after-exercise-shoes to dissipate. this is like the most most most super worth it lah!
so ladies and gentlemen, it is now 1.36am. i'm gonna snooze and wake up bright and early to go work on Vesak day (public holi). haiz. its only half day, but still... haiz
**btw, if u read the tag board T is coming back on 5 July. plz dun ask me when is he coming back already ok?
Comment! (0) | Recommend!
Sunday. 5.18.08 11:47 am
i typed this thing for like 3 times already! and i finally just completed! Whew! as promised to renaye... i finally got this up
I shall skip over the entire part which i was.. em.. em... late.. and em.. sped down to harbour front on a cab and em... an entire.. em fiasco whereby em.. my phone died together with my 3 alarms and 2 pple who couldn't morning call me.. and.. em... resolutely refused to switch on no matter how i tried to revive it.. AND LINDY managed to revive it when i finally got to harbour front! what the crap!
Apologies first for my 3 dearest girls who did not blow up on me for being so late!
I have no idea why my phone died even though there's almost full batt and i just left it on my bed. In any case, i'm super sorry!
well, we managed to get on the ferry at 12 (instead of 9.20). and we're off!
passed customs rather smoothly. There's a machine that scans the passport much like I scan my library card to borrow book, so cool ya? The first thing we did when we finally reached Batam (40 min ferry ride) after checking in was EAT! Hungry lah!
the most ridiculous thing happened. Fad called the counter to check if all the restaurants were halal. the person at the counter said yes, but when we went to the chinese restaurant for dim sum, we saw pork ribs in black bean paste. wth. I thought Indonesia is a Muslim country and they can tell me a place that serves pork is halal? what the hell is they serve halal food like ha gow? how can a place be considered halal like that?
anyways, we didn't eat there. went to the poolside cafe instead.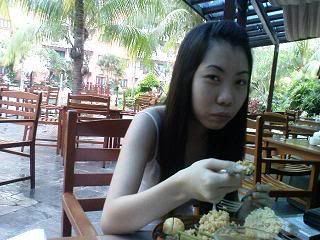 Mine, rice so cute!!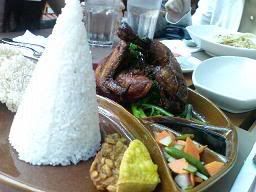 I just wanna show the rice cracker.. I love it!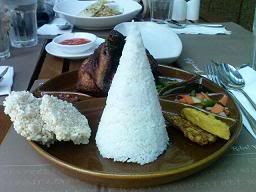 Fad and Jaye had the same thing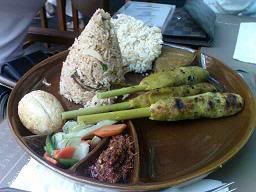 and Lindy's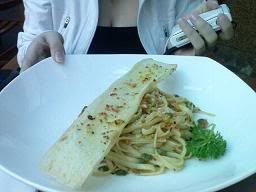 after lunch, we all went to book for our spa package. Fad over ate the chili and ended up with an upset stomach and rested in the room.
Sorry Koban, no saucy photos.
actually not much photos at all. I din bring a cam, photos all taken by my phone.
This is the spa place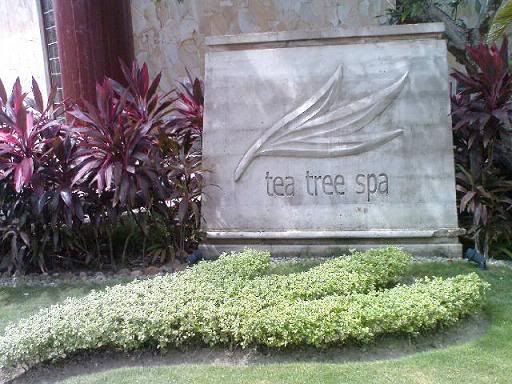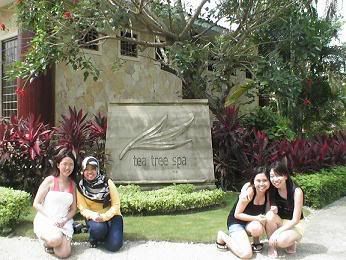 Entrance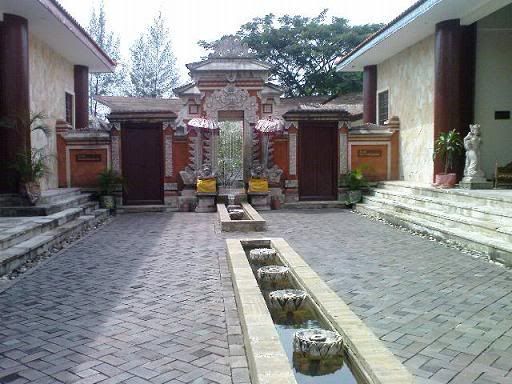 I wanna say how gorgeous the place is, just behind those doors lies a stand alone jacuzzi pool. Jaye, Lindy and me went for a dip. so nice to have bubbly hot water frothing all around lah! no wonder the rich love the jacuzzi. We got so boisterous that the spa personnel had to come and tell us we are disturbing the other patrons. OOPS. LOL
anyways, we frittered away the time relaxing, watching tv, going to check out the para sailing and etc at the next door hotel which had its own beach.
went back in time for our massage and we had a milk bath! so nice!! there are individual standalone rooms with bathing and tub facilities. the place was so tranquil and even speaking louder seems to spoil the beauty of the place. It sort of feels like u are walking into a secret garden, vegetation and vines coming out at you all over but still manage to look tended to. if you don't get what i mean than use your imagination lah!
it was evening and the sun was setting when i was soaking in the outdoor bathtub. so shiok lah! drifting away, almost dozing while the sun was setting turning the sky shades of purple and blue. OK guys, u shouldn't be thinking weird thoughts ya? there's high high walls all around. just to clarify that it ain't out in the open. LOL
the massage was so relaxing and they were really good. my aching shoulders finally got some respite. the masseuse really had to exert alot of force on my tight knots of muscle.
and come dinner time we decided to venture out to a nearby seafood restaurant.
I know the lighting is terrible, out of the entire restaurant we managed to sit at the only table with the red lantern.. and so u have.....
jaye the concubine! da hong deng long gao gao gua...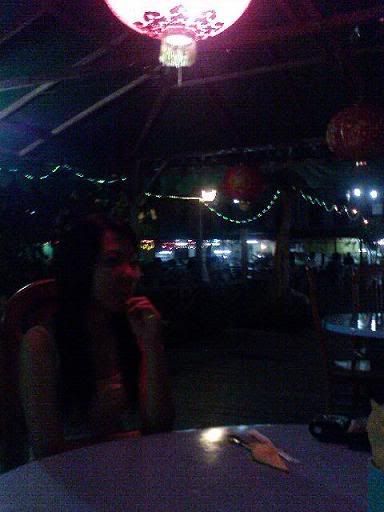 waiting for food... hungry...lindy's not happy with th Fad said??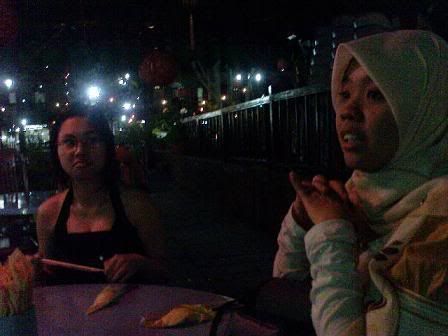 Food was pretty good, prices are even more fantastic. by the time we got back.. we were too tired and me and fad ended up watching america's next top model marathon. and we slept.
and we woke up bright and early at 7 am!
well, we is defined as me, fad and lindy. Jaye is like a pig lah! sleeping whenever and wherever there is an opportunity.I'm quite amazed by her propensity of slp. my goodness!
lindy and jaye took different rooms from us. I'm so jealous! theirs was poolside,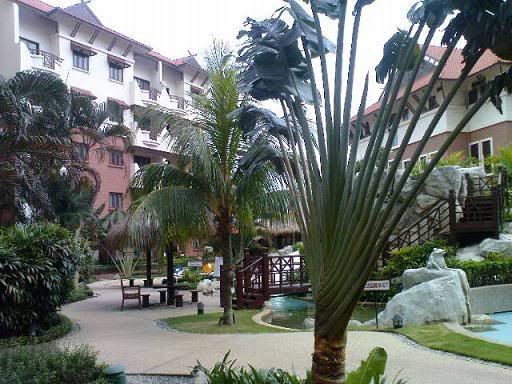 and this is their view when they woke up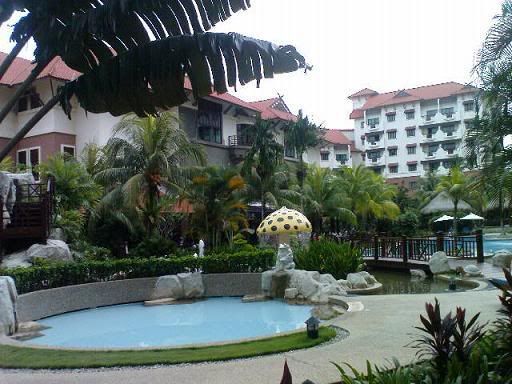 so nice right!
our balcony overlooked the dirty rooftop of another portion of our building. so disgusting!
We went for a swim at the pool. abit paisei though, coz its beside the cafe and thats where the free buffet breakfast is, got quite alot of pple. and they are all Singaporeans. LOL... looks like Batam is mini Singapore liddat.
next fun filled activity! we went parasailing! and banana boat and jet ski!! Super fun!
we din dare to take our phones and cameras out to sea, so yep, no bikini pictures. keke.
My jet ski died just after leaving the jetty lah! and the person spent ten minutes trying to start it again with no avail. sob! apparently, from the broken English, i figured its my fault, sth abt me pressing on some wire which caused the jet ski to die. they changed a jet ski for me but the refused to let me drive it! so annoying! the guide seated behind me was constantly taking hold of the steering wheel. HUMPH!
we din't ask the boatman to flip the banana boat coz both jaye and fad were afraid of the water. bt that didn't stop us from trying! me and lindy were trying so hard to flip the boat by pressing all our weight to one side , but too bad we were counter balanced by the 2 sitting in the centre. well..i guess we should be happy, since that means me and lindy are too
light
LOL
and after that we went for our 2nd massage!
yes again! this time we went for the hot stones massage. even more shiok den the previous day. highly recommended to anyone whu is going batam. its the best man!
but suppose u can imagine what the pricing is gonna be like, the place is an award winning spa.
afterthat?
we caught the last ferry home.
happy, relaxed and recharged.
and yes, i bought gum home!
Comment! (0) | Recommend!