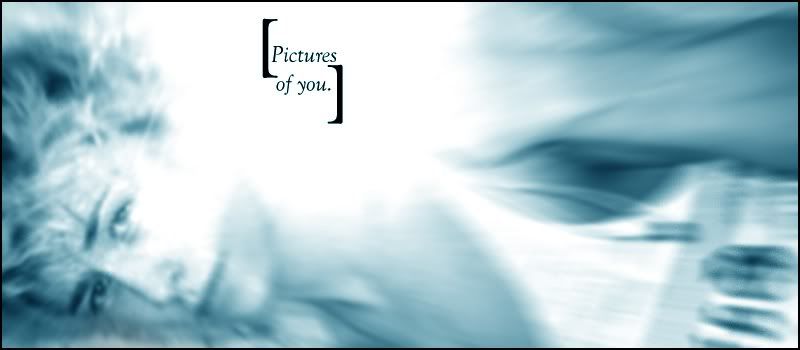 Spring Semester 2010:

* Teaching: Fundamentals of Microbiology - MW 12:00-2:40p
Medical Microbiology - TR 2:00-3:15p
Colloquium in Cell and Molecular Biology - R 3:30-4:30p
Thesis Research - Identification of T Cell Subsets and Immune Response in Colon Cancer Using Immunofluorescence - FOREVER AND EVER

Or rather, entries from the old journal, as it were...

-

An open letter to the College.

(August 27, 2006)

-

Untitled.

(July 16, 2006)

-

Haunted (Part One)

(May 29, 2006)

-

Are we growing up, or just going down?

(May 3, 2006)

-

I had a dream...

(March 19, 2006)

-

...

(March 14, 2006)

-

Enjoy it while it lasts.

(September 12, 2005)

-

Scene: 3:27 AM.

(September 3, 2005)

-

Untitled.

(July 26, 2005)

Psst... if you're looking for the academic writings I used to have here, head to my Reading Room.

Since June 2006...

- A Heartbreaking Work of Staggering Genius by Dave Eggers
- High Fidelity by Nick Hornby
- Travesties by Tom Stoppard
- The Way of the Shaman by Michael Harner
- The Tao of Pooh by Benjamin Hoff
- Nervous Conditions by Tsitsi Dangarembga
- The History Boys by Alan Bennett
- The Dark Child by Camara Laye
- Movie-Made America by Robert Sklar
- Diary by Chuck Palahniuk
- Rant: An Oral Biography of Buster Casey by Chuck Palahniuk
- Galapagos by Kurt Vonnegut
- The Dead Emcee Scrolls by Saul Williams [61.3%]
- Atonement by Ian McEwan
- Junk Science: An Overdue Indictment of Government, Industry, and Faith Groups that Twist Science for Their Own Gain by Dan Agin, Ph.D. [64.4%]
- So Yesterday by Scott Westerfield
- Lucky Wander Boy by D.B. Weiss
- The Things They Carried by Tim O'Brien
- Doctor Who: The Key to Time: A Year-by-Year Record by Peter Haining
- Why Buffy Matters: The Art of Buffy the Vampire Slayer by Rhonda Wilcox
- When You Are Engulfed in Flames by David Sedaris
- The Road by Cormac McCarthy
- 1984 by George Orwell [18.8%]
- Nick and Norah's Infinite Playlist by Rachel Cohn and David Levithan
- Intuition by Allegra Goodman
- V for Vendetta by Alan Moore and David Lloyd (Yes, I realize it's a graphic novel but it still fucking counts!)

This is the stupidest day ever.

Thursday, June 12, 2008 @ 8:03 pm

I spend more time on here when I have a ton of crap to do.

Wednesday, June 11, 2008 @ 10:16 pm

Yes. Rly.

Comment! (1) | Recommend!

Tuesday, June 10, 2008 @ 8:39 pm

Things pushed back.

Still lots to do.

It's the same old shit in a different time frame.

Expect no regular updates.

Comment! (3) | Recommend!

Sunday, June 8, 2008 @ 10:41 am

Καὶ πίε νῦν καὶ ἔρα, Δαμόκρατες· οὐ γὰρ ἐς αἰεὶ
πιόμεθ' οὐδ' αἰεὶ παισὶ συνεσσόμεθα.
καὶ στεφάνοις κεφαλὰς πυκασώμεθα καὶ μυρίσωμεν
αὑτούς, πρὶν τύμβοις ταῦτα φέρειν ἑτέρους.
νῦν ἐν ἐμοὶ πιέτω μέθυ τὸ πλέον ὀστέα τἀμά·
νεκρὰ δὲ Δευκαλίων αὐτὰ κατακλυσάτω.
- Strato of Sardis

Cliff's notes:

Carpe diem.

Comment! (4) | Recommend!

On Repeat: Regina Spektor's "On the Radio"

Wednesday, June 4, 2008 @ 12:53 am

This is how it works:
You're young until you're not
You love until you don't
You try until you can't
You laugh until you cry
You cry until you laugh
And everyone must breathe
Until their dying breath
This is how it works:
You peer inside yourself
You take the things you like
And try to love the things you took
And then you take that love you made
And stick it into some--
Someone else's heart
Pumping someone else's blood
And walking arm in arm
You hope it don't get harmed
But even if it does
You'll just do it all again...

Comment! (3) | Recommend!

Sunday, June 1, 2008 @ 6:01 pm

I don't know why I'm so goddamn hungry right now. I ate a late lunch so I shouldn't be craving dinner THAT much right now, but I am. There's tortellini in the fridge that looks fucking good, and there's this marinated fresh mozzarella balls (it's fresh mozzarella soaking in a mixture of olive oil and spices) that can be put on the tortellini in the absence of a real sauce. Ugh, wish we had basil and those tiny tomatoes... that would make it PERFECT.

But I doubt that's what we're going to end up eating; there's a shitload of leftovers from a small party we threw for my aunt on Friday for her birthday. (I wish we had leftover cake--it was mango and raspberry mousse cake with white chocolate garnish...)

I need to stop thinking about food because it's making me even MORE hungry, and thus irate.

What can I do to get my mind off of food...?

Skandar?

Reading?

Comment! (3) | Recommend!

Sunday, June 1, 2008 @ 8:14 pm

It's already June.

We're about halfway through 2008.

That makes me sick.

Comment! (2) | Recommend!

Friday, May 30, 2008 @ 8:21 am

If you want a smarter, more successful, more talented, more attractive son, then just fucking say so.

You don't have to fucking regale me with stories of your friend's son who's a chemistry Ph.D. student at Yale who was an extra in the new Indiana Jones movie and who's married to a fucking physician who's doing her residency in Texas.

I'm sorry I fucked up at college and I'm ONLY going for my Master's, I'm sorry I'm not MARRIED yet, much less to a fucking DOCTOR, and I'm sorry I was never on either the small or the big screens.

Yeah, mom, I'm a stupid, fugly retard. I'm so fucking sorry you got stuck with a fucking loser son like me.

EDIT:

Whether she means to or not, sometimes the shit that comes out of her mouth has such a negative impact on me. And if she doesn't mean to slyly hint that I am altogether inadequate, then that speaks volumes as to how I think of myself sometimes. And I know that's something I need to work on, but I think my mom needs to seriously think about the impact her words might have on people, especially when those people are her children.

Comment! (4) | Recommend!