Saturday. 1.21.12 1:07 am
I got an interview for a position I'm really, really interested in, and it's all very exciting. :3 If I get this job, I won't need the job I have right now...WHICH MEANS I CAN *~*~*~*~*~*QUIT*~*~*~*~*~*~*.
Sales just doesn't fit me. Especially when I'm not incredibly passionate about lotions and two hundred dollar plates. Were I selling, say, cameras, or books, or a single, solid, likable product/line of products (from the same company), this would be a slightly different story. But general goods...not really my favourite sell. It's kind of like trying to defecate out of your ear.
Also, I'm pulling a Meredith (Grey's Anatomy? Anyone? Please?) and knitting. I'm staying far, far, far away from relationships for a long, long time. My various scarves, afghans, and sweaters will keep me warm at night. I've been hit on, down here...and it's just annoying... It doesn't make me feel *~*~*~*sexayyyy*~*~*~*. It makes me feel like someone is in my personal space, trying to see what lurks beneath my pants.
BRO. THEY'RE THERE FOR A REASON.
My first datingish thing here started, actually, because the guy mistook me for someone who wouldn't ridicule him for playing Angels and Airwaves and lighting candles to gain access to the netherworld between my legs. He was lucky he had conversation skills, or I would have left the house laughing.
So until someone can treat me like a cute little rabbit in their backyard and stalk CAREFULLY, and SLOWLY (rather than running and screaming at me)...I'm knitting this scarf. And then another. AND THEN ANOTHER.
SCARVES FOR EVERYONE.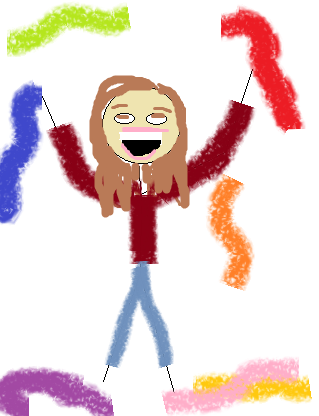 [1:48:15 AM] middaymoon: whatcha blogging about
[1:50:04 AM] Unicornasaurus: Wool you guess before I tell you?
[1:50:15 AM] Unicornasaurus: I'm yarning to hear your thoughts
[1:51:27 AM] middaymoon: You want me to guess?
[1:52:27 AM] Unicornasaurus: It's about time you cotton.
(I just realized that you guys don't usually see us as two real-life friends who interact quite often and sometimes have inappropriate dreams about one another. Guys, we talk in real life, SOMETIMES ABOUT NUTANG. IT ACTUALLY HAPPENS.)
Comment! (5) | Recommend!
Tuesday. 1.17.12 3:28 am
While I'm awake...(disclaimer...I talk about a super duper mental disorder, in this episode. If you don't like riding in the Bummer Hummer, check on out of this page, pal)
I had this thing, with a friend of a friend, over the summer. It wasn't really a big deal--actually, it was kind of a dark, destructive time for me (so it's funny that I think back to it now, in a way, because I sort of self-destructed this past week--back to that in a bit), so it was a big deal in a different way.
I just needed something to NOT care about. I'm the type of person who doesn't get into relationships; I find the men who most desire the single life, and I get hung up on them, and they get hung up on me. And it's all very, very frustrating, sometimes, when I realize that the only thing different between us and a couple are the words "a couple."
So I needed to not care, for a while, and it worked out great. I had delightfully surface-level, minimal feelings for him, and there was absolutely nothing permanent or even semi-permanent about it. Coming into college, last semester...I felt freed of all that horrible weight, freed of that terrible feeling of instability.
Of course, I easily found my way back there. But, I've found that, now, I rear back from it more often. I remind myself that I'm exactly where I don't want to be, and I freak out, and I get mad, and I try my hardest, subconsciously, to screw everything up so I don't have to be afraid of the guy leaving, anymore. And I guess that I just wish these guys would realize that, when I get mad, and upset, and start pushing...it just means I'm developing real, concrete feelings (which takes me months, if not years), and that I DON'T want them to let me push them away.
But, of course, when someone goes absolutely bonkers and accuses you of avoiding her, tells you she's super upset, et cetera...well, you don't hear the things that don't come out ("I'm scared you'll leave and we won't be able to talk, anymore." "I might actually like you, which keeps me up at night." "I'm having a bad week and I kind of need you around to support me").
You mostly just hear that ringing in your ears that comes with being really, really mad. And the sound of some crazy wench trying to yell at you for no apparent reason. Or crazy person reasons.
Whatever. Problem two. As some of you might remember, I have this thing called Bipolar Type II disorder (IT'S OKAY, WE CAN TALK ABOUT IT). I'll give an example of the two polar sides when they meet:
I will become SUPERWOMAN, and I'll be furiously cleaning at an unreasonably fast speed, and I'll be laughing really easily, and then I end up laughing so hard that I collapse into tears and don't leave bed for two days because I'm so depressed.
Sounds fantastic, right?
Now imagine that happening on my way to WalMart, because I'm singing along to songs, and chattering happily to myself about things that are going on, and all the sudden I get a single and tiny piece of bad news (due to a miscommunication, I swear it).
Radio's off, MIND SHUTS OFF, I get to the parking lot and have to sit in my car for ten minutes because, SOMEHOW, THIS HAS TRIGGERED A PANIC ATTACK (which, FYI, makes Normal Unicornasaurus laugh, because it's SO ABSURD).
Now let's say this piece of bad news came from the person I'm starting to actually maybe
like
, romantically.
PANIC ATTACK + RECENT CHANGES IN FEELINGS + MORE PANIC ATTACK + CONFUSION + FEAR OF COMMITMENT + BIPOLAR EPISODE
= EXPLOSION OF RANDOM ANGER OUT OF NOWHERE.
I feel so bad about it! I screwed up, and I
know it
, and the worst part is just waiting for things to start blowing over so I can maybe bake this person some cookies and try to explain why even I would not get romantically-involved with myself. Not that we're romantically-involved (I'm not going to try to explain).
Aahhh why must this crazy live within! It's never affected my job performance, it's never affected my health too much, and it VERY RARELY affects my school performance (the former statements are most of why I'm able and willing to speak so openly about all of this)...it mostly just hits relationships, and hits them hard.
]:
So right now I'm trying to jump a depression episode hurdle, and it stinks. I'm kind of a sad example of a college student, hanging out in my room and praying no one notices that I'm suddenly a freakish, reclusive version of Unicornasaurus.
So yeah, hi everyone. That's what I've been up to. Hahahahahahaha.
OH ALSO, I MADE A FORT OUT OF MY ROOMMATE'S OLD BUNK BED.
IT'S AWESOME, I WISH WE COULD HAVE NUTANG PARTIES IN IT.
Okay bye!
Comment! (5) | Recommend!
Saturday. 1.14.12 12:06 am
Tuesday. 1.3.12 9:53 am
Well, I'm sitting here after my dental checkup, with my best friend sleeping on the couch and some time to kill while she sleeps (rookie isn't used to staying up with me, anymore).
She probably crashed around 3am, last night. That would be pretty impressive, but I went up to sleep in my room, knowing that I would be up for a while. I ended up staying up till around...five? I've been thinking about a lot of things, in light of recent events.
Movie night was distinctively very happy and very sad, all at once. One thing I noticed that I won't take lightly is how much love I have surrounding me. I won't say any of my friends have the purest hearts, or anything crazy like that, but they're all just really cool, tender people, and I couldn't be more thankful to have each and every one of them in my life. It was nice to look around the room and see everyone comfortable--not trying to impress a crowd, just relaxing and having fun with one another. There's this blog I read, sometimes, that once had an entry about how she falls asleep on people's couches when she trusts them (she later made the analogy to falling asleep on God's couch--it was exceptionally well-written). I've caught myself, on several occasions, mentally referring to my behaviour with close friends as falling asleep on their couches.
It's terribly infectious.
The sad parts of the night aren't worth much mention. I think the saddest part that I was, at the time, aware of was...well. I had to make kind of a hard choice, and then, once I'd made it, I had the repercussions of my choice shoved right in my face.
But that's just...life. I didn't want to make the choice in the first place.
It's kind of relieving, in a way, though, because having those repercussions come to fruition really solidified the decision... You know you've made the right decision when it's worth the consequences, no matter how painful.
Anyway, le best friend is awake, now, so I'll probably say goodbye to her, run errands, have lunch with
inhuman
, and then hopefully have a good rest of my day...we shall see! I hope everyone had a great holiday. :D
(Okay I posted this WAY LATE, but the timestamp tells the truth.)
Comment! (3) | Recommend!