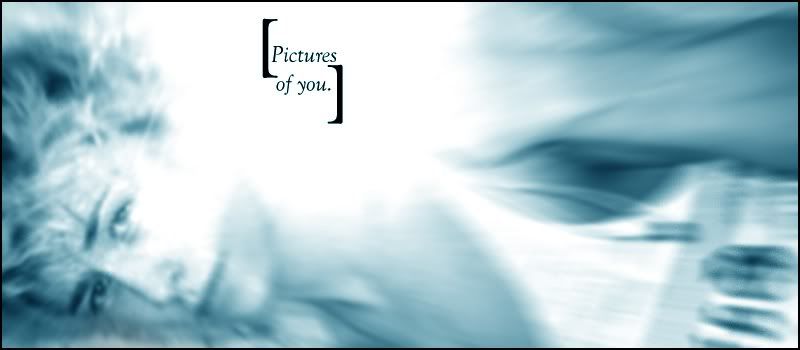 Spring Semester 2010:

* Teaching: Fundamentals of Microbiology - MW 12:00-2:40p
Medical Microbiology - TR 2:00-3:15p
Colloquium in Cell and Molecular Biology - R 3:30-4:30p
Thesis Research - Identification of T Cell Subsets and Immune Response in Colon Cancer Using Immunofluorescence - FOREVER AND EVER

Or rather, entries from the old journal, as it were...

-

An open letter to the College.

(August 27, 2006)

-

Untitled.

(July 16, 2006)

-

Haunted (Part One)

(May 29, 2006)

-

Are we growing up, or just going down?

(May 3, 2006)

-

I had a dream...

(March 19, 2006)

-

...

(March 14, 2006)

-

Enjoy it while it lasts.

(September 12, 2005)

-

Scene: 3:27 AM.

(September 3, 2005)

-

Untitled.

(July 26, 2005)

Psst... if you're looking for the academic writings I used to have here, head to my Reading Room.

Since June 2006...

- A Heartbreaking Work of Staggering Genius by Dave Eggers
- High Fidelity by Nick Hornby
- Travesties by Tom Stoppard
- The Way of the Shaman by Michael Harner
- The Tao of Pooh by Benjamin Hoff
- Nervous Conditions by Tsitsi Dangarembga
- The History Boys by Alan Bennett
- The Dark Child by Camara Laye
- Movie-Made America by Robert Sklar
- Diary by Chuck Palahniuk
- Rant: An Oral Biography of Buster Casey by Chuck Palahniuk
- Galapagos by Kurt Vonnegut
- The Dead Emcee Scrolls by Saul Williams [61.3%]
- Atonement by Ian McEwan
- Junk Science: An Overdue Indictment of Government, Industry, and Faith Groups that Twist Science for Their Own Gain by Dan Agin, Ph.D. [64.4%]
- So Yesterday by Scott Westerfield
- Lucky Wander Boy by D.B. Weiss
- The Things They Carried by Tim O'Brien
- Doctor Who: The Key to Time: A Year-by-Year Record by Peter Haining
- Why Buffy Matters: The Art of Buffy the Vampire Slayer by Rhonda Wilcox
- When You Are Engulfed in Flames by David Sedaris
- The Road by Cormac McCarthy
- 1984 by George Orwell [18.8%]
- Nick and Norah's Infinite Playlist by Rachel Cohn and David Levithan
- Intuition by Allegra Goodman
- V for Vendetta by Alan Moore and David Lloyd (Yes, I realize it's a graphic novel but it still fucking counts!)

Sunday, June 22, 2008 @ 10:35 pm

So here's the thing:

I tried all weekend to actually sit down and study, but I couldn't.

There was just... too much

Smash

to play.

Yes, a week ago I finally gave in and bought

Super Smash Bros.

for the Wii.

Worst. Idea. EVER.

And now it's Sunday, and I have a final in about 20 hours, and I haven't really studied for it... but! It's Elementary Statistics--a class I thought was going to be somewhat challenging because I've never taken stats before, but it turned out to be pretty, er...

easy.

Yes, that's a nice way to put it.

And that sentiment has translated into "haven't yet studied, but not worried AT ALL." Which may or may not be a bad thing.

Eh, I've still got 20 hours. I think that's more than enough to have a good night's sleep and still study enough to rock the final like a hurricane. (Hello, 1984!)

Then I've got to turn my attentions to Physics, which won't be such a joke, so... yeah. There goes my figurative erection.

If I can make it to Thursday without spontaneously combusting, everything will be golden. Or at least, not charred.

Good night!

Comment! (5) | Recommend!

In English, the future is neuter. [EDIT]

Sunday, June 22, 2008 @ 10:47 am

Sometimes, through some trick of relativity, the speed of life outpaces the speed of light. Now that my time in academic purgatory is coming to a close, all of these life changes are hitting me all at once. And as excited as I am for them to be happening, I am also struggling--though not in vain--to keep up.

Recently:

- I earned my Certificate of Achievement in Cultural Anthropology.

- I won an entrance scholarship to San Diego State University upon admission to their M.S. Cell and Molecular Biology program.

- My aunt in London is planning to name me the primary beneficiary of her estate and the sole executor of her will (because she has no children of her own and knows that out of all of her older nieces and nephews [I am the second youngest], I am the only one with the ability to do it, and moreover to divide the estate fairly).

By the end of the summer:

- I will have earned my A.A. in Anthropology, and will be one class away from completing my Certificate of Achievement in Medical Anthropology.

- I will have bought a new car (most likely the Mini Cooper Clubman).

- I will have relocated to San Diego for at least the next two years for graduate school.

- I will have completed my 16-month tenure at NASA Ames Research Center, during which I had at least two co-authorships on scientific papers relating to astrobiology and chemical evolution.

By the end of the year:

- I will have completed my first semester at graduate school and be well on my way to fulfilling my degree requirements according to the 30-unit program-of-study. (I am carrying over 5 graduate units from San Jose State and I plan to take 12 units my first semester.)

- I will have found a thesis advisor so I can start getting thesis work done ASAP.

Lots of good things happening and a lot of shit to deal with in the mean time. But that's just the way that life goes, I guess, and you have to dig through the crap to see the treasure underneath.

EDIT:

I almost forgot! My cousins from Hawaii are coming to visit soon--in about 2.5 weeks. I haven't seen them since they came to my college graduation two years ago and pretty much were the reason why I had one of the loudest cheers when I crossed the stage. (I'm pretty sure being towards the front of the alphabet helped out too.) In the span of a little over a week, the entire family will be road-tripping to Napa, Santa Barbara, the greater Los Angeles area, San Diego, and Las Vegas. I'm excited yet fearful that all that time in a confined space driving through areas notorious for high temperatures will ultimately get on my nerves and make me a generally disagreeable person. Mostly, I'm worried about how I'm going to survive driving around with my mother in tow. Ah well, can't dwell too much on the potential-negatives. It's vacation!

Comment! (7) | Recommend!

Saturday, June 21, 2008 @ 4:00 am

...because it's too hot to sleep comfortably.

I am not amused.

Tomorrow: another scorcher.

One good thing will come of this.

The weather is shitty, so I don't want to go anywhere.

That's just as well.

I've got finals to study for.

Comment! (2) | Recommend!

Monday, June 16, 2008 @ 2:04 pm

--that makes two. Two of my high school teachers have passed away in the last year.

The first to go was my honors biology teacher from high school, Mr. Dozier. He nominated me as the biology student of the year (which I ended up winning). He was a little strange, a bit of an oddball, and some people didn't like him for that reason. But he was always a nice guy. He used to walk around saying stuff like, "This bald spot is not actually a bald spot; it's a solar panel for my sex machine." Or teaching us that the way to remember the hierarchy in biological taxonomy is to remember that "Kinky people come over for great sex." (Hey, it works so much better than that "King Philip" crap!) He was probably the first teacher to tell me that I belonged in the sciences.

And today, I just found out that my debate coach/AP Spanish teacher, Mr. Garcia, died after a long battle with pneumonia. He left my high school after I graduated to become the principal of a high school in his hometown of Arvin, CA, right outside of Bakersfield. He was such an awesome teacher and person in general. At graduation, as head of the foreign language department, he presented me with the senior foreign language achievement award for my work in his Spanish class. He was a shameless polyglot--something I aspire to be--and in class one time, he told someone to choose a language (from English, Spanish, French, Italian, and German) for him to switch into while he was talking. So we watched him switch between each of these languages as he told us some story about his weekend. He then stood up and said, "Can any of you do that?" No one raised their hands. He came over to me and said, "Bullshit. You can do it. Come on--it's just Spanish and English." So he made me do it in front of the class, which was a little nerve-wracking, but it taught me to trust in my own abilities--a lesson that I had temporarily forgotten throughout college, but am starting to relearn.

The thing that I learned from both of them: do what you love. They were never paid well, but they

loved

their jobs and you could tell. As I grow older and am exposed to the harsher realities of life, I sometimes forget that I got interested in science because it was something I loved, not something that I thought would make me a billionaire.

Some people go throughout high school without meeting a single teacher that would help to shape them so concretely as these two have shaped me. I count myself extremely lucky to have met and learned from the both of them, and I hope that one day, if I ever have to teach a class, I can act in the same capacity for my students as Mr. Dozier and Mr. Garcia have done for me.

Comment! (3) | Recommend!

Sunday, June 15, 2008 @ 9:34 am

So these last few days have been hard on me. I still wanted to get something for my dad for Father's Day, so I went to his favorite bakery and ordered a

small cake

that we as a family could enjoy together.

Today, I told my mom I had to pick up the cake. She said, quite point-blank, "You should have gotten him a shirt. He loves shirts. It's always you, you, you. You always think about yourself."

Fucking,

what?

Look, if I had time to go out and buy a fucking shirt from Macy's I would have. But when in the last few days would I have had time to do that? At least I got him SOMETHING, and even if I DIDN'T get him anything, why does that necessarily imply that I love him any less, or that I'm acting selfishly and thinking of myself?

Also, I thought it would be nice to sit down and enjoy the cake together as a family. I guess I'm only thinking about myself when I want to create some meaningful family time. Geez, I'm so fucking sorry. I'm sorry for acting selfishly.

Sometimes, I don't know why I even bother to even THINK about doing something nice because it only invites criticism. If you want to REALLY see what selfish is, keep alienating me and see what happens when I can't make the flight home to visit you in the hospital when you're old and dying...

Except I can't do that. I'm not equipped to do that. I'm not that cruel. I'm not capable of exhibiting that level of selfishness. And that's why it hurts so much when she says stuff like that. I mean, I will be the first to admit that I'm not an entirely selfless person, but on a list of my personality traits, I don't think "selfish" would even rank.

Waking up was the worst idea I have ever had.

Comment! (3) | Recommend!

It's been a grueling last few days...

Saturday, June who gives a rat\'s ass @ fuck I don

...and it will continue for a little while longer, but for now--SLEEP! (My eyes are bloodshot to hell from two consecutive nights of 3 hour sleep...)

Comment! (2) | Recommend!

Friday, June 13, 2008 @ 10:32 am

Comment! (5) | Recommend!

It's 11:17 on a Thursday night.

Thursday, June 12, 2008 @ 11:17 pm

And someone is setting off fucking fireworks.

First of all, those are pretty much illegal in California.

Second of all, IT'S A FUCKING THURSDAY NIGHT.

Here I am, trying to work, window open because it's hot as balls in here, and then--

POP!

And of course, it startles the shit out of me.

Then I try to get back to work again when--

POP!

Mother

FUCKER POP!

I'm filing a complaint.

POP!

Sonofa

BITCH

.

POP! And as the smoke escapes the barrel, I think:

bitches had it coming.

Comment! (1) | Recommend!