another day in the life of the trodden
Wednesday. 5.28.08 9:46 pm
Tuesday. 5.27.08 9:56 pm
have u guys noticed a trend in Singapore?
more and more of the front line service staff cannot speak english? AND are monolingual in Mandarin?
went to orchard yesterday and to my horror, more than half of the retail sales assistants were Cinas. maybe they are cheaper...maybe.. they are prettier or maybe they are more hardworking. but seriously.. u put a cina in the ang moh tourist shopping belt, where is the logic in that. not only are you killing off your tourist money, what happened to the fact that Singapore is really a multi cultural society where English is supposed to be the lingua franca? prob abt 70% of the Sg population are born into chinese ethinicity, so retailers are alienating 30% of the popluation, namely the malays, indians and other minorities. out of the 70% chinese, prob 20% do not speak chinese coherently due to the westernised education system. So how?
half the market gone liao.
short sightedness in business is stupid. either train the cinas to speak in english or at least teach them to answer common phrases like, "How much is this?" its infinitely annoying that when i asked this, the sales rep can only stare blankly at me.
=============================================
on a separate incident, this time with a sales assist. who i think is a singaporean
jaye saw a pair of shoes on display at this shop at far east, lvl 1, the shop opp Noda and the bikini/lingerie shop. so she tried it on. but it was far too big. the display was size 39 aka size 8.
so this sales person offered to get her the right size for her. jaye said she wanted size 5, she went "errrrrrr...errr... u want size 5.. err.... i get u your size.." and continued to hover nearby, no doubt trying to squeeze her little brain and derive the correct size in teh 3- series.
seeing her struggle, i offered its size 36.. lao niang work in Bata b4 ok!
after trying the shoes on, jaye was actually quite interested in it. but she couldn't decide on the color to get, black/white/green?
teh SA was all enthused and offered to bring her her size in the black and white. "o.. nvm nvm... i let u try first. den u can decide"
anyway to cut the long story short, the SA keep pushing the shoes to us ON HER OWN ACCORD! we did not ask her to get us the shoes even tho jaye did try on the shoes.
and while jaye was trying the black shoe, the SA put her foot in and tried the other colours, right beside jaye. WTH
and to put the icing on the cake, when we left w/o buying afterall the effing woman cursed us just when we stepped out,"hope u get run over by car when you step out !"
KNS!! wtf is this!
i promise you tell i will never step into that store again and i will top it up with another one. whenever i go past that store... i will make sure that i will tell the general public, "wah, don't go into this store! its a "black store" somemore they always curse customers who don't buy! don't buy from this kind of pple!"
petty i know. but i am PISSED OFF!
in fact i'm so annoyed, i want everyone to know exactly which store issit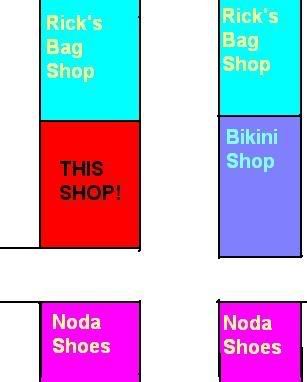 ========================================
just now the dealer came out and told me"we decided to tell u that you are fat.... why? U too happy working here issit?? go sign up for gym leh"
and he keep asking me non stop "why u getting fat huh?"
*blood boiling* Fuck!
Comment! (2) | Recommend!