Thursday. 9.14.06 6:21 pm
mood:
euphoric :)
You know, I love catching people in the middle of lies. I practically do it all day at work and it gives me a sick sense of satisfaction knowing that someone is lying to me when I find out the truth.
For instance, I request missing documentation from people so we can get reimbursed for items by our client. WELL, this person calls me on the phone (granted, I send these requests via e-mail) and tells me that they would not be able to get the invoices I need from these HOA (Home Owner's Association) companies and that they never had to submit invoices before (LIE NUMBER ONE...we paid them twice before and I pulled the file, and low and behold, there were invoices in there).
SO, I get off the phone with her and I think things are square away...I get phone call number two, from the manager guy. He's like "I can't get those items for you. The HOA companies won't do it." blah blah blah he goes. SO, I went and talked the people who assign him listings at my work...they think it's BS and well, they were going to get rid of him. In the meantime, he e-mails someone else over on the other side and bitches about me (usual thing...me demanding something to get paid...people go to bitch to someone who they think will do something about it...WRONG)...so, to be a big bitch, I suppose, I called these HOA companies and told them about our business and why we needed invoices and asked whether or not they sent out monthly statements.
Every single company I called told me they either sent out monthly statements or they would be happy to generate a monthly statement based on the special circumstances (CAUGHT HIM IN LIE NUMBER TWO). Oh, it was so satisfying to snitch on him...felt fantastic actually.
I could give you thousands of instances where people tell me so and so company cannot get me an invoice/history of an account...I call so and so company and voila...I can get an invoice faxed to me in no time.
LIARS LIARS!!!!
AND, the coup de grĂ ce to the whole entire day today was some guy pretty much telling me to shove it. I had requested nicely a copy of an invoice, he wanted to argue with me about how he never had one, and then I responded with "How did you know that you needed to pay x amount of money?" he then responds with some BS answer and goes "why don't you make up an invoice then." SO, I reported him...I have no problem doing this. Why should I have to deal with assholes like that to get my job done? I have no problem tattling on those people. We'll see if he gets me what I need when I get manager involved...hehe
I'm such a bitch...but I love it...
Comment! (0) | Recommend!
Thursday. 9.14.06 12:58 pm
I am probably the queen of procrastination or something. When my parents were out here at the end of July, they signed the title of my car over into my name and then it was mine...all so I could license it in the state of Colorado.
WELL, in order to do so, I need to have an emissions test done to get the state to approve my car...and, well...I was driving around and my tailpipe fell off. I can't very well get an emissions test without a tailpipe. They gave a two month temp permit to give me time to get repaired...expires October 2nd. Here I am, September 14th...still have not gotten a tailpipe put on my car and now I'm running out of time. I HOPE TO GOD I can find someone who will put just the tailpipe on and not want to replace the whole exaust system. My car is stupid...has two mufflers, insanely expensive to replace the exaust system. I seriously HATE my car because of these expensive repair bills....and it breaks down constantly.
But yeah, procrastinating on that...There's some other minor crap that I have to accomplish (i.e. cleaning the closet out of old clothes that really don't fit, sorting bags and boxes of stuff from when I moved at the beginning of August)...I'm just lazy! I'd rather sit around on the computer rather than do the laundry or sort boxes...lol...I wouldn't blame myself ya know!
Anyway, going to enjoy the rest of my lunch here at work. Gonna gulp down my cup-o-noodles and make myself some pb&j sandwiches and call it a day
Comment! (3) | Recommend!
Wednesday. 9.13.06 10:12 pm
Okay, I saw this news story and about peed my pants. WHAT IN THE HELL WAS THIS GUY THINKING???
'Penis' in microwave case is settled

Wednesday, September 13, 2006
By Ann Belser, Pittsburgh Post-Gazette

The case of the "penis" in the microwave was settled this morning with an agreement on a disorderly conduct plea.

McKeesport Police Capt. Bryan Washowich said Leslye Creighton, 41, of Wilkinsburg, has agreed to take full responsibility for the incident in which she asked a clerk at a Get Go convenience store to warm up a penis-shaped device in the store's microwave.

When the object gave off an odor, the clerk checked on it and found what she thought was a real penis. She reported it to police.

Ms. Creighton agreed to plead guilty to disorderly conduct. Her companion in the case, Vincent Bostic, 31, of Pittsburgh, who was also charged, will have the case against him withdrawn.

The two entered the convenience store in February, asked the clerk to place the device in the microwave in order to bring the urine-filled device up to body temperature so Ms. Creighton could pass a drug test to get a job.

Mr. Bostic's attorney, William H. Difenderfer, said Mr. Bostic has agreed to replace the $425 microwave at the store in exchange for the charges being dropped against him.
http://www.postgazette.com/pg/06256/721489-100.stm
Okay, after reading this...I can only think of two things
1) You know, if you're gonna try this hard to pass the drug test, you should have actually tried to do it the right way.
2) Why the hell would the clerk put it in the microwave? It looked like a penis yet you still put it in there...what the hell?
I think all the people involved were idiots.
Comment! (7) | Recommend!
Wednesday. 9.13.06 7:21 pm
WELL, it's nice to be home from work. Lately work has just been pissing me right the hell off.
I work in a tiny little cubicle doing my tiny litte accounting things...and it seems like I'm the only one that can help anyone! Granted, I am the customer service bitch, but still...that's for vendors, not the entire company. Sometimes I feel like I'm always the person that people go to get things done, or inquire about things, or bother...and I seriously can't get my shit done! If you were focused on a task and were constantly being interupted, I suppose you wouldn't get anything done either. My biggest pet peeve though...my job used to involve two people and we divided the work between the both of us...well, it got downsized into me...and well, I didn't realize that one person could do the job of two people in eight hours.
THEN, about a month ago...we got a new manager. Granted, she's a pretty cool lady...but she micromanages like nothing else. Our old manager trusted us to the point that she knew were getting our stuff done. This new lady is constantly in our face, auditing my desk constantly. It's really annoying...and she wonders why I don't get all my stuff done. She's always right there! She's trying to change how we do things and it gets on my nerves. I was happy with the way things were going before and so were all the other people...I guess you can't teach an old dog new tricks can you?
In lighter news (it must sound like I'm angsty all the time...or I just like to bitch a lot)...I bought my ticket for Seattle today. Leaving October 19th (late in the evening) and getting back October 23rd. I'll at least get to settle down and visit on Friday and then on Saturday, my mom and my aunt are throwing me a baby shower (it's some what premature since I'm not due until January 17th...but the thought is what counts). I sent my mom a picture of my belly (since she really wanted to see how much I've grown) and she was telling me that she gets online to look at it every day because she knows her grandbaby is in there...if you ask me, she's going a little
She also told me that I need to tell her what I'm having so she knows what color cupcakes to make and go shopping. Can you tell that this is the first grandbaby?
Comment! (7) | Recommend!
Wednesday. 9.13.06 8:43 am
I seriously must be. Every day, I drive the same way to work...and I see the same construction day after day and it slows me up YET, I still drive through it every morning even though there is an alternate route, and one quicker (just maybe). This morning was especially hellish...they changed the lanes over to the other side of the road (I think they're expanding or something), so the 2 lanes that used to be on the right, went over to the left making 4 lanes over there. That so wasn't like that yesterday (I see they were working last night). I was totally confused when I got to that portion because of the way the turn lanes were set up, it was just ass backwards. Needless to say, 5 minutes wasted out of my morning commute.
Speaking of morning commute, I have started to notice that as the week progresses, the drivers seem to get more and more lazy. I see more red light runners, tons of people weaving in and out of traffic...just plain belligerent drivers! It's like driving through a 30 minute obstacle course to get from point A to point B. It's depressing sometimes. What if someone gets into an accident or something because of the 3 people that thought they needed to run the red light? Are you in that much of a hurry people? If you're constantly late to work...maybe you should think about getting up a little earlier rather than ruining the other driver's commutes.
I guess I just have higher expectations for cognizant drivers then. Who knows...
Anyway, I'm done with my morning tyrade...the rest of the day is devoted to being a slave to corporate america
Comment! (4) | Recommend!
Tuesday. 9.12.06 11:23 pm
Here's some photos of Colorado to give ya'll a better idea (this is only places that I have been to though...so I don't have anything different at the moment):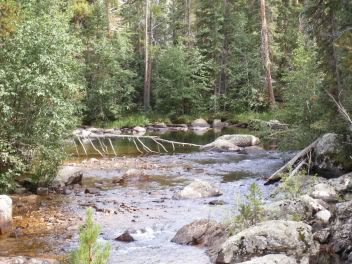 Rocky Mountain National Park (west side)
Royal Gorge (this is a trolly thing that goes over the gorge)
Royal Gorge Bridge (this is the highest suspension bridge, at least, in the US that I know of...you can drive or walk across it)
Another view of really how deep the gorge is
View looking out toward Colorado Springs
Fog rolling in the valley at Rocky Mountain National Park (the east side)
Sun trying to come out (there was feet of snow up there when we went)
I'm constantly trying to get out and explore all of Colorado and there is still tons of things that I've never even seen here (we have dinosaur fossils toward the western part of the state...just tons of stuff!)
Comment! (2) | Recommend!
the photo that is my banner...
Tuesday. 9.12.06 11:09 pm
Well, I figured I would post the whole photo of the image I chose for my header/banner thingy.
I think the entire photo was more enticing than just that little snippet that I cut out of it.
I resized it as not to crash all of your computers or anything. The joy of digital cameras and how much they can make you appear to be a good photographer even though you're not
I think this might be one of my favorite parts and why I
Colorado. We're surrounded by so much beautiful scenery. It's a shame that the day that I was taking this picture, the clouds started rolling in and pretty much ruined our night (we were camping up in the mountains)...it snowed, it rained, it thundered a ton...and on top of all that, our stupid tent leaked. That was fantastic! Ah, and all of this was just a few weeks ago. We went the weekend before Labor Day.
Fun stuff...
Comment! (1) | Recommend!
Tuesday. 9.12.06 10:27 pm
OKAY, the last 4 hours I spent customizing this whole thing should hopefully be fruitful. I guess when you get really focussed on something, you'll spend hours and not even notice. That's a good thing I guess. Maybe I should practice that more at work and then I wouldn't get behind all the time .
Anyway, tomorrow I'm gonna buy my plane ticket back to Seattle to visit my family. I'm going toward the end of October because I figured no one at work would be asking for those days off (and I was right) and I had to make it sometime soon before it was too late for me to travel (pregnant...not good for traveling). I think they should at least get to see me once more before I pop. It really sucks that they can't be out here with me after I have the baby though. I feel bad for being in Denver and all of them being in Seattle. It's like they'll never get to see the baby! My guilty conscience talking again.
Speaking of guilty conscience, all that crap I threw in my closet is talking to me again. I suppose I should go through it and clear it out to make room for all the crap that I'm going to be getting. You ever notice how you seem to get rid of tons of crap only to make room for tons of new crap? Maybe that's me because I'm a packrat, but it seems like the piles just never go away!
If anyone is bored and likes message boards, feel free to come visit one that I moderate. The link is right
here
. Just a bunch of people that are bored periodically through the day that chat about random crap. Ya know...mostly what I do to myself. It's not a shameless plug or anything to get ya'll to go there...I just found myself spending a lot of time there. I used to not being into message boards at all...was super wary of chat rooms...nothing like that and then my best friend introduced me to message boards and I was hooked. I don't know what I'd do during the day if I wasn't posting gibberish to my friends.
Ah well...
Comment! (2) | Recommend!