Thursday. 2.2.12 1:42 am
I'm making two lists. One will be all the big things I want and don't want out of life, whether they be what I want from myself or with what I want to find myself involved. The other will be short-term goals.
Big lists. I just never gave myself much thought, and now it's in hyperdrive. Being single is nice. Being single is REALLY nice. A relationship with the right person is, too, but I always notice that I stop thinking so much about my own direction.
And relationships end. They just do. Especially when you're still in college. So I like being single. It's...stable.
Can I just mention that I smell really great, right now? I only shower four times a week, give or take, but I just climbed out of the shower and actually opted to use lotion...I'm sitting here, taking a break from studying, just enjoying my own delicious-smelling presence.
Let's be honest. Showering every single day sucks. AND, ON TOP OF THAT, it's not so hot for your hair.
But hey, if you're going to destress and pamper yourself for a night...a good hot shower and freshly-laundered boxers is the way to go.
Now I just need to find someone good at back massages.
Oh and PS it's been around seventy degrees, down here, for the past couple of weeks, with an exception or two. That means tree climbing and enjoying the ocean breeze, after class.
Ahhhhhhh. No wonder we all walk like we're on island time.
Comment! (2) | Recommend!
I will give you the password!!
Thursday. 1.26.12 11:16 pm
Actually I'm not that interested in which shoes you get, but thanks for including me.
Wednesday. 1.25.12 2:20 pm
Define your choices. Write them down, if that helps.
Eliminate the choices you don't want anything to do with immediately.
Weigh the benefits and issues with each choice. If it helps, create a numerical points system using several different variables (long-term advantage, 1-5; ease of implementation, 1-5; et cetera).
List the choices from best to worst, based on your numerical analysis.
(For people who don't make their choices based purely on logic)
If you're unhappy with this list, go with the one you wanted to see at the top.
THIS, everyone, is how you come to a decision in a (mostly) logical fashion. I've had approximately one million people come to me for advice on silly little things that they are AGONIZING OVER, this week, AND I'M DONE LISTENING ABOUT THAT GUY YOU WANT TO ASK OUT.
ASK HIM OUT OR DON'T.
SO I'M WRITING THIS ON SEVERAL NOTECARDS AND HANDING THEM TO MY DECISION-MAKING-HANDICAPPED FRIENDS.
ANYONE HAVE A PROBLEM WITH THAT?
Comment! (3) | Recommend!
I used all my good puns on midday
Saturday. 1.21.12 1:07 am
I got an interview for a position I'm really, really interested in, and it's all very exciting. :3 If I get this job, I won't need the job I have right now...WHICH MEANS I CAN *~*~*~*~*~*QUIT*~*~*~*~*~*~*.
Sales just doesn't fit me. Especially when I'm not incredibly passionate about lotions and two hundred dollar plates. Were I selling, say, cameras, or books, or a single, solid, likable product/line of products (from the same company), this would be a slightly different story. But general goods...not really my favourite sell. It's kind of like trying to defecate out of your ear.
Also, I'm pulling a Meredith (Grey's Anatomy? Anyone? Please?) and knitting. I'm staying far, far, far away from relationships for a long, long time. My various scarves, afghans, and sweaters will keep me warm at night. I've been hit on, down here...and it's just annoying... It doesn't make me feel *~*~*~*sexayyyy*~*~*~*. It makes me feel like someone is in my personal space, trying to see what lurks beneath my pants.
BRO. THEY'RE THERE FOR A REASON.
My first datingish thing here started, actually, because the guy mistook me for someone who wouldn't ridicule him for playing Angels and Airwaves and lighting candles to gain access to the netherworld between my legs. He was lucky he had conversation skills, or I would have left the house laughing.
So until someone can treat me like a cute little rabbit in their backyard and stalk CAREFULLY, and SLOWLY (rather than running and screaming at me)...I'm knitting this scarf. And then another. AND THEN ANOTHER.
SCARVES FOR EVERYONE.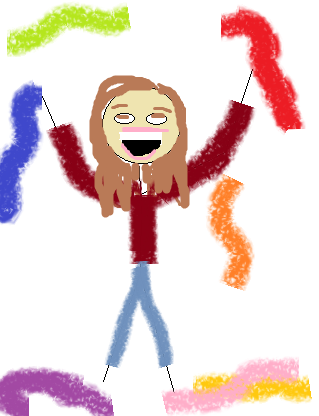 [1:48:15 AM] middaymoon: whatcha blogging about
[1:50:04 AM] Unicornasaurus: Wool you guess before I tell you?
[1:50:15 AM] Unicornasaurus: I'm yarning to hear your thoughts
[1:51:27 AM] middaymoon: You want me to guess?
[1:52:27 AM] Unicornasaurus: It's about time you cotton.
(I just realized that you guys don't usually see us as two real-life friends who interact quite often and sometimes have inappropriate dreams about one another. Guys, we talk in real life, SOMETIMES ABOUT NUTANG. IT ACTUALLY HAPPENS.)
Comment! (5) | Recommend!