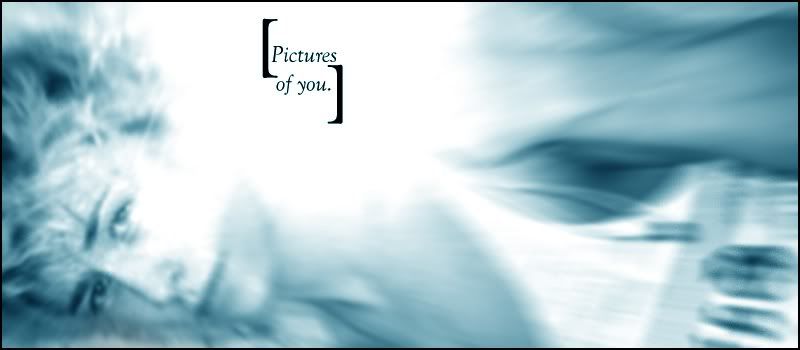 Spring Semester 2010:

* Teaching: Fundamentals of Microbiology - MW 12:00-2:40p
Medical Microbiology - TR 2:00-3:15p
Colloquium in Cell and Molecular Biology - R 3:30-4:30p
Thesis Research - Identification of T Cell Subsets and Immune Response in Colon Cancer Using Immunofluorescence - FOREVER AND EVER

Or rather, entries from the old journal, as it were...

-

An open letter to the College.

(August 27, 2006)

-

Untitled.

(July 16, 2006)

-

Haunted (Part One)

(May 29, 2006)

-

Are we growing up, or just going down?

(May 3, 2006)

-

I had a dream...

(March 19, 2006)

-

...

(March 14, 2006)

-

Enjoy it while it lasts.

(September 12, 2005)

-

Scene: 3:27 AM.

(September 3, 2005)

-

Untitled.

(July 26, 2005)

Psst... if you're looking for the academic writings I used to have here, head to my Reading Room.

Since June 2006...

- A Heartbreaking Work of Staggering Genius by Dave Eggers
- High Fidelity by Nick Hornby
- Travesties by Tom Stoppard
- The Way of the Shaman by Michael Harner
- The Tao of Pooh by Benjamin Hoff
- Nervous Conditions by Tsitsi Dangarembga
- The History Boys by Alan Bennett
- The Dark Child by Camara Laye
- Movie-Made America by Robert Sklar
- Diary by Chuck Palahniuk
- Rant: An Oral Biography of Buster Casey by Chuck Palahniuk
- Galapagos by Kurt Vonnegut
- The Dead Emcee Scrolls by Saul Williams [61.3%]
- Atonement by Ian McEwan
- Junk Science: An Overdue Indictment of Government, Industry, and Faith Groups that Twist Science for Their Own Gain by Dan Agin, Ph.D. [64.4%]
- So Yesterday by Scott Westerfield
- Lucky Wander Boy by D.B. Weiss
- The Things They Carried by Tim O'Brien
- Doctor Who: The Key to Time: A Year-by-Year Record by Peter Haining
- Why Buffy Matters: The Art of Buffy the Vampire Slayer by Rhonda Wilcox
- When You Are Engulfed in Flames by David Sedaris
- The Road by Cormac McCarthy
- 1984 by George Orwell [18.8%]
- Nick and Norah's Infinite Playlist by Rachel Cohn and David Levithan
- Intuition by Allegra Goodman
- V for Vendetta by Alan Moore and David Lloyd (Yes, I realize it's a graphic novel but it still fucking counts!)

The actual weekend entry, abridged.

Tuesday, July 1, 2008 @ 8:45 pm

(Abridged because I feel dirty and want to take a shower. Desperately.)

So I managed to find an apartment. It's a little more expensive than I had hoped for, but definitely still within my means. Compared to the other places I looked at, this place was HUGE (which is to say it isn't, like, the size of a house, but when most of the apartments you're looking at are no larger than twice the size of your current [and pretty small] bedroom, then it's ginormous). It isn't campus adjacent like I initially wanted, but it's a straight shot on the bus to the transit center at school (not to mention there is also a free shuttle from my apartment to the school), AND I'm across the street from a drug store, a grocery store, several restaurants, two coffee shops, a Blockbuster, and some banks. It's one bedroom, one bath, with a full kitchen and a balcony (where I am going to keep a banana tree and grow bougainvillea into a trellis). I'm uberexcited and wish that all my friends can come and visit me all at once... but I will settle for an occasional overnight stay when one or two are in town.

Comment! (4) | Recommend!

Tuesday, July 1, 2008 @ 4:53 pm

And he's cute! And funny! And smart! And he...

...has a girlfriend. Boo!

Hahahaha, whatever. He's cool. We'll get along juuuuust fine.

Comment! (2) | Recommend!

Is giving scholarships to the top applicants a discriminatory practice?

Tuesday, July 1, 2008 @ 10:48 am

I lost my scholarship to SDSU:

Dear new incoming masters students-

As you know, you were selected by your respective programs to receive an in-state resident fee award. These awards are given to the most competitive applicants for the fall recruitment period.... Unfortunately, the Biology Department was recently informed that due to litigation, SDSU is no longer able to issue such awards to students.

Thanks, asshole--whoever you are. To me, it sounds like either some dumb idiot fuckwad who was pissed he couldn't get a scholarship of his own and cried "Discrimination!", or some lame politically-correct everybody-is-a-special-snowflake advocacy group crying that everyone--regardless of innate talent or hard work--should be treated exactly the same as some fucktard who sits around with his thumbs up his ass, listening to his iPod during class (if he even bothers to show up at all).

However

, there

is

a silver lining. The Biology Department feels really bad about all of this, so they say:

We would like instead to pay you via a Graduate Assistant contract for the Fall 08 semester. You will not have any responsibilities.... We hope that the extra [money] will compensate for the inconvenience that this change has caused.

In principle, I am very angry that I had to lose my scholarship, but at least in this way, I'm getting

extra

money for doing

nothing

,

plus

it won't cut into my grant money (the scholarship would have reduced the grant money in my aid package because they both are meant to cover tuition and fees).

I come out a winner, but you know who comes out a loser: the future applicants to this M.S. program, since they won't have the opportunity to get that scholarship money. Thanks a lot.

Comment! (3) | Recommend!

In lieu of an actual entry of how my weekend went...

Monday, June 30, 2008 @ 9:58 pm

Thursday, June 26, 2008 @ 10:04 pm

Tomorrow, I am flying into San Diego to begin* my weekend-long quest to find a place to live for the next year or two...

I am nervousexcited!

Comment! (7) | Recommend!

This reminds me of an incident in one of my classes in high school.

Thursday, June 26, 2008 @ 11:26 am

A student piped up from the back of the classroom. "We have Black History Month, we have Chinese New Year, we have Cinco de Mayo... why don't we have, like, White History Day?"

The teacher turned towards the student, pale white skin bunching on his forehead, and replied incredulously, "What the hell are you talking about? EVERY DAY is White History Day, whether we call it that or not."

Then he continued the lesson on a bunch of dead white guys who impacted American history and government since the inception of this country, proving his own point.

Comment! (4) | Recommend!

Wednesday, June 25, 2008 @ 12:41 am

Monday, June 23, 2008 @ 10:57 pm

...one to go. (But it's the hard one. Boo.)

The stats final was, as expected, pretty easy. What I couldn't believe was how many people were completely unprepared for it. We were given four pages of notes (which is generously excessive if you ask me) in addition to being able to bring certain flowcharts as well as z- and t-tables, but there were so many people who got there and were in the dark about the whole thing. There was this one guy who asked the instructor, "So, where's the tables we need?" And the instructor replied, "You were supposed to print those out and bring them yourself." D'oh. And there were these other two girls (Women? They looked older than me but that might just be because they were caked in make-up and looked like hookers.) who sat in front of me who thought they'd be able to SHARE their notes and tables and stuff, and I couldn't believe that the instructor actually had to TELL them WHY that wouldn't be allowed. These same girls then proceeded to talk during the examination, which luckily for them (and unluckily for me), the instructor didn't catch due to the stadium seating in the lecture hall.

Some people are just freaking morons.

Comment! (4) | Recommend!