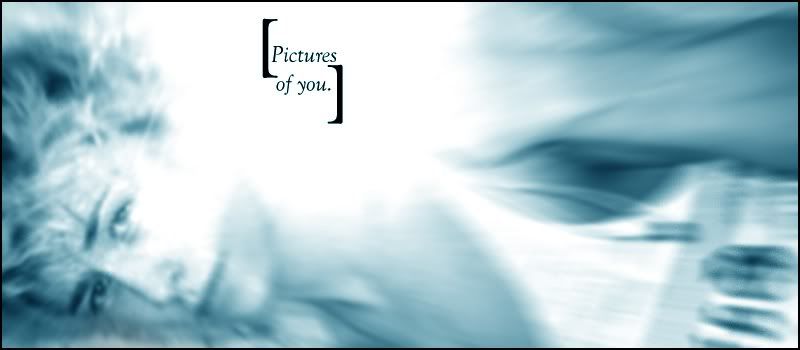 Spring Semester 2010:

* Teaching: Fundamentals of Microbiology - MW 12:00-2:40p
Medical Microbiology - TR 2:00-3:15p
Colloquium in Cell and Molecular Biology - R 3:30-4:30p
Thesis Research - Identification of T Cell Subsets and Immune Response in Colon Cancer Using Immunofluorescence - FOREVER AND EVER

Or rather, entries from the old journal, as it were...

-

An open letter to the College.

(August 27, 2006)

-

Untitled.

(July 16, 2006)

-

Haunted (Part One)

(May 29, 2006)

-

Are we growing up, or just going down?

(May 3, 2006)

-

I had a dream...

(March 19, 2006)

-

...

(March 14, 2006)

-

Enjoy it while it lasts.

(September 12, 2005)

-

Scene: 3:27 AM.

(September 3, 2005)

-

Untitled.

(July 26, 2005)

Psst... if you're looking for the academic writings I used to have here, head to my Reading Room.

Since June 2006...

- A Heartbreaking Work of Staggering Genius by Dave Eggers
- High Fidelity by Nick Hornby
- Travesties by Tom Stoppard
- The Way of the Shaman by Michael Harner
- The Tao of Pooh by Benjamin Hoff
- Nervous Conditions by Tsitsi Dangarembga
- The History Boys by Alan Bennett
- The Dark Child by Camara Laye
- Movie-Made America by Robert Sklar
- Diary by Chuck Palahniuk
- Rant: An Oral Biography of Buster Casey by Chuck Palahniuk
- Galapagos by Kurt Vonnegut
- The Dead Emcee Scrolls by Saul Williams [61.3%]
- Atonement by Ian McEwan
- Junk Science: An Overdue Indictment of Government, Industry, and Faith Groups that Twist Science for Their Own Gain by Dan Agin, Ph.D. [64.4%]
- So Yesterday by Scott Westerfield
- Lucky Wander Boy by D.B. Weiss
- The Things They Carried by Tim O'Brien
- Doctor Who: The Key to Time: A Year-by-Year Record by Peter Haining
- Why Buffy Matters: The Art of Buffy the Vampire Slayer by Rhonda Wilcox
- When You Are Engulfed in Flames by David Sedaris
- The Road by Cormac McCarthy
- 1984 by George Orwell [18.8%]
- Nick and Norah's Infinite Playlist by Rachel Cohn and David Levithan
- Intuition by Allegra Goodman
- V for Vendetta by Alan Moore and David Lloyd (Yes, I realize it's a graphic novel but it still fucking counts!)

Countdown: 14 work days...

Tuesday, July 29, 2008 @ 10:46 am

As much as I like working at NASA, I am SO ready to move on. I have been counting down the days these last few weeks and I am almost done!

In my 16 months here, I have accomplished much. I have a revitalized interest in the space sciences (little known fact: my love affair with science started with astronomy and geology when my age was down in the single digits, so long ago...) and I appreciate what is being done here and at places like this. However, being here and doing this work has shown me that doing this sort of science is not where my heart lies. I find myself missing the biomedical sciences more and more every day that I am here. I see the greatness in exploring the universe's great mysteries, but I personally want to study something that lies a little closer to home.

I'm excited about what sorts of research I can do in graduate school. I've got a few potential advisors lined up with research interests in immunology, cancer, and heart disease, so hopefully no matter which one I ultimately decide to go with (or, perhaps more aptly, no matter which one ultimately decides to go with me), I will have a great opportunity to dive headfirst into something I feel like I will thrive in.

Comment! (1) | Recommend!

Just passing along the news.

Thursday, July 24, 2008 @ 10:24 pm

Visit this site. So many beautiful images!

From: Centerwide Announcement [[email protected]]
Sent: Thu 7/24/2008 8:00 PM
To: Recipient List Supressed
Cc:
Subject: NASA and Internet Archive Launch Centralized Resource for Images

NASA and Internet Archive Launch Centralized Resource for Images

NASA and Internet Archive, a non-profit digital library based in San Francisco, made available the most comprehensive compilation ever of NASA's vast collection of photographs, historic film and video Thursday. Located at http://www.nasaimages.org the Internet site combines for the first time 21 major NASA imagery collections into a single, searchable online resource. A link to the Web site will appear on the http://www.nasa.gov home page.

The Web site launch is the first step in a five-year partnership that will add millions of images and thousands of hours of video and audio content,with enhanced search and viewing capabilities, and new user features on acontinuing basis. Over time, integration of www.nasaimages.org with www.nasa.gov will become more seamless and comprehensive.

"This partnership with Internet Archive enables NASA to provide the American public with access to its vast collection of imagery from one searchable source, unlocking a new treasure trove of discoveries for students, historians, enthusiasts and researchers," said NASA Deputy Administrator Shana Dale. "This new resource also will enable the agency to digitize and preserve historical content now not available on the Internet for future
generations."

Through a competitive process, NASA selected Internet Archive to manage the NASA Images Web site under a non-exclusive Space Act agreement, signed in July 2007. The five-year project is at no cost to the taxpayer and the images are free to the public.

"NASA's media is an incredibly important and valuable national asset. It is a tremendous honor for the Internet Archive to be NASA's partner in this project," says Brewster Kahle, founder of Internet Archive. "We are excited to mark this first step in a long-term collaboration to create a rich and growing public resource."

The content of the Web site covers all the diverse activities of America's space program, including imagery from the Apollo moon missions, Hubble Space Telescope views of the universe and experimental aircraft past and present. Keyword searching is available with easy-to-use resources for teachers and students.

Internet Archive is developing the NASA Images project using software donated by Luna Imaging Inc. of Los Angeles and with the generous support of the Kahle-Austin Foundation of San Francisco.

Comment! (3) | Recommend!

Tuesday, July 22, 2008 @ 11:08 pm

Monday, July 21, 2008 @ 12:01 am

And I didn't even commit matricide! Amazing!

Details on the last week forthcoming. Maybe. Or maybe not. It all depends on my mood.

Comment! (3) | Recommend!

I'm not a miracle worker!

Thursday, July 10, 2008 @ 9:56 am

So my boss will be out of town next week for

COSPAR

in Montreal (which is only, like, my FAVORITE CITY IN CANADA!) where he's presenting one of our papers on abiotic nitrogen fixation, and I will be out for vacation, which leaves the new kid alone in the lab. I'm trying to teach him how to do some stuff so he can keep himself busy next week, but I can't exactly do that when we don't have the materials (shipping is not something I can control), not to mention that we're pretty much running out of time.

I hope my boss doesn't expect me to be able to show him absolutely EVERYTHING he needs to know in a little less than two days without the proper materials... I mean, I know I'm good, but I'm not THAT good. Perhaps with a bit more telepathic training I could be. Maybe I should work on that, too.

Comment! (4) | Recommend!

The dreamer and the skeptic.

Wednesday, July 10, 2008 @ 10:44 pm

I remember when I was like that: when I first learned college chemistry and biology and physics and I was so excited to apply my (limited) knowledge to everything and anything, no matter how impractical or unfeasible. It was an exciting time; in my head, I dreamed up solutions to all of molecular biology's greatest problems using what I knew from my introductory classes. Reality be damned.

Even though he's older than me, his (lack of) experience in science reminds me of when I was younger and more eager to dream about the possibilities. It was precisely because of that that I felt bad as I shot down his ideas one by one.

My boss has this grand idea that he will eventually create vesicles with the ability to create ATP--the currency of power in every living cell. ATP production is the end-result of energy transduction, which involves taking energy from light or redox reactions and turning into free energy in the form of a transmembrane electrochemical potential, which can be used to both synthesize ATP and drive active transport systems. Basically, in simpler terms, energy transduction is the change of one form of energy to another, the goal of which is to make it such that a cell can function. What my boss is trying to do is show that this can happen abiotically, and if he is able to do this, then that is one step towards fully understanding the origins of life as we know it. So far, we have been able to show that we can spontaneously form vesicles that can encapsulate semiconducting particles to drive redox chemistry using the energy from light. He plans to continue the experiments towards showing that we can use a system like this to produce the free energy to make ATP and, furthermore, that we can actually make it...somehow.

The new intern got all excited about the prospect of the project and dove right in. He even drew up a schematic diagram of a system that he thought would work. He worked all night on this because he was so enthusiastic about getting his name associated with a scientific breakthrough, but...they weren't fully developed. I could read the rejection on his face as I enumerated what was wrong with both the science behind his model and the logistics of performing that experiment.

His thoughts on the subject were creative; I'll give him that. And filling the holes in his scientific knowledge will come with time as he advances in his studies. But as for me, this gave me pause for thought: maybe I need to regain some of that exuberance; maybe I need to dream a little bit bigger. I have been growing more skeptical, more realistic as time goes by...but maybe I should also return to that time when I got superexcited all for what COULD be rather staying on my current trajectory, spending all my time trying to explain why it CAN'T.

I can't shake the feeling that maybe that's what I'm missing: a balance between the two. Perhaps I need to work on being a skeptical dreamer of sorts--someone who isn't afraid to color outside the lines but keep it within the page...

Comment! (4) | Recommend!

Monday, July 7, 2008 @ 10:18 pm

...make me almost say "FUCK IT" to taking public transit to work in lieu of driving.

Almost.

One of my cats made me miss my train by one minute this morning--one of those, arrive-at-the-platform-just-in-time-to-watch-the-train-pull-away deals. This, of course, meant that I had to wait 15 minutes for the next one, which tacked on an extra 5 minutes waiting time when transferring to another line, which meant that I missed the bus connection from the train station to NASA by 15 whole minutes, which meant that I would have to wait another half hour to catch the next one.

As soon as I parked at the station, I contemplated turning around and taking the highway to work. At that time of day--which is to say, rush hour--it would have taken me 40 minutes to get there, which is still better than the almost-two hours it takes me to get to work using public transit, but in the end I reminded myself that I'm doing the transit thing to save (a LOT) of money... and I also managed to remind myself that my boss doesn't get in until after noon all the time anyway so he wouldn't know I was an hour late. (That's a free $13 right there.)

I think I was going to type more, but to be completely honest, it's been a really, REALLY long day and I would like nothing more than to just sleep. Tomorrow should go better... I hope.

Comment! (4) | Recommend!

Yeah, I'll start some shit...

Saturday, July 5, 2008 @ 10:39 pm

Just watch me.

Some idiot is STILL popping off fireworks and firecrackers, and it's the fucking FIFTH of July. So, I just yelled "LEARN TO READ A CALENDAR, YOU FUCKING RETARD! TODAY IS THE FIFTH. YOU'RE SO SLOW THAT YOU'RE A DAY LATE!" out of my window.

Get a clue, morons.

I hate the people in my neighborhood.

Comment! (4) | Recommend!