Tuesday. 9.19.06 2:06 pm
So, with Tuesday upon me...It's already 1pm and it's so not even close to being over. Normally, I'd have about 4 hours left of work to go...but, since I'm so far behind, I'm gonna be staying late tonight (BOO THAT!) haha...I really need to though. I feel so stressed out when I'm so far behind. I start going crazy or something...
but yeah...I got my chai fix at Starbucks and they suckered me into buying some of their banana loaf. I really wanted the pumpkin loaf (like he told me they had, then they were out of it...), so the banana loaf was it. It was so good though. But seriously, I like Starbucks and all, but was 1 venti light ice chai and a piece of banana bread worth almost $6? Sometimes I think their prices are a little outrageous and all...but I think it's because they're so popular. People will just go there to get their stuff because they know the name. Personally, if we had Seattle's Best Coffee out here in Denver, I'd be drinking that stuff. It tastes so much better...but that's just personal opinion. My mom, the coffee connoisseur, doesn't much care for Starbucks either, but hehe...she'll be in there getting her quadruple short latte (believe me...there's like a splash of milk in it...hardly a latte) when she can.
CRAZY...but yes...
Work late...and then vegetate (at like 7pm...instead of 5pm)
Comment! (3) | Recommend!
Monday. 9.18.06 11:04 pm
I went to take some pictures with my camera and I must have left it on...because the battery was dead. It was sort of depressing
Oh well...the always persistant me will try again tomorrow, with a charged battery. That always helps.
Well, I've been combing through tons of baby names hoping to come up with a list of ones that I like, but I just don't think it's working all that well. One, I am coming up with WAY too many "A" names...does that mean I want my baby's name to start with an "A?" Another thing, I have TONS of girl names...and like 4 boy names. Either I subconsciously think that I'm having a girl or I just tend to gravitate toward the girl names. Ugh...so many to choose from!!! I'm sure it will get easier the closer it comes to having this baby, but right now, it seems so FREAKIN hard!
In other news...my butt hurts (I'm sure you all wanted to know that). I think it's because I've been doing a whole helluva lot more sitting than I usually do, but seriously, I'd rather be sitting here at the computer when I get off work than doing other stuff (is this sad???). I forgot to grab my little pillow this morning when I left for work, so I was uncomfortable all day...lol
Anyway...I suppose I could continue with my cute animal pictures. I had my p-dog today, so why not do my other favorite baby animal, THE PENGUIN!!!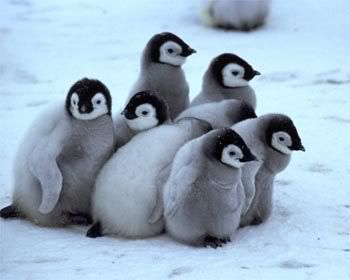 Aren't they so cute huddled up next to eachother...the cute, little fuzzy birds! I just want to kiss em all (okay, maybe that's going a bit too far...but still)...
OOH, and what about this yawning kitty:
He's cute too...OH SO CUTE. I don't know why that cat reminds me of my friend's kitty. hehe...here's my image of him that I made in Paint Shop Pro:
It's not that I dislike kitties...he was just being mean to me back then...I couldn't help making him look demonic.
Comment! (8) | Recommend!
when I drive...I think weirdly
Monday. 9.18.06 1:10 pm
You know, I've lived in Colorado for 3 years...and still, every time I drive down the road, I have to look at all the little prairie dogs perched on their little hills. They're soooo cute! I mean, there's fat ones, skinny ones, baby ones, BIG ones, but they all have the cute little faces. For those of you who have never seen one, here's a picture:
You always see them outside in pairs or what...but anyway, I'll be riding around in someone's car or driving or something, and I always have to talk about em when I see em. I've started calling them my little "p-dogs" so I sort of have a posse going. Can you believe that people hate these things out here?! I guess they dig up your backyard and tunnel all of the place and they're basically big pests, but still...I'd rather see a p-dog in my backyard than an ugly mole or a gopher. Hehe...they have prairie dog sanctuaries where they basically pick up the p-dogs that are pest and relocate them to these sanctuaries...but they actually gave farmers the right to kill them with explosives here in Colorado. Farmers are again using pesticides and all that because it might harm their crops, so they get to implode their tunnels and all that...:( People shoot em with bb guns too! It's target practice I suppose...my poor buddies!
Anyway, that was a long tangent about a whole lot of nothing...I just wanted an excuse to post a picture of a p-dog since I passed a super fat one on the way back to work from getting my latest craving, damn McDonald's chicken nuggets. Those things aren't even real chicken...but how I wanted them so...Damn you McDonald's! I swear, they must put nicotine in their things because even though they taste like shit, people still go and buy it....what the hell!!!
Comment! (7) | Recommend!
Monday. 9.18.06 8:43 am
Okay, probably not...but it was damn cold this morning. I guess I was so used to waking up and it being in the 70's that I was just completely shocked by our chilly, 40 degree morning...BRRRR...I think I shall invest in some pants or something before my poor legs freeze to death.
Ugh...and I woke up this morning with this really bad stinging in my side. It felt like a bee was stinging the side of me or something, but I'm sure it was just some ligaments stretching or something. I know one thing's for sure...I would have much rather stayed in bed than been getting up...lol! My bed was so warm and comfortable...and, well, my car and house were so icy...
Today should be long. It's already 7:45am, I've gotten 2 somewhat mean e-mails from people and a phone call. Could this mean a long day? I suppose so...not to mention, I'll be working overtime when MY day is done. I can't complain too much...extra money is better than nothing.
Anyway, will get back to this later, but I have to work now :(
On the lighter side, my cute little bamboo plant is thriving. It's supposed to be one of those lucky bamboo things...but it so far hasn't given me any good luck. I guess it should be lucky I haven't killed it yet...I'm usually really good at that...hehe
Comment! (0) | Recommend!
Sunday. 9.17.06 11:27 pm
It's getting late for me...and I've got to work SO early tomorrow (and late too...overtime though), so here's my last one for the day.
Anyone ever drank these:
I'm thoroughly addicted. They're SOOOO good. I think the one that I posted is pomegranate, but I think I like the grapefruit one better. So yummy....so good...much healthier than soda, but they have that kick.
BUT anyway...goodnight everyone and may the week be exciting for you all (as I know it WON'T BE for me...ugh...work}
Comment! (4) | Recommend!
Sunday. 9.17.06 3:33 pm
The Bronco game just started 15 minutes ago...and I don't have cable or even the basic crappy stations to even watch the game :( It's somewhat depressing...I don't even think they have video hilights or anything on the websites, do they. Even so, I guess it will just have to do. Maybe next weekend I can go to my friend's house and watch the game. I have a feeling that's why she quit talking to me online...lol. I'd leave me alone too if I was watching football.
At least the positives are that it's not raining or windy today like it was yesterday. I suppose I could get off my ass and go outside or something and enjoy my day, but hehe...I'd rather sit inside and be lazy. I don't hear my little pigeon friends outside (a big family of pigeons made a home in the eaves above my house, so I hear them ALL DAY), so maybe it's getting too cold for them. I see pigeons year round though...maybe they're just not "at home" right now.
My brother is coming back into the States from Europe here pretty soon. He left September 1st and he's supposed to be getting back September 21st. He was gone for 3 weeks. He was going on some sort of backpacking trip all over Europe seeing all the sites, checking things out, probably sleeping on the streets for all I know (he's so cheap...he'd probably do that). I'm hoping he took some good photos because I want to see them! I was so jealous when he said he was going to Europe because I really wanted to go there :( The architecture in that whole place is so much more fascinating than here in the states. I was telling my mom...they have hundreds of years of history behind all their stuff. At the most, the US may have 300 years at most of any interesting architecture. We're relative newbies to all the exciting architecture all over the world. I told him to take pictures, so maybe he was a nice brother this time...and will share it with me :)
But anyway, he'll be excited to know that pretty much the day that he left or shortly before he left, the City of Seattle decided to impound his car. He parked it off of some street because it had locked up or something and it wouldn't move. My dad had got on him for about 2 months to try and go pick it up so this didn't happen...my brother didn't tell him where it was...and I can't believe that it sat in downtown Seattle for 2 months and it wasn't towed away faster! Anyway, to make a long story short...my dad went down there to the impound yard with the title and all that and basically wanted to give them my brother's car (it's a piece) and they wouldn't take it since it was not in my dad's name. My dad paid the towing bill, but Tim (my brother) is going to be stuck with the impound fees. They're charging him something like $12 a day or something, but in the mean time, they decided that they were going to auction his car off instead. SO, 2 days after Tim gets back (he's gonna be all jetlagged and all that), his car is gonna be gone...and then he'll have to pay the difference or something. Who knows...my brother isn't the smartest person sometimes. I'm glad we're not very similar...because then that would mean I'm stupid...lol
Comment! (6) | Recommend!
Sunday. 9.17.06 11:38 am
Okay, here is my most recent, horrible picture of me and my boyfriend...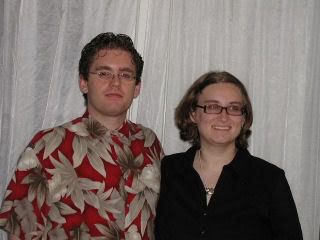 Here's one of my from over 2 years ago. We were riding a ferry in the puget sound when we went back to visit my parents in Seattle.
It only seems like I change...lol
BUT, enough about me...I'll post somthing that's really cute, my puppy :)
Oh, and just for good measure, I'll post a photo of one of my favorite places in Washington. I love this place...Snoqualmie Falls!
Comment! (2) | Recommend!
talk about still being tired...
Sunday. 9.17.06 10:40 am
I think I need to invest in some curtains in my room or something. I have mini-blinds (the standard window covering for all apartments) and they really don't try to keep the light out. I'm glad the sun doesn't directly shine into my window, but damn...it was pretty bright none-the-less. I can see the baby being up all the time at the crack of dawn if we don't get some curtains. Unfortunately, the baby does not get its own room...so in my bedroom it goes...lol
On top of that, I think my neighbor below me or to the side of me (I live on a 2 story building, on the end unit, on the second floor) was playing some really annoying music. All I could hear was the bass...and it wasn't very pleasureable. I suppose I should blast them with my computer speakers, but I'll be nice. I really need to find my power cord so I can use my stereo, but that's somewhere lost in Brian's room (I don't think we'll ever find it)...not to mention, I really want to get my PS2 over here so I can play some Bust-A-Move. If you ever want to waste an afternoon, put in Bust-A-Move. You'll be playing for hours and not even realize that it's been hours. It sort of sucks.
BUT, since nothing is going on today...I might pop The Princess Bride in and watch that. I've not seen it in forever and it's such a good movie :) OR, I could really dork it up and play computer games since I've not done that in a while. I'm sure no one misses me on World of Warcraft, so it doesn't matter...lol
Comment! (2) | Recommend!