Saturday. 10.6.07 3:17 am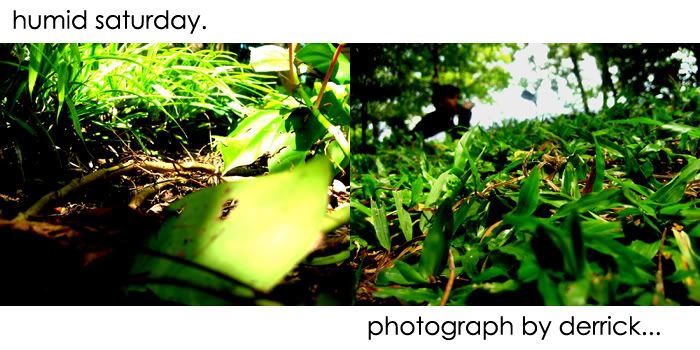 Comment! (1) | Recommend!
Thursday. 10.4.07 11:33 am
just some random post.
we've been supporting newurbanmale recently. hah
gonna turn in. GOODNIGHT PEOPLE!
Comment! (5) | Recommend!
Wednesday. 10.3.07 1:55 pm
hah posted all my photos in this website.
recently jus posted some interesting pictures with a friend.
liyun requested it. its a gay theme. LOL
anw happy 16th birthday liting.
went to celebrate at helena's condo.
fun, laughter, joy and madness was everywhere.
thats how those pictures are taken today.
HAH. maths paper 2 was GREAT
http://derrickwee.deviantart.com/
Comment! (5) | Recommend!
Monday. 10.1.07 9:50 am
mugging over at helena's place right now.
super stress luh!
gonna breakdown luh!
hah not exactly luh! hahaha
luh luh luh luh....
im just trying to chill myself down LUH.
chem and physic paper is 10 hours away! LAST MIN STUDY!
helena look so hot with my beanie on.
youre my sexy hot babe baby!
potential of MODEL 2007.
we love you! LOL
tennis, jogging, swimming and workout after n level with helena!
cruise cruise here i come. cant wait for nov 9 :D
FEELING SUPER GOOD RIGHT NOW EVEN THOUGH THERE"S EXAM TMR! HAH
take care people!
love your enemies.
Comment! (3) | Recommend!
Wednesday. 9.26.07 8:47 am
i'm left with four days.
there's no more time to waste.
whereas nov its gonna be a busy one.
study hard people.
take care.
Comment! (1) | Recommend!
Sunday. 9.23.07 2:29 am
hi
people
.
notice why i'm not calling you peeps, hot hot hot.
liyun ask me not too :) hah
ask her why. LOL
was taking pictures of the three hot babes.
end up one of them is trying to give me a gentle bite on my nipple.
hah cute little animals.
went to study over at mac yesterday.
end up studied nothing at all. LOL

DERRICK
is the name.
im off to work.
chaos :D
Comment! (12) | Recommend!