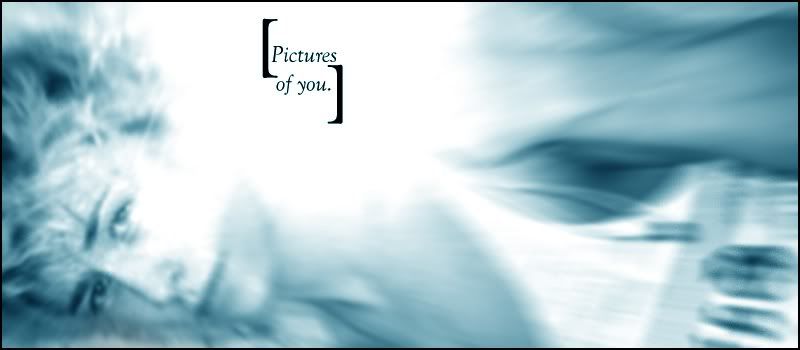 Spring Semester 2010:

* Teaching: Fundamentals of Microbiology - MW 12:00-2:40p
Medical Microbiology - TR 2:00-3:15p
Colloquium in Cell and Molecular Biology - R 3:30-4:30p
Thesis Research - Identification of T Cell Subsets and Immune Response in Colon Cancer Using Immunofluorescence - FOREVER AND EVER

Or rather, entries from the old journal, as it were...

-

An open letter to the College.

(August 27, 2006)

-

Untitled.

(July 16, 2006)

-

Haunted (Part One)

(May 29, 2006)

-

Are we growing up, or just going down?

(May 3, 2006)

-

I had a dream...

(March 19, 2006)

-

...

(March 14, 2006)

-

Enjoy it while it lasts.

(September 12, 2005)

-

Scene: 3:27 AM.

(September 3, 2005)

-

Untitled.

(July 26, 2005)

Psst... if you're looking for the academic writings I used to have here, head to my Reading Room.

Since June 2006...

- A Heartbreaking Work of Staggering Genius by Dave Eggers
- High Fidelity by Nick Hornby
- Travesties by Tom Stoppard
- The Way of the Shaman by Michael Harner
- The Tao of Pooh by Benjamin Hoff
- Nervous Conditions by Tsitsi Dangarembga
- The History Boys by Alan Bennett
- The Dark Child by Camara Laye
- Movie-Made America by Robert Sklar
- Diary by Chuck Palahniuk
- Rant: An Oral Biography of Buster Casey by Chuck Palahniuk
- Galapagos by Kurt Vonnegut
- The Dead Emcee Scrolls by Saul Williams [61.3%]
- Atonement by Ian McEwan
- Junk Science: An Overdue Indictment of Government, Industry, and Faith Groups that Twist Science for Their Own Gain by Dan Agin, Ph.D. [64.4%]
- So Yesterday by Scott Westerfield
- Lucky Wander Boy by D.B. Weiss
- The Things They Carried by Tim O'Brien
- Doctor Who: The Key to Time: A Year-by-Year Record by Peter Haining
- Why Buffy Matters: The Art of Buffy the Vampire Slayer by Rhonda Wilcox
- When You Are Engulfed in Flames by David Sedaris
- The Road by Cormac McCarthy
- 1984 by George Orwell [18.8%]
- Nick and Norah's Infinite Playlist by Rachel Cohn and David Levithan
- Intuition by Allegra Goodman
- V for Vendetta by Alan Moore and David Lloyd (Yes, I realize it's a graphic novel but it still fucking counts!)

Saturday, September 25, 2010 @ 5:42 pm

You're in bed.

You're on a beach.

Look at your man.

Now back to them.

It's Jensen going down on Jared.

Comment! (2) | Recommend!

Saturday, September 25, 2010 @ 4:39 pm

Friday, September 24, 2010 @ 12:15 pm

We stayed up until 6 in the morning telling each other things we had never told anyone else.

I completely trust him with my deepest, darkest secrets and he trusts me as well.

Call it anything you want, but I'm going to call it unadulterated love.

Comment! (0) | Recommend!

Thursday, September 23, 2010 @ 1:01 am

I only have a vague notion of what the hell's happening to me and it scares me a little bit.

Comment! (2) | Recommend!

Tuesday, September 21, 2010 @ 9:21 pm

He's perfect with all of his imperfections. He accepts my flaws and extols my strengths. He always manages to bring me up when no one else can even come close to helping me when I'm down. He balances out my brand of crazy with his own. He indulges me when I'm being silly/stupid/immature and takes me seriously when I'm on the verge of collapse.

Why can't he just be gay for me?

Comment! (1) | Recommend!

Saturday, September 18, 2010 @ 4:24 pm

I successfully proposed my thesis and have now officially been advanced to candidacy for the Master's degree in cell and molecular biology.

I cried afterward because I felt like I didn't do my best, but I apparently did very well nonetheless.

I need to stop holding myself to such impossibly high standards.

Whatever. It's time to take a deep breath for the next few weeks before a conference abstract and a Sigma Xi GIAR application are due.

This weekend, I'm going to sleep so. Fucking. Well.

Comment! (0) | Recommend!

Tuesday, September 14, 2010 @ 12:31 am

Stress levels at maximum.

Thesis proposal--full steam ahead.

I think my brain is dying.

No, I guess that proves that my brain is dead.

This does not bode well.

Fuck.

Comment! (3) | Recommend!

Thursday, July 8, 2010 @ 9:50 am

I found this on a friend's blog so I decided to repost it here:

What the Bible Says - And Doesn't Say - About Homosexuality

As incredibly well-written, well-reasoned, and well-laid-out the pamphlet is, I find it hard to believe (call it the cynic in me) that those who need to understand it the most will be swayed at all by that logic... especially since--as in the case of mothers sometimes--you can't argue with a non-logical person. It's... unfortunate, to say the least. And as a gay Catholic, it's personally very distressing.

The entire thing is structured on the following eight premises:

1. "Most people have not carefully and prayerfully researched the biblical texts often used to condemn God's lesbian, gay, bisexual, and transgender children."

2. "Historically, people's misinterpretation of the Bible has left a trail of suffering, bloodshed, and death."

3. "We must be open to new truth from Scripture."

4. "The Bible is a book about God -- not a book about human sexuality."

5. "We miss what these passages say about God when we spend so much time debating what they say about sex."

6. "The biblical authors are silent about homosexual orientation as we know it today. They neither approve it nor condemn it."

7. "Although the prophets, Jesus, and other biblical authors say nothing about homosexual orientation as we understand it today, they are clear about one thing: As we search for truth, we are to 'love one another.'"

8. "Whatever some people believe the Bible says about homosexuality, they must not use that belief to deny homosexuals their basic civil rights. To discriminate against sexual or gender minorities is unjust and un-American."

I think special attention should be paid to premise number 7--especially the part where it says,

"Love one another."

Because most of us forget that the major focus of the overwhelming majority of the world's religions (as well as the focus of people who choose to opt out of those religions) is to treat others with kindness, love, and respect. It's

universal

.

Anyway, it's a pretty good read. And I highly recommend you keep it in your repertoire of things to cite or point people towards when you run into one of those Bible-(mis?)quoting zealots and you become frustrated by how blinded by their "faith" they are on the point of homosexuality. Even if, as I said before, they might not be receptive to it.

Comment! (4) | Recommend!