Monday. 6.14.10 10:28 pm
Im not jealous. (great way to start off)
But when you go off to school what if you meet some pretty girl who you start to like? Yeah i know we will be in the same town. But they say the first year is all about finding out who you are. And what if you find out the person you are doesnt want to be with the person i am anymore.
What if you decide you dont want to carry highschool with you and get sick of me?
What if you find someone better than me and leave me behind?
Comment! (3) | Recommend!
Graduationnnn! and stuff....
Tuesday. 5.25.10 9:26 pm
So things are awesome!! its been way stressful with exams in school and stuff but today was my last day in Highschool! I felt like a dork I started crying in front of Tyler (boyfriend). We came back to my house after the half day today and made a pasta lunch together :] it was really sweet.... This is a pic of us from senior day.. I love it!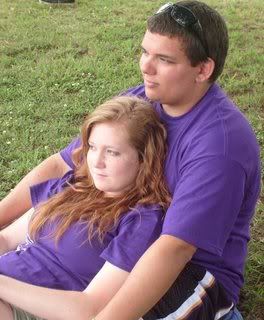 but anyway things are good... our 4 month is coming up... We are doing pretty amazing.
over and out nutang!
Comment! (1) | Recommend!
Tuesday. 5.11.10 7:30 pm
so prom was amazing!!! here are photos belowwwww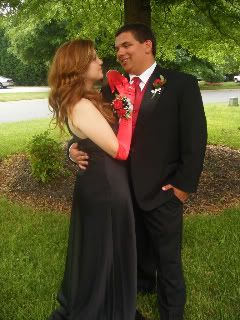 graduation is less than 2 weeks away eeeeeeeeeeep! freaking out!! but it will be awesome! im just happy to have tyler with me to go through it with. We will be dating for three months this friday :]
hes in the pics with me... isnt he handsome? :p
Comment! (7) | Recommend!
omggggg so much going on!!
Thursday. 4.15.10 5:34 pm
PROMMMMMM!!!
lol yeah so i have my dress and its wonderful!! its black and full length and satin and im wearing elbow length red gloves with it!! im going for the 1940s hollywood look :] im so excited
Tyler has an awesome tux with red and black we are going to look awesome together!!
i need to make reservations to eat somewhere eeep!
andddd what else??
oh graduation is coming up woot woot june 5th!!!!
anddddd i need to find a car because i wrecked mine and it was awful! and so i need to find one. i think we are going looking monday for a vehicle.
i kinda want a stick shift just so i know how to drive one.
:] its going to be a crazy few months but im so excited!!
<3
Comment! (3) | Recommend!
Living for the moments of color
Tuesday. 3.30.10 9:06 pm
The slow steady black and white of the average boring day. Being on the verge of awake and asleep while awake enough to do basic functions. Just passing by with the dull rythm of routine. And then a spark of color ignites and pushes a little of the black and white off the canvas making the grey muck splash to the floor as its pushed aside by the start of a bloom of extraordinary. Its starts from the center the heart of everything. And slowly grows making the black and white pushed to the edges and spilling over the neat precise boundaries. The colors are vivid and flowing. They sparkle and shine and have such a vibrance that the eyes hurt to look at them.They start growing from the center and almost painfully, push through the mush of dull and average to make a masterpiece. And then the canvas is filled from corner to corner from every centimeter of space every color imaginable is carefully placed and filled on the canvas making a swelling of beauty and completeness. I cant remeber the black and white the grey indentations are still there but the colors that have replaced them are so overwhelming that what preceeded them has been erased.
I love you T.E.W. more than you know. You are my colors and what a beautiful picture you have created in my life.
Comment! (1) | Recommend!
when things from the past pop up
Monday. 3.22.10 8:07 pm
So i just found out one of my friends got out of jail yesterday. He called another of my friends. When had a thing back in the summertime when he came down to visit. Nothing big just a possible beginning to a relationship. And i dont know how to feel. Im curious to see if he calls me. My boyfriend knows and everything but its kinda weird for me. I grew up with him and went through some tough times with him. But hes a different person now. I guess we will just wait and see.
Do we give up on a person because of who they have become or do we hold on because of the person we remember?
Comment! (5) | Recommend!