Memories of my Grandfather: Part 4
Wednesday. 9.24.08 12:13 pm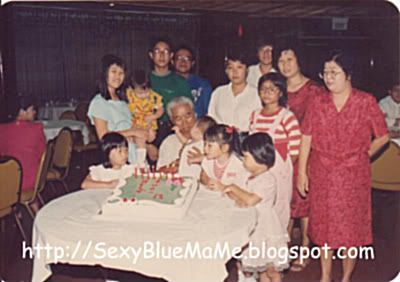 This picture was taken just before we cut the birthday cake. The baby that my grandfather was holding? That's my younger brother and apparently, it looked like he was more amused by my cousin instead of the camera. This was quite a difficult shot as my brother kept fidgeting and making so much noise and you can see clearly that his head was turned towards my cousin (in yellow) when the photo was taken. On the right are two women in red, the 2nd woman from the right (without spectacles) is my mother. She does look a little plump as she just gave birth to my brother not long ago. And as usual, I was delegated to one corner and although my face is turned, I knew I was pouting all the time.
Comment! (0) | Recommend! | Categories: memories of my grandfather [t]
Memories of my Grandfather: Part 3
Monday. 9.22.08 12:32 pm
Here, you can see my grandfather giving out red packets (ang pow) on his birthday. And he's giving one to his eldest son and creepily enough, I always seemed to be included in every shot too! The lady which my grandfather had just passed is my uncle's (grandfather's eldest son) daughter. Really ungrateful mother and daughter! After they cheated my uncle into signing over the HDB flat deed to their name and cheating him of whatever money he had left, they simply kicked him out of the flat. Now, he's living in an old folk's home. Homeless, penniless, kinless. Time can really changed a person, but for your own immediate family to changed so much and dramatically, that's insane. I hope they had their come uppance and I do believe in karma.
The boy in blue t-shirt, towards the bottom right of the photo is my older cousin (son of my grandfather's eldest daughter). He's half peranakan (mother's chinese, father is peranakan baba) and we always call him 'Malay boy'. He has this tendency to stick 2 fingers behind my head too, which you all are going to be able to see as I post more and more older photos of myself when I was a baby.
Comment! (0) | Recommend!
Memories of my Grandfather: Part 2
Sunday. 9.21.08 1:51 pm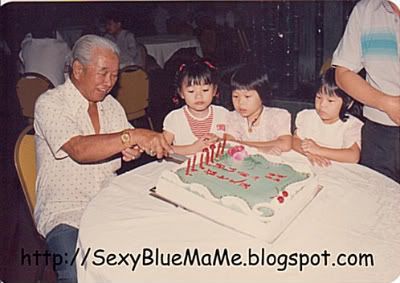 While my grandfather was cutting his cake, a lot of thoughts and emotions went through my head. One moment I was thinking if I would be able to celebrate my grandfather's birthdays forever, the next moment I was thinking will this happiness end one day unexpectedly? To be brutally honest, I almost felt like crying because I don't want all these happy days to end so abruptly. I wanted to call the shots, I wanted these happy days to go on forever and ever until my days are finally truly over. I know I'm selfish in thinking this way, but I hate the fact that I will lose my grandfather one day. Those were the happy and carefree days which I will definitely miss. And what I will miss even more? The fact that I will never get to see my grandfather's beautiful smile ever again. All that remains are the photos and memories that I chose not to forget anytime, anywhere.
Comment! (0) | Recommend! (1) | Categories: Grandfather @ Birthday Celebration [t]
Memories of my Grandfather: Part 1
Friday. 9.19.08 1:05 pm
All these old pictures of my childhood, especially those with my grandfather might not necessarily be in actual order. It's more like I'll post up whichever ones I have a more detailed memory of, but nevertheless, still very important to me. And as usual, comments, feedbacks and opinions are all greatly welcomed and appreciated. Meanwhile, enjoy my childhood with me!!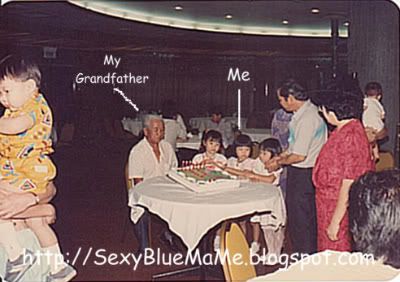 That little boy in yellow towards the left of the photo is my younger cousin, the little girl between me and my grandfather is one of my uncles's eldest daughter (she has three more younger sisters who have the same facial features as her too), and as for the other little girl on my right, I still have no idea who she is (sorry, didn't mean to forget, but I really have no recollection of who she is exactly..). The man with his palms brought together in front of him is my grandfather's eldest son, while the lady in red is my grandfather's eldest daughter.
Seriously, look at my grandfather's leather shoes. Back during the 1980s, my grandfather is still considered a fashionable old man, right.? I think the reason why I looked bored and moody in this photo is because I didn't feel like sharing my grandfather with so many other people on his birthday. Initially, I was the only little girl standing beside my grandfather, until my grandfather's eldest son (the man with his palms together, trying to cajole us all into singing a birthday song) decided to grab more grandkids to stand beside my grandfather. Ended up, I was stuck in between my other cousins, so I wasn't feeling that happy then.
Comment! (0) | Recommend! | Categories: Grandfather @ Birthday Celebration [t]
Grandfather finally gave up the fight...
Thursday. 9.11.08 1:17 pm
As of official, my beloved grandfather passed away quietly and peacefully on 11 September 2008 at exactly 03:59AM. We received a call from the hospital and rushed down immediately and saw grandfather hooked up to this heartbeat machine and his breathing is so raspy and difficult. Through this one year in and out of hospital, he lost so much weight that I could barely recognise him at all, except for the name stated right above his hospital bed. Close to 02:30AM, we decided to head home and catch some sleep before going back the next day to visit him again, all the while hoping that his condition would improve, at least slightly.
But fate decided to dealt us a cruel blow by taking away his life at 03:59AM. My auntie said that she saw his breathing getting shallower and slower and when the machine gave out this straight line signal, which meant that his heart had stopped breathing, she immediately rushed out to the main hall and saw that the time was at 03:59AM. And roughly around that time, my mother and I were at home and we were sleeping in our own rooms and I heard this faint rapping on my bedroom door. Not that I was afraid to open it, I was simply too tired to get up. I kind of figured out that it could have been my grandfather's spirit coming to say goodbye for the last time and I was such a stupid fool for not giving extra thought to open the door and see what was behind it. If only I had, I could have the chance to say my last and final goodbye.
I remembered my grandfather, who although was old and walked rather slowly (my mother called that "bouncing"), but he was still roly poly and the smile on his wrinkled face will forever be etched in my mind until the day I die. Now, all that's left of him is skin and bones, a shadow of his former self. Those few months at the hospital has robbed him of his "chubbiness", his beautiful smile and the kind and gentle words he says. What remains now is an echo ringing in my head, trying to remember exactly how he sounded when he talk. I know I was my grandfather's favorite grandchild and I know that I refused to see and remember his as a skinny old man, veins hardened to the fact that he cannot straighten his legs when I saaw him in his coffin. His hands were full of sores that didn't quite healed, the coldness of his lifeless body as I gently and yet lovingly stroked his head, all the while clinging on to this last unfulfilled wish that he would open his eyes that tell us that all this is just a bad dream that we were all having.
I miss talking with him, hearing him tell me so much about life and I sincerely hope that grandmother would be here to fetch him safely over to the other side. I sincerely wish that there is an afterlife, so that I know I will still see him once again when my time is up. Holding on to this wrinkled but strong hand and feeling safe from anything, walking side by side and hearing him talk again, to see his gentle smile on his face creased with old age and wisdom. I don't want to let go of his hands, at least not yet. But, his time is up and I have to let him go, even if I feel unwilling to. I wanted to water his plants and feed his goldfish and have a plaster ready for him when he hurt his finger while repairing old watches he bought at the knick knack stalls in Chinatown.
Goodbye, grandfather. I will miss you dearly but I will always remember you as that chubby old man who bought me toys and bring me along for long walks around Tiong Bahru, looking at the world from your point of view. Goodbye.
Comment! (4) | Recommend!
MTV Europe Music Awards 2008. Vote now!!
Monday. 9.8.08 3:24 pm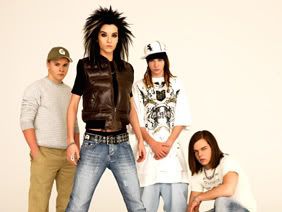 Now that Tokio Hotel has won the Moonman for Best New Act Award, you would think that everything's over. That voting season is over, right? Wrong! They still have 2 more awards to become nominees of and they will definitely need your help. Go to
http://ema.mtv.tv/vote/#_
and follow the instructions on how to vote for your favorite group, especially Tokio Hotel. Vote for Tokio Hotel under
Best Act Ever
and
Headliner
. Remember, your every vote counts and it is up to us, Tokio Hotel fans to help them secure the official nominee position. Best part? You don't need an account to be able to vote, and you can actually vote and re-vote Tokio Hotel over and over again until your fingers scream for you to stop!! Quick, vote for Tokio Hotel now by going to
http://ema.mtv.tv/vote/#_
now!!!
Comment! (0) | Recommend!
Tuesday. 8.19.08 2:18 pm
Comment! (0) | Recommend!
Friday. 8.15.08 1:55 pm
Have you all heard about the new Bond movie. Presumaly, it's going to be fantastic, the great spy would be hunting down a cube of cheese. Don't believe me, check out this image that I have found:
Bond. Mice Bond. Pleased ta meetcha!!
Comment! (1) | Recommend!