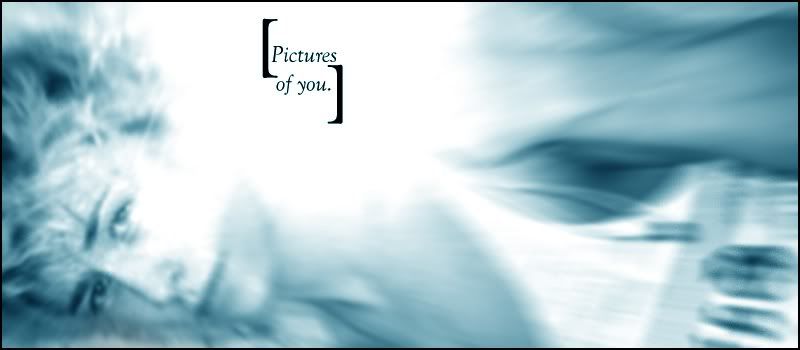 Spring Semester 2010:

* Teaching: Fundamentals of Microbiology - MW 12:00-2:40p
Medical Microbiology - TR 2:00-3:15p
Colloquium in Cell and Molecular Biology - R 3:30-4:30p
Thesis Research - Identification of T Cell Subsets and Immune Response in Colon Cancer Using Immunofluorescence - FOREVER AND EVER

Or rather, entries from the old journal, as it were...

-

An open letter to the College.

(August 27, 2006)

-

Untitled.

(July 16, 2006)

-

Haunted (Part One)

(May 29, 2006)

-

Are we growing up, or just going down?

(May 3, 2006)

-

I had a dream...

(March 19, 2006)

-

...

(March 14, 2006)

-

Enjoy it while it lasts.

(September 12, 2005)

-

Scene: 3:27 AM.

(September 3, 2005)

-

Untitled.

(July 26, 2005)

Psst... if you're looking for the academic writings I used to have here, head to my Reading Room.

Since June 2006...

- A Heartbreaking Work of Staggering Genius by Dave Eggers
- High Fidelity by Nick Hornby
- Travesties by Tom Stoppard
- The Way of the Shaman by Michael Harner
- The Tao of Pooh by Benjamin Hoff
- Nervous Conditions by Tsitsi Dangarembga
- The History Boys by Alan Bennett
- The Dark Child by Camara Laye
- Movie-Made America by Robert Sklar
- Diary by Chuck Palahniuk
- Rant: An Oral Biography of Buster Casey by Chuck Palahniuk
- Galapagos by Kurt Vonnegut
- The Dead Emcee Scrolls by Saul Williams [61.3%]
- Atonement by Ian McEwan
- Junk Science: An Overdue Indictment of Government, Industry, and Faith Groups that Twist Science for Their Own Gain by Dan Agin, Ph.D. [64.4%]
- So Yesterday by Scott Westerfield
- Lucky Wander Boy by D.B. Weiss
- The Things They Carried by Tim O'Brien
- Doctor Who: The Key to Time: A Year-by-Year Record by Peter Haining
- Why Buffy Matters: The Art of Buffy the Vampire Slayer by Rhonda Wilcox
- When You Are Engulfed in Flames by David Sedaris
- The Road by Cormac McCarthy
- 1984 by George Orwell [18.8%]
- Nick and Norah's Infinite Playlist by Rachel Cohn and David Levithan
- Intuition by Allegra Goodman
- V for Vendetta by Alan Moore and David Lloyd (Yes, I realize it's a graphic novel but it still fucking counts!)

Countdown: 6 work days...

Friday, August 8, 2008 @ 6:42 am

Today would have been my grandmother's birthday. It's been over a year since she passed but I still get overcome with random memories that seep out of the depths of my mind at random times.

I'll be making a visit to her grave today.

Comment! (0) | Recommend!

Countdown: 7 work days...

Thursday, August 7, 2008 @ 10:56 pm

I guess technically since this work day is over, it should be 6 work days.

Not that I showed up to work today anyway.

Funny story (if by funny, you mean annoying--to me anyway): I woke up this morning and got ready for work as usual. Before I headed out the door, I decided to log into the website for my online class and check the discussion questions that I needed to answer before the course ends so I could work on them while on the train. Completely by accident, I click the menu item for tests and see--to my chagrin--that the final I thought I had tomorrow wasn't actually tomorrow, it was TODAY.

Well, FUCK.

So, long story short, I stayed home, crammed like hell, and took that final. Then I went back and finished the discussion questions. Or, will finish the discussion questions... I'm still working on three of them.

Good job, me. Way to keep the dates straight in your head.

In my defense, things are getting crazy around here with the Big Move looming ever closer...

Comment! (1) | Recommend!

Countdown: 8 work days...

Wednesday, August 6, 2008 @ 8:28 am

I woke up a little late this morning, but I wasn't fully aware of how late I was running until I glanced at the clock on the microwave while hastily slipping on my shoes and saw that there was little to no chance I'd make it to the train station in time. So, I'm (begrudgingly) driving to work today, which is both stressful and money-consuming, but it's either that or be an hour late to work--which will of course necessitate staying an hour later. And I can't have that. Not today. This evening after work gets out, I will be meeting up with

a friend

in downtown San Jose, one of my last-minute gotta-see-you-before-I-leave excursions.

I guess driving to work won't be too bad. This way I can start clearing out my things from the office--including the bags of empty water bottles that have been accumulating over the last several months. I think my dad and I need to take those in this weekend (we've got at LEAST 15 trash bags sitting at the side of the house) so we can partially defray the cost of driving to San Diego in a week and a half.

I'm incredibly excited about the apartment. I have pictures of the empty apartment right now, but they aren't too exciting. When I get it furnished, I'll take some pictures and invite you to come into my new home--at least, electronically.

Comment! (1) | Recommend!

Countdown: 9 work days...

Tuesday, August 5, 2008 @ 9:08 am

I'm taking a half day today because two flights in one day (even if they are only 80 minutes each) means two headaches, and given my track record with headaches recently...

Needless to say my brain feels like it's going to pop out my skull sometime soon.

I can get started on packing, I guess...

Comment! (1) | Recommend!

Countdown: 10 work days... [EDIT #2]

Monday, August 4, 2008 @ 9:28 am

But I'm not at work today. Instead, I'm flying down to San Diego at noon to sign my lease; I'm going to hang out for a while in my new empty apartment and try to write a paper on the legalization of drugs; I may meet up with some friends for dinner; and then I'm flying back home to San Jose at 9:30.

I probably should send a reminder to my boss that I'm out today. I talked to him about this a few weeks ago but he tends to forget things that aren't related to the grant proposals or articles he's working on...

EDIT:

Holy CRAP there were a lot of children on the flight down. There I was, seated by the window, with a child in front of me, to my side, and behind me. Then there was the baby who for the love of God would NOT shut the fuck up! Honestly, folks--drug your babies BEFORE you get on the plane kthxbye!!!1one

Other than that, it was a good day. I got the keys to my shiny new apartment! I measured the floor space of the apartment and balcony so I can figure out what crap from Ikea I can cram in there (I LOVE playing interior designer!)! I met up with Jo for the first time in what seems like FOREVER! I cranked out my paper while sitting in the airport waiting for my flight home! Very busy, very productive, very excited to start this new chapter in my life! (Alright folks, I'm all exclamation point-ed out...)

EDIT #2:

Alright, so the little boy who sat next to me--not actually so annoying (thank goodness). I had a NASA folder with me and he saw it and asked me if I was an astronaut, to which I replied "No, but I study extraterrestrial life forms." For the rest of the flight, he looked at me like I was a freakin' hero.

Comment! (2) | Recommend!

Countdown: 11 work days...

Friday, August 1, 2008 @ 8:59 am

To be honest, if I didn't need the money, I wouldn't even be at work today. The tank of NO that we ordered won't come in until Monday, and the liquid nitrogen tank's run dry, effectively rendering me jobless temporarily. There are a few things that I can do, but I don't think they will take up enough time to fill the long eight hours of my work day. In fact, many of the things that I can do are the sort of things where I would set something up and let it run for a few hours before getting back to it.

Even the paperwork--or as I like to call it, "the boring part of the job"--is insufficient to keep me occupied for that long. Fortuitously, I have a self-evaluation coming up so I can get started on that, but even then I'd still have time to kill.

Fortunately, my boss won't get in until about 11:00, which means if I waste the next two hours, he will be none the wiser about it. Perhaps I should take this time to fill out my Master Promissory Note for my student loans; maybe I should saunter down to the Life Science Library in the basement and photocopy journal articles written by my potential M.S. advisors. I don't know.

Of course, I could just sit here and watch

Dr. Horrible's Sing-Along Blog

(again). After what feels like months but was really only days of waffling, I decided to splurge and spend $3.99 (what does that say about the sad state of my financial affairs when $3.99 is considered "splurging") to download all three acts on iTunes.




What would Neil Patrick Harris do? I wish it were me.

Comment! (2) | Recommend!

Countdown: 12 work days... [EDIT]

Thursday, July 31, 2008 @ 7:34 am

I wonder what I can do today that will make me seem busier than I really am...

EDIT:

My headache finally went away last night. I don't have one today (yet), but I'm still cursing myself for once again failing to take the Advil with me on the way out of the house.

I got onto the Ames campus today and came to a very important realization: I hate the summer interns. They walk around here like they're such hot shit. They can get away with it, too; safety in numbers and all that. And oh, boy, do they have the numbers! Each summer I've been here the place has been crawling with them. I guess I wouldn't be so annoyed with them if they didn't tote that smug and sanctimonious attitude wherever they go. If they didn't exude the air of better-than-thou-ness that they do. Certain interns are alright. They seem to know their place, which is to say, that they are here to LEARN from their mentors. Far too many, I fear, feel they are here to validate that they are smarter/harder-working than those who didn't get accepted into a summer program. I can hear it in their voices when they talk. It sounds so incredibly contrived I want to vomit.

Comment! (1) | Recommend!

Countdown: 13 work days...

Wednesday, July 30, 2008 @ 11:41 am

I feel dumb for not taking the Advil with me on my way out of the house. I went to bed with a headache, and I woke up with a headache, and I should have taken the thirty extra seconds it would have taken to find the Advil and slip in it my pocket before I headed out the door, but I didn't. I was too scared I'd miss the train.

But now I'm here at work and I'm miserable. Sure, I got here on time, but my head is throbbing and my thoughts are disjointed and I cannot for the life of me focus on what I'm doing (though I can't tell if that's because I'm restless and ready to permanently clock out of here or if that's actually due to my headache).

Water. I need water.

Only a fool calls out for water when he's drowning.

Comment! (2) | Recommend!