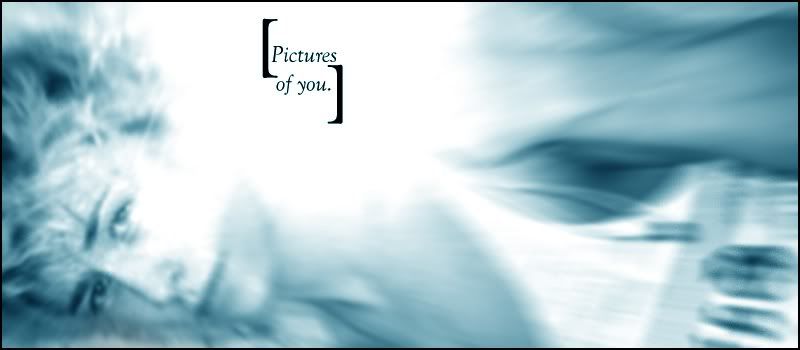 Spring Semester 2010:

* Teaching: Fundamentals of Microbiology - MW 12:00-2:40p
Medical Microbiology - TR 2:00-3:15p
Colloquium in Cell and Molecular Biology - R 3:30-4:30p
Thesis Research - Identification of T Cell Subsets and Immune Response in Colon Cancer Using Immunofluorescence - FOREVER AND EVER

Or rather, entries from the old journal, as it were...

-

An open letter to the College.

(August 27, 2006)

-

Untitled.

(July 16, 2006)

-

Haunted (Part One)

(May 29, 2006)

-

Are we growing up, or just going down?

(May 3, 2006)

-

I had a dream...

(March 19, 2006)

-

...

(March 14, 2006)

-

Enjoy it while it lasts.

(September 12, 2005)

-

Scene: 3:27 AM.

(September 3, 2005)

-

Untitled.

(July 26, 2005)

Psst... if you're looking for the academic writings I used to have here, head to my Reading Room.

Since June 2006...

- A Heartbreaking Work of Staggering Genius by Dave Eggers
- High Fidelity by Nick Hornby
- Travesties by Tom Stoppard
- The Way of the Shaman by Michael Harner
- The Tao of Pooh by Benjamin Hoff
- Nervous Conditions by Tsitsi Dangarembga
- The History Boys by Alan Bennett
- The Dark Child by Camara Laye
- Movie-Made America by Robert Sklar
- Diary by Chuck Palahniuk
- Rant: An Oral Biography of Buster Casey by Chuck Palahniuk
- Galapagos by Kurt Vonnegut
- The Dead Emcee Scrolls by Saul Williams [61.3%]
- Atonement by Ian McEwan
- Junk Science: An Overdue Indictment of Government, Industry, and Faith Groups that Twist Science for Their Own Gain by Dan Agin, Ph.D. [64.4%]
- So Yesterday by Scott Westerfield
- Lucky Wander Boy by D.B. Weiss
- The Things They Carried by Tim O'Brien
- Doctor Who: The Key to Time: A Year-by-Year Record by Peter Haining
- Why Buffy Matters: The Art of Buffy the Vampire Slayer by Rhonda Wilcox
- When You Are Engulfed in Flames by David Sedaris
- The Road by Cormac McCarthy
- 1984 by George Orwell [18.8%]
- Nick and Norah's Infinite Playlist by Rachel Cohn and David Levithan
- Intuition by Allegra Goodman
- V for Vendetta by Alan Moore and David Lloyd (Yes, I realize it's a graphic novel but it still fucking counts!)

Countdown: 3 work days...

Wednesday, August 13, 2008 @ 8:41 am

I'm drugged out and my head feels disconnected from my body. I feel like my eyes are movie cameras and I'm watching this film on the big screen. Nothing feels real--it's all very much like a dream. A bad dream. Because in good dreams, I'm not at work.

Whatever I took this morning worked, except for the fact that everything is so goddamned surreal. I want another dose because it seems like it's starting to wear off a little, but I have to wait until 11:00 for that. That's more than two hours away. How will I ever survive?

Today will be interesting...

Comment! (4) | Recommend!

I'm getting too old for this...

Wednesday, August 13, 2008 @ 2:14 am

I should really go to sleep, but I sorta got carried away with updating my layout for once. And now it's mostly done. I don't know if I want to fix it up more. Probably not, given that it took me a while to get all of this sorted out.

In case you're wondering, the Latin phrase means:

There is no one who loves pain itself, who seeks after it and wants to have it, simply because it is pain...

(No, I didn't translate that myself.)

Now that that's settled, I'm heading to bed. This was a really stupid idea--one that will definitely NOT help me get better. I should have been asleep for at least 4 hours by now.

Ah, well. Work tomorrow (for real) and a trip to the physician. Gotta rest up.

Comment! (1) | Recommend!

My financial aid problem is finally resolved!

Tuesday, August 12, 2008 @ 6:48 pm

I checked the financial aid website this weekend and found that the school had placed a hold on my financial aid for exceeding my eligibility. Basically, what that means is that the financial aid office decided how much aid I should receive, and somehow, the aid I did receive exceeded that amount. Of course, this was news to me, since the last time I checked, I was right at my limit.

So I made a phone call to the office directly and basically asked "WTF?" They replied that my tuition had been paid through a "foundation scholarship" and that they would deal with the hold internally, i.e. there was nothing I could personally do about resolving the hold.

Foundation scholarship? What's that? Well, there was that scholarship I received from the Biology Department's Cell and Molecular Biology Program directly (which turned out

not to be a scholarship after all due to litigation

). If, somehow, the award were reverted to a scholarship, I'm positive the department would have contacted me directly, which did not happen. So, as far as I know, I'm still getting that faux-GA contract for $2850...but what of this foundation scholarship?

The only thing I can think of is that it's a scholarship from the University itself, which is super-awesome. Basically, this new scholarship allows me to reduce the amount of loans I'm taking out this year, which is a load off my mind. The financial aid office cut my university grant out of the package, but I still came out a winner since the scholarship is more than the grant anyway.

Needless to say, I'm thrilled about this. Hopefully the rest of the year will follow suit!

Comment! (3) | Recommend!

Tuesday, August 12, 2008 @ 3:41 pm

I can't seem to upload my vacation pictures to Facebook and it's driving me mad. (My cousins have been asking me about this for weeks and I haven't quite gotten around to it. Oops.)

I'm going to try to shrink them more, but if they still don't upload, I'll... I don't know what I'll do.

I'll go back to sleep. (That'll show 'em.)

Comment! (1) | Recommend!

Tuesday, August 12, 2008 @ 10:10 am

It's getting worse. (I guess it must in order to begin to get better.)

I wish someone would come and bring me soup.

Comment! (1) | Recommend!

Countdown: 4 work days...

Tuesday, August 12, 2008 @ 7:33 am

But I'm not going. Again.

The way I see it is this: they've already paid me; I need to rest in order to get well for Moving Day on the 16th; and who can resist watching Olympic swimming? Honestly.

Though, diving... Oh, diving. The physics and biomechanics of diving appeal so much to my scientific mind. And then there's the divers themselves... Really, there's something for everyone.

Oh, God, this has quickly devolved into a very shallow entry.

I think maybe that means I need some rest.

Yes. That sounds wonderful.

Comment! (1) | Recommend!

Countdown: 5 work days...

Monday, August 11, 2008 @ 7:43 am

SORE THROAT SORE THROAT SORE THROAT FEVER I'M NOT GOING INTO WORK TODAY OR I'LL END UP KILLING THE ADMIN ASSISTANT!!!11111111!!!1

Today I'll try my hand at telecommuting. Not that any lab work can actually be done over the computer, but at least if my trainee is there, I can have him execute a basic experiment for me.

I'm kinda pissed right now. I'm not going to lie. There's so much stuff to do. I'll go back to work as soon as the fever's gone. If I cough and sneeze all over everyone when I do go back (hopefully tomorrow), chances are I'll be in San Diego before they realize that it was me that got them sick...

Worst. Parting. Gift. EVER.

Too bad I can't get the admin assistant sick again. That would be some sweet revenge.

Comment! (4) | Recommend!

Sunday, August 10, 2008 @ 11:46 pm

It's the one where I know I'm getting sick. Perfect fucking timing, eh? It's the goddamn admin assistant's fault for coming to work sick several days in a row. And we're talking super-sick: the kind with the constant coughing and sneezing. Boo.

Anyway, I've been drifting in and out of sleep for the last 4 or so hours. I just woke up to America shattering the shit out of the world record in the 4x100m freestyle relay. Take

that

, France!

Meh, my throat hurts more now. Back to sleep.

Comment! (1) | Recommend!