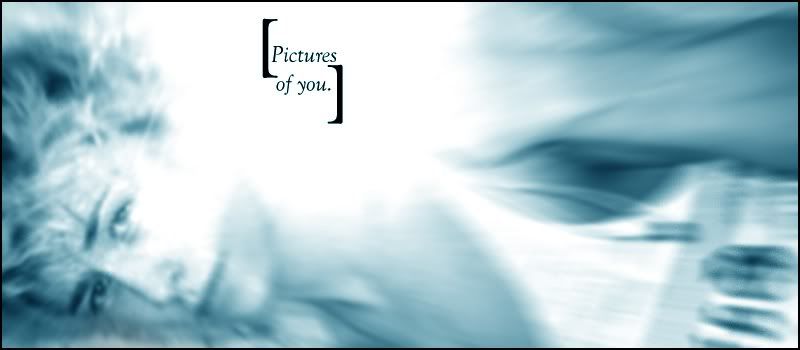 Spring Semester 2010:

* Teaching: Fundamentals of Microbiology - MW 12:00-2:40p
Medical Microbiology - TR 2:00-3:15p
Colloquium in Cell and Molecular Biology - R 3:30-4:30p
Thesis Research - Identification of T Cell Subsets and Immune Response in Colon Cancer Using Immunofluorescence - FOREVER AND EVER

Or rather, entries from the old journal, as it were...

-

An open letter to the College.

(August 27, 2006)

-

Untitled.

(July 16, 2006)

-

Haunted (Part One)

(May 29, 2006)

-

Are we growing up, or just going down?

(May 3, 2006)

-

I had a dream...

(March 19, 2006)

-

...

(March 14, 2006)

-

Enjoy it while it lasts.

(September 12, 2005)

-

Scene: 3:27 AM.

(September 3, 2005)

-

Untitled.

(July 26, 2005)

Psst... if you're looking for the academic writings I used to have here, head to my Reading Room.

Since June 2006...

- A Heartbreaking Work of Staggering Genius by Dave Eggers
- High Fidelity by Nick Hornby
- Travesties by Tom Stoppard
- The Way of the Shaman by Michael Harner
- The Tao of Pooh by Benjamin Hoff
- Nervous Conditions by Tsitsi Dangarembga
- The History Boys by Alan Bennett
- The Dark Child by Camara Laye
- Movie-Made America by Robert Sklar
- Diary by Chuck Palahniuk
- Rant: An Oral Biography of Buster Casey by Chuck Palahniuk
- Galapagos by Kurt Vonnegut
- The Dead Emcee Scrolls by Saul Williams [61.3%]
- Atonement by Ian McEwan
- Junk Science: An Overdue Indictment of Government, Industry, and Faith Groups that Twist Science for Their Own Gain by Dan Agin, Ph.D. [64.4%]
- So Yesterday by Scott Westerfield
- Lucky Wander Boy by D.B. Weiss
- The Things They Carried by Tim O'Brien
- Doctor Who: The Key to Time: A Year-by-Year Record by Peter Haining
- Why Buffy Matters: The Art of Buffy the Vampire Slayer by Rhonda Wilcox
- When You Are Engulfed in Flames by David Sedaris
- The Road by Cormac McCarthy
- 1984 by George Orwell [18.8%]
- Nick and Norah's Infinite Playlist by Rachel Cohn and David Levithan
- Intuition by Allegra Goodman
- V for Vendetta by Alan Moore and David Lloyd (Yes, I realize it's a graphic novel but it still fucking counts!)

Sweet, sweet cable/internet/phone!

Thursday, August 21, 2008 @ 8:23 pm

The cable guy came today. Late. But after all that waiting, it didn't seem like such a big deal. Besides, I had a dresser to put together anyway so it's not like I needed to be anywhere. So now I've finally got cable, high speed internet, and phone service at my apartment. I need to buy a wireless router sometime (or I could just have my parents ship down the extra one we have at the house... that sounds good). Everything works fine except that the cable guy didn't give me an HD cable box. HD programming is free with the package I chose but I guess they were expecting me to tell them I wanted it. Um, hello--of COURSE I want it! I don't have an HDTV for nothing...

Hopefully they'll come back and give me the right damn box. Ever since we got HD at home several years ago, I can't watch regular resolution television. I guess it isn't so bad on a regular TV, but you can tell how shitty it is on an HDTV for sure.

What else, what else?

Oh, I got a reply back from the Graduate Programs Coordinator for the Biology Department regarding the GA appointment. She said that "[she] should be able to confirm [my] appointment tomorrow." I don't know if that means that I've definitely got one, or if she's looking to see if one is available, or whatever, but I'm going to remain optimistic about this whole thing. Hooray, money! Woohoo!

In other news, I'm about 75% done with cleaning up the apartment. I'm super slow, I know, but eventually I'll get the job done. (Kinda like senior thesis two years ago, am I right,

Z

?) When everything is ready, I'll take some snapshots of my humble abode and post them here.

I should get back to doing housework. (I'm so totally marry-able.)

Comment! (3) | Recommend!

An update sooner than expected.

Wednesday, August 20, 2008 @ 11:28 am

Yes, I came to the library again, just to check my e-mail and visit NuTang. Well, actually, I'm sitting outside the library. It has weird hours that vary daily and today just happens to be one of the days they open at 12:30 pm. Luckily, the WiFi signal extends out here as well.

I'm actually glad I got to check my e-mail because I found out that there might be an opening to be a GA this fall. I would be proctoring or grading exams, so it's not a real teaching position, but this semester I've got a full schedule so being a TA is out of the question, even if they did have a spot opening up. Of course, this means more money, which is a very thrilling aspect. Could always use the extra cash.

I don't know what I'm going to do today. I have one more thing to put together (a dresser), and I should swing by Target and Ikea for a few things I overlooked (like a VACUUM!)--

The time is now 12:34 pm. My computer forced itself into hibernation mid-entry, and I don't really remember what I was going to say beyond what I had just written. I spent the last hour at the grocery store buying some of those items I needed--like a trashcan/recycling bin for the kitchen, laundry detergent, fabric softener, a plunger, and some stuff with which I can hang my picture frames or decorations. I then went to a Coffee Bean and Tea Leaf inside the store where I sat at a table with two Jewish mothers and their children. One of the ladies was complaining how she's tired of being a mother and kept singing "Baby for sale! Baby for sale! Any takers?"

Nobody came to buy the baby.

Sometimes I wonder exactly how serious some of these people are. It's hard to tell because even if you trulymadlydeeply wanted to sell that baby on the real, you probably never would or could. How do you judge someone's intent in a situation like that?

Comment! (4) | Recommend!

Tuesday, August 19, 2008 @ 12:37 pm

Greetings from sunny San Diego! The move went, for the most part, smoothly, thanks to the fact that I had my family around to help me carry stuff in. The apartment is now 95% furnished and 75% decorated, though I might have to hold off on purchasing more decorations until at least next month. I have been doing heavy lifting and putting furniture together from Ikea for the last three days so I am sore all over. The sticky weather didn't help too much on the not-sweating-profusely front. I am taking a little break here at the library to check some e-mail and to generally get away from the Ikea boxes that are sitting back at my apartment, begging to be opened and assembled. The cable/phone/internet guy isn't coming until Thursday morning so I won't be checking NuTang as regularly as I'd like.

My parents and sister left this morning on the train. I slept at around 1:00 in the morning and had to get up at 5:00 to take them to the station. It's too bad my dad isn't around to help me put together the rest of the furniture; that would make it go so much faster. My sister didn't want to leave. She told my mom and dad that they need to buy her plane tickets so she can come down regularly. I live about 15 minutes from the beach so I think that's weighing heavily in her mind. Also doesn't help that San Diego is gorgeous, and there are pandas here. Everyone loves pandas.

I am so over the undergraduate lifestyle. My neighbors have been partying every night since I got here. Don't they have other things to spend their money on than cheap booze and cigarettes? Okay, I might just be jealous here. I kinda miss those kinds of nights back when I was an undergraduate. Who's to say I won't have some nights like that myself? But now my default mode is FINISH THIS PROGRAM IN TWO YEARS, so in order to accomplish that I will have to restrain myself somewhat. I also have something called a "budget" to stick to (that word makes me cringe inside with adult-ness), one that places housing, food, and education above over parties, booze, and socially-awkward situations.

For example, I have to buy my books for this semester. Why are textbooks so ludicrously expensive? Even buying used, I will still drop $250 for these books. But I guess it's worth it: most of these books are ones I will be keeping for reference in the future. Textbooks means it must be getting pretty damn close to kicking off the school year! I have graduate student orientation next week and then the following week is when classes start! I'm excited but I need to keep on working on my apartment so that when the time comes to start classes (i.e. when the time comes that I won't have any more time to work on buying shit/putting stuff together), I will be ready to just kick back and get with the studying.

Until next time (which, admittedly, may not be for at most a couple of days)!

Comment! (3) | Recommend!

Saturday, August 16, 2008 @ 12:28 am

So everything's pretty much packed up, except for the clothing and, obviously, this computer. When I get down to San Diego, I won't have internet for a few days, so you probably won't see me unless I find someone's WiFi to mooch off of with my laptop. I hope everyone has a wonderful weekend!


...at least, for now.

Comment! (4) | Recommend!

Friday, August 15, 2008 @ 8:41 am

Everything's going in slow motion, partially because I'm still sick, partially because it's Friday and I'm practically alone on this entire floor, and partially because there's so much to go through before I take my leave (permanently) at 4:00. My head is swimming in cough medicine and a jumble of job-related tasks that need to be done; I'm trying my best to think everything through and plot the best way to get everything done efficiently, but my heart isn't in it today. I'm already long gone.

I need to photocopy the last few pages of my lab notebook for my own records. I need to distill a reaction. I need to compile a reaction work-up status chart for my successor and my boss so they know what needs to be done next. I need to type up semi-detailed protocols for the trickier procedures that my successor has not yet mastered. I need to e-mail a report to my coordinator. I need to clear out my desk--a perfect time to steal office supplies. I need to make sure to bring my plant with me. I need to turn in my badge and my exit paperwork.

I need to take a breather.

Okay.

I think I'm ready.

Well...

I

need

to be ready.

Comment! (5) | Recommend!

Thursday, August 14, 2008 @ 10:12 pm

It's sobering to see your life sorted into cardboard boxes sealed with tape.

Comment! (3) | Recommend!

Countdown: 2 work days...

Thursday, August 14, 2008 @ 9:35 am

As soon as I closed my eyes and allowed myself to be completely carried away by the morphine (which is what codeine is metabolized into by the liver), I was out cold. I don't recall stirring once during the night, and I did not wake up--not even for a moment--for seven straight hours. The last time I slept like that was... well, it's been too long.

I dreamed of him last night, in that morphine-induced pseudo-coma. I always do, when I'm that relaxed. We were both in the same bar, completely by chance, and I pretended not to notice him, as I'm sure he pretended not to notice me. We were forced to interact in the men's room, when he physically bumped into my on my way out. I said his name and immediately looked down at the floor; I could never quite look at a picture of him without immediately feeling shame and regret. How did we ever drift that far apart? He was my best friend. He was my first real crush. Oh. So that answers that question.

He stood there for a few seconds before saying hello. Pleasantries exchanged: it's been so long, what have you been up to, let's catch up sometime. Sometime? What about now? What about six years ago? I hated him for a split second before realizing it was futile to do so. I could never hate him. But I could hate what he does to me. He entered the restroom; I swung by my table and told my friends that we had to go.

Religious readers of my blog know that I think of him from time to time. A truly paralyzing series of thoughts that reduces me to mental invalidity. It stops me in my tracks like a stalked animal frozen with fear, and when I gather enough strength to tentatively take a few steps, I can feel it following me, lurking beyond the shadows. Sometimes it takes me days to get over the feeling, but a part of me never does. Why else would I have these recurring thoughts, flaring up from time to time like a bad case of herpes, the sores spreading across my heart, tender and open and weeping, oozing with regret over things long since past and a friendship long since irremediable, a constant painful reminder of the good times we used to have back when my soul was naked and unprotected.

And now I hide it from everyone I am remotely interested in; and even if I did decide to once again bare it, it would look shriveled and be diseased; and I am afraid that it is poison, that it will pass on to the ones I love and destroy them slowly--an insidious venereal disease of the heart.

Well, you know what? I'm tired of it. I'm tired of falling victim to this constant self-pity and loathing. Let the healing begin.

* * *

In less depressing news, you have got to love the federal government. As a result of a Homeland Security Directive issued last year, all NASA employees were required to get a new badge. I got my picture and fingerprints taken in October of last year for this supposedly more secure badge, but there were some problems with manufacturing the badges or processing the badges or... something. Anyway. Yesterday, I get an e-mail from the badging office informing me that my new badge has finally arrived! Just in time for me to turn it in tomorrow, when my tenure here ends...

Oh, bureaucracy. Or should I say, bureauCRAZY? (-10 points for bad punnage.)

Comment! (2) | Recommend!

Wednesday, August 13, 2008 @ 9:26 pm

It's called:

Guess who will get a good night's sleep tonight!

If you guessed that it's me,

YOU WIN!

The nurse practitioner hooked me up with some cough syrup with codeine, so soon it will be opiate dreams for me!

Comment! (5) | Recommend!