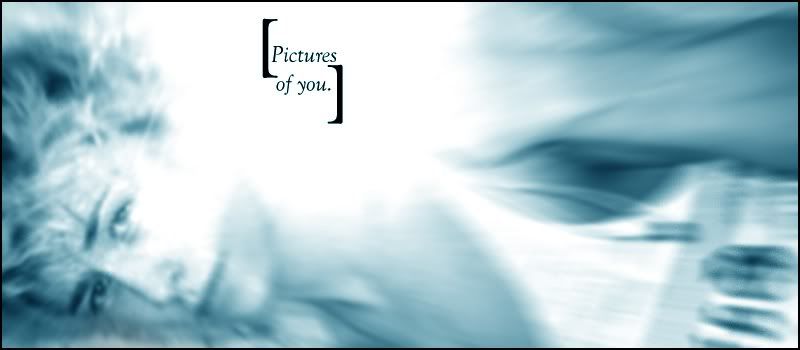 Spring Semester 2010:

* Teaching: Fundamentals of Microbiology - MW 12:00-2:40p
Medical Microbiology - TR 2:00-3:15p
Colloquium in Cell and Molecular Biology - R 3:30-4:30p
Thesis Research - Identification of T Cell Subsets and Immune Response in Colon Cancer Using Immunofluorescence - FOREVER AND EVER

Or rather, entries from the old journal, as it were...

-

An open letter to the College.

(August 27, 2006)

-

Untitled.

(July 16, 2006)

-

Haunted (Part One)

(May 29, 2006)

-

Are we growing up, or just going down?

(May 3, 2006)

-

I had a dream...

(March 19, 2006)

-

...

(March 14, 2006)

-

Enjoy it while it lasts.

(September 12, 2005)

-

Scene: 3:27 AM.

(September 3, 2005)

-

Untitled.

(July 26, 2005)

Psst... if you're looking for the academic writings I used to have here, head to my Reading Room.

Since June 2006...

- A Heartbreaking Work of Staggering Genius by Dave Eggers
- High Fidelity by Nick Hornby
- Travesties by Tom Stoppard
- The Way of the Shaman by Michael Harner
- The Tao of Pooh by Benjamin Hoff
- Nervous Conditions by Tsitsi Dangarembga
- The History Boys by Alan Bennett
- The Dark Child by Camara Laye
- Movie-Made America by Robert Sklar
- Diary by Chuck Palahniuk
- Rant: An Oral Biography of Buster Casey by Chuck Palahniuk
- Galapagos by Kurt Vonnegut
- The Dead Emcee Scrolls by Saul Williams [61.3%]
- Atonement by Ian McEwan
- Junk Science: An Overdue Indictment of Government, Industry, and Faith Groups that Twist Science for Their Own Gain by Dan Agin, Ph.D. [64.4%]
- So Yesterday by Scott Westerfield
- Lucky Wander Boy by D.B. Weiss
- The Things They Carried by Tim O'Brien
- Doctor Who: The Key to Time: A Year-by-Year Record by Peter Haining
- Why Buffy Matters: The Art of Buffy the Vampire Slayer by Rhonda Wilcox
- When You Are Engulfed in Flames by David Sedaris
- The Road by Cormac McCarthy
- 1984 by George Orwell [18.8%]
- Nick and Norah's Infinite Playlist by Rachel Cohn and David Levithan
- Intuition by Allegra Goodman
- V for Vendetta by Alan Moore and David Lloyd (Yes, I realize it's a graphic novel but it still fucking counts!)

Lady Dottie and the Diamonds.

Friday, August 29, 2008 @ 3:52 pm

I had lunch with Monica and her boyfriend Sean today. She's getting ready to head north to UCLA for her MPH, but she left me with a very important gift: the suggestion that I check out the

Tower Bar

in City Heights Monday nights for Lady Dottie and the Diamonds.





I need to find some people to go with!

Comment! (3) | Recommend!

From Sweden to Hawaii and back again.

Friday, August 29, 2008 @ 10:27 am

Yesterday, in the middle of reading for my research ethics seminar, I received an unexpected call from Jo to see if I wanted to tag along at Ikea. She's from San Diego, but is moving to her own apartment in Del Mar so she wanted to check out some couches and other stuff and--since I am a sucker for both Scandanavia and furniture--I decided to join her. She was running late so I got some stuff for my own kitchen that I needed, and when she got there, she was "soooooo hungry" so we whisked ourselves around the world (or across the parking lot) to Islands, one of our Pomona haunts. After dinner, we sat on couches for a good 45 minutes, then proceeded to lose ourselves in Ikea until just about closing, when we ran out to the cafe to get $1 soft serve. We then sat outside eating our ice cream, watching the good people of San Diego loading their newly acquired furniture into and onto their cars.

I miss just hanging out like that.

Comment! (2) | Recommend!

What the f*ck are you doing here, dipsh*t?

Thursday, August 28, 2008 @ 3:28 pm


Nothin' much.

LOL. Porn acting is bad acting. So bad on the bad-good gauge that is passes through good on the way back to bad.

Comment! (4) | Recommend!

Tuesday, August 26, 2008 @ 10:31 am

So last night I went to meet up with a high school friend at a wine bar in Hillcrest. The wine was excellent and I had a great time catching up and meeting new people... until I drank too much and my body decided it was best to detoxify immediately. Twice during the night at separate occasions.

I can't even think about wine for the next few days or I will feel sick again. Boo, excess. Boo, loss of tolerance. Boo, bad judgment calls.

Boo.

Comment! (3) | Recommend!

Sunday, August 24, 2008 @ 11:48 am

Didn't quite wake up in the late afternoon...

I was going to go to Balboa Park by myself today and take a gander at some of the museums--in particular the Museum of Man (I'm a sucker for anthropology). But I don't know, I feel really uncomfortable leaving the for a little excursion while it's still a bit of a mess. It always takes me forever to get everything in order, especially when I'm starting with essentially a clean slate. Furniture and other large items are easy to place, and are usually only constrained in placement by spatial considerations. The small things--those are the ones you sweat.

Comment! (5) | Recommend!

The Google Talk Diaries: Vol. 1

Sunday, August 24, 2008 @ 9:24 pm

XT:

i'm in total withdrawal now.... at home i was watching olympics like 24/7

now i just check the standings

Me:

OMG diving.

Whoever else thinks that the two American synchro kids [Thomas Finchum and David Boudia] are totally doing it--raise your hands! (Except for you people at

outsports.com

--you think EVERY athlete is gay!)

XT:

haha

yeah i kinda got the same impression

Me:

Finchum is totally the bottom, too.

It's a nice little story.

XT:

i guess i'll have to go watch some footage on

nbcolympics.com

Comment! (3) | Recommend!

Saturday, August 23, 2008 @ 3:50 pm

I bought some dandy stationery, and I want to use it. I need a pen pal. Only requirement is that any communication made on paper is replied to on paper.

Zanzibar

, you need not apply. You're already on the List.

Comment! (2) | Recommend!

GOODBYE, PORPOISE SPIT! [EDITED]

Friday, August 22, 2008 @ 9:34 am

It turns out that the department only has a teaching position available. Ordinarily this wouldn't be bad news--I would relish the chance to get up in front of a classroom full of underclassmen and show them exactly how superior to them I am (just kidding...sort of)--but when am I going to find time this semester for that. I'm not mentally prepared to take on that sort of responsibility right now. But, to show the department I'm serious about being considered for a TAship in the future, I went ahead and sent an e-mail back stating upfront that I probably won't be able to do it this semester, but what course would it be and what sort of time commitment would it require? Besides, who knows?--if it's a lab TAship that requires me to come in for 10 hours to prep the lab and teach a pre-lab at the beginning of class, I might be able to swing that.

Bravo is playing

Muriel's Wedding

right now, which is like only one of my favorite movies EVER. I'm going to get my finances in order (haven't even looked at them for the past two weeks--it's been nuts!) while watching. Other than that, all I've gotta do today is finish putting stuff away and hopefully, I'll get to meet up with a friend tonight! Woot!

EDIT:

The teaching position requires a commitment of 20 hrs/wk. I don't think I can do that right now... Oh well, there's always next semester/year! Especially since I'll be done with more than half of my degree coursework by the end of this semester, it should be more easily done after this semester.

Comment! (1) | Recommend!