Friday. 10.6.06 7:23 pm
Okay, we had our pumpking carving contest today at work...my pumpkin didn't win, but that's cool...we had a lot of cool pumpkins and that was all that counted. Everyone was a winner according to the VPO (Vice President of Operations)...so it was all cool. We had an hour to do all this, so this is what people could do in an hour...obviously, some were more creative than others
BUT, here's what everyone came up with: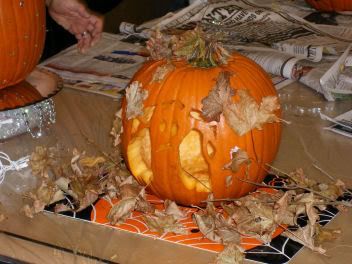 The Haunted Tree Pumpkin
The Traditional Pumpkin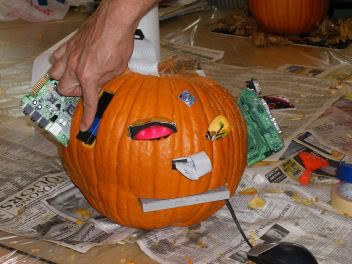 The Technologically Advanced Pumpkin (this was what me and my partner did...its eyes lit up and stuff)
The Pirate Pumpkin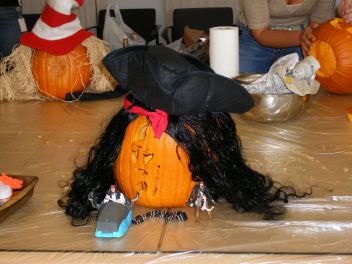 The Jack Sparrow Pumpkin (it's hard to make out his face, but it is his face, I guess...)
The Headless Horseman Pumpkin (that's really hard to see...no one knew what it was)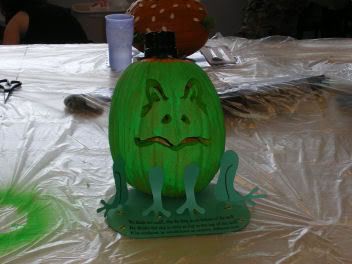 The Frog Pumpkin
The Bling Pumpkin
The Cauldron Pumpkin
The Cauldron Pumpkin started falling apart later, so toward the end...the bubble that it was blowing sort of ended up looking like it had a condom hanging out of its mouth.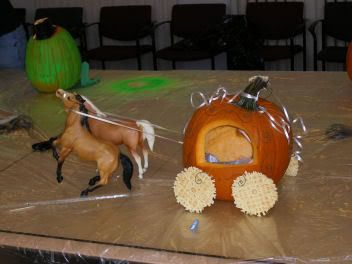 The Cinderella Pumpkin
The Cinderella Pumpkin had a beauty queen inside...she's doing the wave even...lol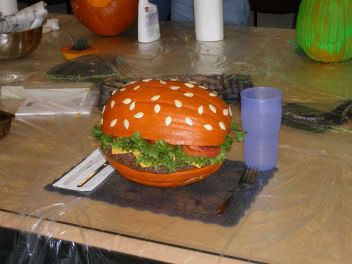 The Hamburger Pumpkin (this one won, obviously...it was the most kick ass pumpkin there!!!)
But yeah...that was the extent of my work day other than this lady writing me an e-mail apologizing for the "incontinence" as she put it. Me, thinking that maybe incontinence had more than one meaning, looked it up on the internet. It only means this:
Unable to restrain natural discharges or evacuations of urine or feces.
Unfortunately, she typed that to me where she should have used "inconvenience." It was a laugh nonetheless.
SO...finally, SATURDAY is tomorrow!
Comment! (6) | Recommend!
Thursday. 10.5.06 10:37 pm
It was wings again tonight...the ones I got were hella spicy/tangy, so I don't know if I liked em all that much. My friend and I shared some while my boyfriend inhaled all of his. I was there for the trivia...oh sweet trivia!
Anyway, we're having a pumpkin carving contest at work tomorrow. Basically, there's 11 teams of people participating (and you get paired up something someone random)...our pumpkin is gonna rock! The IT manager is my partner and he's got all these cool ideas of stuff to do with leftover computer parts and crap. I'll definitely get pictures because I can see all of our pumpkins coming out extra awesome. I mean, with as creative as everyone's gonna be, I can see some very interesting things. I do know this...our pumpkin is going to have a power switch on the outside...hehe
We've got an hour to get it all done and finished, then judging is from noon to 2. We'll see who wins after that...who knows what we'll get, but I hope that our pumpkin at least places :)
Other than, I'm so glad it's Friday!!! WOOOO
Comment! (2) | Recommend!
Wednesday. 10.4.06 10:35 pm
haha...I'm so glad I really don't have them! Yay!
But yeah...today wasn't very eventful. I ended up having a mad craving for freakin McDonald's again (I went yesterday for lunch and the fuckers didn't give me my damn BBQ sauce with my plastic chicken nuggets...ugh...), so I went to a different McDonald's and they were able to give me the BBQ sauce as requested...I didn't think I was being that picky for asking for BBQ sauce with my chicken nuggets.
But yeah...then I came home and sat around doing a whole lot of nothing. I made my baby registry thing online at Target this evening though while I was sitting around. I don't know what the hell I need for this baby, so I put crap on there that I thought I would want/might need. Hehe...they had this cute little harness (it's for toddlers...when they're getting to that point that they need to be independent...it's so they can have their "independence," so to speak...no holding mommy and daddy's hand...but they think they're wearing a little backpack...haha...it's so cute)...I don't need that right now, but it's on sale now...and it would be cute to have later. It's like a leash for kids...wonderful invention!
I have to still get used to picking out all this blue stuff...I was getting used to the idea of MAYBE liking the color pink (I hate pink)...but, blue is okay too. I sort of liked all the little outfits and accessories with little puppies on it and stuff. I hate how they generalize boys = puppies, girls = kitties...to be honest, I am not a cat person, but if I were having a girl, I'd have to get baby clothes with cats on them? Puppies are so much better, but they only make that stuff for boys it seems.
While we're on the topic of babies...I'm seriously thinking about naming him Aiden Gregory, but my boyfriend hasn't given me the OKAY...he should get to at least tell me what he wants so I can veto it and name it what I want anyway...lol (okay...I'm not that mean, but still...)
We'll see...have plenty of time to think about it.
Comment! (4) | Recommend!
Wednesday. 10.4.06 8:47 am
the blood red sun in the morning. I seems to only be this way in the autumn, and I love it SOOOOO much. It turns the sky all kinds of shades of yellow, orange, and red and I think it matched the changing leaves so well! I wish I had a picture because it was so beautiful this morning, but...I always see this stuff without my camera, ya know. It was so bright, it made the office buildings on the Front Range look like they were lit up with white Christmas lights (the sun reflecting off the glass windows). It was pretty neat.
I can only hope that with such a beautiful morning, the day can only get better :) SO, I will eat my peachy peach oatmeal and start my day.
Here's my interesting fact(s) for the day:
Did you know that the Sahara Desert in Africa is as big as the whole United States! That's a lot of sand! (I don't think you'll find me visiting there any time soon)
A great big octupus 70 pound octopus can squeeze through a 2-inch hole because it has no backbone (ewww...I've seen many octupuses in person and I really think they're icky looking...they have one at the Seattle Aquarium that freaks me out...hehe)
Comment! (1) | Recommend!
Tuesday. 10.3.06 10:00 pm
Tonight was as an okay end to a shitty day...
My boyfriend and I went to eat wings at
Buffalo Wild Wings
. I wasn't all wing crazy tonight, but he was. I've never eaten there before, but GOOD LORD there was a huge selection of winged goodness. I got a fish sandwich though.
This sports bar kicks ass though...they had about 50 television sets in there or something, and they were all about the people. They had Buzztime Trivia (any bar with trivia, I AM THERE)...so I played Trivia. Missing an entire round, I still came in 2nd place out of the whole game, so it was peachy keen! I'm a trivia nut, I TELL YOU.
Anyway...it's only 9pm and I am beat...people at work told me this baby would make me tired and I was like "haha, yeah right..." and here I am feeling like I'm gonna doze off.
Comment! (4) | Recommend!
Tuesday. 10.3.06 6:29 pm
Monday. 10.2.06 6:05 pm
Well...work was boring as usual, but at least I'm surviving...so that's a positive.
While I was at work, I came across something that made me wonder. I was in the bathroom and someone came in there and grabbed one of those little seat thingies that you put on the toilet seat (yeah, so what...) but then when they went to wash their hands, they did it for like 2 seconds and didn't hardly use soap...and then was out of the bathroom quicker than I was. Why take all that time to grab that seat cover thing if you're not gonna wash your hands very well anyway?
Then it made me think of all the little germies on the handles of the doors and stuff...EWW
I won't dwell on that subject since it's work related and that seems to be a common theme in my blogs.
SO, I got home today and decided to make myself some blueberry waffles. I think I have an addiction or something because they always seem to be in my freezer...and I always seem to be making them in my toaster
I think I should have my own back stock or something so then I never run out! Ugh...my toaster burnt this one
I think the battery in my phone is slowly starting to lose power. If I talk on the phone for extended periods of time, it completely drains the battery life...yet, when I plug it into the car charger or something, it doesn't even charge the phone (even though it'll be charging for hours). I told my mom, either my battery sucks or I'm talking too much on the phone (both of which could be true). The last 4 phone bills I've gone over on my minutes...lol! I guess I always need to be talking or something. Probably why I do so well at customer service or something...ugh...customers...
EDIT: I hate when I'm checking comments or something and I read my blog and I notice all my stupid little spelling mistakes and errors...makes me feel incompetant sometimes.
Comment! (4) | Recommend!
Sunday. 10.1.06 3:39 pm
My boring day turned into an overly shitty day.
It's amazing how one day you can be extremely happy and content with things and the next day be depressed and distraught. I'm not going to go deep into the details because it's nobody's business but my own, but blah...
I usually use music as my saving grace. Music usually helps me pull through anything. I can just flip it on and it seems like my problems all melt away...but there are certain instances where things are just so horrible, stressful or disturbing to me, I can't concentrate with the music and I feel more at ease in silence and solitude. Maybe it's because I'm so mad or frustrated with myself, but I can't think with the music going...not even classical music (which is usually comforting)...I have to shut it all completely off. If I had a TV, I'd be shutting that off too...I don't even want to go anywhere right now...do anything...be anything. Even just sitting here in front of my computer, the humming of the computer is driving me nuts...I'm driving me nuts!
I want to go to bed and cry my eyes out and wish that today never happened...well, parts of today...the depressing parts...the parts with me in them
Comment! (4) | Recommend!