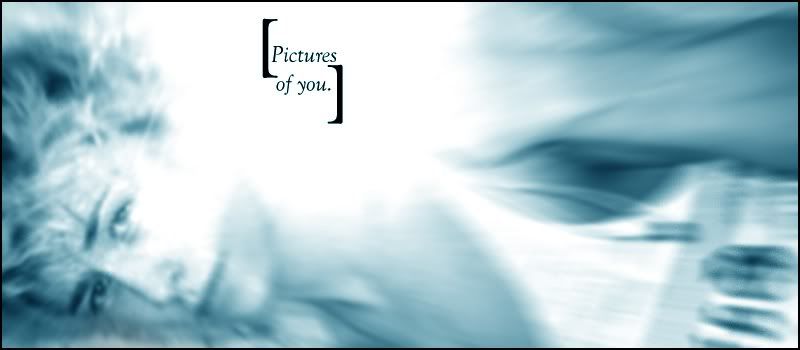 Spring Semester 2010:

* Teaching: Fundamentals of Microbiology - MW 12:00-2:40p
Medical Microbiology - TR 2:00-3:15p
Colloquium in Cell and Molecular Biology - R 3:30-4:30p
Thesis Research - Identification of T Cell Subsets and Immune Response in Colon Cancer Using Immunofluorescence - FOREVER AND EVER

Or rather, entries from the old journal, as it were...

-

An open letter to the College.

(August 27, 2006)

-

Untitled.

(July 16, 2006)

-

Haunted (Part One)

(May 29, 2006)

-

Are we growing up, or just going down?

(May 3, 2006)

-

I had a dream...

(March 19, 2006)

-

...

(March 14, 2006)

-

Enjoy it while it lasts.

(September 12, 2005)

-

Scene: 3:27 AM.

(September 3, 2005)

-

Untitled.

(July 26, 2005)

Psst... if you're looking for the academic writings I used to have here, head to my Reading Room.

Since June 2006...

- A Heartbreaking Work of Staggering Genius by Dave Eggers
- High Fidelity by Nick Hornby
- Travesties by Tom Stoppard
- The Way of the Shaman by Michael Harner
- The Tao of Pooh by Benjamin Hoff
- Nervous Conditions by Tsitsi Dangarembga
- The History Boys by Alan Bennett
- The Dark Child by Camara Laye
- Movie-Made America by Robert Sklar
- Diary by Chuck Palahniuk
- Rant: An Oral Biography of Buster Casey by Chuck Palahniuk
- Galapagos by Kurt Vonnegut
- The Dead Emcee Scrolls by Saul Williams [61.3%]
- Atonement by Ian McEwan
- Junk Science: An Overdue Indictment of Government, Industry, and Faith Groups that Twist Science for Their Own Gain by Dan Agin, Ph.D. [64.4%]
- So Yesterday by Scott Westerfield
- Lucky Wander Boy by D.B. Weiss
- The Things They Carried by Tim O'Brien
- Doctor Who: The Key to Time: A Year-by-Year Record by Peter Haining
- Why Buffy Matters: The Art of Buffy the Vampire Slayer by Rhonda Wilcox
- When You Are Engulfed in Flames by David Sedaris
- The Road by Cormac McCarthy
- 1984 by George Orwell [18.8%]
- Nick and Norah's Infinite Playlist by Rachel Cohn and David Levithan
- Intuition by Allegra Goodman
- V for Vendetta by Alan Moore and David Lloyd (Yes, I realize it's a graphic novel but it still fucking counts!)

Wednesday, September 10, 2008 @ 7:30 am

Today is Wednesday, which means I don't have class until 4:30 in the afternoon. I find Wednesdays to be pretty awkward schedule-wise, mostly because the free time creates conflict inside of me. Do I sleep in and recharge? Do I use this opportunity to do errands? To do work? Or do I say "Fuck it!" and watch a

The Office

marathon on my computer?

Well, today I feel ambitious: I'm going to try to do all of those things.

First order of business: sleep for about an hour more. Then, I'll have me some breakfast, go to the store to pick up some stuff, come back home and do some research on the internet while watching

The Office

, go to class, and finally, go to the Claremont Colleges Worldwide Young Alumni Happy Hour with Jo for an evening of relaxation. (But hopefully not so much relaxation that I can't drive myself home...)

Comment! (3) | Recommend!

Tuesday, September 9, 2008 @ 10:21 pm

As an aspiring scientist, you'd think that most far-fetched ideas in science fiction television would not at all appeal to me at all, but the truth is that I can suspend my disbelief in stuff like that because, hey, it's fiction.

So went my experience with the premiere of

Fringe

, the latest J.J. Abrams vehicle. The one thing that I could NOT suspend my disbelief in, however, had

nothing

at all to do with any of the "science" in the episode. Rather, the part that was difficult for me to swallow was where

Pacey

Joshua Jackson's character reportedly forged some credentials and was hired as a professor of chemistry at a major university. Apparently, he kept the charade up for long enough that he was able to publish several papers while there.

The reason I can't wrap my mind around this is that major universities--probably even the less reputable ones as well--wouldn't offer a professorship to someone with

just

a Ph.D. (real or not). He probably would have had to have published somewhat extensively

before

taking up this position at the university in order to be even considered for the professorship in the first place. I don't know--all of the "fringe science" stuff I can deal with, but when it comes to setting up the background stories of characters (

especially

those with science backgrounds), all bets are off.

Comment! (0) | Recommend!

Tuesday, September 9, 2008 @ 6:03 pm

So say you're in a grand ballroom, and out on the ballroom floor, there are a number of couples dancing the rumba. As you glance at the different couples tracking across the floor and making the most of their Cuban hip action, a couple things strike you:

1) In same sex couples, the female-female pair--with one lead and one follow as is traditional--does not seem nearly as out of the ordinary as the male-male pair, and

2) In male-female pares, the couples where the female is the lead and the male is the follow is COMPLETELY strange.

What does this observation say about how we were enculturated to think about maleness or femaleness? And why, in this day and age, should this continue to even matter?

Comment! (2) | Recommend!

Monday, September 8, 2008 @ 9:56 am

I've had a fruit fly infestation as of late. Having some experience with

Drosophila

in the laboratory, I have been taking a look at many of the flies up close and noting whether they are male or female, wild-type or mutant--right before I suck them into the vacuum cleaner of doom.

I was in the bathroom today when I noticed a fly with a mutation I had only read about. The geneticist in me smiled broadly as I laid my eyes on a sepia-eyed ebony-bodied female. Then the apartment lessee in me took over and smashed the fucker.

Comment! (5) | Recommend!

John McCain gets... Barackroll'd?

Sunday, September 7, 2008 @ 4:45 pm

Sunday, September 7, 2008 @ 3:58 pm

Saturday, September 6, 2008 @ 1:54 pm

Reason #164749 why I love (and possibly am in love with) Neil Patrick Harris:

Apologies for the shitty quality. It was the only one I could find online.

Comment! (3) | Recommend!

Saturday, September 6, 2008 @ 11:00 am

I'm going to cook myself a pancake brunch with bacon and eggs and juice and there are no time constraints to stop me dammit! Mwahahaha!

Then I guess I'll get on with my life.

Comment! (3) | Recommend!