Friday. 1.4.08 10:50 am
While we were down I think I lost quite a few of my readers. I have links on my page of blogs that I visit and in exchange they visit my blog. Hopefully I have not lost all of my readers?
Comment! (9) | Recommend! | Categories: blog [t], blogspot [t], blogger [t]
Combat gear for the New Year
Sunday. 1.13.08 2:10 am
Is it just my imagination or is everyone grouchy and combative? I find myself running into so many angry people or people that just want to start a fight. At work, co-workers are angry, upset and crabby. My boss is on the war path and now thinking of telling us that we are only allowed to take ONE sick day per month. How dumb is that? If you have the flu, tonsilitis, oral surgery or other minor illnesses you are only allowed to take ONE day. Um.. when I last checked my union contract I saw no such thing. So unless you plan on going against the whole union and union employees I would suggest you keep your idea(s) to yourself.
I should have asked for combat boots and gear this year because the crap is pretty thick!
Comment! (8) | Recommend! | Categories: 2008 [t], New Year [t], conflict [t], sick leave [t]
7 bad habits of overweight people
Tuesday. 2.19.08 11:21 am
7 bad habits of overweight people
My weight keeps going up and down like a yoyo and it is so frustrating. For my height I am considered overweight by... too many pounds to mention. I work out at 24 hr. fitness and these are some of the bad habits of overweight people:
1. They don't exercise regularly.
Dylan Gautreaux, fitness manager for 24 Hour Fitness in Carrollton, Texas, recommends two to three cardio sessions per week of 20 to 45 minutes and two to three resistance training sessions per week of 30 to 45 minutes. He says resistance training will build muscle that helps burn fat.
2. They eat most of their meals out.
"Restaurant portions are enormous and most of us were brought up to belong to the clean plate club," says LouAnn Frisch, a dietitian in Portland, Oregon. She says that Mexican and Chinese restaurants probably have the highest calorie meals, but if you must eat out: "Thai and Vietnamese foods are better. Pho soups and won-ton soups are great choices." [Pho, pronounced "fa," is a Vietnamese soup that's usually made with beef.]
3. They always eat a second portion.
"It really does take 20 minutes for your brain to catch up with your stomach. But most people consume high amounts of food in 20 minutes," says Frisch. She acknowledges that it's difficult to slow down, but suggests putting less food on your plate and skipping seconds.
4. They avoid even light activity.
"There are little things that you can do to lead a more active lifestyle," says Gautreaux. "Take breaks and get some fresh air instead of sitting at your desk all day. There are even stability balls made to sit behind a desk instead of a chair. These cause you to sit up straight, hold your back up and burn more calories."
5. They never turn down sweets.
Frisch doesn't recommend cutting out sweets completely, just cutting down on them: "If you need chocolate, have some. Not a lot, just some. But savor it and be happy with a small portion."
6. They eat even when they're not hungry.
"Eating is a physiologically and psychologically satisfying, mood-altering experience. Most people eat, not because they are hungry, but for other reasons," says Frisch. Learn what triggers you to eat and healthier ways to reward yourself or brighten your mood.
7. They skip meals.
Researchers from the University of Massachusetts Medical School found that skipping meals can play a role in obesity. Eating fewer, larger meals may cause insulin to spike, which triggers hunger and could cause more blood sugar to be stored as fat. The study found that people who eat several, smaller meals were less likely to be obese. Overweight people may find it difficult initially to overcome their bad habits, but the results of better eating and exercise habits are very rewarding.
Well I know that I am guilty of numbers 2, 5 and 7. Eating out and skipping meals I can work on.... but take away my chocolate and the world will be sorry. ha ha ha...
Comment! (11) | Recommend! | Categories: overweight [t], 24 hour fitness [t], diet [t], exercise [t]
Wednesday. 3.26.08 6:12 pm
I feel as if summer
is already here. I am having to make graduation plans and the weather has been so hot! Just the other day, I wore shorts while driving around and I no longer have a "farmers tan".
My daughter graduates from H.S this June and I am hoping to give her a really big gift. I want to send her to Hawaii for one week as her graduation gift and her birthday gift combined. The fares are still so high because of the dumb gas hike. I just hope I can find the right price???
Comment! (1) | Recommend! | Categories: summer [t], graduation [t], hawaii [t]
Thursday. 3.27.08 5:14 pm
I was reading someones random blog in blogger and saw this picture of a pizza. I immediately got hungry and ordered me a pizza. Doesn't this make you just want one?
Comment! (5) | Recommend! | Categories: dominos [t], pizza [t], lunch [t]
Friday. 3.28.08 7:35 pm
I am normally opposed to posting videos on my blog but this one is so original. It is a video of a spontaneous musical in a public place. This was done at a mall in my city.
Food Court Musical
from
ImprovEverywhere
on
Vimeo
.
Comment! (13) | Recommend! (3) | Categories: musical [t], mall [t], spontaneous [t]
Friday. 4.4.08 5:23 pm
Today we had our classified employee day. We have a cart parade where each division/department creates a theme and decorates a work cart. This year we did Alice in Wonderland. It was so cute and creative. We had some of the staff dressed as cards and others were main characters. I was the photographer. Here are some of the pictures. KEEP IN MIND... THESE ARE MY CO-WORKERS.
Here are the characters: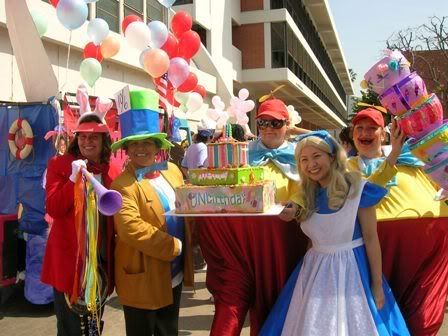 These are the cards and Alice being silly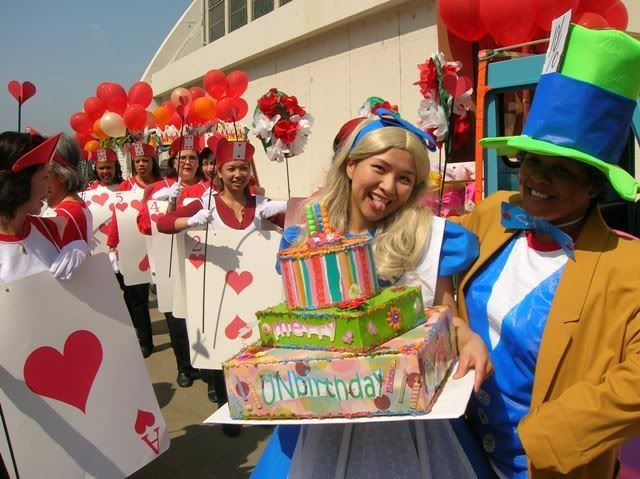 Finally, I got in on the action!!!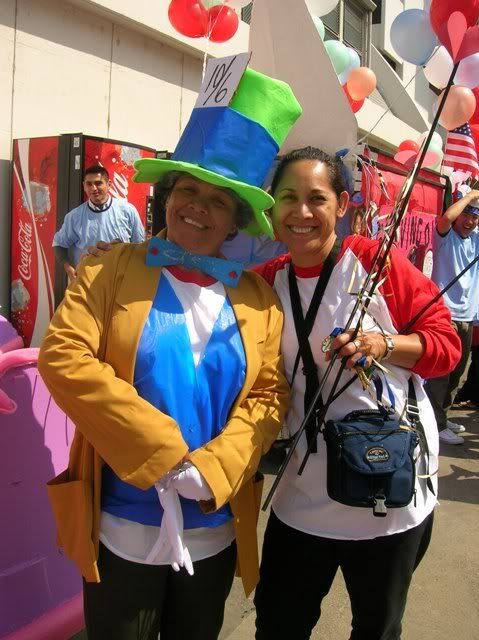 Comment! (3) | Recommend! | Categories: Classified [t], employee [t], alice in wonderland [t]
I think I am finally over the shock
Sunday. 4.6.08 10:29 pm
Saturday morning I was going to drop off my son at his fathers place. On my way there at 8:15 am, I see my downstairs neighbors and their little baby. They were so happy that he is now beginning to walk. I really dont know the people in my building. I try to keep to myself. I know everyone by face but I dont go out of my way to know everyone. Anyhow this guy coming in to the building wanted to pass by me and therefore I looked up from the baby on the floor to move to the side. Just then the passerby says, "Hi and my name". I said, Hello.
TO MY SHOCK
the passerby was my boss. I dont like my boss, the male one, very much. I was so happy to move from under his nose over to another part of the campus and now the faucker LIVES in my building. I escaped him at work and now he is where I LIVE AND BREATHE!!! I cant get over it.
It is now sunday.... I spoke to my neighbor and co-worker and she told me not to worry about it and just ignore him. I think I can do that. I think I am kind of over the shock.
Comment! (8) | Recommend! | Categories: work [t], boss [t], nutang [t]