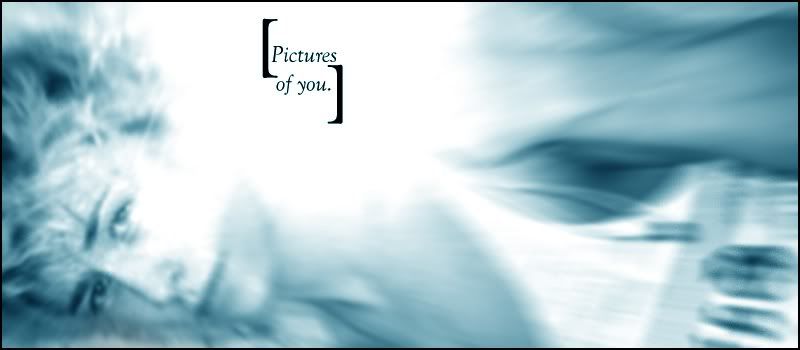 Spring Semester 2010:

* Teaching: Fundamentals of Microbiology - MW 12:00-2:40p
Medical Microbiology - TR 2:00-3:15p
Colloquium in Cell and Molecular Biology - R 3:30-4:30p
Thesis Research - Identification of T Cell Subsets and Immune Response in Colon Cancer Using Immunofluorescence - FOREVER AND EVER

Or rather, entries from the old journal, as it were...

-

An open letter to the College.

(August 27, 2006)

-

Untitled.

(July 16, 2006)

-

Haunted (Part One)

(May 29, 2006)

-

Are we growing up, or just going down?

(May 3, 2006)

-

I had a dream...

(March 19, 2006)

-

...

(March 14, 2006)

-

Enjoy it while it lasts.

(September 12, 2005)

-

Scene: 3:27 AM.

(September 3, 2005)

-

Untitled.

(July 26, 2005)

Psst... if you're looking for the academic writings I used to have here, head to my Reading Room.

Since June 2006...

- A Heartbreaking Work of Staggering Genius by Dave Eggers
- High Fidelity by Nick Hornby
- Travesties by Tom Stoppard
- The Way of the Shaman by Michael Harner
- The Tao of Pooh by Benjamin Hoff
- Nervous Conditions by Tsitsi Dangarembga
- The History Boys by Alan Bennett
- The Dark Child by Camara Laye
- Movie-Made America by Robert Sklar
- Diary by Chuck Palahniuk
- Rant: An Oral Biography of Buster Casey by Chuck Palahniuk
- Galapagos by Kurt Vonnegut
- The Dead Emcee Scrolls by Saul Williams [61.3%]
- Atonement by Ian McEwan
- Junk Science: An Overdue Indictment of Government, Industry, and Faith Groups that Twist Science for Their Own Gain by Dan Agin, Ph.D. [64.4%]
- So Yesterday by Scott Westerfield
- Lucky Wander Boy by D.B. Weiss
- The Things They Carried by Tim O'Brien
- Doctor Who: The Key to Time: A Year-by-Year Record by Peter Haining
- Why Buffy Matters: The Art of Buffy the Vampire Slayer by Rhonda Wilcox
- When You Are Engulfed in Flames by David Sedaris
- The Road by Cormac McCarthy
- 1984 by George Orwell [18.8%]
- Nick and Norah's Infinite Playlist by Rachel Cohn and David Levithan
- Intuition by Allegra Goodman
- V for Vendetta by Alan Moore and David Lloyd (Yes, I realize it's a graphic novel but it still fucking counts!)

Tuesday, September 16, 2008 @ 7:39 pm

So I bought a headset so I could talk to my friend in Edinburgh via Skype, but the fucking thing isn't large enough for my head. By that I mean I can get the headphones on--no problem--but the fucking microphone isn't close enough to my mouth to register sound.

Why would you make a product that doesn't reach everyone's mouths? I apologize that my head is bigger than normal, but I'm sick of this shit. First I can't EVER wear hats, and now this. One of these days, when I spontaneously develop telekinetic powers--and I

will

!--they will all pay...

Comment! (3) | Recommend!

Circadian rhythm and the miracle of rebooting. [EDIT]

Tuesday, September 16, 2008 @ 7:29 pm

Alright. So yesterday I was feeling a bit crap about everything, and in general I was completely knackered--of coursework, of housework...even of my previous layout. Of course, the layout was the only one I could bring myself to change, which is to say that last night, I did absolutely nothing save watch some

Sarah Connor Chronicles

and work on the layout (which I must say turned out alright).

Why the foul mood? Well, the presentations certainly didn't help, and neither did the work leading up to my (lack of) presentation. This week happens to be the first in a number of weeks this semester where everything is due or everything has an exam. I haven't felt the pressure to perform this well in a long time so I guess my brain just pissed off for a while and couldn't process anything.

I've got an older desktop computer--about 4 years now--which works pretty well for the most part because I upgrade things on a regular basis and keep my computer protected from viruses or malware pretty well. But every once in a while, especially when I'm multitasking, it slows down to a point where even if I close down a bunch of applications, everything still runs slowly. Normally I don't shut down my computer--I just put it to sleep--but in instances like this, I opt to reboot and start afresh. When the OS starts up again, everything is just fine and I can continue with whatever it was I was doing.

I guess every once in a while we need to reboot as well, to clear the caches of the crap that sticks around after a long and unfortunate series of bad days and to prepare for the coming ones. Last night, around 1:30 am, I passed out when I hit the bed. True, I was a physically tired (which certainly wasn't helped by staying up "late"), but it was more of a mental thing. Despite wanting to sleep longer, my internal clock woke me up at the time that I usually wake up. Instead of getting all aggro about not sleeping for as long as I had liked, I opened my eyes and realized that I was ready to take on whatever this week has in store for me.

Non sequitur--a clip from series 2, episode 1 of

Skins

:

EDIT: Another non sequitur--a compilation of clips of Jane from

Coupling

. (1:12 onwards is one of my favorite Jane sequences of ALL TIME!)



Comment! (2) | Recommend!

Monday, September 15, 2008 @ 10:21 pm

I should probably be doing something productive now, but I'm working on a new layout.

This may get a little messy until I'm done. Please forgive the design flaws during this time.

Comment! (1) | Recommend!

Monday, September 15, 2008 @ 7:31 pm

I hate it when people ignore time limitations when they're presenting. We've got two classes to get through 13 presentations, and today we got through FOUR because everyone decided that 8-10 minutes REALLY meant 20-30.

I understand that there's usually a LOT of stuff to present in a paper, but when you're given 8-10 minutes, you'd think that you could pare it down to the bare essentials--a brief background, a rundown of the materials and methods, some key data, and the conclusions. And that's IT. And if you run over to 15 minutes, that might be okay. But when is overshooting your target time by 12-22 minutes EVER okay?

So now the rest of us have to rush through our presentations on Wednesday because these people took their sweet ass time. Not a big deal for me, since I clocked myself and I should be able to keep it under 10 minutes (LIKE I WAS SUPPOSED TO), but I feel bad for someone whose presentation is closer to 15 minutes long. Assuming flawless transitions, an average presentation length of 15 minutes, and that the class starts on time, the period is only long enough for 5 presentations, so we're kinda fucked. Thanks, you fuckers. Thanks a lot.

All I'm gonna say is we'd better not get docked for trying to get through everything in our presentations within the time allotted...

Comment! (1) | Recommend!

Throwing caution to the wind.

Monday, September 15, 2008 @ 9:18 am

Fuck this shit. I'm going to do a shitty presentation, and if I don't get called on in class to give it today, then I will take that as a victory, go home, and tweak it some more before Wednesday. Otherwise, I'll bullshit as much as I can and it will be over with.

End of story.

Comment! (1) | Recommend!

Goodbye, David Foster Wallace.

Sunday, September 14, 2008 @ 8:08 am

David Foster Wallace, arguably one of the greatest writers of the latter part of the 20th century and into the 21st, hanged himself over the weekend. The author of

Infinite Jest

(his most well-known work) taught creative writing at my alma mater, Pomona College. His death is a great loss to both the College and to the literary world at large.

RIP, DFW.

Comment! (3) | Recommend!

Friday, September 12, 2008 @ 8:52 pm

My Advanced Topics course is joint-taught by seven professors, each teaching an intensive individual two-week module in one of their areas of expertise. The current module is

metagenomics

, which is basically a fancy term for looking at all the genetic material from all microbial species in an environmental sample all at once. Metagenomics is a new and rapidly-advancing field that uses the latest high-throughput genetic sequencing techniques coupled with probabilistic statistics and computer science to determine trends in the raw bulk genetic data.

And if that sounds like a bunch of gobbledygook, trust me: you're not alone.

But the problem I have right now has nothing to do with trying to understand the lectures (which I did, quite miraculously). My class has got presentations all week--and it has to fit within a timeframe of 8-10 minutes total. No big deal, right? The shorter the better? Well, no. Not exactly. It is a GINORMOUS problem with trying to condense

everything

laid out in a scientific paper into about 10 slides. A damn near impossibility if you ask me. I don't know how I'm going to cover everything in the paper, but I'd better figure out fast...

Boo.

Comment! (1) | Recommend!

Friday, September 12, 2008 @ 6:41 am

Confession: About half the time that I log into NuTang, I take a few minutes (sometimes much more) out of my day to write an entry, but by the time I finish, I no longer want to post what I had just written, so I just unceremoniously close the browser.

(If that isn't a symptom of me using this site to procrastinate, I don't know what is.)

Comment! (4) | Recommend!