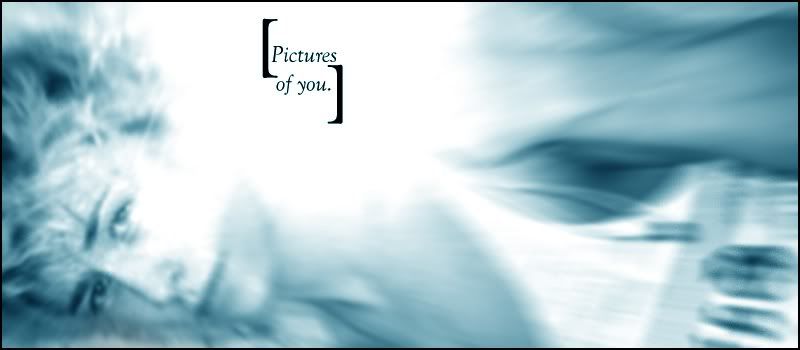 Spring Semester 2010:

* Teaching: Fundamentals of Microbiology - MW 12:00-2:40p
Medical Microbiology - TR 2:00-3:15p
Colloquium in Cell and Molecular Biology - R 3:30-4:30p
Thesis Research - Identification of T Cell Subsets and Immune Response in Colon Cancer Using Immunofluorescence - FOREVER AND EVER

Or rather, entries from the old journal, as it were...

-

An open letter to the College.

(August 27, 2006)

-

Untitled.

(July 16, 2006)

-

Haunted (Part One)

(May 29, 2006)

-

Are we growing up, or just going down?

(May 3, 2006)

-

I had a dream...

(March 19, 2006)

-

...

(March 14, 2006)

-

Enjoy it while it lasts.

(September 12, 2005)

-

Scene: 3:27 AM.

(September 3, 2005)

-

Untitled.

(July 26, 2005)

Psst... if you're looking for the academic writings I used to have here, head to my Reading Room.

Since June 2006...

- A Heartbreaking Work of Staggering Genius by Dave Eggers
- High Fidelity by Nick Hornby
- Travesties by Tom Stoppard
- The Way of the Shaman by Michael Harner
- The Tao of Pooh by Benjamin Hoff
- Nervous Conditions by Tsitsi Dangarembga
- The History Boys by Alan Bennett
- The Dark Child by Camara Laye
- Movie-Made America by Robert Sklar
- Diary by Chuck Palahniuk
- Rant: An Oral Biography of Buster Casey by Chuck Palahniuk
- Galapagos by Kurt Vonnegut
- The Dead Emcee Scrolls by Saul Williams [61.3%]
- Atonement by Ian McEwan
- Junk Science: An Overdue Indictment of Government, Industry, and Faith Groups that Twist Science for Their Own Gain by Dan Agin, Ph.D. [64.4%]
- So Yesterday by Scott Westerfield
- Lucky Wander Boy by D.B. Weiss
- The Things They Carried by Tim O'Brien
- Doctor Who: The Key to Time: A Year-by-Year Record by Peter Haining
- Why Buffy Matters: The Art of Buffy the Vampire Slayer by Rhonda Wilcox
- When You Are Engulfed in Flames by David Sedaris
- The Road by Cormac McCarthy
- 1984 by George Orwell [18.8%]
- Nick and Norah's Infinite Playlist by Rachel Cohn and David Levithan
- Intuition by Allegra Goodman
- V for Vendetta by Alan Moore and David Lloyd (Yes, I realize it's a graphic novel but it still fucking counts!)

Saturday, September 20, 2008 @ 10:17 pm

Every time I hear a guy roar past in his (likely shitty) car, I am not gripped by an overwhelming desire to fuck his brains out, but rather, the first thing I think is

Just how small is your penis anyway?

Then, I am overcome by a murderous rage--one that only time, combined with silence in the streets, can cure.

Why the fuck anyone would want to make their car NOISIER instead of more quiet is beyond my comprehension...

Comment! (4) | Recommend!

Standing in the Way of Control.

Saturday, September 20, 2008 @ 2:49 pm

A bit of an old song (and by old, I mean, only by a few years), but still a good one. Started playing on repeat again after I heard it--albeit remixed--a few nights ago. For me, it was well worth revisiting.

Comment! (1) | Recommend!

Friday, September 19, 2008 @ 8:00 pm

So I'm reading a book called

Intuition

by Allegra Goodman for my Research and Scholarship Ethics seminar, and so far it's been a pretty accurate read in terms of portraying the interpersonal and institutional politics among practitioners of science.

Anyway, I came across a passage from the book that resonated with how I felt sometimes when I was tutoring for science courses at the community college, and how I imagine I will invariably feel at least once when I start teaching classes here or elsewhere:

He was a microbiology lecturer known for his clarity and his passion for the subject. He was famous, as well, for his dedication to those undergraduates who came to him for help. Patiently, during office hours, he tried to explain his course material, even while privately he wondered if some of his students had been mistakenly admitted to college, because they seemed to him to be mildly retarded. (34)

Harsh, but sometimes true, and always hilarious.

Comment! (3) | Recommend!

Friday, September 19, 2008 @ 2:44 pm

The pounding of hammers and the jagged hum of a drill are preventing me from taking a nap on my couch whilst enjoying the gentle breeze drifting through my window.

I've instead turned to reading, but even that gets a little difficult with the muffled noises.

When will it be over?

Comment! (3) | Recommend!

I survive for another week.

Friday, September 19, 2008 @ 11:53 am

In commemoration of this stellar achievement, I am going to celebrate the only way I know how: cooking myself a delicious lunch.

Then it's back to work. Boo.

Comment! (3) | Recommend!

Thursday, September 18, 2008 @ 5:29 pm

I hate when professors test you on minutia that you're to have memorized. My ideal test has no multiple choice (I

HATE

multiple choice tests because they're so high school), very little fill-in, and mostly short answer or essay questions because you can demonstrate your

understanding

of a topic rather than your ability to memorize things that were only grazed over in class (usually only the once).

I don't think I bombed this test, but there were a few things that were sorta WTF?! I talked to some other grad students in the class and they were pretty pissed off, too. We came to a consensus that the things we concentrated on the most were concepts, processes, and reasoning behind them, and didn't concentrate so much on "ADH is another name for what hormone, and from which gland is it secreted?" Which is not to say knowing stuff like that isn't at all important, but if it's something you need to know for your own work, chances are you'll know it. Whereas the more generalized, big-picture stuff can be more readily cross-applied to a wide array of studies.

I'm going to have to reformulate my study strategy for this class based on this unsavory experience. I am quite miffed.

Comment! (1) | Recommend!

Good morning, lack-of-sunshine.

Thursday, September 18, 2008 @ 6:04 am

Slept on the floor last night, studying for physiology.

Strange dream again last night. Same boy in the dream as in several previous. We were one of seven students (he was my lab partner) in a class taught by my third grade teacher, some sort of hybrid odd science course (I didn't really understand, either). During class, found a closet full of documents--stuff on genetically enhancing spiders to create plastic webs, how to induce the formation of hurricanes, engineering animals with explosive blood, etc. Convinced the British boy to run away with me after I learned this is what we were being trained for.

Biked off into a neighboring town with a juice bar that served the most disgusting smoothies ever. Absolutely putrid. Phone rang, and it's the president of the school we ran away from, asking where we were. Quickly hung up and threw both our cell phones in the river. Got on a bus and headed for a town called Raseur. He fell asleep on my shoulder and held my hand.

That's when I woke up. My knee hurt inexplicably, felt swollen; mouth was dry. Looked at my physiology notes said "fuck it" for now...

Ugh, re-reading this entry is painful. Never blog when you first wake up.

Whatever. Study time.

Comment! (0) | Recommend!

Wednesday, September 17, 2008 @ 11:33 pm

So for my Advanced Topics course, my professor didn't show up. This is the same course that I was bitching about in a previous entry because everyone took too long for their presentations. Well, today we were to have finished up the presentations, and even if he did arrive on time, it looked like we might be in class past the proper dismissal time.

But he didn't show.

I hate wasting class time, and I am never a fan of power vacuums, so I decided to take action. About 30 minutes into the class session, I got up in front of the class and told them that we were going to break up into two groups and finish off the presentations. Each group would write up evaluations for the speakers, and we were going to leave these evaluations in the professor's box at the departmental office.

Everyone loved the idea because nobody wanted to reschedule the class at some inconvenient time to give the presentations we had worked on. So we broke up into groups, did the presentations, and got out.

And we got out on time, by the way.

Fuck, dude. I should get extra points for showing initiative and taking control of the situation.

Comment! (1) | Recommend!