Sunday. 2.16.14 7:30 pm
Aww... I'm the lucky girl to receive this!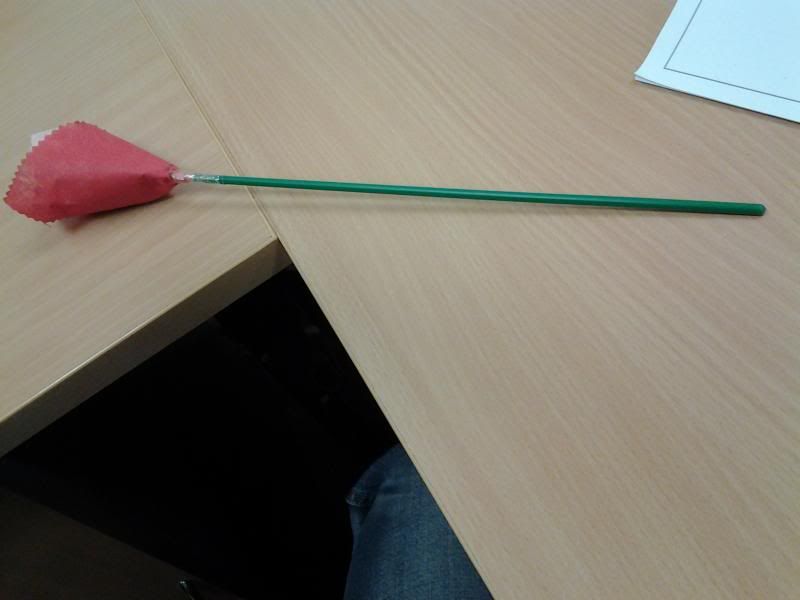 I hope this won't be the last gift!
Comment! (0) | Recommend!
This is just sad.
Last week my friend's mum died. Now, one of my spiritual teachers is diagnosed with cancer stage III just a few days after the passing of the mother.
I have heard of many cancer patients and if she didn't make it... she would be my fourth friend succumbed to cancer. My feeling tells me she only has less than 3 months to live.
Her whole uterus has to be removed but she has a clot in her lungs. That has created complication.
I never thought of visiting her soon but I did last Saturday. A friend bought some Chinese supplement for her and had requested me to give her as he was down with fever and cold. He didn't want to spread to her. I'm down with dry cough. I could have declined but I guess it's the arrangement of the Universe.
I was actually in the middle of working at office since the ungodly time of 6.30 am. But I insisted my friend that I could do it because coincidentally I will be in the hospital premise to deliver t-shirts to orphanages. I was on the way, not out.
I was at my teacher's bed side. She doesn't look like a patient at all. She in fact looks so much youthful than the few years I have known her. I guess she has finally let go some of the issues tugging in her heart...
Anyways... it somehow breaks my heart to see a friend at the hospital. She was in cold and fidgeted the whole time because she was very uncomfortable with the heavy bleeding. Her hands were so cold... and I could not even warm her hands even though I rested my hand on hers.
I know she is a strong lady but somehow, you know, that anyone can withstand his/her own fear hearing the expiry date. I intended to leave the moment I gave her the supplement, but somehow she drone and I didn't have the heart to cut her off for she doesn't have family members with her. I just lent her my ears. She said she was not afraid of her own death, but I know the truth. I had once said to myself that I'm not afraid of death too. But in the end, who is not afraid of dying? The method of dying is what agonises people the most.
The lesson I learned from my friend's death is to live life the fullest. I asked my teacher if her boyfriend is coming to visit her. She gave me a question look, and I was sad to learn she broke off with him. I thought she said they were so connected... What happened? I just hope they guy will just support her regardless of their current situation. I heard the guy is not even talking to her now despite his friends and mum are keeping in touch with her.
Illness is also a sign of spiritual problems lingering in us. I don't like to talk about this but it's kinda true. For the last few years ever since I returned from New Zealand, my mother has been very unhappy with our current financial status. I tried so hard to be happy and also worked towards improving the financial freedom but it somehow didn't happen. I guess it was also because of the continuity of emotional and mental abuse that I've been getting from my mother. It escalated till a point I fell into a state of severe unhappiness. And this unhappiness manifested into severe health problems. I was lucky enough to have found out soon, but it already has taken some toll on my body and mind. It is now costing me a bomb to repair my health. My doctor could not understand why my health was far worse than my mum and sister. Of course, I was the punching bag. How can my mother's health worse than mine? Even my friend who is an oracle reader has been telling me that my health problems occur because I was not listening to my mind. Yes, how could I focus on my mind when society represented by my mother wanted me to be 'normal'? The shocking of all is a friend who didn't reveal he could read aura. He recently revealed that I had black aura for some time... Oh well, luckily now is not black but not a healthy one either.
I shall visit my teacher as frequently my schedule allows.
Comment! (1) | Recommend!
A friend's mum died today and I was so blur that I left her a message on FB asking about her welfare. I smacked my head after finding out the grave news. I have met the mother and we went to the pub before too when they were in KL 2 years ago. Wow. 2 years... and that seems so like yesterday.
How time flies.
Recently, a person I worked with has passed away in a gas explosion at his office. It was a sudden death and all his colleagues especially the children's home he founded are sad. Again I smacked in the head because I accidentally called his handphone which was answered by his grieving sister. I was just too shocked and I didn't mutter the right words except for take care. She was crying on the phone.
If my friend didn't post on FB about his death I won't know. This deceased person is just 35 years old and who would have thought he would meet such ending?
I remember speaking to the deceased about delivering t-shirts for the kids...
Life often takes unexpected turns. And I totally forgotten about an acquaintance's death that made me feel to live life the fullest by chasing after dreams.
As I get older, I understand that it's not really about chasing after dreams solely. It's also about going through the moments consciously. That's what life is all about...
So this means also I don't know when and what ending I'm going to meet... till then.. carpe diem la!
Comment! (0) | Recommend!
Saturday. 2.1.14 10:57 am
I did something unexpected in the middle of January. I went against my own conscience surprisingly because I kept telling myself to be quiet like a mouse but I went off like a firework...
So now I'm going to pray to fight for my dreams because I cannot give up even before trying!
My chest is like keeping a firework from shooting into the sky everyday. May my prayer come true!
By the way, Bruno Mars has lots of good songs. I love them!
Comment! (1) | Recommend!
Thursday. 1.30.14 10:31 pm
Today is the first day of Chinese New Year and I'm already at high pitch with my mum early in the morning just because she got confused with her vegetables and she somewhat wanna scold me. Before she gets to do so, I defended myself and then ta da... she went shouting.
I'm so sick of my current situation and I sometimes wonder why the hell did I make myself suffer under such condition. I deserve better.
Anyways.. happy chinese new year, peeps!
Comment! (0) | Recommend!
Tuesday. 1.28.14 10:27 pm
The song below speaks for that date.
I love the lyrics, but it breaks my heart whenever I listen to it. If only the listeners have happy ending...
Comment! (0) | Recommend!