Sunday. 12.29.13 11:29 am
It's game over, Mr Gingerbread. You are powerless against my teeth strength.
Sigh. How fast Xmas flew...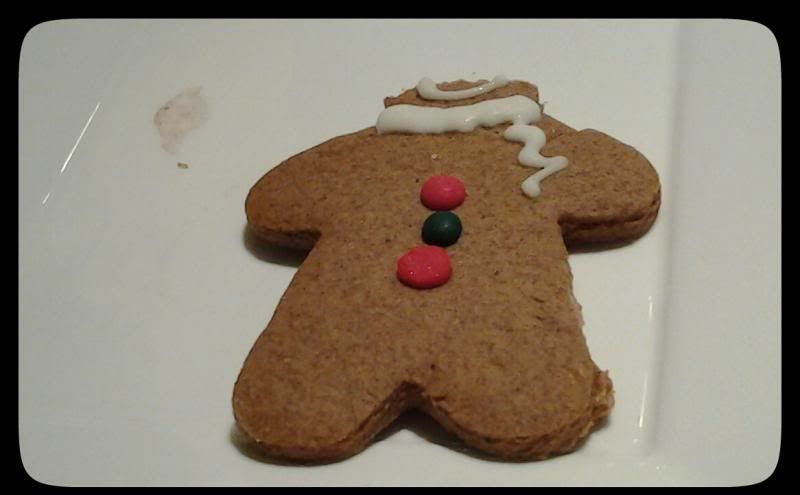 Comment! (1) | Recommend!
Definitely not me!
My foreign friends came to Malaysia for the festive holidays and we exchanged lots of interesting gossips and updates and one of them is on arranged marriage.
Apparently one of my friends is trying to avoid that by plunging himself into studies. I was listening to with great curiosity but at the same time I have a pang of pity for him. How does it feel to be marrying someone you don't love at the beginning? I know some people found love through marriage but what if luck is not on your side?
I once dreamed myself in an arranged marriage and apparently I was upset that the deal didn't go through. HAHA. But it was just a dream...
For my friend, it's death do him apart. My heart goes out to him...
Comment! (0) | Recommend!
Tuesday. 12.17.13 2:52 am
It has been ages since I hang out at a cafe not mentioning hunting for good food or cafe, which I used to do in the past with friends. I guess I grew out of it when my circle of friends shrink to myself... And also not mentioning the medication I am on does not allow me to eat such food.
Anyways, taking advantage of my friend's presence for the weekend, I did some homework and brought him to one of the cafes recommended by bloggers in the Chinatown area. This cafe is so hidden well!
Can you find the cafe when you are on this street?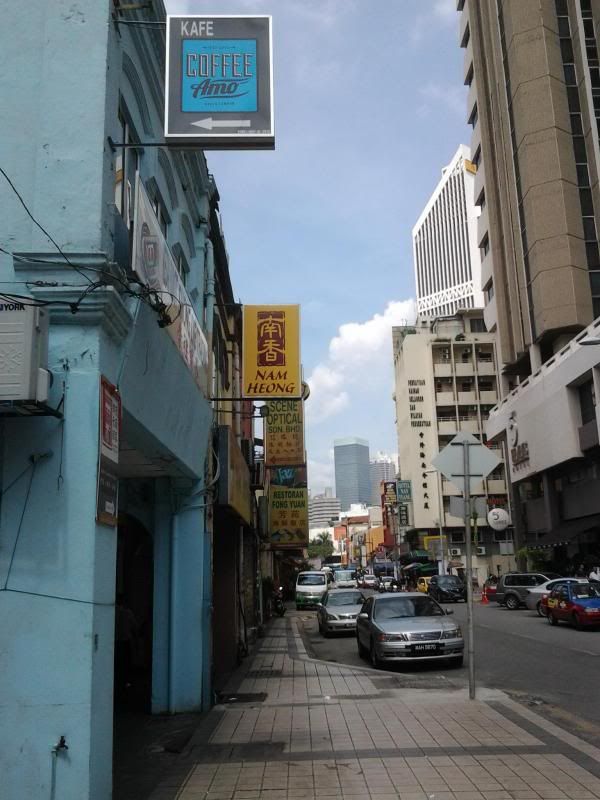 I was with my GPS and I was so dumbstruck that me and the destination is so close and yet could not locate.
I love Cafe Amo's interior and it will be something I would bring friends to support because it is tugged in a historical building and the frontal is to support the heritage of the stre"et. It is very aligned with my personal cause for support.
And...the hot choclate is so yum... So is the oreo cheesecake. They used milk from Australia... No wonder so yum!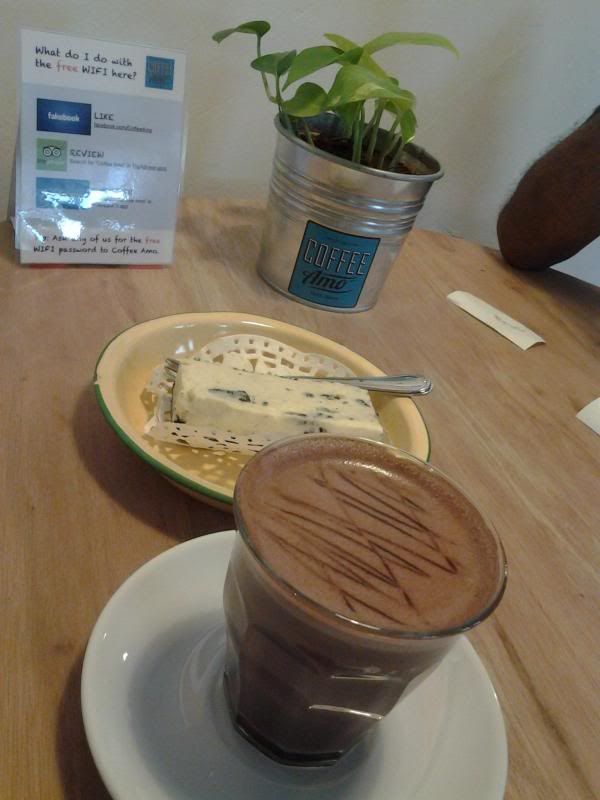 I really enjoyed my time in the cafe and it was like a family outing for the owner as his family members were helping too. His staff played the guitar casually too... So it's pretty cool. :-)
Later for dinner, I took my friend to an award winning (by populist vote) cafe located nearby to KLCC here. It was a new building and the name is so Russian... Troika.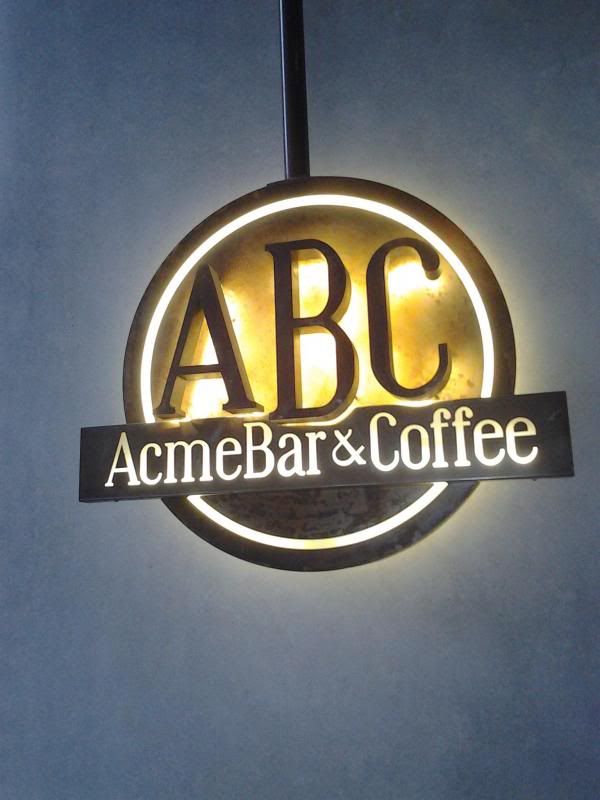 They have nice ambience but the service was quite poor. The first thing a server needs to do is to provide drinking water... And I lose patience by helping out myself fishing a bottle of water from their counter.
The food is pretty so-so and nothing to shout about. I guess people frequent there purely for the ambience... But I don't really like the sitting arrangement. It is small and kinda cramped. We were wedged between two other individual tables and both sides can hear our conversation... No privacy...
I ordered the brownie which was memorable!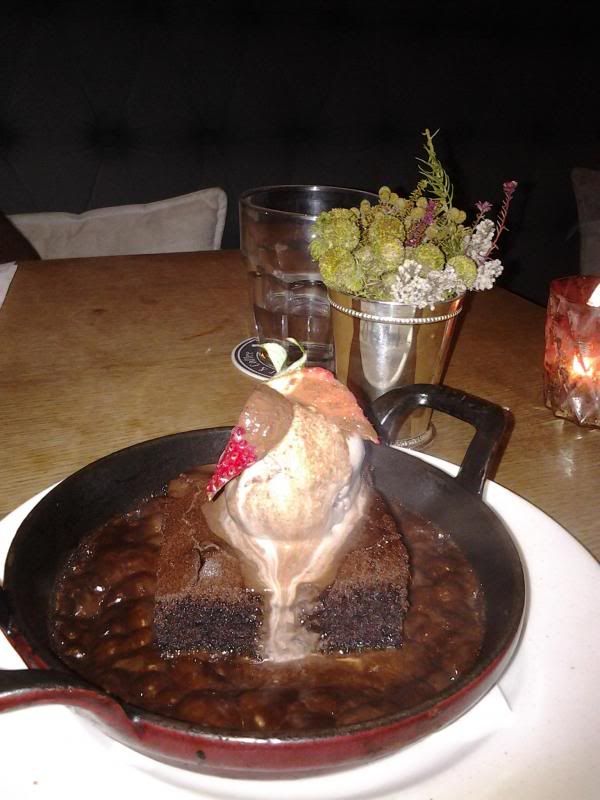 Anyways, I yed my outing to Cafe Amo in Petaling street area and Acme Bar n Coffee in Troika despite a few setbacks. What was there not to enjoy when all the food were paid by my friend? :-)
As the saying goes, I will always be a tourist in my own homeland...
Comment! (0) | Recommend!
Saturday. 12.14.13 10:14 am
Hmm... Let's do a haibun based on one of my memories regarding today starting with ...
2011...
It was one of the coldest nights I have had endured in my whole life. I thought the wet winter in New Zealand is already extremely cold but here... on the ship is deadlier with the ship moving at full force. I tried wrapping my knees with my arms but I was so cold that I should have just brought along my beanie but I decided not to because I wanna spend more time with a friend.
beanie
I wanna take you
but I chose him instead
We sat on a bench and ... I had so many things to share from my heart but the wind was not interested to listen nor carry the message. I looked at my friend from behind and knew whatever my heart has to say would never left the heart...
full moon
the only listener
of my racing heartbeat
So we looked up the sky and enjoy the full moon peeking on us from behind a huge black cloud. I leaned on the wall and continued to look at his back and had the urge to bundle him because he looks so lonely... and small. His back reminded me a lot of a lyric I wrote some time ago. It totally described the whole situation we were in ...
full moon
in the mist
- rubbing shoulder to shoulder
My heart continued to race because I wanna pick up our conversation where we had left before our good ol' friend joined us with his instant noodle cup. I wanna hear what you have to say!
love at first sight
you say
i blushed
I looked at the moon again and asked myself if I wanna leave my confession as it is... Will I regret later?
Full moon
do you ever
regret rising?
Suddenly the skies were filled with shooting stars! Like every girl, I tried making a wish and... what a failure... I could not finish my sentence with three passing shooting stars... no wonder there are always millions so you can finish your sentence!
Shooting star!
May you rain forever!
so my wish never runs dry!
Shooting star!
Don't run!
Don't let this moment fly away!
If only we could sit side by side very much longer! But the cold was just too unkind to us... so we decided to seek warmth...
Warm, cold, only love has such extreme temperatures...
This memory was still so clear even though a year has passed ...
and in 2012 ...
I wrote him a haiku to commemorate that day and I don't remember what I have written. I have actually been keeping that haiku in my head since April. It's amazing how easily I have forgotten it now.
April to December
waiting
for 14 December
And as usual, my messages went unanswered. I wonder deeply what he thinks of a girl that writes poetry for him. Or rather am I being plain stupid for putting so much effort in keeping in touch with a friend who makes less effort?
Full moon
still behind the clouds
laughing at my innocence?
But December was also an important month for me because I asked myself how long do I want keep moving on like a zombie... Why bother a guy who stays silent on this matter for almost a year? Or is it my email is not succinctly enough about this matter? Or is he just laughing at me and our friendship?
full moon
my only witness
to my tears ...
Anyways forwarding to 2013...
My heart started to wane because I really have to move on. Moreover, my tiredness has been increasing over the past year. My health is too fragile to handle this heartbreak. And so I distracted myself with work ...
Full moon
replaced by sun rays
- new goals
My feelings for him started to ease and then I have totally forgotten about him until one day... the intense feelings I used to have for him came back to haunt me. I thought I have finally released him from my heart but it didn't. It was just half past six. The feelings were still wrapping around my heart like a vine but a forgotten one... It was a ticking bomb actually.
yesterday memories
came back
without invitation
The feelings drove me insane... and I did the impossible: burning the ties between me and him. I never thought I would come down to this stage whence I have considered doing this seriously in 2012 because I could feel him all the time despite being separated geographically. You found me because of the bridge you have established with me aeons, but this is also the very bridge I must burn to stay sane. I chose sanity over you.
sanity or love?
the world
of insanity ...
I met your guardian angel or your old soul who lent a helping hand. He forewarned if I were to burn the bridge you won't be able to find me again in the future. I could feel the fear surging in him as we speak... and so we made an agreement that I will only burn the bridges not the mouth. Why did I even seek help from your guardian? It is because I could not burn your bridge to mine. I have dissolved the bridge from my end to yours but yours to mine kept coming back after imaging pouring acid onto your bridge. It won't go away!
Burning bridge
You walked
And survived...
With your guardian's help, I was able to dissolve it for good and he has given me a message and the reason of your existence in my life. I also told him that our connection is strong enough for him to locate me without having the bridge. He has to trust himself... The guardian smiled and disappeared...
Connected
Between you and me
A bridge made aeons ago...
I told myself that no matter I will always love him and whatever I have gone through because of him happened for a reason. For that, I thank you even though it was not a reciprocal love. I will move on...
Love
Saved for
The past
For now, I will still remember the events behind 14 December, perhaps not for long... I will open my heart to love someone else too other than you...
Full moon, full moon
Come out
And play with me!
Comment! (0) | Recommend! | Categories: haiku [t]
Wednesday. 12.11.13 8:49 am
Today supposed to be an auspicious day and suppose to do something interesting, but I cringed in pain. As usual la being a female.
Sigh.
So... I ended up just watching anime to tear myself away from the pain...
Comment! (0) | Recommend!
Monday. 12.9.13 3:32 am
What the hell?
My college mate posted a picture of his new baby with his wife in the labouring room. Instead of admiring how cute the baby boy is, I was glued to the wife who was lying down.
My god. She has time to put eyeliner before going into the delivery room?!
Comment! (0) | Recommend!