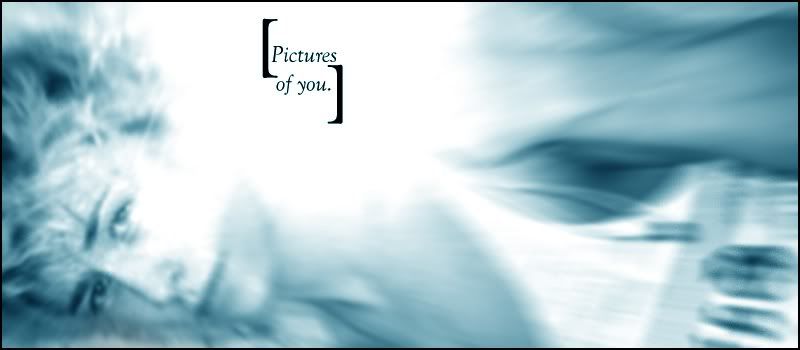 Spring Semester 2010:

* Teaching: Fundamentals of Microbiology - MW 12:00-2:40p
Medical Microbiology - TR 2:00-3:15p
Colloquium in Cell and Molecular Biology - R 3:30-4:30p
Thesis Research - Identification of T Cell Subsets and Immune Response in Colon Cancer Using Immunofluorescence - FOREVER AND EVER

Or rather, entries from the old journal, as it were...

-

An open letter to the College.

(August 27, 2006)

-

Untitled.

(July 16, 2006)

-

Haunted (Part One)

(May 29, 2006)

-

Are we growing up, or just going down?

(May 3, 2006)

-

I had a dream...

(March 19, 2006)

-

...

(March 14, 2006)

-

Enjoy it while it lasts.

(September 12, 2005)

-

Scene: 3:27 AM.

(September 3, 2005)

-

Untitled.

(July 26, 2005)

Psst... if you're looking for the academic writings I used to have here, head to my Reading Room.

Since June 2006...

- A Heartbreaking Work of Staggering Genius by Dave Eggers
- High Fidelity by Nick Hornby
- Travesties by Tom Stoppard
- The Way of the Shaman by Michael Harner
- The Tao of Pooh by Benjamin Hoff
- Nervous Conditions by Tsitsi Dangarembga
- The History Boys by Alan Bennett
- The Dark Child by Camara Laye
- Movie-Made America by Robert Sklar
- Diary by Chuck Palahniuk
- Rant: An Oral Biography of Buster Casey by Chuck Palahniuk
- Galapagos by Kurt Vonnegut
- The Dead Emcee Scrolls by Saul Williams [61.3%]
- Atonement by Ian McEwan
- Junk Science: An Overdue Indictment of Government, Industry, and Faith Groups that Twist Science for Their Own Gain by Dan Agin, Ph.D. [64.4%]
- So Yesterday by Scott Westerfield
- Lucky Wander Boy by D.B. Weiss
- The Things They Carried by Tim O'Brien
- Doctor Who: The Key to Time: A Year-by-Year Record by Peter Haining
- Why Buffy Matters: The Art of Buffy the Vampire Slayer by Rhonda Wilcox
- When You Are Engulfed in Flames by David Sedaris
- The Road by Cormac McCarthy
- 1984 by George Orwell [18.8%]
- Nick and Norah's Infinite Playlist by Rachel Cohn and David Levithan
- Intuition by Allegra Goodman
- V for Vendetta by Alan Moore and David Lloyd (Yes, I realize it's a graphic novel but it still fucking counts!)

There must be something I'm missing.

Sunday, September 28, 2008 @ 1:38 am

Because every Saturday night (or, sometimes more accurately, Sunday morning), someone comes around and honks their horn in rapid succession for about a minute or so.

How I wish I could just go out there, find the fucker, rough him up a little, maybe immobilize him and put his head up against the horn and give him a taste of his own medicine. Oh, what's that? You can't hear anything anymore? Your ear drums have ruptured and blood is coursing out your ear canals? Oops, my bad.

I can handle the crowds; the wandering drunks; the guys on their cell phones loudly threatening to break up with their whorish girlfriends; the occasional unbridled fuck coming from next door; hell, even the sorority mating call of "OMG, guys, I'm ssssooooooooo drunk!" All these things, I can pretty easily ignore in my sleep. Honking for a minute straight--not so much.

I just want some rest because tomorrow is going to be a non-stop library-thon...

Comment! (1) | Recommend!

Adventures in self-diagnosis.

Saturday, September 27, 2008 @ 1:24 pm

Every once in a while, I wake up in the morning with my right pinky and half of my right ring finger numb. I've learned that this may be caused by something called ulnar nerve entrapment, in which the ulnar nerve is somehow pinched or otherwise impaired, causing a disruption in normal nerve signaling down to the tips of those two fingers.

Based on how intermittently I experience this, it might be a minor problem solved through behavior modification--that is, if I change how I sleep such that I don't sleep in a position that would possibly pinch off my ulnar nerve, it should be fine. If it gets more frequent, a trip to the orthopedist may be necessary to check if there are any anatomical abnormalities causing the entrapment. Worst case scenario is that I will have to have surgery to correct the problem, as chronic ulnar nerve impairment can lead to demyelination of the nerve.

Axons in neurons are surrounded in myelin sheaths which serve to insulate the cell to prevent current leakage during the conduction of an electrical signal down the length of the axon. If a neuron becomes demyelinated, the current leaks out of the cell and signal strength is lost as a function of distance traveled. This has two serious consequences: a loss of feeling (in the case of demyelinated sensory neurons) and/or a loss of muscle function (in the case of demyelinated motor neurons).

While I'm 99.999% sure it won't get to that point, every time I learn something new about how the human body operates through my coursework, I get just a little bit more freaked out about what can go wrong, and how difficult it can actually be to make it right again.

Comment! (0) | Recommend!

Can you get me off your mind?

Friday, September 26, 2008 @ 1:12 pm

A combination of two of my favorite (musical) things: Alkaline Trio does Tegan and Sara's

Wake up Exhausted

... WITH Tegan Quin on guitar and back-up vocals.

And for the record: I cannot get you off my mind.

Comment! (0) | Recommend!

Thursday, September 25, 2008 10:54 pm

Two things happened today that made me miss my friend Linh, who is at Berkeley earning her Ph.D. in cognitive neuroscience.

1) In Human Physiology, we were studying the nervous system. All that talk about brains got me thinking about my favorite neuroscientist.

And...

2) I passed a group of Vietnamese students today, and I knew that one of them said "Fuck your mother!" because Linh taught me how to say that our Sophomore year.

In other news, the

Office

party was a rousing success. Good times were had by all--wikiwikiwikiWHAAAAT!

Comment! (1) | Recommend!

Results: Physiology exam #1.

Thursday, September 25, 2008 @ 7:27 pm

The class as a whole did horribly. B-range was 64 (the average) to 77. A-range was 78 and above.

Even though I did worse than I expected (and I knew that when I turned in the test, too), I still got an 87, so that firmly places me in the A-range! Out of all of my classes, I think that Human Physiology is going to give me the worst time, so this bodes well for my mission to get at least a 3.7 this semester.

I think the best part about it is that I think I know how to study for that class now so hopefully each subsequent exam will be better.

As a bit of a reward (not really, because I had planned this weeks ago), I'm hosting an

Office

party for the season premiere tonight! I'm SO freakin' excited and I even did all of my work early just so I could watch the show with a few friends--old and new--guilt-free!

Hurry up and be 9:00 already, dammit!!!

Comment! (2) | Recommend!

Wednesday, September 24, 2008 @ 9:03 am

I probably didn't notice the staining of the vinyl floors in my bathroom when I first arrived because of the quality of the light in the bathroom. Recently, I switched to a brighter, whiter fluorescent bulbs from yellowish incandescent bulbs, and that's when I first noticed the yellowing of the floors. At first, I only noticed the staining under the bath mats, so I thought maybe it was the result of moisture because I'm not very good with removing the bath mats to dry after I take a shower. Then I noticed a more intense stain under the toilet mat, which is never even remotely as wet as the bath mats are.

Some research on the internet led me to a chemical explanation of this phenomenon. Apparently, antioxidants are used in toilet and bath mats for the rubber lining on the bottom. Without those antioxidants, rubber--being organic--would quickly deteriorate. However, these antioxidants can also react with the vinyl and linoleum flooring, which causes the staining. This, unfortunately, is pretty much irreversible.

Since the toilet mat has a rubber backing, this makes sense. But my bath mats (the one located in front of the tub and the one located in front of the sink) are not rubber-backed, so I began to examine the extent of the staining underneath each mat. Careful measurement of the size of each stain revealed a mismatch between it and the size of my bath mats. I concluded that the previous occupant had rubber bath mats and a rubber toilet mat, which would explain the light discoloration under each of the bath mats, and the more intense discoloration under the toilet mat (due to the combined antioxidant loads of my toilet mat and the previous occupant's).

The trick now is to restore the lighting to its original state when I vacate the apartment in the future so as to trick the eye into not seeing the staining. I'd do anything to get my deposit back.

Comment! (0) | Recommend!

Tuesday, September 23, 2008 @ 4:44 pm

Idol

runner-up Clay Aiken has confirmed that

he is, in fact, homosexual

, to which the entire world promptly replied, "Duh."

The world then went right back to what they were doing before the announcement, partially because Clay Aiken is no longer culturally relevant, but mostly because everyone already knew.

Clay Aiken? More like Gay Gayken, am I right?!

Comment! (2) | Recommend!

Tuesday, September 23, 2008

Glancing at my calendar, it looks like next week and the following one are going to be chock-full of shit-to-be-done.

Pre-emptive apologies for either a lack of entries or a excess of crappy ones posted only to prolong the inevitable.

I shouldn't have said that. (I'm trying to work on being less lazy.)

Alright: pact. If we find ourselves majorly procrastinating, Kristen Bell will eat our souls. I don't know what's scarier than a tiny blond chick eating your soul, and quite frankly, I'm not about to find out.


Kristen Bell is watching you... waiting for you to slip up... so she can EAT YOUR SOUL.

Comment! (2) | Recommend!