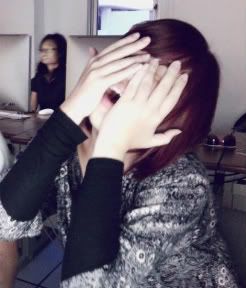 Hie, i'm
Liyun
DeviantART: http://liyun.deviantart.com
Art films,
Indie music
,
Photography
, Cinematography, Bookstores, Movie Posters, Wong Kar Wai, Cam Archer,
Short Films
, Kurt Cobain, Nirvana
Wednesday. 12.9.09 5:17 am

Thanks ben, i almost laugh my way into the grave. LOL
Comment! (0) | Recommend!
Tuesday. 12.8.09 4:51 pm
Saviours of my lonely long nights.
we had early breakfast and mad crazy laughs.
Shit, i think im so in love with our friendship. lol
lol at that guy behind derrick, he farted friggin 3 times, LOUDLY.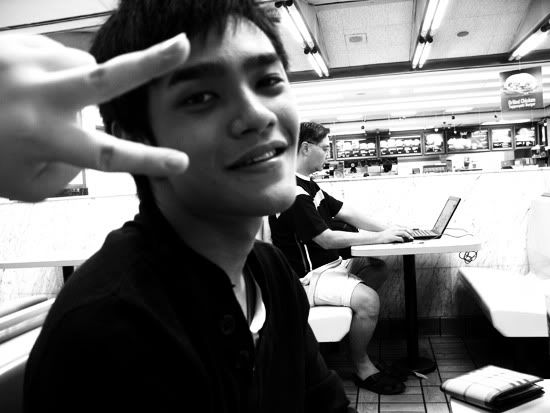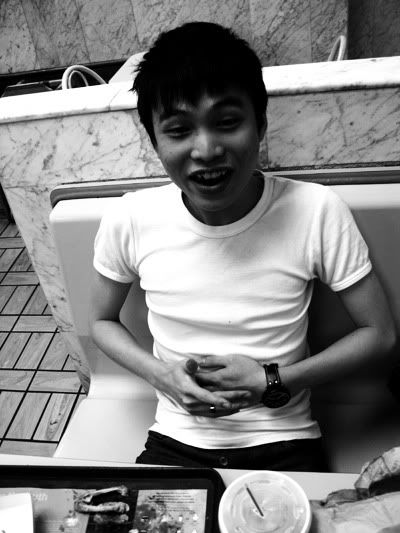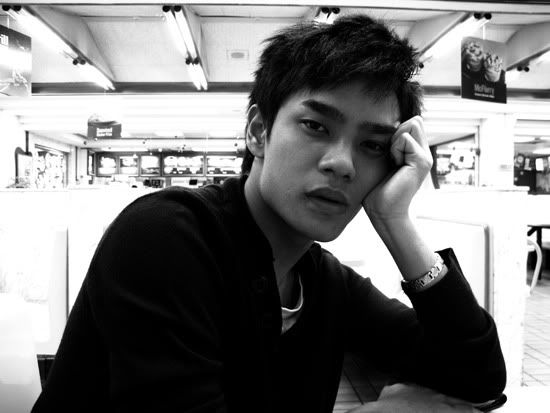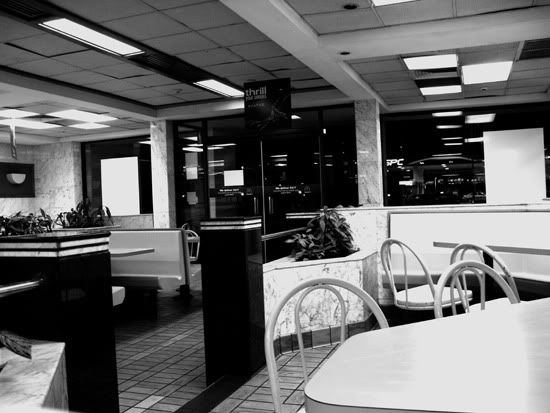 Liting, we are waiting for you to occupy that empty seat. lol
Anyway its 6.18am now, but im heading to the dentist with jan at 7.30am
whoooo! i feel like i can go for a jog. lol



Recently, i've been getting questions about cameras, hahaha
even though i'm not really good at cameras, this is my 2 cents.
My recommendation of DSLR for beginner is canon EOS 500D, i've
been a canon user ever since i get in touch with photography.

EOS 500D is a basic camera, had almost the same function as mine
EOS 1000D, but what i've know is there's actually video function in
the 500D, and its one of canon latest DSLR camera.

http://en.wikipedia.org/wiki/Canon_EOS_500D

One of my friend is using this camera, go check out his
pictures on his blog, its really goood.

http://mr-seetho.blogspot.com/

1000D and 500D is around SGD1K ++


But before getting a DSLR, please go and read up shit about
aperture and shutter speed, i mean getting a DSLR without knowing
what's shutter speed and aperture is kinda pointless, you can't depend
on AUTO mode forever, u needa try MANUAL MODE and be a man. lol
You don't have to go into details, but just breifly get the idea of what
Shutter and Aperture is, and after you get a DSLR you'll learn it along the
way, thats what i do, im still learning

You don't have to get an expensive DSLR camera, a basic one will
do if you're just trying out. But DSLR camera is kinda bulky, its not convenient
to bring it out, so if you are someone who just want to take pretty shots of
yourself and friends, just get a powershot instead of a DSLR, the pictures
above are taken by POWERSHOT G9, its a Semi-DSLR, small in size.

got my powershot G9 for SGD 899

http://en.wikipedia.org/wiki/Canon_PowerShot_G


Just remember, if you're into photography.. you don't really have to
get a professional camera to do photography, even though it sounds very
cheesy but its the passion, how you want to express your ideas using
photography, viewing and capturing things around you in ur ways.

I started out using a 6 mega pixel digi camera, and im still loving
those pictures i've taken using that camera, so you don have to worry
abt the camera part, just use whatever you've got.

and learn photoshop, photography and editing comes tgt as 1


AND AND DON EVER GET A DSLR, JUST SIMPLY BECAUSE UR
SCHOOL/ CLASSES NEEDS IT. you'll regret, its like selling your
soul to the satan, you'll regret. lol

Hope that helps.

don't ask me which camera is good, i know nuts abt camera.
Expensive camera = good camera. RITE? go check out EOS 5D then. lol


Comment! (4) | Recommend!
Tuesday. 12.8.09 5:15 am


Something extremely bizzard happened this morning

This morning i was woken up by milo's annoying barks because someone's
at the door so in a half-asleep state i went to answer the door, its the postman
he handed me a brown envelop, left it on the table and back to sleep.

I went to check on it just now, and noticed it had a different address,
its for some guy living at the opposite block! I believe the numerical difference
of block 21 and block 15, 14th and 10th floor is kinda drastic, there's no way you
can get them wrong unless the postman is on crack. i doubt he is. lol

The only thing that amuse me is the bizzard coincidence.
I actually know that guy! the rightful owner of the letter, he was once
my neighbour and school/playmate. I have not seen him ever sinced i've
moved, i've moved more than 10 friggin years. Anyway i think he's
doing pretty well in his studies since the letter is from Nayang business
school. lol gladdddd for him. Need to head down to the post office tml
and pass it to the on crack postman, hope he doesn't mix it up again.


15 hours of starvation, i finally get to taste some friggin food. lol


needa listen to some cheena music at times
of cos only the good ones.



Im a big fat flea


Comment! (5) | Recommend!
Monday. 12.7.09 1:08 pm
I need a Midnight hang-out and breakfast buddy
before liting is officially on holiday. shiat.
The night is so loonnnnnnnnnng and cold, terrible.
Joseph Arthur makes me go, "awwwwwww" like a fan girl.
Comment! (0) | Recommend!
Saturday. 12.5.09 7:05 am
Thursday. 12.3.09 4:15 pm

Let me fill up this space.
Its 5.15am, countless of sleepless nights since holiday.
I've done pretty much nothing constructive during holidays which im
totally not proud of it. I've been planning on a photoshoot though.
Finish editings hundreds of pictures, design a few things for bds, tiring
and mind straining but kills time. Nevertheless, still a happy kid.


Confidence blinds you from negativity.
Key to a less miserable life, so please be confidence and love yourself.
Shihao, i know you're probably laughing at this, y'know what, SCREW U! lol

I think i should go watch lord of the rings all over again
and scream like a geeky fangirl when gandalf appears. lol

Sounds totally awesome.

Arniways, Klaxons is jawdropping. *dropppppppppps
I got my flushot, and i'm freaked out, shihao you should
know why, im very into karma and shit. lol

Electro freak, please listen to Yuksek's remix of Klaxons' Atlantis to interzone
Its mad crazy, maddddddddd fuckkking crazyyyyy in a good way.

This thing is all over the place. i think i should shut up and sleep. byebye
I want to eat nasi brani so badly. I want Nasi brani dream




I can't quit this video, watched this for 9230901347 times.


Comment! (1) | Recommend!
Thursday. 12.3.09 6:06 am


Good friend, junk food, youtube and bullshit.
my life is so unhealthy. lol
love it though.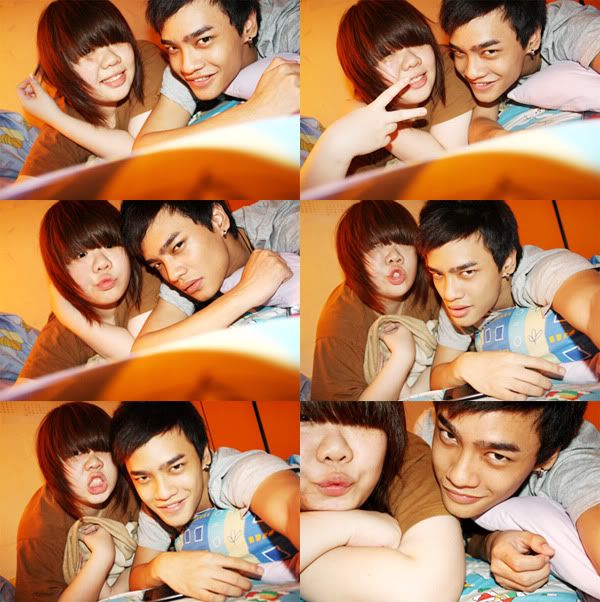 Comment! (2) | Recommend!
Wednesday. 12.2.09 3:47 am






When i was checking out Sufjan Stevens videos
i chance upon this guy on youtube, covering sufjan steven's songs
He's a hidden talent, somebody please sign this guy up, he needs to debut.





http://www.myspace.com/goodnightguinevere
http://www.youtube.com/user/PeteHooverMusic

Listen to his originals on his myspace.
Distraction and The Beauty in Frames. THUMBS UP



Comment! (2) | Recommend!