Le Festival des Artistes, Ecrivains Voyageurs de la Plagne 2008 comme si vous y étiez!! (in French, sorry)
Thursday. 8.21.08 5:06 pm
Bonjour tout le monde,
J'étais présente en tant qu'auteur au Festival des Artistes, Ecrivains Voyageurs de La Plagne, qui s'est tenu du 10 au 13 août 2008.
L'action de mon livre jeunesse
Red Jim
, paru chez
Tartamudo
, se passe en Angleterre: étant aussi bilingue français-anglais, il constitue en lui-même une invitation au voyage, le thème du Festival depuis 6 ans.
Cette année et depuis 2 ans, les carnettistes bourlingueurs ont été rejoints par des auteurs et dessinateurs de bandes dessinées et de livres jeunesse, dont les oeuvres traitent aussi du voyage, ou sont en connection avec l'ailleurs.
Le Festival a été présidé cette année par le grand José Muñoz, le dessinateur de BD argentin de renommée internationale, célèbre pour le personnage d' Alack Sinner avec son complice scénariste Carlos Sampayo. L'invité d'honneur cette année était Jacques Ferrandez, pour son dernier album "Cuba, Père et Fils"; Jacques Ferrandez sera par ailleurs le président du Festival de la Plagne l'année prochaine.
Un autre invité mis à l'honneur était
Maurice Rajsfus
, pour son ouvrage
Moussa et David
en bandes dessinées, qui traite du conflit israélo-palestinien à travers les yeux de deux enfants, l'un palestinien et l'autre israélien. Rescapé de la rafle du Vel d'Hiv, historien et auteur de nombreux livres, "Moussa et David" (paru chez Tartamudo), est la première expérience BD de Maurice.
Parmi les éditeurs BD et jeunesse présents, on citera
Tartamudo
,
Mosquito
,
Des Ronds dans l'O
,
6 Pieds sous Terre
... Parmi les auteurs, carnettistes et réalisateurs, José Jover, Marc Large, Vink et Cine, Troub's, Elodie Studler, Vincent de Raeve, Xavier Péron, Noëlle le Guillozic, Roland Monpierre, Pat Masioni... Je ne peux malheureusement pas citer tout le monde, mes excuses aux gens de grand talent que j'ai oubliés.
L'expérience du festival a été, de mon point de vue, plaisante et agréable: entre les ballades sur le glacier
, les paysages magnifiques ( avec vue imprenable sur le Mont Blanc!!), l'air tellement pur de la montagne qu'il fait presque mal d'être respiré
et l'exploration gastronomique de spécialités savoyardes en tous genres le soir au restaurant
dans une ambiance chaleureuse et conviviale, j'ai eu l'occasion de rencontrer des gens de tous horizons parmi les artistes et auteurs invités. J'ai pu aussi dédicacer mon livre, discuter et interagir avec des lecteurs potentiels, dans le cadre du salon. Le public, pour la plupart des vacanciers, était relax et détendu.
J'ai pu aussi remplir mon carnet de croquis avec des bêtises et des âneries
sans aucun rapport
avec les montagnes environnantes; un rapide apercu:
Saurez-vous reconnaitre les personalités visible ci-dessous?
Le festival a été aussi le théatre de rencontres musicales avec Mat Valens:
et le groupe de jazz gypsy, "Les Caravanes Vagabondes".
Juste un rappel: j'ai toujours des copies de "Red Jim" disponibles; les modalités sont visible ci-dessous.
Vous pouvez maintenant commander le livre "Red Jim" directement chez son auteur!! J'ai en effet un nombre limité de copies en ma possession: l'intérêt et le bonus de commander le livre directement chez moi, réside dans le fait que vous pouvez l'obtenir dédicacé/signé selon vos propres spécifications. Le livre est vendu à son prix normal (12 Euros ou 9 livres Sterling), les frais de port y étant ajouté: notez bien que j'aurai besoin de savoir où va le livre pour calculer les frais d'envoi. "Red Jim" est livré partout dans le monde et j'accepte le paiement préférablement par Paypal (notez que Paypal accepte aussi les paiements par cartes de credit); pour toute autre forme de paiement, s'il vous plait, parlez-en avec moi au préalable. Ne ratez pas cette opportunité: contactez-moi, si vous êtes intéressé, à l'adresse suivante:
[email protected]
ou faites-vous connaitre d'abord ici si vous le souhaitez
Encore un grand merci pour les organisateurs et les bénévoles du Festival pour leur accueil chaleureux.
http://www.salondulivrelaplagne.com/
Illustrations, drawings © Nathalie Jean-Bart 2008
Comment! (0) | Recommend! (1) | Categories: festival [t], la plagne [t], culture [t], livres [t], Red Jim [t], Nathalie Jean-Bart [t], festival [t], salon [t], voyage [t], bilingue [t], montagnes [t], alpes [t], Mont Blanc [t]
Beautiful tiger (profile)
Thursday. 8.21.08 5:03 pm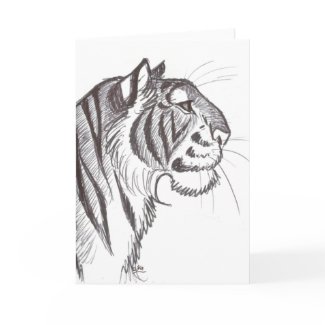 Beautiful Tiger drawing greeting card
by

we_the_animals

Design your own
photo card
at
www.Zazzle.com
Beautiful Tiger drawing postage stamp
by

we_the_animals

Make custom postage
With
zazzle.com
See more
Cats Postage
Comment! (4) | Recommend! (1) | Categories: tiger [t], dessin [t], drawing [t], fine art [t], we the animals [t], greeting card [t], postage stamp [t], profile [t], portrait [t]
Tiger, tiger... Greeting cards- We, The Animals online shop
Sunday. 8.17.08 8:32 am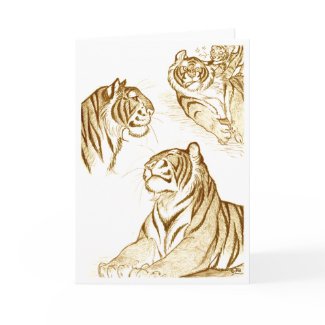 Tigers in sepia greeting card
by

we_the_animals

Create a
picture note card
Onine with
www.zazzle.com
Comment! (0) | Recommend! (1) | Categories: tiger [t], tigers [t], fine art [t], drawing [t], greeting cards [t], greeting card [t], we the animals [t], online shop [t], fun [t], illustration [t], drawing [t], art [t], artwork [t], black [t], sepia [t]
Thursday. 8.14.08 7:20 pm
George Orwell's Diaries


The Orwell Prize, Britain's pre-eminent prize for political writing, is publishing George Orwell's diaries as a blog. From 9th August 2008, Orwell's domestic and political diaries (from 9th August 1938 until October 1942) will be posted in real-time, exactly 70 years after the entries were written.
Orwell's diaries begin on 9th August 1938/2008; his 'political' diaries (which are further categorised as 'Morocco,' 'Pre-war' and 'Wartime') begin on 7th September 1938/2008. The diaries are exactly as Orwell wrote them.

Comment! (2) | Recommend!
Cartoon Lions and Tigers Keds shoes (kids)- Cheerful Madness!! online shop
Tuesday. 8.5.08 9:08 am
Hello,
Cute Cartoon Lions Keds Shoes
by

Lioness_Graphics

Design a Custom Shirt
At
zazzle
More
Cartoon Art Keds Shoes
Cartoon Tigers Keds Shoes
by

Lioness_Graphics

Get your own
custom sneakers
at
zazzle.com
Browse more
Graphic Design Keds Shoes
Customizable
MORE CARTOON LIONS AND TIGERS PRODUCTS
Thank you.
Comment! (2) | Recommend! (1) | Categories: lion [t], lions [t], cartoons [t], cartoon [t], art [t], tiger [t], tigers [t], cute [t], cuteness [t], keds [t], shoes [t], shoe [t], pair [t], custom [t], cheerful madness [t]
Anti-Bush Graffiti: 25 Countries, Six Continents
Monday. 8.4.08 6:31 am
Anti-Bush Graffiti: 25 Countries, Six Continents
/>Date: Jul 30, 2008 4:31 PM
Written by
Laura Copeland
Barack Obama recently made headlines with his eight-day tour of Europe and the Middle East.
Many analysts here and abroad agree it was a smart political move for the U.S.America. As President George W. Bush nears the end of a mostly disastrous eight-year term, he too should be given credit for public appearances overseas.Traveling by air — er, compressed air, that is — and landing on everything from brick walls to telephone poles to the doors of trash chutes, Bush boasts a presence in just about every last nook in the world.

presidential nominee, but some argue it was just a drop in a substantial bucket of goodwill needed to improve international relations with
Curitiba, Brazil
Unlike Bush's approval rating, attendance at Disney theme parks doesn't seem to have taken a hit in America's worsening economy.

Photo by mlbor
Granada, Spain
Bush's Starbucks-colored tank creeps toward a McDonald's logo.

Photo by juanti
Lisbon, Portugal
Photo by Graffiti Land
London, England
Painted on a wall facing East London's members-only Shoreditch House is this poignant portrait.

Photo by nickburcher
Sofia, Bulgaria
Faded from foot traffic, the sidewalk mugshot reads: Wanted Dead: George W. Bush, for crimes against humanity and the planet.

Photo by kiki
Berlin, Germany
Bush faces off with Osama bin Laden outside a record store in Berlin.
War is terror, the caption reads.

Senator Obama's tour included a stop in Berlin, where he gave a speech to a crowd of more than 200,000.
American blogger Fred Wilson responds: "This kind of worldwide popularity is something we need in the US right now.
"
Photo by shawnbot
Colonia, Uruguay
This makeshift banner welcomed Bush to Uruguay in March of 2007, when Bush met with President Tabaré Vasquez.

Translated, the greeting reads: Your dead, hungry, unemployed, disappeared [illegally imprisoned], lying cronies salute you.

Photo by MichaelO'B
Durango, Mexico
Photo by OliverAlex
Wellington, New Zealand
Give Bush an inch, and he'll bomb a country, one stencil remarks.

Bush's critics argue he never should have sent troops to battle without Congressional approval. Legally, the power to declare war lies in the hands of the Congress, not the President.

Photo by glutnix
Gullbringusysla, Iceland
Flanked by missiles, could Bush be folding his hands in prayer?
Photo by choufiphone
San José, Costa Rica
Translation: Mentally ill in service of capital.

Photo by C-Monster
Rome, Italy
Photo by tracymadaj
Melbourne, Australia
Photo by Toots Fontaine
Rosario, Argentina
Joyfully riding a missile — gut protruding, cowboy hat waving — Bush's embodiment of Texan stereotypes is as much the subject of this artist's mockery as the President's flippant attitude toward explosives.

Photo by pablodf
Mito, Japan
Prolific graffiti artist Og Akim shares his rich political artwork at the X-Color exhibit in Japan.

Photo by nattynattyboom
Johannesburg, South Africa
A donkey-eared Bush and his toy tank ponder their next move.

Photo by banter
Israel
Bush is pictured here with Ariel Sharon, Israeli Prime Minister when this photo was taken in 2006.

Photo by greenwonderland
Bangkok, Thailand
Photo by G4Glenno
Bethlehem, West Bank, Palestine
Bush, a United Methodist, tries on some Devil horns in the city of Jesus' birth. On June 10, 2000, the President declared Jesus Day in Texas.

Photo by hazy jenius
Riga, Latvia
Photo by Patient Dinosaur
Victoria, BC, Canada
On a brick wall in Victoria, British Columbia, Bush discusses world domination with Canadian Prime Minister Steven Harper.
(The dialogue references a mid-90s animated television show, Animaniacs, which began airing in Canada late last year.
)
What are we going to do tonight, George?
What we do every night, Steve. Try to take over the world.

Photo by ngawangchodron
Belfast, Northern Ireland
Lyrics to the United States national anthem take on a less hopeful meaning.

Photo by Jamie Rushell
Wroc?aw, Poland
Photo by ChrisJ.
Styria, Austria
Photo by newsrepublic
Zanzibar, Tanzania
Bush mzushi, loosely translated: Bush is a rumormonger.

Photo by Msomi
As voters and the media shift their attention toward the November elections, Bush's reign as one of the most widely loathed political leaders comes to a close.
With fewer than a hundred days before a successor is named, here's to hoping that displays like these will stop appearing — and won't reemerge with the likeness of Senator John McCain.

Laura Copeland is from Modesto, California, a bedroom community consistently ranked one of the country's worst places to live.
The wide-eyed nerd and Peace Corps candidate recently moved to Silicon Valley, where she enjoys lively walks and cutesy photography shoots with her newly adopted dog, Pixel.
Comment! (2) | Recommend!