Thursday. 12.30.10 5:24 pm
Surprisingly, I didn't buy anything special on Boxing Day. Hate the lines, God, the lines. So I waited for post-Boxing Day sales.
Bought a new laptop battery from Amazon online (which I just got today!). Bought a new pair of boots -- wanted a decent pair of leather boots but ended up getting a red and black pair that looks like something a high-schooler would wear -- Not regretting though!haha
Feeling like a bum now that Christmas is over and waiting for New Year's Eve to come. It doesn't help that my school reopens on the 3rd, which sucks major balls. :(
Then again, I shouldn't complain about bumming around. :)
Alrite, off to read your blogs.
<3
frostbitten--
Comment! (4) | Recommend! | Categories: i am so being a bum these days [t]
Wednesday. 12.22.10 11:16 pm
Just finished the last of my finals earlier this evening, around 9:00 I think.
Travelled straight home 10:30
Ate dinner 10:45
Reactivated my facebook and other social networking sites 11:00
Nutang [insert present time here]
Finals was brutal, as always.
Etsy/Gmarket-browsing has kept me and my stationery lust at bay.
Modern Family and How I Met Your Mother has kept me sane.
Now the holidays will keep me busy. :)
Merry Christmas, Nutang! :)
Comment! (4) | Recommend! | Categories: i am so tired [t]
Wednesday. 11.17.10 11:29 pm
No, not Christmas. I meant,
Finals
.
Which is, as we all know, social suicide. :)
You might not hear from me in a while. But I'll be back after I rape those exams. :D
What I Wore Today
V. cool idea to do regularly. Much more creative than plain words on paper.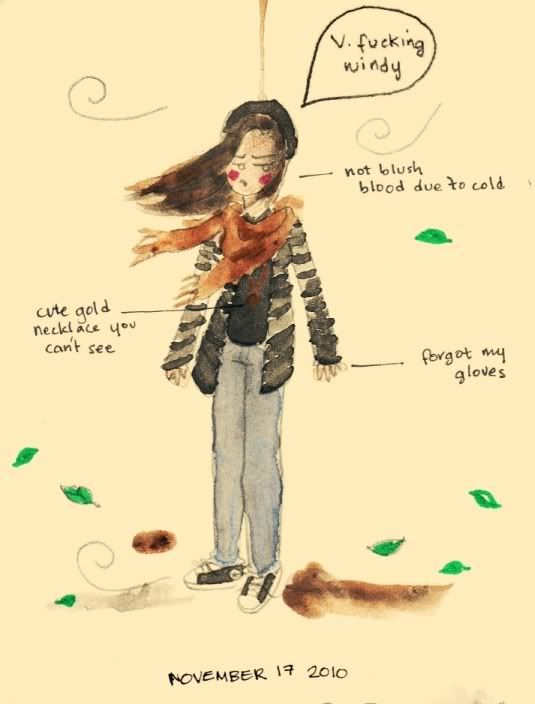 Byers x
Comment! (1) | Recommend! | Categories: my last entry started with THAT [t]
Monday. 11.1.10 1:04 am
It pisses me off when "that friend" pressures me about getting a boyfriend. It's not as easy as walking into a grocery store and picking out your favorite flavour or This Week's Special. (Oh how I wish it were...)
A boyfriend for convenience, that's what I need right now.
Just to shut her up.
Because it's annoying.
She talks like she has a goddamn cock in her mouth.
I don't think she's getting my "I'm-pissed" vibes/ subtle remarks, either.
I just might hire somebody.
Then, she'll be happy, she'll shut the fuck up, I'll be happy, and the heavens will shine upon me.
Comment! (5) | Recommend! | Categories: hiring boyfriend/butler/slave [t]