Sunday. 9.14.08 4:25 pm
In a mix of boredom and trying to teach our daughter, the husband and I started to ask Liz what sounds certain animals make. We went through the normal list like cat, dog, fish, snake, bear, etc. She gets them all right.
Then the braniac husband asks: "What sound does mommy make?"
The child sits there for a minute, thinking hard. Suddenly her mouth opens and she replies:
"NO!!!"
That's my girl.
Comment! (1) | Recommend!
Sunday. 9.14.08 11:33 am
baileylove
is in labor right now!!! I hope she has an easy labor and I can't wait to meet her pretty little girl =)
Sorry, I just had to make it known =) I love babies!
Comment! (0) | Recommend!
Saturday. 9.13.08 11:32 pm
Ugh, I have no wit at 11:30pm.
I'm so thrilled. My douchebag hubby goes back to work tomorrow! YES! Thank you God! This week has been so long and so boring and fight filled.
I got yelled at tonight for being out past 'curfew' of 10. Dude, I WORK UNTIL 10. Kiss the fattest part of my white ass, seriously!
I really have nothing interesting to talk about. I'm just blogging to kill some time before I pass out.
As stupid as it is, I'm really starting to miss someone. Pcht, I'm just an idiot. But I can't help it. Grr to him and his addictiveness.
Enjoy this pointless entry! Woo.
Comment! (1) | Recommend!
Friday. 9.12.08 3:09 pm
It was 10:30 am, and I stepped on the dreaded silver platform. The double 00's flashed to let me know it was working. I closed my eyes, dreading to open them. I squinted at the crystal, daring to look. My eyes popped open when I realized that the number was 10 less than it was when I last stepped on the platform a month ago.
Heck freaking yes. 10 lbs is NOT bad in a month. Now to keep it up. Maybe I can speed it up a bit. No wonder my jeans weren't fitting me right. I thought they just got too worn in. Sweet. Maybe I'll be down a full size by November. That'd be rockin'. Would give me an excuse for a few new outfits before I go on my trip.
I did find a sweater I want. It's beautiful and would look really good on me. Plus this month I get sweaters at 50% off, so it'd be about 15 dollars instead of 30. Yeah!
Yesterday I got to work again. Yes! I was so sick of being home with the douchebag. I didn't feel like being on register though, so I switched with the fitting room girl. It was nice and quiet back there, and I enjoyed myself. Except for 8:55, when a mom and 2 teen girls walked in. They were so rude, ignorant, and total bitches. I wanted to smack them. Plus I wanted to vacuum so we could leave. URGH. Ignorance. I hate it. I took my friend's shift for tonight though, so I get to work again. YES! Thank you god.
I am going to get a lobotomy. My daughter has now requested to watch The Little Mermaid at LEAST 4 times a day. And Jim lets her. Right now I'm listening to it again. God help me.
Its all rainy and nasty out again today. It makes me tired. Plus I'm miffed because when it rains there's no point in straightening my hair, but I hate it when it's curly. I didn't dry it right today because I was being rushed by Jim so we could leave to get his paycheck. Grr. So now I look like a poodle. A 10 lb lighter poodle.
Anyway, I should bow out now. I need to ignore this movie some by playing a game or something.
I love ya & Miss ya much <33333
Comment! (1) | Recommend!
Thursday. 9.11.08 11:37 am
Wednesday. 9.10.08 10:30 pm
between Liz and Jim today, I almost shot myself!!
Jim fought with me twice because I bought Liz new sneakers the other day. Well dear, it's colder out, and she outrew her last pair of sneakers from last winter. What is she supposed to do, wear flip flops in the snow?
We went into Old Navy to return those boots and Liz got into a pissy mood and then Jim got in a pissy mood with me. I gave Liz a timeout in the middle of the mall, and that worked for about 5 minutes. .:.sigh.:. I don't know why I even try sometimes. We went to grab some diapers at Walmart and then went out for dinner with the InLaws. Not that I wanted to go, but ehh. We went to Old Country Buffett (gag) but at least I got that huge salad I was craving from last night. An $11 salad. Shit.
Then we went over to my Brother In Law's house and I just stood around being bored. We stayed for about an hour and then left. Gah I hate boredom.
Came home and gave Liz a bubble bath. Now she's asleep in bed next to me. I hate when she falls asleep with me, cuz I hate to transfer her to her bed. She looks so peaceful, maybe I'll make Jim sleep on the couch or in the spare bed. That'd be lovely.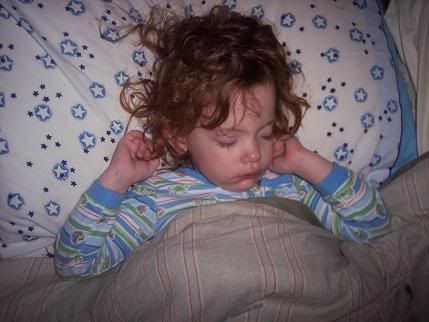 Poor girl has been complaining about her mouth and belly all day. I hate when she cuts teeth, but there's nothing I can do. I hate that "I can't do anything" defeat feeling. It's one of the shittiest mom feelings!
Anyway, it's getting late and I need to get a drink and some advil or tylenol. I have a heckofa headache comming on again. I can never win
Comment! (0) | Recommend!