Economic Stimulus Payment Calculator
Tuesday. 5.13.08 4:24 pm
How many of you are like me and are extremely confused about the Economic Stimulus refund check? Some people say you are going to get $300 or $600 but no more than $1200 for people filling joint. But then there was this girl that filed as a single person and received $350. Where does the $50 come in? I thought I was only getting $600 but now my sister says that I might be getting $1500. How is this possible?? Click
here
for more info on how to understand the calculation.
Well for all of you that are confused like me, I have discovered the
Economic Stimulus Payment Calculator
! The IRS published it on one of their websites. Just have your
1040 ready and answer the questions that follow. At the end you will be informed of your refund amount. It is that simple.
Well once you know how much you are getting, when will you get it? Once person told me that they were going alphabetically. Then someone else said that it is the last two digits of your social security number. Then there is also the issue of whether you filed with direct deposit or paper check. Here is the link for the
disbursement schedule
.
I hope this helps to clear up some confusion for my readers as it did for me. Feel free to share the website with your curious and confused friends as well.
Comment! (10) | Recommend! (3) | Categories: Bush [t], Tax refund [t], economy [t], economic stimulus [t], payment calculator [t]
Twilight is done filming!!
Friday. 5.9.08 12:57 pm
The movie is coming out this December and the making of the movie is totally awesome. They have
Stephanie Meyer
on set to help with keeping to the original story line. Both Robert Pattinson and Kristen Stewart show some chemistry on the set. I fell in love with their romance through the book and I was not sure how it would all play out on set,
but it looks pretty good
.
The cast totally rocks! Check out the
mtv website
.
Comment! (8) | Recommend! | Categories: Twilight the movie [t], stephanie meyer [t], vampire [t], Robert Pattinson [t], Kristen Stewart [t]
Wednesday. 4.16.08 1:47 am
I am not going to do any advertising for apple. I just simply want to say that I love my apple tv. It is not like a TV but is like a little computer that is hooked up to your tv. I watch my itunes stuff on there. I can also surf wirelessly through you tube videos and watch them on my tv. I can watch all of the Naruto episodes on you tube and even catch up on American Idol! That's what makes it fun. It is my new toy and I love it.
Comment! (7) | Recommend! | Categories: APPLE TV [t], MAC [t], APPLE [t], youtube [t], American Idol [t]
I think I am finally over the shock
Sunday. 4.6.08 10:29 pm
Saturday morning I was going to drop off my son at his fathers place. On my way there at 8:15 am, I see my downstairs neighbors and their little baby. They were so happy that he is now beginning to walk. I really dont know the people in my building. I try to keep to myself. I know everyone by face but I dont go out of my way to know everyone. Anyhow this guy coming in to the building wanted to pass by me and therefore I looked up from the baby on the floor to move to the side. Just then the passerby says, "Hi and my name". I said, Hello.
TO MY SHOCK
the passerby was my boss. I dont like my boss, the male one, very much. I was so happy to move from under his nose over to another part of the campus and now the faucker LIVES in my building. I escaped him at work and now he is where I LIVE AND BREATHE!!! I cant get over it.
It is now sunday.... I spoke to my neighbor and co-worker and she told me not to worry about it and just ignore him. I think I can do that. I think I am kind of over the shock.
Comment! (8) | Recommend! | Categories: work [t], boss [t], nutang [t]
Sunday. 4.6.08 3:26 am
I was always curious what people would find if they were to google me. Surprisingly enough, Nutang got me listed on google. When I type in my name, my nutang blog comes up. That is so awesome! Thanks Nutang!
Comment! (4) | Recommend! | Categories: google [t], Nutang [t]
Friday. 4.4.08 5:23 pm
Today we had our classified employee day. We have a cart parade where each division/department creates a theme and decorates a work cart. This year we did Alice in Wonderland. It was so cute and creative. We had some of the staff dressed as cards and others were main characters. I was the photographer. Here are some of the pictures. KEEP IN MIND... THESE ARE MY CO-WORKERS.
Here are the characters: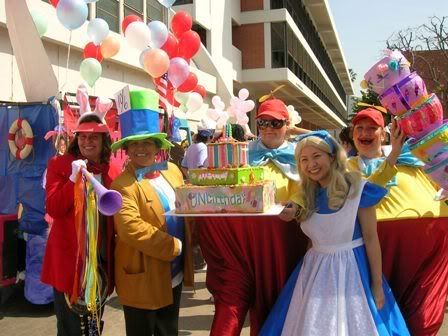 These are the cards and Alice being silly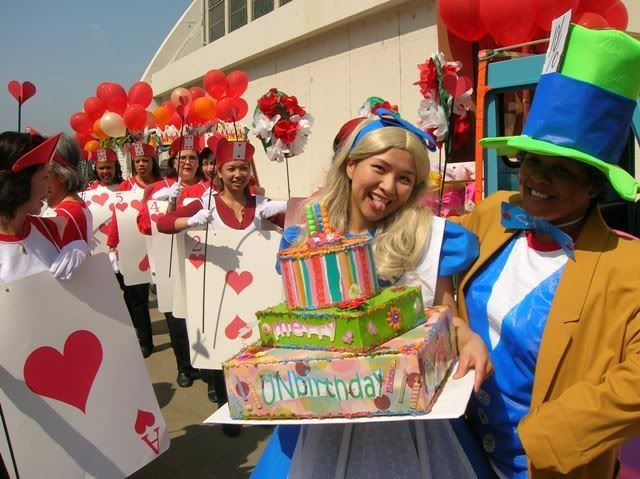 Finally, I got in on the action!!!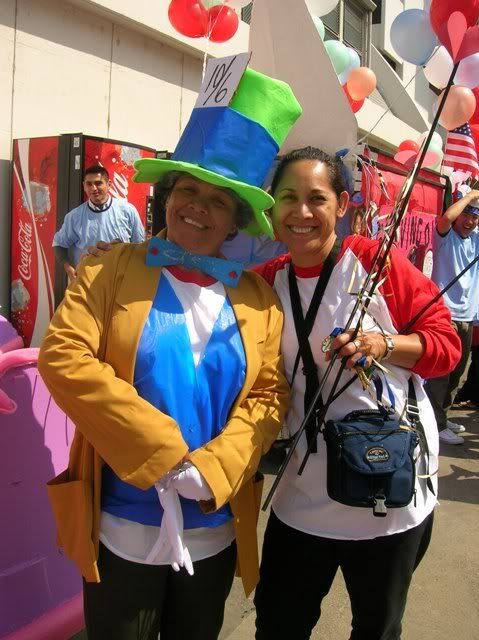 Comment! (3) | Recommend! | Categories: Classified [t], employee [t], alice in wonderland [t]
Friday. 3.28.08 7:35 pm
I am normally opposed to posting videos on my blog but this one is so original. It is a video of a spontaneous musical in a public place. This was done at a mall in my city.
Food Court Musical
from
ImprovEverywhere
on
Vimeo
.
Comment! (13) | Recommend! (3) | Categories: musical [t], mall [t], spontaneous [t]
Thursday. 3.27.08 5:14 pm
I was reading someones random blog in blogger and saw this picture of a pizza. I immediately got hungry and ordered me a pizza. Doesn't this make you just want one?
Comment! (5) | Recommend! | Categories: dominos [t], pizza [t], lunch [t]