Sunday. 6.8.08 12:19 pm
hello
mr tickle
is back from a movie!
hah, gathered a group of fun loving classmates to catch " Kungfu Panda".
the movie is not too bad luh.. kinda funny too.
and the popcorn is sucky, bloodly hell gave us such small pieces.
how am i suppose to eat like that.
cause they gave us while the popcorn that they are selling is about to finish.
oh well introducing
Kungfu Panda
!
shall also learn kungfu one day. heh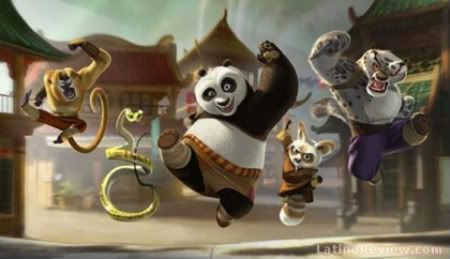 oh and the next movie i'm gonna watch is the prom night.
the movie trailer looks kinda cool.
but heard from a friend that the movie is badly rated. how sad..
oh well... i still wna watch cause there is a prom night. hah
my favourite event in secondary school life.
then i can be the prom king * dream on dick-head* LOL
oh yes and its 12.30am
gonna wish
Delong
a very
Happy Bitchy Bitch Birthday
!
having dinner with them later this evening at Raffles City.
and the next day i'm off to KL. hahahaaa
oh well, i clubbed yesterday and thats bad..
promise myself not to but the temptation luh... Grrrr.
okay i'm kinda sleepy now. *yawnnnn* shall stop blogging now.
i'm looking forward to each and every tomorrow.
Goodnight People and have a Great week ahead!
Comment! (2) | Recommend!
Cleveland's Next Top Model
Saturday. 6.7.08 9:25 am
laugh my ass off after i watched this video.
they're trying to learn from ANTM but in a stupid funny way.
my favourite part :
do you want it? YES I WANT IT
. *laughs*
my favourite part :
my nipples' cold, ohh its about to crack off. NIPPLES COLD
Comment! (2) | Recommend! (2)
Saturday. 6.7.08 3:17 am
morning people... yawnnn
i suddenly feel like eating hot pancakes with blueberry toppings and honey.
sighhh miss my breakfast everyday. unbalance diet. tsk tsk
anw today is a special day for someone.
while but dont even know is he coming back to singapore today.
he is no other then
Andy
.
well today is his 17th birthday and i've got him the latest BVLGARI perfume.
Happy Bitchy Bitch Birthday little boy.
you're still younger then me.. be good and stop going lan that often!
yeah anw im leaving to KL 3 days time. kinda excited though. hah
i have to work out real soon after my o levels.
need motivation
!
anw recently went to celebrate Nicole's birthday!
here are some of the random pictures taken. *laugh*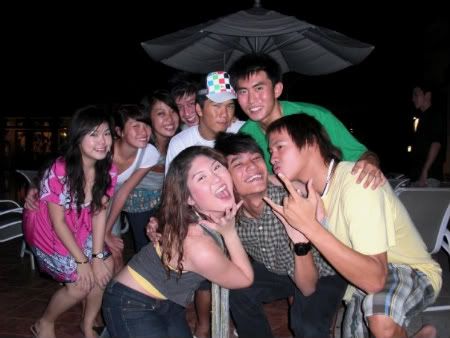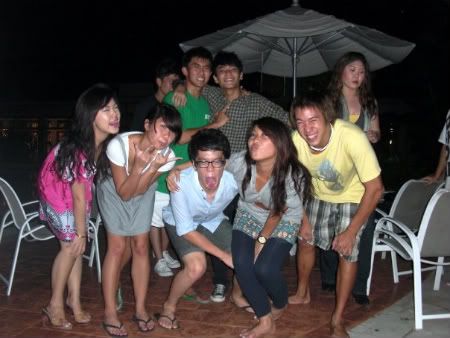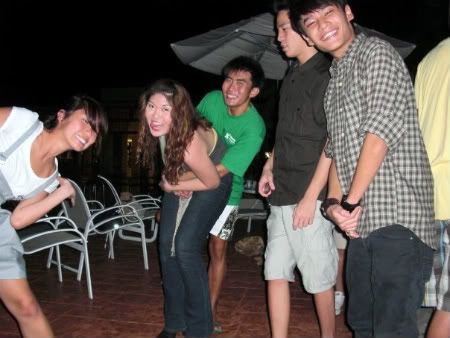 haha anyway any swim lovers out there! wna go out for a swim...
oh well GOODBYE...
Comment! (0) | Recommend!
Friday. 6.6.08 4:07 am
for those who havent heard this song,
its time for you to check this out now,
those who heard before, well
good for you
then...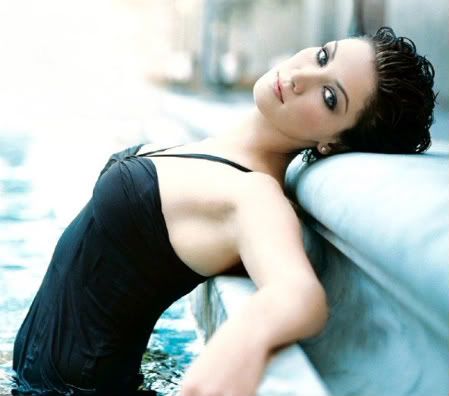 Delta Goodrem. the winner of Australia idol if i am not wrong.
I'd lost my faith in love, tonight i believe again
My Heart was a broken place, now i feel whole again
You bring my honesty and that's worth believing in
and i believe ; I believe again

I believe the impossible is possible to overcome
I believe in miricles
Born from love in everyone
watch Delta Goodrem's music video in youtube now!
Comment! (9) | Recommend! (2)
Thursday. 6.5.08 12:05 pm
hello hello hello
..
bitchy bitch Liyun suggested to take some pictures today.
together with little boonchew. heh
the worst part was there were fucking hell lots of bitchy mosquitos in the forest,
sucking my fresh blood like it was for free.
but the fun and exciting part was the old retro train which ran pass us.
jus a few distance away.
we were just standing right inside the track
while we heard something from the back
we got nervous and we ran off the track like its the
end off the world
! haha
can't imagine if we're stuck in the track!
we would be so famous in the paper or on the tv news.
three little bitchy bitch lying deadly on the track out of no where.
with their head, legs, hands and every part of their body were dislocated.
fun & amazing experience though!
these are few of my favourite pictures. more on liyun's blog.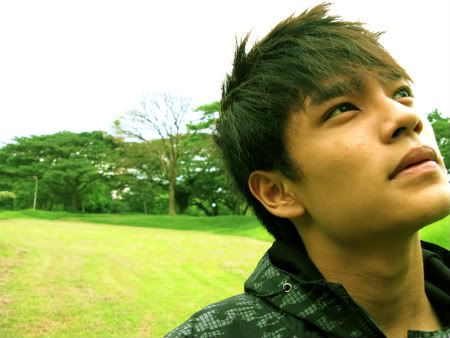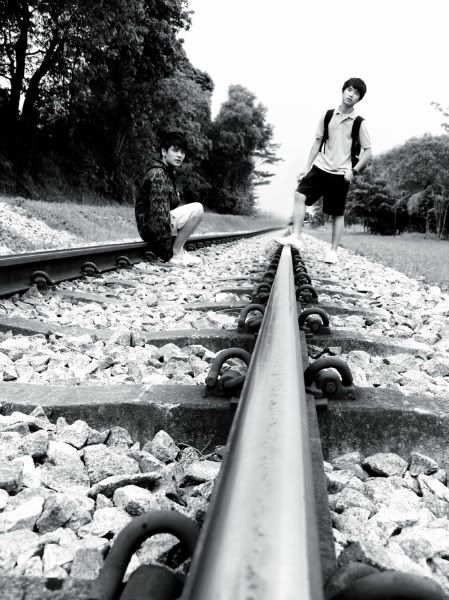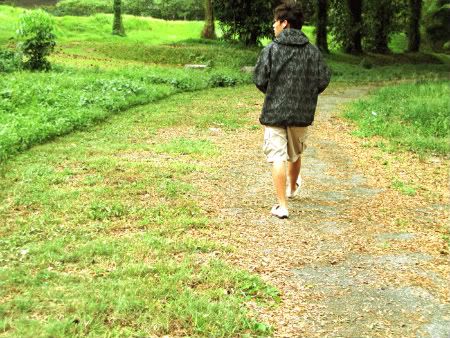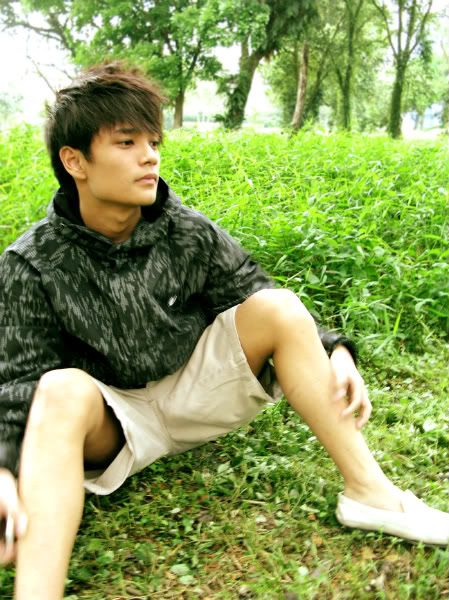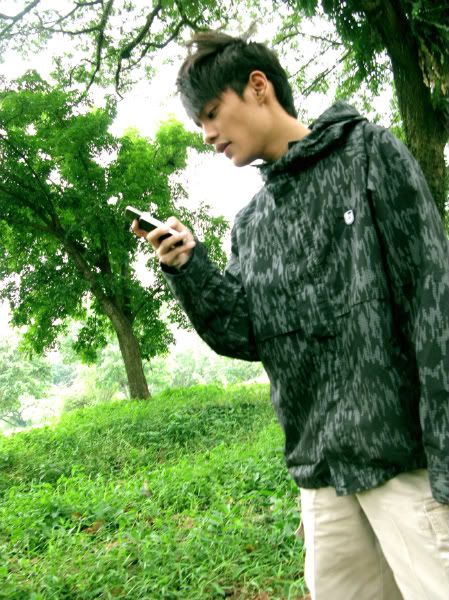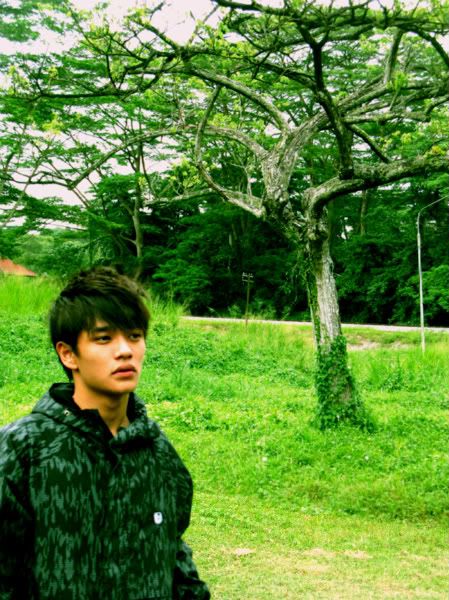 Comment! (5) | Recommend!
Tuesday. 6.3.08 9:05 am
i'm down with a bad flu this afternoon.
look how crappy it can get... *sneeze*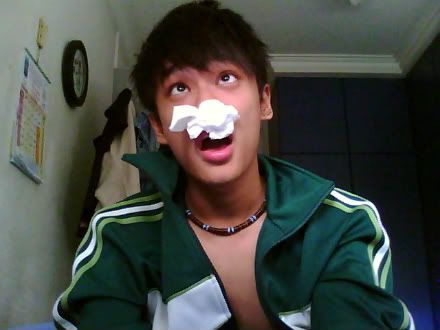 Its confirmed that we're having our geo trip over at KL.
hahahaha and we'll be also staying in a 5 start hotel "Blue Wave Hotel".
kinda excited bout this trip. will be having so much fun with my classmates!
gonna take lots of nature pictures over there. heh
and the best part is the FOUR WHEEL DRIVE thingy.
hope i can drive into the river.... okay impossible
but i don really have a huge bag to store all my clothes. hmmmm
anway its on the 10th-13th. my very last trip with my secondary school peeps.
anyway i'm so bored at home. feel like going out just now but was too lazy.
suggested to liyun we should go midnight jogging.
but she suggested we should head to sentosa to see the sunrise.
liyun i'm so hot already still wna see the morning sun for what fuck! LOL
im much hotter then the sun dont you get it?
yeah right.
still my flu aint getting any better. haha
derrick at least a much better expression then the previous one please?
almost there
-alright shall be going for a midnight photography with liyun later.
AH-DI-IOS
Comment! (1) | Recommend!