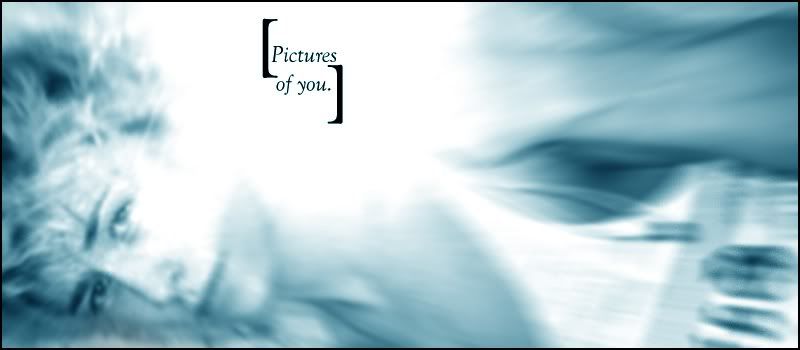 Spring Semester 2010:

* Teaching: Fundamentals of Microbiology - MW 12:00-2:40p
Medical Microbiology - TR 2:00-3:15p
Colloquium in Cell and Molecular Biology - R 3:30-4:30p
Thesis Research - Identification of T Cell Subsets and Immune Response in Colon Cancer Using Immunofluorescence - FOREVER AND EVER

Or rather, entries from the old journal, as it were...

-

An open letter to the College.

(August 27, 2006)

-

Untitled.

(July 16, 2006)

-

Haunted (Part One)

(May 29, 2006)

-

Are we growing up, or just going down?

(May 3, 2006)

-

I had a dream...

(March 19, 2006)

-

...

(March 14, 2006)

-

Enjoy it while it lasts.

(September 12, 2005)

-

Scene: 3:27 AM.

(September 3, 2005)

-

Untitled.

(July 26, 2005)

Psst... if you're looking for the academic writings I used to have here, head to my Reading Room.

Since June 2006...

- A Heartbreaking Work of Staggering Genius by Dave Eggers
- High Fidelity by Nick Hornby
- Travesties by Tom Stoppard
- The Way of the Shaman by Michael Harner
- The Tao of Pooh by Benjamin Hoff
- Nervous Conditions by Tsitsi Dangarembga
- The History Boys by Alan Bennett
- The Dark Child by Camara Laye
- Movie-Made America by Robert Sklar
- Diary by Chuck Palahniuk
- Rant: An Oral Biography of Buster Casey by Chuck Palahniuk
- Galapagos by Kurt Vonnegut
- The Dead Emcee Scrolls by Saul Williams [61.3%]
- Atonement by Ian McEwan
- Junk Science: An Overdue Indictment of Government, Industry, and Faith Groups that Twist Science for Their Own Gain by Dan Agin, Ph.D. [64.4%]
- So Yesterday by Scott Westerfield
- Lucky Wander Boy by D.B. Weiss
- The Things They Carried by Tim O'Brien
- Doctor Who: The Key to Time: A Year-by-Year Record by Peter Haining
- Why Buffy Matters: The Art of Buffy the Vampire Slayer by Rhonda Wilcox
- When You Are Engulfed in Flames by David Sedaris
- The Road by Cormac McCarthy
- 1984 by George Orwell [18.8%]
- Nick and Norah's Infinite Playlist by Rachel Cohn and David Levithan
- Intuition by Allegra Goodman
- V for Vendetta by Alan Moore and David Lloyd (Yes, I realize it's a graphic novel but it still fucking counts!)

Friday, October 24, 2008 @ 1:19 am

Plenty of drunks talking on their mobile phones outside my window tonight.

Comment! (5) | Recommend!

Thursday, October 23, 2008 @ 5:38 pm

Rarely do I ever think I got 100% of the questions correct on a test, but I'm feeling that way today. Hopefully my instincts are right.

In other news, the laundry situation is getting pretty grim. My hamper is morbidly obese and the underwear situation is getting dire. I can make it through tomorrow, but no longer. After class tomorrow, I absolutely MUST get the laundry done or I won't have anything to wear to a gathering I'm going to tomorrow evening.

Hopefully, Jenny invites some

easily-seduced

guys to her condo as well, because I do NOT want to bust out my new clothes if it's going to be a total vag-fest. Maybe Wes will be there? She told me that when they were studying virology together, he lamented the fact that I wasn't in that class. Oh, man. If we're in a class together next semester--one that actually has midterms and whatnot (because our Advanced Topics class is all papers and presentations)--he may not leave me alone ALL SEMESTER LONG. I emphatically do NOT do the group study-thing; I do not learn that way.

Well, it's still about 87 degrees out and I'm drained from sitting out in the heat and studying this afternoon. It was kinda nice having the warm air today, but it felt completely out of place, especially with the darkness appearing earlier and earlier these days. I think we need another nice rainstorm, however temporary.

Comment! (2) | Recommend!

Thursday, October 23, 2008 @ 7:16 am

I guess my neighbor sleeps with his window open, too, because I can hear his cell phone alarm going off every five minutes since about 6:45 this morning. It's a really strange tone to wake up to: a cross between elevator music and a 50's-era tropical-themed party. I was thoroughly confused when I woke up (to my own alarm) and heard that music drifting in after I turned it off.

Come on, guy. Wake up already!

Comment! (4) | Recommend!

Two things that should be illegal. [EDITED]

Wednesday, October 22, 2008 @ 7:16 pm

-

Scheduling a major exam two weeks after the last major exam.

This is what's happening in physiology. I have

another

test tomorrow, I haven't yet prepared, but I think it's going to be pretty easy. There has only been three classes between the last test and this one, so there isn't too much material to go over. Still, having the exam in the first place is a cause for mild panic in itself.

-

Attractive men walking around shirtless, regardless of how nice the weather is.

I tripped over a curb this afternoon on my way to class because a very attractive younger guy (probably 20, I'm guessing) walked by without his shirt. I understand that he must have just come from the gym/sports practice, and that the weather is nice, but seriously--people can get injured from the distraction! It's a safety hazard!

That's all I've got today. Time to start studying?

EDIT:

I absolutely adore the wonderfully charming Scottish actress, Ashley Jensen. Here's a great clip of her and Ricky Gervais (who is fucking amazing in his own right) from the BBC/HBO joint endeavor, Extras

:



Comment! (2) | Recommend!

Wow, they weren't kidding.

Tuesday, October 21, 2008 @ 4:37 pm

So the fellowship is valued at anywhere from $500 to $4000 per year (yearly reapplication required). They really weren't kidding about that $500 thing.

So I got it, but it was only $500. Still better than nothing. I guess I didn't do a good enough job of convincing them that I

really

need the money. Oh well, there's always next year. That $4000

will

be mine!!!

Comment! (3) | Recommend!

Monday, October 20, 2008 @ 11:30 am

Sometimes, I forget that I have a scar on my chin from when I was a child. I don't even remember really how I got it. Wounds that scar over are often quite painful and sometimes you might think you'll never really forget that pain. And on some level you don't. But when you look into the mirror every day, over time you begin to forget that the scar is there and it begins to fade into the background and then it so happens that you start to forget how exactly you got it in the first place.

Maybe that's a good thing.

Comment! (6) | Recommend!

Sunday, October 19, 2008 @ 10:25 pm

I might have found a new hag. Our brainwaves are already in phase and it's pretty early on in our friendship. And--she also recognizes the giant academic crush that Wesley has on me. I mentioned it to her and she was like, "OH yeah. DEFinitely."

I like where this is going.

Comment! (2) | Recommend!

Sunday, October 19, 2008 @ 1:19 pm

Remember a few weeks ago I posted about wanting to apply for the certificate program in post-secondary education? Well, I thought about it some more and decided to hold off on actually entering the program. I'm trying to find out if they will allow me to take the classes without actually being enrolled in that certificate program. Basically, I'm worried that I might actually not have the time to complete the program before I finish everything for my M.S., and I'm not willing to stay an extra semester just to finish those requirements, nor am I willing not to complete the certificate program when I said I would. The best solution I've come up with is to take a few of the classes--particularly ARP 611 (Curriculum Development and Theory in Post-Secondary Education) and ARP 730 (Seminar in Adult Learning)--just to get some theoretical background into teaching at the community college level. Then, if I determine that I have enough time, I'll go ahead and take the other two classes for the certificate.

The main thing that's changed between when I first wrote about this a few weeks ago and now is that I've been thinking that I want to really load up on the electives for my M.S. I certainly don't need all of them because like I said, I'm more than halfway done with the requirements for the M.S. as we speak. But, I've been thinking about the Ph.D. more, and in particular the fact that I will most likely have to take the GRE subject exam in Biochemistry, Cell, and Molecular Biology, so I want to take more classes to fill in my gaps of knowledge. (I realize that I could just study on my own, but knowing me, without the structure of an actual class, that studying will somewhat fall apart until about one week before the exam and then I'll be up for practically 168 hours straight trying to cram all that lovely knowledge into my brain.)

I think it's important to keep this sort of flexibility open when planning your future. Just because of how I operate, I need to know that I'm working towards something concrete, and I need to plan out all the necessary steps to get there. I make changes like this along the way because even though I like having everything planned out, I paradoxically detest any sort of rigid schedule. So basically, I need a specific destination, and a roadmap on how to get there, but if I decide the scenery is too dull on my drive up, I like the option to take a more interesting detour.

Incidentally, this is also why a roadtrip with me would probably be a great adventure.

* * *

Righty-o. It's Sunday, which as we all know is not the day of rest. I've got a few things to attend to, then it's off to the bar to

watch some football and drink heavily

get together with my presentation group to discuss this paper we're presenting. I do cherish this time we spend together.

Comment! (1) | Recommend!