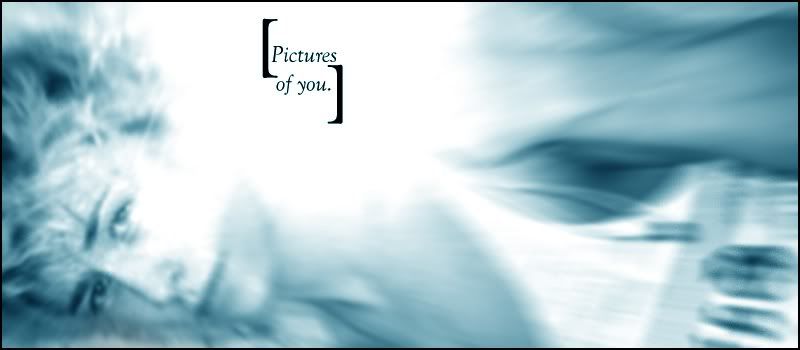 Spring Semester 2010:

* Teaching: Fundamentals of Microbiology - MW 12:00-2:40p
Medical Microbiology - TR 2:00-3:15p
Colloquium in Cell and Molecular Biology - R 3:30-4:30p
Thesis Research - Identification of T Cell Subsets and Immune Response in Colon Cancer Using Immunofluorescence - FOREVER AND EVER

Or rather, entries from the old journal, as it were...

-

An open letter to the College.

(August 27, 2006)

-

Untitled.

(July 16, 2006)

-

Haunted (Part One)

(May 29, 2006)

-

Are we growing up, or just going down?

(May 3, 2006)

-

I had a dream...

(March 19, 2006)

-

...

(March 14, 2006)

-

Enjoy it while it lasts.

(September 12, 2005)

-

Scene: 3:27 AM.

(September 3, 2005)

-

Untitled.

(July 26, 2005)

Psst... if you're looking for the academic writings I used to have here, head to my Reading Room.

Since June 2006...

- A Heartbreaking Work of Staggering Genius by Dave Eggers
- High Fidelity by Nick Hornby
- Travesties by Tom Stoppard
- The Way of the Shaman by Michael Harner
- The Tao of Pooh by Benjamin Hoff
- Nervous Conditions by Tsitsi Dangarembga
- The History Boys by Alan Bennett
- The Dark Child by Camara Laye
- Movie-Made America by Robert Sklar
- Diary by Chuck Palahniuk
- Rant: An Oral Biography of Buster Casey by Chuck Palahniuk
- Galapagos by Kurt Vonnegut
- The Dead Emcee Scrolls by Saul Williams [61.3%]
- Atonement by Ian McEwan
- Junk Science: An Overdue Indictment of Government, Industry, and Faith Groups that Twist Science for Their Own Gain by Dan Agin, Ph.D. [64.4%]
- So Yesterday by Scott Westerfield
- Lucky Wander Boy by D.B. Weiss
- The Things They Carried by Tim O'Brien
- Doctor Who: The Key to Time: A Year-by-Year Record by Peter Haining
- Why Buffy Matters: The Art of Buffy the Vampire Slayer by Rhonda Wilcox
- When You Are Engulfed in Flames by David Sedaris
- The Road by Cormac McCarthy
- 1984 by George Orwell [18.8%]
- Nick and Norah's Infinite Playlist by Rachel Cohn and David Levithan
- Intuition by Allegra Goodman
- V for Vendetta by Alan Moore and David Lloyd (Yes, I realize it's a graphic novel but it still fucking counts!)

Thursday, October 30, 2008 @ 8:41 am

So tired, so tired, so fucking tired... but it's Thursday so I need to make it through all of my classes, then I need to stay awake through

The Office

and

30 Rock

(at the very least) because I could use some comedy right about now.

Ugh, I've been feeling anhedonic as of late. I think it's sleep deprivation-induced. And it's even more tiring having to fake pleasure or happiness in social situations so people don't ask you "What's wrong?"

Oh, nothing. I'm just so tired that I can't feel any sort of joy right now. That's all.

But I'd rather fake it than have people actively trying to cheer me up and thinking that I'm clinically depressed. I'm not.

Oh, well. I'm sure I'll pass out quickly tonight and sleep for a long time. As long as I can drag my carcass out of bed for my one 50-minute class on Friday, it will be fine, because then after that I can sleep some more. Halloween? Fuck that. It's sleepy time.

And then the work continues...

Comment! (1) | Recommend!

Wednesday, October 29, 2008 @ 2:12 pm

Because that's the next day when I won't have to worry about any upcoming exams/projects/papers/presentations during the following week...

Oh, and then it'll be 2 weeks from Thanksgiving! See, November 14 looks better and better with every passing moment...

Back to critically evaluating a recently-published paper...

:(

Comment! (2) | Recommend!

Tuesday, October 28, 2008 @ 4:36 pm

Il ballo del mattone

by Rita Pavone:

I forgot when I first heard this song--sometime in the earlier part of undergrad--but I loved it immediately!

Lyrics and rough translation (done by me using my romance language cognate skills and my trusty used Italian dictionary) can be found

here

.

Comment! (2) | Recommend!

Situation: back to normal.

Tuesday, October 28, 2008 @ 8:12 am

I know that I can only eat freshly-caught shrimp but I go ahead and eat the farmed stuff anyway. Well, this is what I get for turning my back on common sense--a day of running to and from the bathroom and the obliteration of my so-far perfect class attendance record this semester. It's fine. I'll live.

At least it's over (I think) and things can return to normal. Good timing, too. Lots to do, and no time for excessive restroom trips.

Anyone know where I can get fresh shrimp around these parts?

Comment! (1) | Recommend!

Monday, October 27, 2008 @ 8:50 pm

Cereal is good when you can't cook yourself a

real

breakfast due to lack of materials or time, but the one thing that pisses me off about cereal--particularly any of the jagged flaky varieties--is that the contours of the flakes sometimes make the milk fly out of the bowl and onto the counter/floor/exposed feet and it drives me absofuckinglutely mad!

Comment! (3) | Recommend!

Death by scientific journal article.

Monday, October 27, 2008 @ 7:38 am

No joke, this paper has put me to sleep each of the 6 times I have started to read it. I fear if this continues, I will pass out and never awaken.

The subject material itself is interesting, but the way the authors wrote the article is so...dense, as if they spend most of the time trying to convince

themselves

that they have it right. And that doesn't exactly inspire confidence on my part.

Back to reading. Hopefully I don't die this time around.

Comment! (1) | Recommend!

Saturday, October 25, 2008 @ 3:55 pm

So last night was fun. My classmate/presentation partner threw a party and the food was really good. We had some curries and this egg and tomato dish and stir-fried vegetables...and plenty of booze. The only un-fun part of the evening was when one of her labmates got super drunk within an hour (I shit you not) and started projectile vomiting off her balcony to the driveway below. Thrice. He proceeded to pass out in the hallway. Then, a couple hours later, he woke up and he belligerently insisted that he could drive himself home. Right. So basically, he killed the mood and everyone got serious (and don't get me wrong--rightly so) and tried to stop him. Then he fell down a few steps on the stairs on his way out. We physically blocked the exit until he relinquished his car keys to somebody else to drive him home. What makes people lose it that quickly and have their judgment go that much to shit honestly makes no sense to me. He's a Master's student and he's older than me and I feel like that was some pretty high school/early-college shit he pulled last night and I can't imagine why anyone would choose to get that completely wasted voluntarily within the span of one hour.

Anyway, after he left, most of the other people left too because most of the fun was sucked out of the room. A few of us stayed behind and blazed up on the balcony after midnight. I couldn't leave at that point (I'm not going to be

that

guy who drives under the influence of

anything

; there are enough of those people who go to my school) so I just slept on the couch. I feel like I really bonded with these relatively new faces and I'm starting to settle into my social niche here in San Diego.

I slept for about 4 hours before waking up this morning to head home. From about 8:00-12:00, I was wide awake in my apartment, cooking/eating, vegging in front of the TV, and pretending to read journal articles. Then I passed out for about 4 hours--compensation, I guess. I'm behind on my work now--I had told myself that I would make significant headway on Saturday on this paper for Advanced Topics--but I'm satisfied with the way things turned out. You know what they say: all work and no play...

Comment! (3) | Recommend!

A friend in need is a friend indeed...

Saturday, October 25, 2008 @ 8:29 am

...a friend with weed is better.

I went to sleep early this morning with a bad case of the munchies. Now that I'm awake, I feel the hunger just the same. I need to make some breakfast. And it's gotta be HUGE.

Comment! (2) | Recommend!