Sunday. 6.22.08 3:27 pm
im back to school in like 2 hours time?
cant even force myself to sleep.
fuckedddddddd up!
Comment! (0) | Recommend!
Saturday. 6.21.08 6:15 pm
You're an Expert Kisser


You're a kissing pro, but it's all about quality and not quantity

You've perfected your kissing technique and can knock anyone's socks off

And you're adaptable, giving each partner what they crave

When it comes down to it, your kisses are truly unforgettable

Comment! (4) | Recommend!
Saturday. 6.21.08 6:42 am
i was bloody pissed today.. due to some friend's problems.
and the worst part is i answered almost everyone of the question,
until the fucking last question, my lappy went down on me! Urghhhh
anyway I was being tagged by Pam.. haha
those who are bored, you guys can kill your time by answering these questions
#1. If your lover betrayed you, what will your reaction be?
- Let the person be, there's nothing much i can do.
#2. If you can have a dream to come true, what would it be?
- Be a fucking rich dude.
#3. What will your dream wedding be like?
- Errr..why on earth do i dream about wedding, not interested.
#4. Are you confused as to what lies ahead of you?
- Duhhhhh
#5. what's your ideal lover like?
- Jessica Alba.. burning hawt!!!
#6. Which is more blessed? Loving someone or being loved by someone?
- Being loved by someone i guess?
#7. How long do you intend to wait for someone you really love?
- Depends, as long as i get sick of the person..
#8. If the person you secretly like is already attached, what would you do?
- Moved on and don be a loser, there's many peeps out there to choose from. hah
#9. Is there anything that has made you unhappy these days?
- Bloody GCE O level kept bugging me..
#10. Is being tagged fun?
- Oh well not too bad but some questions are kinda lame. for example this one!
#11. How do you see yourself in 10 years time?
- Even HOTTER, rich and famous... muahahaha
#12. Who are currently the most important people to you?
- Family and Buddies
#13. What kind of person do you think the one who tagged you is?
- Hahaha.. Really Helpful, awesome personailty, emotional at times i guess and unique
#14. Would you rather be rich and single or married but poor?
- Rich and single. I could do some hooking up every now and then. hah
.#15. What's the first thing you do every morning?
- Planning what to do after that/
#16. Would you give all in a relationship?
- Depends. But i love myself more then loving someone else.
#17. If you in love with 2 people simultaneously, who would you pick?
- The one im most confortable with.
#18. What type of friends do you like?
- Trustworthy, outgoing, always be there for me 24/7, open minded..
#19. What type of friends do you dislike?
- Stingy, look down on people, high ego and bitching about people realise that the person actually know nothing.. This sounds so bimbo, like writing a Primary school Diary..
Comment! (6) | Recommend!
Saturday. 6.21.08 5:20 am
Thursday. 6.19.08 1:59 pm
cant stop myself from laughing.
oh well its kinda lame though.. hah
i will hunt you down!
bianggg!
Comment! (0) | Recommend!
Thursday. 6.19.08 10:04 am
just got out from bed yesterday. yawnnnn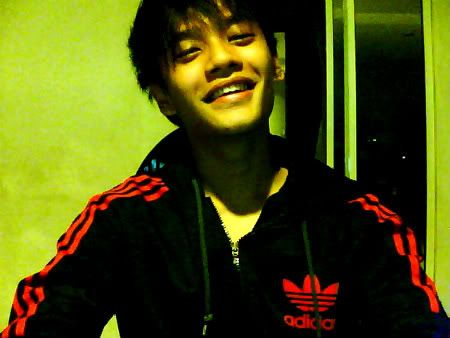 hey, im back home early today.
have been going kbox this past few days.
having a strong urge to sing chinese song. LOL
oh well, tmr there will be a simple photoshoot.
our own photoshoot i mean. theme is
COLOURS
!
heh its gonna be funny and interesting though.
hope it will turn out awesome.
i'm super sad right now, like totally.
sad sad sad......
why? cause weekend is about to end real soon.
and i'm back to school next monday. sighh..
wanted to have my lips pierce but schools re-opening.
so i'll just have to wait after o levels.
gonna be a busy weekend.
club, concert, photoshoot, birthday party, haircut.
worst of all, my holidays' homework is not done! holy crap.
fuck myself. i jus wna bloodly enjoy my last week of holiday!
hope you'll have a pleasant weekend ahead!
goodbyeeeeeee
Comment! (0) | Recommend!