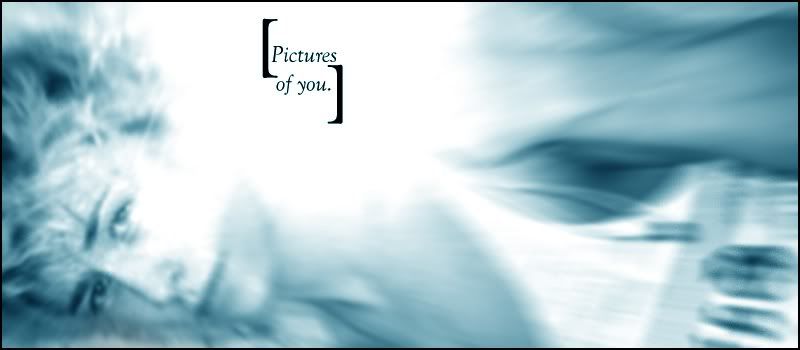 Spring Semester 2010:

* Teaching: Fundamentals of Microbiology - MW 12:00-2:40p
Medical Microbiology - TR 2:00-3:15p
Colloquium in Cell and Molecular Biology - R 3:30-4:30p
Thesis Research - Identification of T Cell Subsets and Immune Response in Colon Cancer Using Immunofluorescence - FOREVER AND EVER

Or rather, entries from the old journal, as it were...

-

An open letter to the College.

(August 27, 2006)

-

Untitled.

(July 16, 2006)

-

Haunted (Part One)

(May 29, 2006)

-

Are we growing up, or just going down?

(May 3, 2006)

-

I had a dream...

(March 19, 2006)

-

...

(March 14, 2006)

-

Enjoy it while it lasts.

(September 12, 2005)

-

Scene: 3:27 AM.

(September 3, 2005)

-

Untitled.

(July 26, 2005)

Psst... if you're looking for the academic writings I used to have here, head to my Reading Room.

Since June 2006...

- A Heartbreaking Work of Staggering Genius by Dave Eggers
- High Fidelity by Nick Hornby
- Travesties by Tom Stoppard
- The Way of the Shaman by Michael Harner
- The Tao of Pooh by Benjamin Hoff
- Nervous Conditions by Tsitsi Dangarembga
- The History Boys by Alan Bennett
- The Dark Child by Camara Laye
- Movie-Made America by Robert Sklar
- Diary by Chuck Palahniuk
- Rant: An Oral Biography of Buster Casey by Chuck Palahniuk
- Galapagos by Kurt Vonnegut
- The Dead Emcee Scrolls by Saul Williams [61.3%]
- Atonement by Ian McEwan
- Junk Science: An Overdue Indictment of Government, Industry, and Faith Groups that Twist Science for Their Own Gain by Dan Agin, Ph.D. [64.4%]
- So Yesterday by Scott Westerfield
- Lucky Wander Boy by D.B. Weiss
- The Things They Carried by Tim O'Brien
- Doctor Who: The Key to Time: A Year-by-Year Record by Peter Haining
- Why Buffy Matters: The Art of Buffy the Vampire Slayer by Rhonda Wilcox
- When You Are Engulfed in Flames by David Sedaris
- The Road by Cormac McCarthy
- 1984 by George Orwell [18.8%]
- Nick and Norah's Infinite Playlist by Rachel Cohn and David Levithan
- Intuition by Allegra Goodman
- V for Vendetta by Alan Moore and David Lloyd (Yes, I realize it's a graphic novel but it still fucking counts!)

Potential advisor! [BONUS MATERIAL]

Wednesday, November 12, 2008 @ 3:14 pm

So I've got a meeting with a potential advisor (who is not currently even in San Diego, much less on campus) during the first week of December. She's looking for someone to work on her colorectal cancer project, so I'm pretty much HELL-YEAH-ing at this point, because I would LOVE to do that. But I'm also really nervous about the meeting. I mean, I can carry on a conversation about science, no problem. But it's just nervewracking because I get really jittery in interview-like situations. I don't want to seem like a complete spaz...

I feel like I should prepare hardcore for this. I haven't read any of her more recent papers, so I should go ahead and do that. I should also reacquaint myself with my past lab experience (I mean,

I

know what I did, but sometimes it's hard to explain that adequately to an outsider when you were in the middle of the action for so long). I'm probably going to redo my CV also so she has something concrete to refer to when considering me.

I believe Elizabeth Berkley, channeling GOD in her portrayal of caffeine-addicted honor student Jessie Spano in

Saved by the Bell

, said it best: "I'm so excited! I'm so excited! I'm so... SCARED!"

* * *

BONUS MATERIAL:



Comment! (1) | Recommend!

"What's the big deal?" [EDIT]

Wednesday, November 12, 2008 @ 8:26 am

"It's only $150,000."

Shows like

The Real Housewives of [insert locality here]

and

My Super Sweet 16

and any other show that glorifies rich people behaving idiotically make me physically ill. I just saw a commercial for the new season of

TRH of Orange County

and I wanted to DIE.

I don't know what purpose these shows are supposed to serve. Are they meant to be a cautionary tale that being rich doesn't mean being happy? Are they meant to expose certain members of the upper class as complete and utter morons? Are they meant to instill awe in the viewer that lifestyles like these exist and that we should dream and aspire to be just like them? Well, whatever the purpose, it doesn't really matter. The mere fact that someone would build a show around this sends a message that as long as you live the fab life, it doesn't matter if you're a completely horrid or at least impractical human being--you're going to garner (undeserved) attention.

Excuse me while I run to the bathroom to vomit.

EDIT:

So I just caught another snippet of a commercial and there was a lady on there who has a son battling heroin addiction and some other lady who knows someone dying of cancer or whatever. As if to point out: hey, rich people have problems just like yours. And I mean, yeah, fine, they're people too. They're prone to having the shit hit the fan. But plenty of people who are less well-to-do know people with cancer or know someone with a drug addiction, and these people ALSO have the added disadvantage that they might not be able to get the latest treatments or send their loved ones to rehab or whatever. Boo-fucking-hoo. (I'd also like to point out that normal people also can't normally afford to drop $150,000 on a watch to try and fill the void left by the problems they have in their lives. I mean, sure, money can't buy happiness, but it can buy you a nice little distraction. Definitely helps with coping if you ask me.)

So where the fuck is MY television show?

Comment! (4) | Recommend!

Tuesday, November 11, 2008 @ 4:48 pm

No school today. It bugs me because instead of a long weekend, we get a regular weekend, one day of school, and then a day off. Then it's back to school again. I guess it would screw up the balance between Monday/Wednesday and Tuesday/Thursday classes if we did observe the holiday on Monday, but it still bothers me.

I spent the entire day today working. And I don't mean, "trying to work and getting nothing done," I mean, like, ACTUALLY accomplishing something.

I feel so productive, but still very dissatisfied. Not unsatisfied, though. And by that I mean, I'm happy I got so much done, but I'm sad that it seemed like a perfectly good waste of a day off when I could have been doing something fun. Or resting.

Oh, well. If I can get a head start on studying for my last major exam before the Thanksgiving holiday, I suppose I can consider that a victory! Happy Armistice/Veterans/Remembrance Day!

Comment! (6) | Recommend!

Tuesday, November 11, 2008 @ 7:14 am

Grad School Gossip Girl: Vol. 1

Saturday, November 8, 2008 @ 7:39 pm

Who doesn't love e-mails between friends in the same program?

Spotted: Dr. W lifting weights (and raising eyebrows?) at everyone's favorite "gay gym." You know the kind: where working out is secondary to scoping out other men.

Doctor, doctor--give me the news, I've got a bad case of

... well, of speculation that you may have spent your childhood summers at Camp No-Vajayjay. This speculation remains unconfirmed, but the rumor mill is turning overtime on this one. I mean, let's face it: Dr. W is a bit of a divalicious queen when he asks questions during seminar. And it would also conveniently explain his predilection for choosing fine young male specimens to work, er, under him in his laboratory...

Dr. W: who says the only time business and pleasure can mix is when you're a Whore?

You know you love me,
XOXO GSGG

Comment! (10) | Recommend!

Friday, November 7, 2008 @ 7:47 pm

So I'm such a giant geek that I just ordered a combination presentation clicker/laser pointer along with some rechargeable AAA batteries. Can you tell how excited I am about teaching a class next semester? Full benefits, faculty parking space, and 401k--here I come!

In other news, my friends I and P are coming down to visit next weekend from LA. We're going to the zoo, but I don't know what else we're doing. I mean, besides getting super-wasted on Saturday night. I'm geeked about my first visitors--a bit of a different kind of geeked mind you, but it still fits under the subject of this blog entry...

Comment! (3) | Recommend!

Ugh. Adorableness overload.

Thursday, November 6, 2008 @ 6:44 pm

So J, one of my closest friends in my program, is from Toronto. Her ex flew into town (from Toronto mind you) to break up with her recently (amicably, just due to the long distance thing) but it's obvious that both of them still care a whole bunch for each other. Now, I've never met the guy, but he just added me on Facebook because he wants help organizing a party for her birthday!

How frickin' cute is that?

Ugh, you know, most of the time I really don't give a crap that I don't have a boyfriend, but when I see something this incredibly (almost sickeningly) saccharine, it totally makes me want one...hardcore.

Comment! (4) | Recommend!

Thursday, November 6, 2008 @ 12:18 pm

Edited due to a stupid usage error, and for content.

Today, I got stopped in the hall by the Biology Department's graduate coordinator. She asked me if I wanted to TA next semester, and she seemed extremely relieved that I answered in the affirmative. To be honest, I was just as relieved. With the budget cuts and all, I thought that next semester, there would be

less fewer

TA positions open. Now I can take comfort in the fact that even if this were true, they really want me to teach a class.

WIN.

EDIT:

There are three classes I'm fairly certain I am qualified to teach for: BIOL 201A (Principles of Cell and Molecular Biology), BIOL 210 (Fundamentals of Microbiology), and BIOL 366L (Biochemistry, Cell, and Molecular Biology Lab). I hope I am given the option to pick the last one. It's a two session a week lab course and I would totally own the course material.

Alright, now I just need to find a thesis advisor and everything will be (relatively) set for next semester!

Comment! (3) | Recommend!