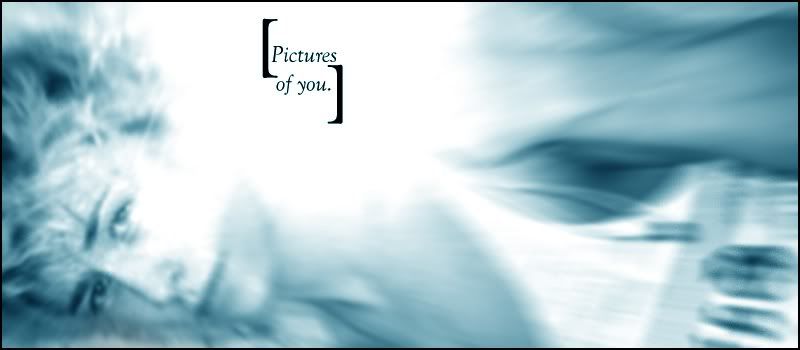 Spring Semester 2010:

* Teaching: Fundamentals of Microbiology - MW 12:00-2:40p
Medical Microbiology - TR 2:00-3:15p
Colloquium in Cell and Molecular Biology - R 3:30-4:30p
Thesis Research - Identification of T Cell Subsets and Immune Response in Colon Cancer Using Immunofluorescence - FOREVER AND EVER

Or rather, entries from the old journal, as it were...

-

An open letter to the College.

(August 27, 2006)

-

Untitled.

(July 16, 2006)

-

Haunted (Part One)

(May 29, 2006)

-

Are we growing up, or just going down?

(May 3, 2006)

-

I had a dream...

(March 19, 2006)

-

...

(March 14, 2006)

-

Enjoy it while it lasts.

(September 12, 2005)

-

Scene: 3:27 AM.

(September 3, 2005)

-

Untitled.

(July 26, 2005)

Psst... if you're looking for the academic writings I used to have here, head to my Reading Room.

Since June 2006...

- A Heartbreaking Work of Staggering Genius by Dave Eggers
- High Fidelity by Nick Hornby
- Travesties by Tom Stoppard
- The Way of the Shaman by Michael Harner
- The Tao of Pooh by Benjamin Hoff
- Nervous Conditions by Tsitsi Dangarembga
- The History Boys by Alan Bennett
- The Dark Child by Camara Laye
- Movie-Made America by Robert Sklar
- Diary by Chuck Palahniuk
- Rant: An Oral Biography of Buster Casey by Chuck Palahniuk
- Galapagos by Kurt Vonnegut
- The Dead Emcee Scrolls by Saul Williams [61.3%]
- Atonement by Ian McEwan
- Junk Science: An Overdue Indictment of Government, Industry, and Faith Groups that Twist Science for Their Own Gain by Dan Agin, Ph.D. [64.4%]
- So Yesterday by Scott Westerfield
- Lucky Wander Boy by D.B. Weiss
- The Things They Carried by Tim O'Brien
- Doctor Who: The Key to Time: A Year-by-Year Record by Peter Haining
- Why Buffy Matters: The Art of Buffy the Vampire Slayer by Rhonda Wilcox
- When You Are Engulfed in Flames by David Sedaris
- The Road by Cormac McCarthy
- 1984 by George Orwell [18.8%]
- Nick and Norah's Infinite Playlist by Rachel Cohn and David Levithan
- Intuition by Allegra Goodman
- V for Vendetta by Alan Moore and David Lloyd (Yes, I realize it's a graphic novel but it still fucking counts!)

Thursday, November 20, 2008 @ 3:47 am

For some reason, I always seek out old music videos or clips of old TV shows in the wee hours of the morning. For your enjoyment, the hauntingly beautiful "A Whiter Shade of Pale" by seminal British pre-prog rock group, Procol Harum:

Comment! (1) | Recommend!

Wednesday, November 19, 2008 @ 12:11 pm

Yeah, that's a pretty descriptive title, I know.

Like

ikimashokie

, I, too, should be doing some work right about now. Specifically, I should be preparing slides for my part of a paper presentation for Advanced BCMB, but lately I've been feeling completely sapped of energy and motivation. I woke up on Monday and decided that I was over this semester in a major way. I don't know what happened to suddenly bring on that change, because prior to that point, I didn't feel that way at all. But here I am today, sick of it all.

I think I just need a break, and luckily, that's about a week away.

The schedule for next semester came out today. I already picked my classes for next semester and scoped out the times for the labs I want to teach. I know that I am going to take

Cellular and Molecular Immunology

,

Molecular Basis of Disease

, and

Colloquium in Molecular Biology Research

for sure. I'm on the fence about taking the

Seminar in Molecular Biology

(taught by my potential thesis advisor). I'll also be doing thesis research at the same time (again, depending on whether or not my potential advisor takes me on), so I may just sign up for the class and drop it if it's too much. I may also be teaching a laboratory section of either

Principles of Cell and Molecular Biology

,

Fundamental Microbiology

, or

Biochemistry, Cell, and Molecular Biology I

. Hopefully I get the last one--it's an intermediate level course for majors and I'd rather teach them than non-majors because, at least theoretically, they should care more about the subject material.

* * *

Before I forget, here's one of the pictures I took of the baby panda at the zoo!

Comment! (3) | Recommend!

"Review THIS record, warden..."

Tuesday, November 18, 2008 @ 12:58 am

Monday, November 17, 2008 @ 11:21 am

It started with me breaking out the yearbooks while I and P visited. It ended with me going through old photo CDs from high school all of last night.

Including plenty of photos of

him

.

You know, he rarely smiled at school. I don't think he was depressed, but he wasn't entirely happy, and he certainly wasn't into projecting happiness when it wasn't the truth.

He smiled for me, though.

I also found all those pictures he wanted me to scan of when he was a little kid. So cute.

And the English essay I helped him with exploring the concept of unconditional love "as long as you are willing to open your heart and your mind to it."

Sigh. Matt, where did you go?

P.S.

Zanzibar

: I also found all the pictures/videos I thought I lost from freshman year of college. (Including all the ones from the naked run. LOL.)

Comment! (4) | Recommend!

Sunday, November 16, 2008 @ 12:08 am

Too much walking. Too much eating. Too much laughter.

Today was a good day.

Comment! (4) | Recommend!

Saturday, November 15, 2008 @ 3:39 am

I have a feeling this entry's going to be at least partially incomprehensible when I re-read it tomorrow morning.

So I had finally settled into deep sleep after a night of far too much drinking when I heard some people outside trying to stop a drunk guy from driving. They apparently failed; he purposely rammed into another car to prove that he was serious and did NOT want to not drive, so his friends (I'm assuming that's who they are because they kept calling him by his name) called the cops to report him.

Look, I don't care if you're going to go ahead and hurt or kill yourself, but when other people are involved, as is always the case for driving drunk

especially in a city

, then that's a problem.

Alright, so that was enough excitement for the night, yes? Well, no. There's more. About 15 minutes ago, someone set off the fire alarm. I don't know how, but as I was angrily exiting the building thinking that it's on fire, some guy walked into the building, half-naked and cut the fuck up, saying that there was no fire, but that he (or the guy he was with) somehow set it off. Whatever, don't really care. What I cared about was the fact that the alarm, in all of it's loud, high-pitched glory, was sending out its shrill, piercing cry... while I was trying to sleep.

So I called the after-hours emergency line to tell them that someone fucked up and set off the alarm though there was no fire. They then paged maintenance. Before maintenance had time to come, the fire department had already arrived, thinking it was an actual fire. Sorry, gentlemen, no such luck. Just an act of drunken idiocy.

So finally that fucking alarm got shut off. It was entertaining to see how many people exited the building in barely any clothing at all because they thought they were going to be burned alive: some dude in his fucking boxers that showed quite a bit; some chick wrapped up sloppily in a robe, bra showing.

The trick now is trying to get back to sleep. I'm pretty confident that I have at least temporarily lost hearing at the higher frequency ranges. I also had a raging alcohol-induced headache before going to bed that hasn't fully resolved, and now is even WORSE from the false alarm. God, where's my fucking Advil?

Comment! (1) | Recommend!

Thursday, November 13, 2008 @ 8:28 pm

My left eyebrow has been going through bouts of spasmodic twitching for the last 8 or so hours now. It's annoying, and more importantly, probably a sign that I need to get to sleep.

The test didn't go as badly as I thought it would. Could have been much worse. I did some math (I swear I can still do things like that!) and found out that if I get a 70% on this test (which I am confident I can), I only need a 75% on the final to pull an "A." Of course, it would be really nice to have even more leeway than that, just so there isn't nearly as much pressure come finals week.

Anyway, now it should be relatively relaxed on the school-front. At least, until the holiday. I don't have any major tests/projects/papers to do between now and Thanksgiving (less than 2 weeks!). I'm happy to take a breather until then.

My friends are coming to visit on Saturday morning. We're going to go to the San Diego Zoo and one of the beaches for sure. Don't know what else the weekend has in store. But before that--tomorrow will be the Day of Cleaning: vacuuming, dishwashing, laundry, scrubbing out the bathtub and toilet, Swiffering the floors... Oh, goody.

Comment! (1) | Recommend!

Cardiovascular physiology.

Thursday, November 13, 2008 @ 5:40 am

I have a physiology test today that I feel completely underprepared for. I know all of the molecular biology and biochemistry--that's the easy part. It's coupling the physiology to the anatomy and learning the medical stuff (like reading EKGs and PV loops, in addition to thinking about the pathophysiology of the heart) that is going to screw me over bad.

My heart is pounding, even though the test isn't until 2:00. I guess I'm already going into flight-mode: the epinephrine is speeding up my heart rate

by increasing the permeability of Na+ and Ca2+ in my pacemaker cells, simultaneously depolarizing the resting potential of those cells and causing them to depolarize more quickly

. I NEED TO STUDY MORE. HOLY CRAP.

Alright, I need to breathe before the panic attack escalates...

Comment! (1) | Recommend!