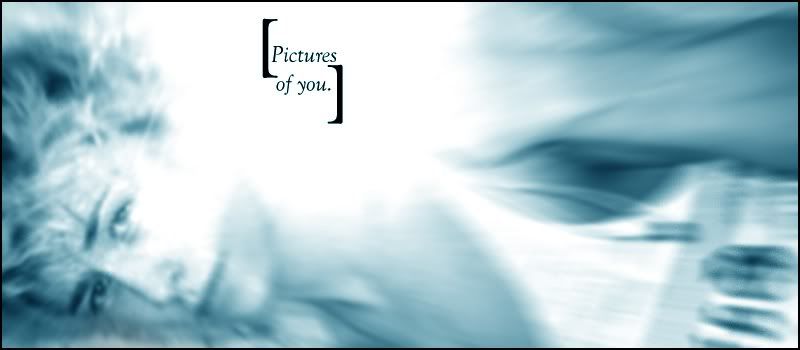 Spring Semester 2010:

* Teaching: Fundamentals of Microbiology - MW 12:00-2:40p
Medical Microbiology - TR 2:00-3:15p
Colloquium in Cell and Molecular Biology - R 3:30-4:30p
Thesis Research - Identification of T Cell Subsets and Immune Response in Colon Cancer Using Immunofluorescence - FOREVER AND EVER

Or rather, entries from the old journal, as it were...

-

An open letter to the College.

(August 27, 2006)

-

Untitled.

(July 16, 2006)

-

Haunted (Part One)

(May 29, 2006)

-

Are we growing up, or just going down?

(May 3, 2006)

-

I had a dream...

(March 19, 2006)

-

...

(March 14, 2006)

-

Enjoy it while it lasts.

(September 12, 2005)

-

Scene: 3:27 AM.

(September 3, 2005)

-

Untitled.

(July 26, 2005)

Psst... if you're looking for the academic writings I used to have here, head to my Reading Room.

Since June 2006...

- A Heartbreaking Work of Staggering Genius by Dave Eggers
- High Fidelity by Nick Hornby
- Travesties by Tom Stoppard
- The Way of the Shaman by Michael Harner
- The Tao of Pooh by Benjamin Hoff
- Nervous Conditions by Tsitsi Dangarembga
- The History Boys by Alan Bennett
- The Dark Child by Camara Laye
- Movie-Made America by Robert Sklar
- Diary by Chuck Palahniuk
- Rant: An Oral Biography of Buster Casey by Chuck Palahniuk
- Galapagos by Kurt Vonnegut
- The Dead Emcee Scrolls by Saul Williams [61.3%]
- Atonement by Ian McEwan
- Junk Science: An Overdue Indictment of Government, Industry, and Faith Groups that Twist Science for Their Own Gain by Dan Agin, Ph.D. [64.4%]
- So Yesterday by Scott Westerfield
- Lucky Wander Boy by D.B. Weiss
- The Things They Carried by Tim O'Brien
- Doctor Who: The Key to Time: A Year-by-Year Record by Peter Haining
- Why Buffy Matters: The Art of Buffy the Vampire Slayer by Rhonda Wilcox
- When You Are Engulfed in Flames by David Sedaris
- The Road by Cormac McCarthy
- 1984 by George Orwell [18.8%]
- Nick and Norah's Infinite Playlist by Rachel Cohn and David Levithan
- Intuition by Allegra Goodman
- V for Vendetta by Alan Moore and David Lloyd (Yes, I realize it's a graphic novel but it still fucking counts!)

Wednesday, November 26, 2008 @ 12:40 am

If I could only get my neighbors to shut off their loud, obnoxiously bad hip hop, then it would be PERFECT. However, the rain sounds are soothing enough to nearly cancel out their crappy music. Almost.

Man, I really need to start learning the noise ordinances around here, just so I know when I can and cannot actually lodge a complaint...

Comment! (2) | Recommend!

Tuesday, November 25, 2008 @ 1:12 am

You can't see me right now, but I'm doing the "halle-fucking-lujah, it's gonna rain tomorrow!" dance. It's pretty fucking intense, I'm not gonna lie.

I'm excited for the rain and all, but I'm really concerned for Wednesday. I'm flying home and there are may be thunderstorms. No, I'm not afraid of flying when the weather's bad... but I do hate delays,

and

I've got a cake to worry about. Can't have my (somewhat pricey) contribution to Thanksgiving ruined by the rain!

Other than that, though: YAY!

Comment! (10) | Recommend!

Tuesday, November 25, 2008 @ 12:01 am

The current professor for my Advanced Topics class just assigned some review articles to be read over the long Thanksgiving weekend. One of these articles was written by one Dr. John J. Rossi. This is a man who I have actually met on a couple of occasions, first as an intern at his home institution (Beckman Research Institute at City of Hope National Cancer Center), and again at a journal club meeting that my thesis advisor brought us to at the same institution the summer after I graduated.

The more and more I read, the smaller the academic world seems to get.

Comment! (0) | Recommend!

Sunday, November 23, 2008 @ 12:45 am

Just got back from hanging out with Jo. Haven't seen her in a while despite the fact that we live in the same geographical area. After eating out and seeing

Rachel Getting Married

, we sat on a bench overlooking a cliff above the ocean in Del Mar. We talked about the "good old days" (i.e. college) and came to the conclusion that our group was--on the whole, and for the most part--really good to each other.

Sitting there enveloped by the fog, staring into the void where sea and sky bled into each other, listening to the waves crash on the shore... it was perfect. Moments like that make you really glad you're alive.

Comment! (3) | Recommend!

Saturday, November 22, 2008 @ 8:14 am

I woke up thinking it was Friday and I had a mild panic attack that I was going to be late to class. (I guess school is getting to me more than I thought.) Imagine my relief when I remembered that it was already the weekend--a work-free weekend at that! (Well, I should be reading and starting on a number of written assignments due after break, but no--I am determined to at least have a wonderful Saturday!)

Yay for Saturday!

Comment! (2) | Recommend!

Friday, November 22, 2008 @ 10:27 pm

V is a cute, intelligent, charming Southern gentleman. He's a real sweetheart: he drove me home tonight from L's party in PB.

Too bad the boy is straight.

Comment! (2) | Recommend!

How incredibly disappointing.

Friday, November 21, 2008 @ 3:51 am

Sometimes if I wake up in the middle of the night, I get disappointed that it isn't morning yet. I know that sounds a little weird, considering that if you wake up and discover that the sun is not yet up, that means that you've got a little bit more sleep in your immediate future, which, when I last checked, is not a bad thing. But, depending on my mood, sometimes I feel like sleep is a nightly prison term that you need to serve out before being set free again. It's odd because I have nothing really to look forward to tomorrow morning, so by all accounts, there's no reason why I should want to get my sentence over with. But so far tonight, I've woken up twice, each time half-expecting it to be at least a little light out...

Sometimes my moods confuse me.

Back to sleep.

Comment! (3) | Recommend!

Thursday, November 20, 2008 @ 11:41 am

Well, the semester's almost over: 14 school days left (excluding finals week). Today, I gave my final presentation in one of my classes and it went well. Checked my grades online and with about a month left until the grades are official, I've got a 4.0! That's a lot of pressure, though. I feel like it could go horribly wrong any minute. As long as I can keep on top of everything, it will be okay. The trouble is, I'm not sure I can muster enough motivation at this point for that to happen.

But I really, really want to keep that 4.0... Perhaps that will be motivation enough.

Today, my seminar got canceled so I can come home at 3:00 pm and waste the afternoon away in blissful sleep! Woohoo!

Comment! (3) | Recommend!